SUP Profile: Haywood Newkirk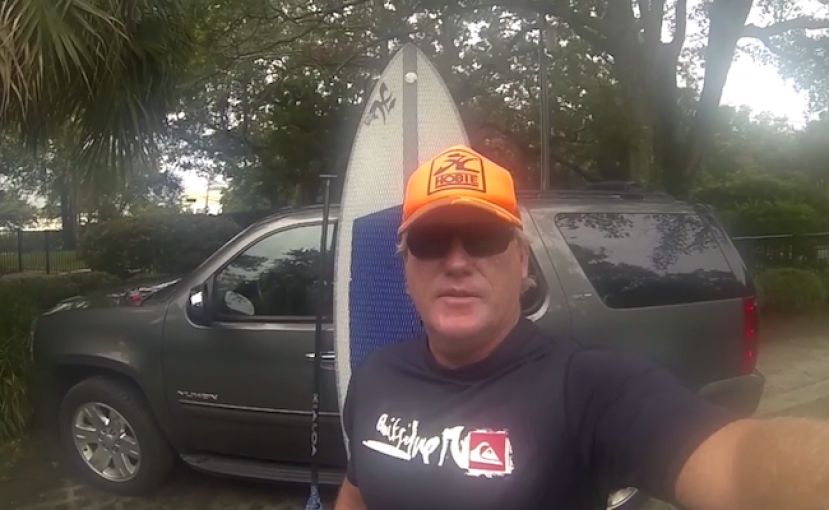 Haywood Newkirk is the son of a "Water Man" who has lived his entire life in and around the water. Check out this awesome feature of Haywood highlighting his life experiences and how he got so involved in the standup paddle community.
 Haywood Newkirk
The Newkirk Family moved to Wrightsville Sound in the early 1820's and has long been associated with the waters of this area. Haywood's father was one of the most well known watermen of his era. In the 1950's "Big Haywood" was swimming on the All Army Swim Team, surfing on a converted airplane wing, fishing the gulf stream waters off of Wrightsville, lifeguarding at the Lumina Pavilion, and skiing barefoot through Banks Channel. He passed this love of the ocean to his son "Little Haywood" who in turn, is passing it along to his daughters; the 7th Generation of Newkirk's to call these waters home.
"Dad passed away last fall and not a day goes by that I don't realize how much he taught me about the ocean and it's gifts. It's now my duty to pass along these same lessons to the next generation."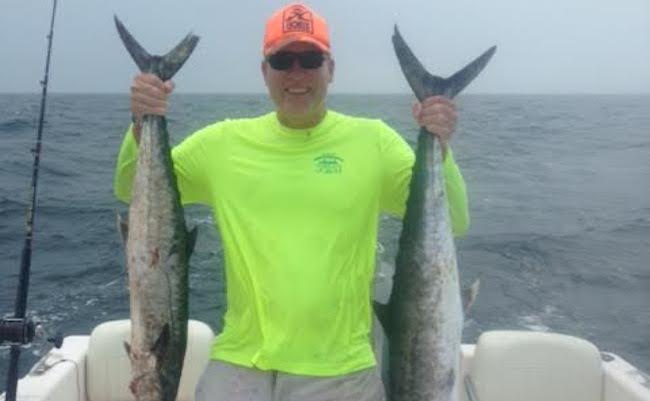 Haywood on a recent offshore trip
Surf Background
"Growing up in Wrightsville Beach in the 70's and 80's was an amazing experience. If the surf was flat we fished; if it was blowing 20 knots or a hurricane was offshore, we surfed. We built ramps and slalom courses so we could water ski." The surfing bug, however, bit Haywood hard in the early 1970's and he has been at ever since.
"I started surfing in 1971 after finding a board under a rental house my Mom was managing. Craig and I drug that board out to the surf and taught ourselves how to ride it." By the time Haywood finished high school, he had already logged 12 years of Nor'easters, Hurricane Swells and small summer peelers. Haywood spent the 1980's and the early 1990's obtaining his education and working in large cities like New York, DC and Atlanta, miles from the coast.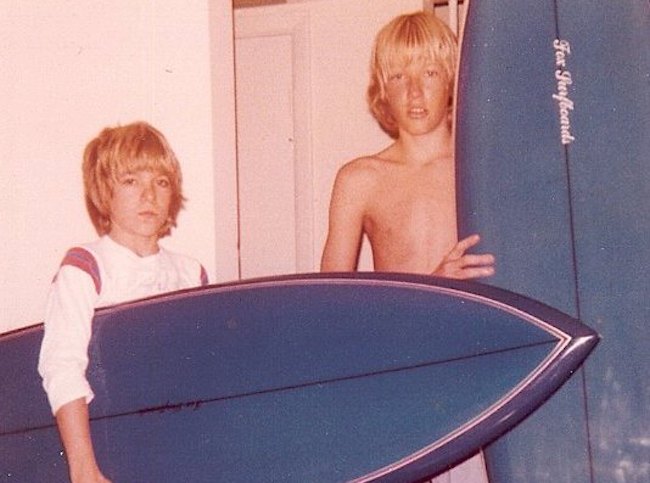 Christmas Morning 1975 (Craig Newkirk & Haywood Newkirk)
By 1995, he had grown tired of the long work weeks, business attire and permanent low tide found in urban locales, so he moved back home and opened up his own commercial real estate appraisal firm. "When I came back home, the first thing that I did was get back in the water. If the surf was firing I told my clients that I was in a "board meeting." I rode shortboards in bigger surf and longboards on smaller summer days.
I started spending 10 days on the North Shore in the Winter and 10 days in Mexico or Central America in the summer." Those surf trips really helped Haywood refine his skill in bigger waves and broadened his surf horizons. He went from being "at the top of the food chain" in the lineup at Wrightsville to the "low man on the totem pole" at Sunset and Tecla.

Stand Up
After 35 years of surfing, Haywood woke up one Father's Day and found a Standup Paddleboard as a gift from his Wife in the living room. Like a lot of short sided members of the surf community, he told his Wife, "I am not gonna ride that barge." Haywood realized pretty quickly, however, that Standup could get him out on the water almost every day.
"Wrightsville Beach is an aquatic playground in terms of Standup Paddleboarding. If it's flat you can explore our inland waters on a race board, touring board or rec board. If the surf is pumping you can paddle surf at the local beach break or you can get in a boat and find a really good break. If it's blowing 20-30 knots we'll breakout a downwind board."

"Mamma Called"

In 2010 Haywood was given the opportunity to ride for Boardworks. "I had an incredible experience working with the Boardworks Crew and I made friendships with people like Anthony Vela that I will always cherish. They took such great care of me; they helped me increase my presence in the sport and my skill on the water."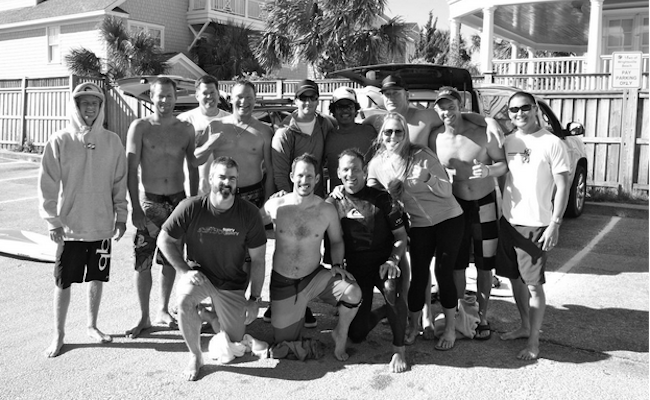 Clockwise from rear: Becker, McPhillips, Bain, Pope, Viele, Vela, Newkirk, Bostian, Lew, Appleby, Kurt, Beausang, Howard
In 2013 Jason Coclough approached Haywood with an offer to ride for Hobie and the Carolina Paddleboard Company. "When Momma Called (Sean Douglas at Hobie), I was blown away. I had grown up on Hobie surf products and the chance to ride for The Iconic American Surf Brand was something I could not pass up. I had gotten to know Colin McPhillips and Byron Kurt really well over the years, I liked their laid back approach to the sport and the support they received.
Hobie's background as a surf company and the outlook of the crew at the Carolina Paddleboard Company really appealed to Haywood and his interests in the sport. "I probably won't be sharing the podium with Danny (Ching) any time soon, but if you want to go catch some surf, ride some bumps offshore or catch a few fish, then let's hit it."

Coastal Advocate
Haywood is one of the more well known members of the surf community at Wrightsville Beach and has used his influence to spearhead a number of ocean related events. His passion for the ocean and the area, fuel his drive to work with others to recognize the impact that water sports have had on defining Wrightsville Beach. "I was one of the founding members of the Carolina Cup and helped get that event off of the ground. I am really proud of the guys that are still running the Cup , they have taken it to levels we could have hardly envisioned when we started it in 2011."

Over the last couple of years Haywood has worked with the Wrightsville Beach Museum to establish the Wrightsville Beach Ocean Festival and the Wrightsville Beach Waterman Hall of Fame. He and Jason Coclough worked with the Wrightsville Beach Longboard Association (WBLA) to add a SUP Division to the hugely successful WBLA Surf Contest. Haywood is on the Board of Masonboro.Org and was recently appointed by the State of North Carolina to serve on the Leadership Advisory Committee (LAC) that oversees Masonboro Island. "Serving on the LAC is an honor and I feel that I have a duty to protect this amazing resource so that future generations can continue to surf, hunt and fish the waters around Masonboro."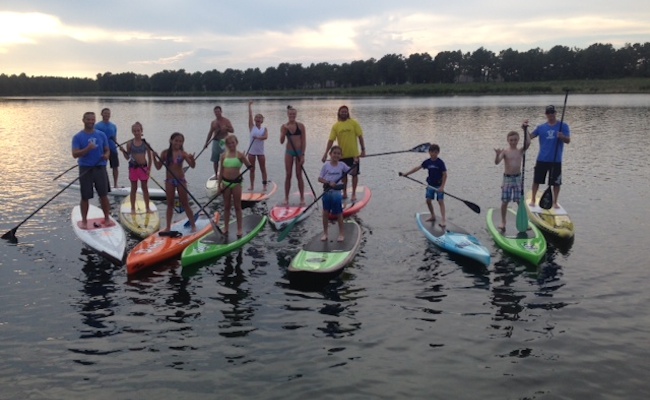 2014 Carolina Junior Waterman Team

This summer Haywood worked with April Zilg, Barry Blackburn, Dave Baker and Jason Coclough to establish the Carolina Junior Waterman's Team. According to Haywood "the Jr. Waterman Team hopes to expand its roster and eventually build team competitions throughout the Southeast." The team had weekly practices where team members received instruction in surfing, flatwater racing, downwinding, prone paddleboarding and ocean rescue techniques.

Future Goals

"I realized sometime ago that I was probably not talented enough to inspire others by my results in flatwater races. I could, however, build upon the things that my Father taught me and pass those lessons along to the next generation. If I can inspire one kid to put down the cell phone/I-pad/video game and get on a surfboard, paddleboard, proneboard or a boat, then I will have accomplished something worthwhile."
Last modified onFriday, 23 January 2015 14:49

Submit your news, events, and all SUP info, so we can keep promoting and driving the great lifestyle of stand up paddling, building its community, and introducing people to healthier living.
Website: supconnect.com
Email

This email address is being protected from spambots. You need JavaScript enabled to view it.