Catching Up With SUP Race Pro Connor Baxter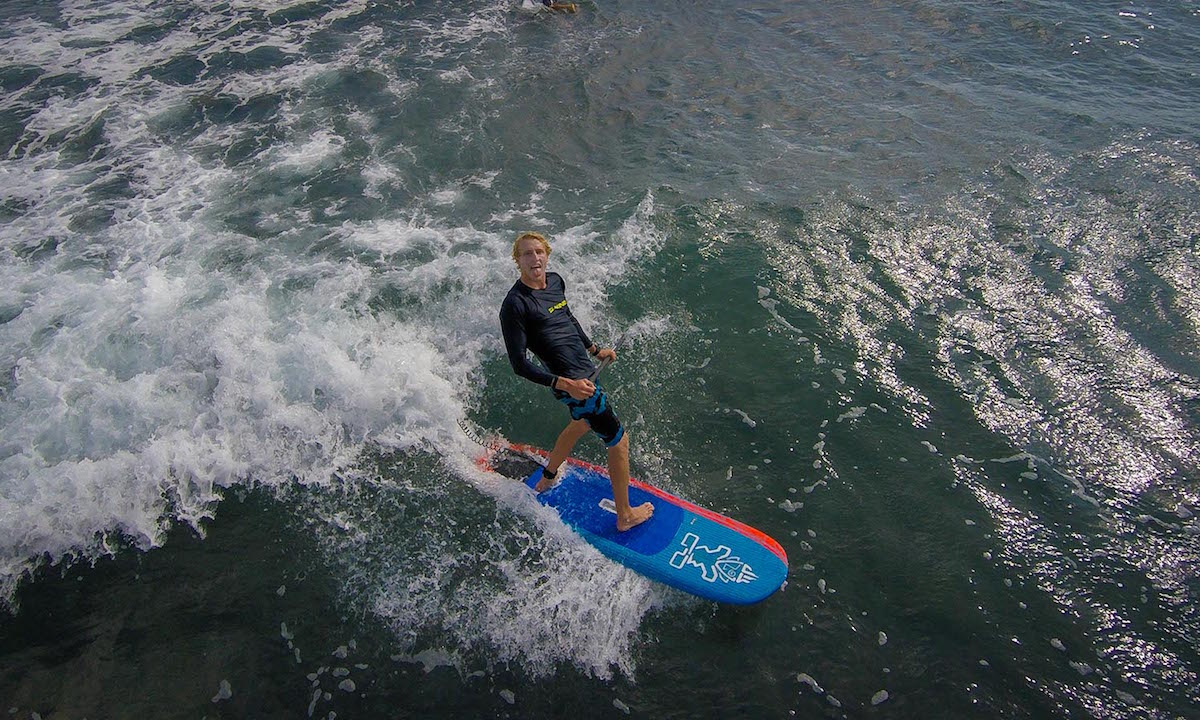 Connor at home on Maui, happy as a clam. | Photo: Starboard SUP / John Carter
SAN DIEGO, California - It's been awhile since we've had the chance to chat with the choke stroke man himself, Mr. Connor Baxter. Connor is one of the best in the biz having won some of the biggest and most brutal races and has done so numerous times. He's won the infamous Molokai 2 Oahu event and is the current record holder for the fastest time on a stand up paddle board, he is a former Stand Up World Series World Champion, and he's always a threat in any race he enters. We called up Connor just as he was arriving in North Carolina for the Carolina Cup and had a few words. Check it out…
So what have you been up to? How has your "off season" been?
There have been a lot of big swells this winter so pretty much after the Stand Up World Series finals at Turtle Bay I put the race boards away and kind of started to pull out and organize all my wave gear for stand up and surf and I definitely got some of the biggest waves of my life this winter out at Peahi (Jaws) and some other outer secret spots and of course on Oahu. I was basically focused on that for most of November and December and then a little bit in January but then I started getting back into race training and all of that good stuff and just preparing for this long, crazy year ahead.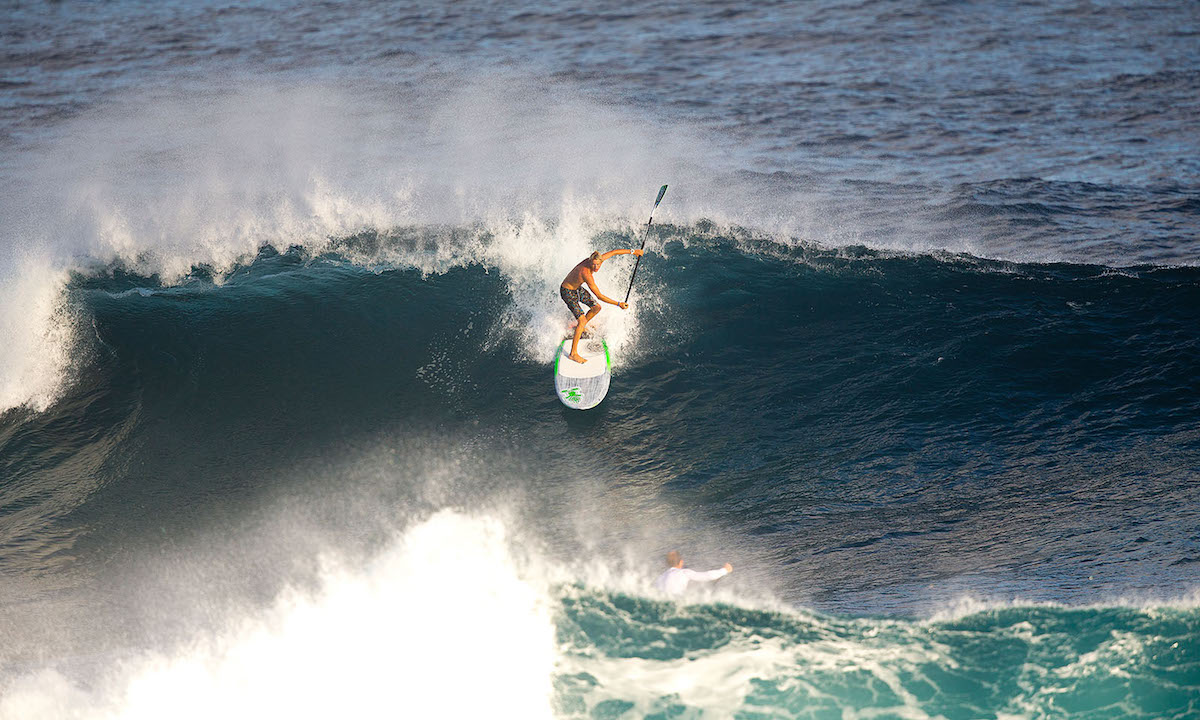 With a strong El Niño winter season Connor put away his race boards and exchanged them for surf. | Photo: Starboard SUP / John Carter
What other events are on your radar for this year and which events are you focusing on?
I'm going to have to say that this year is probably going to be one of the heaviest years for me. I pretty much have an event every weekend starting with the Carolina Cup, then I'm headed back home to Maui for the Olukai Ho'olaule'a and Paddle Imua. Then I'm off to Japan, then France the following weekend which is the start of the Euro Tour and I'm doing the St. Maxime race, Lost Mills, and down to Spain for the Bilbao Challenge and doing a few other races in the area. Then I'm coming back home to do the Maui to Molokai and Molokai to Oahu events so basically these next few months are going to be insane!
Wow, that is nuts! Which has been your favorite event to participate in?
Ooh that's a hard one! There are so many great events!
Okay okay, I'll make it a bit easier for you, give me your top 5.
1. M2O
Okay, that's definitely easier. I'd say the one I really look forward to and have a lot of pride in winning and competing in is the Molokai 2 Oahu (M20). Not only because it's the longest race or whatever it may be, but it's more so because it's in my backyard and being from Hawaii and in that race in the paddling community, whether you're on a prone, OC-1, or what have you, when you finish that channel everyone is like "holy crap, you're nuts."
2. Olukai
I've been training a lot on downwind and I feel it's sort of my specialty so it's why I love that race. So along those lines I'd have to choose the Olukai as my second favorite event and what Olukai Ho'olaule'a means is 'the gathering' and it's exactly that. It's a gathering of family and friends and I'm pretty sure at the end of the day no one knows who won and everyone is just so happy to be in each other's company which is ultimately what everyone remembers. Plus, it's a 6-mile sprint downwind race at one of the best places to downwind in the world.
3. Hood River
In still sticking to downwind races, I'd say my third favorite is Hood River. I'd do this race over and over again. It's a really fun race and it kind of gives you both the course race and the downwind which is awesome. It's also really cool how they organize it and alter it towards how the conditions are and run the races in the best possible conditions on offer.
4. Pacific Paddle Games
After that it would probably have to be the PPG's (Pacific Paddle Games). Last year was the first year that this event ran but it was a huge wake up for the stand up organizing community with the set-up of the event site, the quality of the live coverage, cameras everywhere and it was a huge production. For how smooth everything went for a first-time event, it's really impressive and really cool to see that.
5. Lost Mills
The last one would have to be Lost Mills. I've done that event so many times now and even though it's a flatwater race, it's one of the bigger ones as far as Europe goes, and it's been there from the beginning. It's a cool venue, cool location and stuff like that.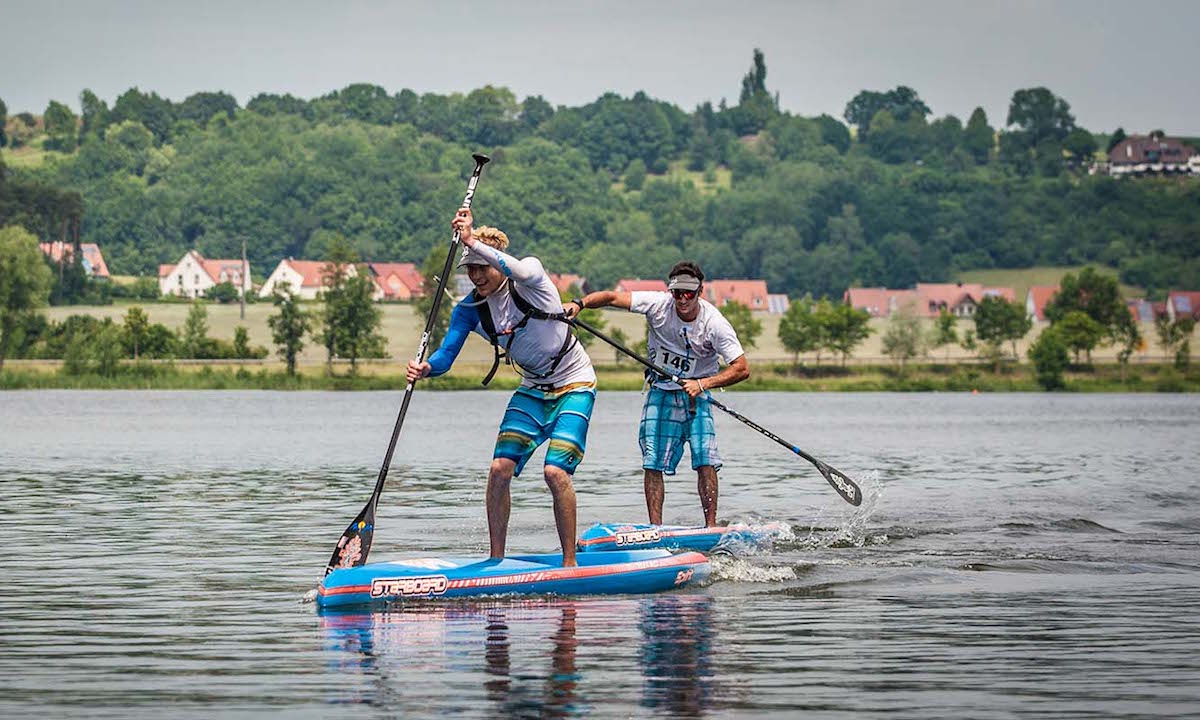 Connor using his signature 'choke stroke' at the 2015 Lost Mills Race in Germany. | Photo: Starboard SUP / Klotzi
What are your favorite cross training workouts?
It would definitely have to be surfing. It really helps with the balance, especially with the smaller boards we've been using recently, and it forces you to paddle a lot harder. Other than that as far as pure, actual training, I've been doing a lot of lately has been a lot of running and mountain biking which is great endurance and cardio and it's very easy in the sense that you just have to grab a pair of shoes or your bike and go.
Connor loves surfing not only for the fun of it but also as a cross training for his racing. | Photos: Starboard SUP / John Carter
What are your thoughts on the SUP racing circuit? Many of the world's biggest and most competitive races like the Carolina CUP, PPG, Lost Mills and M2O which have arguably some of the most competitive field of athletes in attendance are not a part of the "world champion" crowning series of the SUWS. Do you think these races should somehow be accounted for when crowning a "world champion" or do you think it's better they stay as they are?
I have mixed opinions on this for sure. Everyone has their own theories but for me, it's hard you know? The world right now as far as SUP racing goes, it's really mixed up with so many events all over the world. Carolina Cup, Hood River, PPG, those are the actual events where the top tier athletes show up. On the Stand Up World Series I'd say you have maybe two or three, five at the most, of the top athletes that are committed to that and are doing every single event and I think right now it's coming more down to who has the travel budget to go to all the stops. In comparison, races like the Carolina Cup are getting Georges [Cronsteadt], Danny [Ching], Travis [Grant], and guys you haven't even heard of that are creating much bigger and much stronger fields of competitors. So at the end of the day for me to win a race like the Carolina Cup versus winning a race on the World Series, it means a lot more because I know that I had to put 120% effort to win whereas other races where I could have won it at 80% or 100% because there are only one or two other guys pushing me.
I think these races for sure should be a part of something and as of now it's great to see that they are still committed and trying to push forward a big event and it's why I think Chris Parker at SUP Racer has done such a good job with his ranking system so that these big events are getting factored in to the ranking system. His system is based on who shows up to an event, so it could be a huge event but if no one shows up and a random guy wins it the guy won't get that many points because the competitive field just wasn't there. The more people that show up the more points they earn in the race so I think this is a great system. Long story short, it's a bit confusing and a bit scattered and I think that's what a few of us right now are trying to figure out and get more organization and fix what we have so that down the road the system is better as a whole and more legitimized.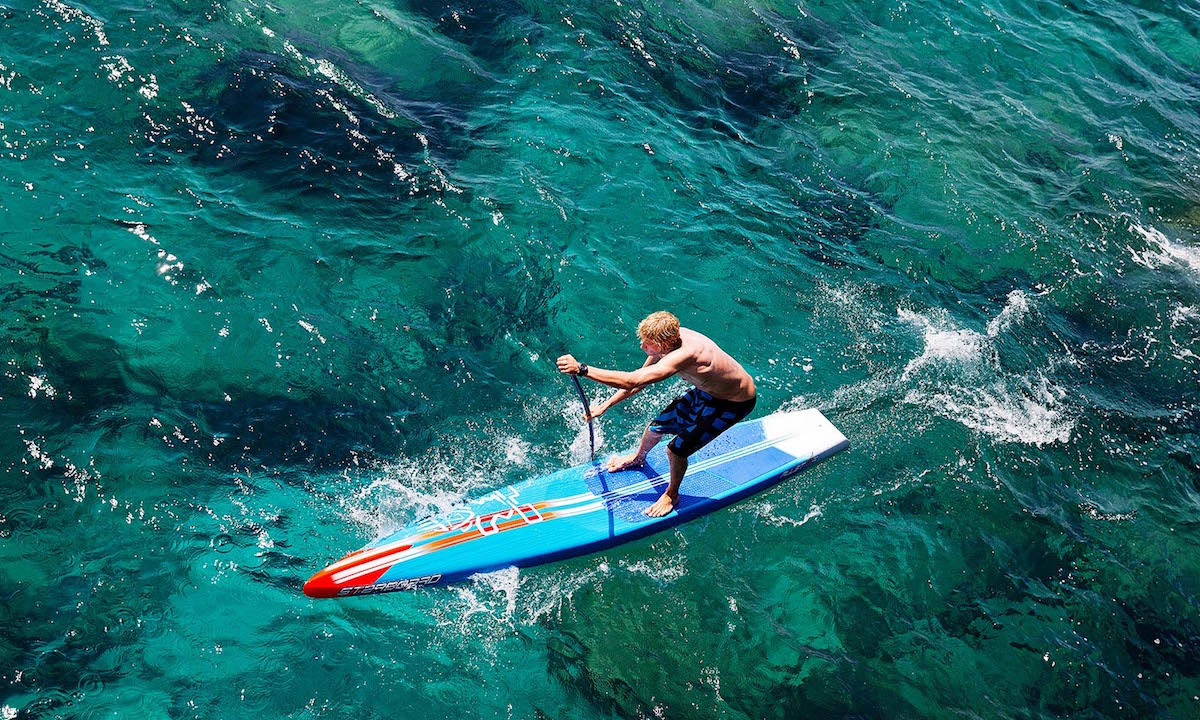 Connor training at home on Maui. | Photo: Starboard SUP / John Carter
Let's put you on the spot here: do you think women deserve equal pay at events?
[sighs] That is definitely putting me on the spot…yes and no. I say yes because they are traveling and going to the same places and races have the same amount of travel expenses as the men and they are training and working just as hard as us. But, it can be a little frustrating sometimes when you have the top 35 or 40 guys that could possibly win the race whereas it could be the top 10 women that have a chance to win the race. So, in that regard it's a little frustrating in the sense where they don't have as much competition, but then again at the same time if you look at how hard they are working and how hard they are pushing to train, how much they are traveling and stuff, they are doing just the same as us so it would only make sense for them to get the same amount of prize money as the men. It also keeps them stoked and gets more women involved which is great for the sport, because the women are important as well.
From an outsider's perspective the life of a professional stand up paddler might seem glamorous and filled with fun which I'm sure to a certain extent is true, but what I want to know is, what are some of the not-so-glamorous things about your lifestyle and being a professional athlete?
That's such a great question. I have a lot of friends and people that are always coming up to me and saying how lucky I am, and hands down, I am so blessed and very lucky to live the life I live and the perception people have of what I do is so glamorous and they think I just travel all over the world and do a little race here and there and then come home and then leave again. All of this is true but at the end of the day the time that we put into being professional athletes is just like a 9-5 job. I'm waking up at 7 and doing a two-hour paddle, coming home and then eating, which might not seem that important, but it's one of the most important aspects. Fueling your body right and reading and studying about all that stuff is time consuming and there's a lot more to it than just getting to see all of these beautiful places. For instance, half the time I fly in to a destination, I have a day to adjust to the time zone, I race the next day, and then leave the day after that so there isn't much time to sit and enjoy yourself and relax while on these trips. In addition to all of the time changes, there are tons of logistics nightmares that go on especially with the size of the equipment I travel with isn't easy to get on a plane and it makes traveling much, much harder.
Another thing that a lot of people don't think about is the business aspect of the sport: emails, phone calls, sponsors, budget, etc., finding the right support system to help you accomplish your goals isn't easy. You can't just walk up to a random person and ask for money. You have to be professional about it and have your portfolios and resumés and be really organized. I've been really fortunate enough to have a really good support system from my parents with them both being athletes and involved in this industry. They've helped me out tremendously and have helped me get the sponsors that I've had now, some since I was ten years-old.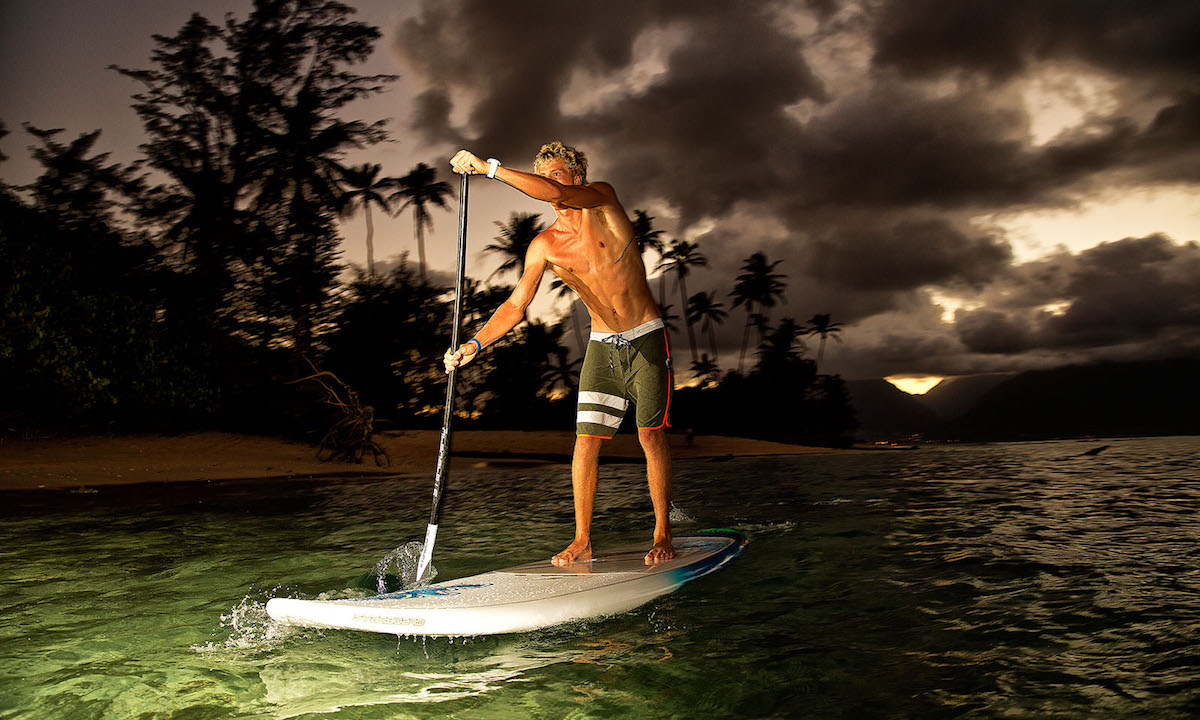 SUP is more than just fun, it's business. | Photos: Starboard SUP / John Carter
With the sport of SUP still being so new and with the popularity of the sport skyrocketing, where do you see the future of SUP five or ten years from now?
Of course it would be a dream to see the sport that I'm involved in make it into the Olympics and have that level of professionalism. I definitely see it moving down that route and the ISA has really helped and is pushing hard for us. The ISA events are really legitimizing our sport how they have country versus country which is how they have it in the Olympics.
Who do you think the biggest up-and-comers are to the sport?
There's definitely a couple of groms in mind that are just insanely fast and ripping on a shortboard and main kid is Noa Hopper. Noa is an absolutely great kid and he's a freakin' hammer when you put a paddle in his hand. Another kid is this kid Ryan, I can't think of his last name right now but he's from Lake Tahoe but is living in Maui right now and I've done a few training sessions with him and in some of the interval stuff he's right next to me in the sprints. He's beefing up and is only 15 and it's really cool to see how stoked he is, especially on the training side, which you don't really get out of someone that young. Definitely be on the lookout for him as well.
Who do you think is the most underrated of your fellow competitors?
A pretty underrated racer would have to be Georges Cronsteadt from Tahiti or Tituoan Puyo. Both of those guys are absolute animals and at any given day and any given race they are going to put their A-game up and paddle their hardest. Georges for instance, he's always been known but he doesn't get the recognition, and no matter what he's always in that top spot and most of the time pulling the train for half the race, and those are little details that you don't see or hear of but they matter. But yeah, Georges and Titu are two hammers that definitely go a little bit under the radar that are really fast and really great people as well.
What has been your biggest accomplishment (SUP wise) and which event result are you most proud of?
As far as an event goes, I definitely would say the one I feel most accomplished and proud of would be the Molokai 2 Oahu race and not only wining that race but claiming, and still today, holding the record for fastest time on a SUP for 4:08:08. The most accomplished thing in my SUP career that I'm most proud of would probably be winning the World Series in 2014 just because it's not just one event, you have to go to multiple events and win throughout the entire year and you really have to be on it and really training hard for it.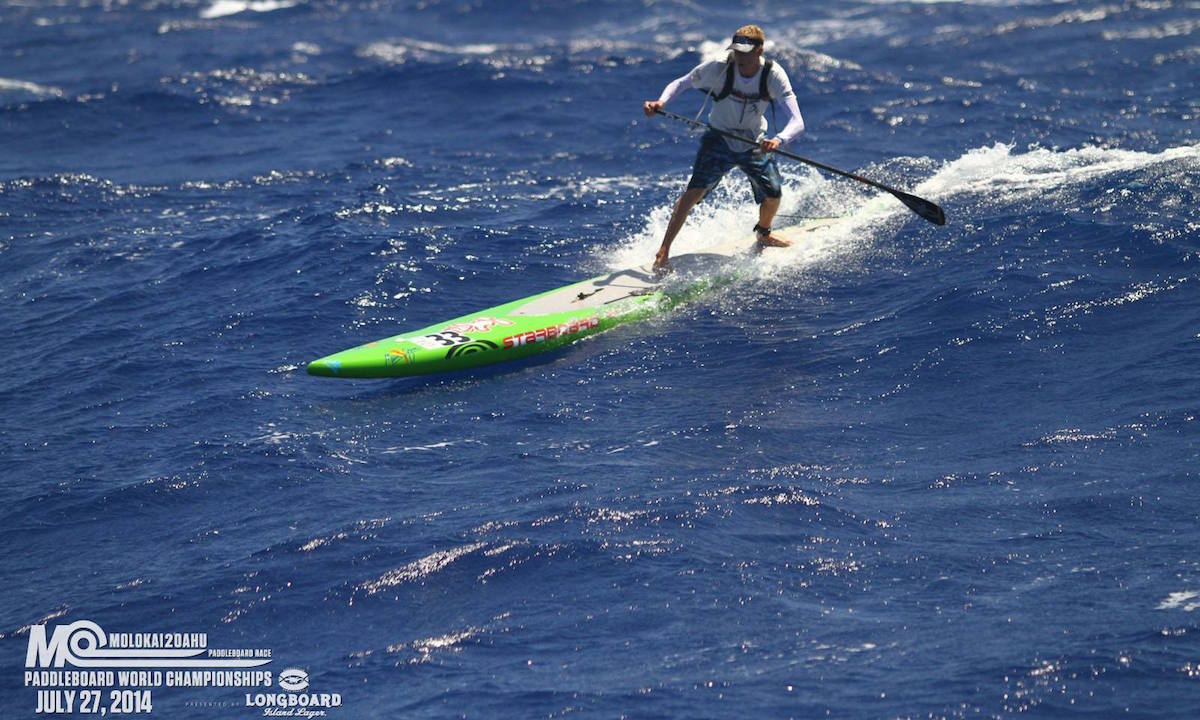 Connor going strong during the 2014, M2O. | Photo: Erik Aeder
Awesome Connor! Well thanks so much for taking the time to catch up with us and best of luck to you this racing season!
Thank you so much! It was great chatting and that's the plan, I'm gonna go paddle my heart out and have fun!
To see more from Connor Baxter, click HERE.
© Supconnect.com Copyrighted Exclusive Content
Last modified onWednesday, 27 April 2016 13:15

Submit your news, events, and all SUP info, so we can keep promoting and driving the great lifestyle of stand up paddling, building its community, and introducing people to healthier living.
Website: supconnect.com
Email

This email address is being protected from spambots. You need JavaScript enabled to view it.