SUP Grom of the Year 2011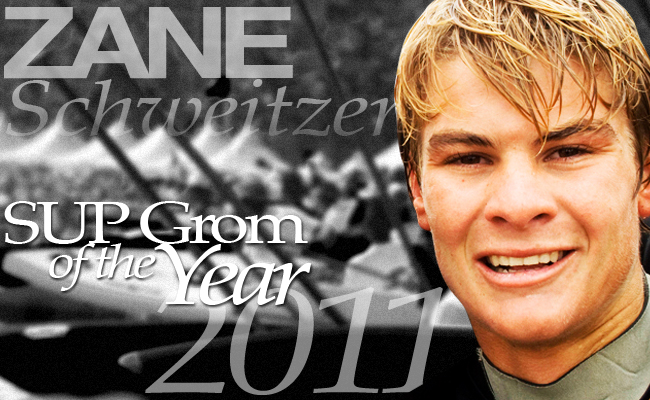 Your votes have been counted and we are proud to announce this year's winner of the SUP Grom Award.
After over a month on the SUP Grom campaign trail, shaking hands and kissing babies, the field of candidates has been distilled into the top 4 finishers.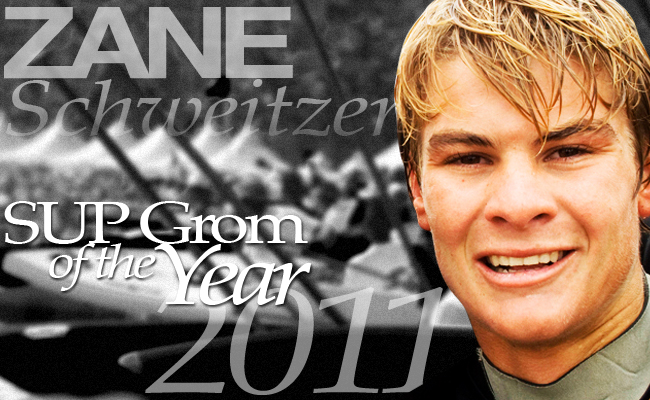 Zane Schweitzer, winner of the SUP Grom of the Year, took the lead in the remaining days of voting to compile an impressive total of 2,638 votes.
Shout out to the winners in the SUP Community.
SAN DIEGO, California – The results are in! The SUP community has spoken and has chosen a winner. We are happy to announce that Zane Schweitzer has won the SUP Grom of the Year Award. During the month of June, you cast your votes for this year's winner and there was some tough competition among the candidates. In the end, two nominees pulled far away from the rest of the pack, as each was backed by unprecedented support from the SUP community.

1st Place – Zane Schweitzer

With a boat-load of strong finishes in this year's SUP races and events, including first place finishes at the Surftech Steamer's Lane Shootout and the Hawaii Paddle of the Paddle Team Relay, Zane secured first place in the final days of voting. Surging ahead to a total of 2,638 votes, he claims this year's title as SUP Grom of the Year. Zane, a 17-year old from Lahaina, Hawaii, represents a new generation of SUP athletes that pull experience and knowledge from surfing and windsurfing and will carry the sport of SUP to a new level as he continues to compete at a higher level.

2nd Place – Mo Freitas

Mo Freitas made a spectacular run in votes during the latter half of voting and finished the month with a total of 2,381. Embodying the true definition of a SUP Grom, at 13 years old Mo charges waves on his SUP that others twice his age would consciously avoid. With support from his home in Haleiwa, Hawaii, and from his heritage in Brazil, he takes a well-deserved 2nd place in this year's SUP Grom Award. Make sure to follow Mo as he continues to compete in SUP races and events and continues to rack up 1st place finishes in his age group and beyond.

3rd Place – Vanina Walsh

With a last-minute push in votes, Vanina takes 3rd place in this year's SUP Grom Awards. Born in Arizona, Vanina always dreamed of a life of surfing. After moving to Kapolei , Hawaii, those dreams came true and she has rapidly developed into a well-balanced athlete in the water. Surfing her first completion at the age of 12, today she competes in all areas of surfing including Stand Up Paddling. With a long list of wins including the Hawaii BOP 2011 and only 14 years old, Vanina has a bright future ahead of her and represents an already strong and growing community of SUP girls and women.

4th Place – Kristi Page

Kristi represents Australia in the field SUP Grom Award top finishers. At 15 years old, she has a deep respect for the ocean and an even deeper passion for stand up paddling. Growing up, Kristi lived hours from the beach and her father would drive her 2-3 hours every weekend to get to the coast to surf, no matter what the conditions were. Now, living in Ocean Grove and far closer to the beach, Kristi has developed into a skilled stand up paddler and hopes to travel the world teaching SUP..

5th Place - Halie Harrison

With yet another Hawaiian rounding out the top 5 SUP Groms, Halie Harrison is a 16-year old Stand up Paddle (SUP) surfer and racer from Honolulu, HI. She recently competed and won the Women's Open on the 1st day of the BOP, HI 2011 and will compete in the treacherous Molokai 2 Oahu Paddleboard World Championship. Halie represents a strong field of female SUP athletes who compete at a high level and keep the seasoned professionals on their toes.
Complete List of Results:

1. Zane Schweitzer- 2,638
2. Mo Freitas - 2,381
3. Vanina Walsh - 572
4. Kristi Page - 468
5. Halie Harrison - 378
6. Tucker Ingalls - 265
7. Erin Dark - 203
8. Ridge Lenny - 173
9. Casper Steinfath - 164
10. Nick Scheel - 138
11. Kody Kerbox - 100
12. Noah Yap - 96
13. Slater Trout - 63
14. Alleanna Clark - 51
15. Savannah Baus - 40
16. CD Kinley - 40
17. Keola Auwae - 37
18. Matt Becker - 37
19. Riggs Napoleon - 35
20. Bernd Roediger - 20
What SUP Award are you looking forward to voting for next?
.
Last modified onWednesday, 01 July 2015 18:28

After spending the first part of her life in Minnesota, Morgan traded in her snow boots for sandals and moved to sunny California. After graduating with a degree in Communication from The University of Southern California, she eventually made her way down south to San Diego and is taking advantage of the living by the best beaches and burritos California has to offer. If it's sunny, you can find her at the beach relaxing, or exploring the calm water in the bay via paddleboards and kayaks.
Email

This email address is being protected from spambots. You need JavaScript enabled to view it.