Resolutions of a Standup Paddle Boarder
Here are some resolutions that you might want to adopt as you embark deeper into the stand up paddle board world. These resolutions address many topics, from paddling performance and health to personal life and community. Become an active member of the Supconnect community, helping us spread the sup stoke.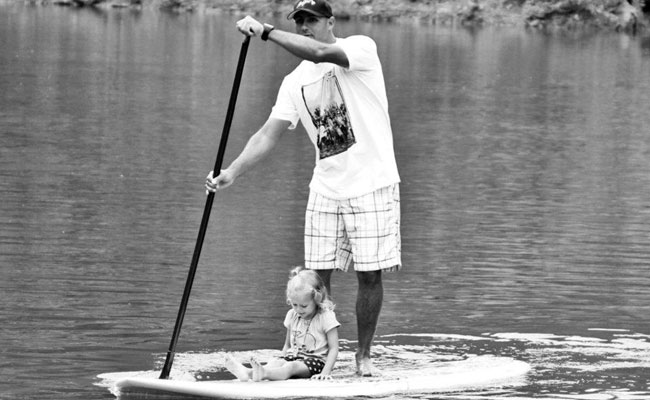 Paddle boarder styling a Supconnect t-shirt with his niece aboard.
In full disclosure, the resolutions below have been put together after assessing the life of countless stand up paddle boarders, including even those of our own staff. Hopefully, you'll find the list helpful.


1. Train Harder
Adopt gradual and subtle changes. While there are certainly a few stand up paddlers that have the problem of training too hard, most fall in the other category of not training hard enough. If you train too hard, you know what you need to do: slow it down a bit. But if you don't train hard enough, for whatever reason (too much work, family responsibilities, long commutes, etc), try adopting gradual and subtle changes – don't push too hard too fast for you will likely fall back. Cross training here is your best friend. Integrate body weight workouts (like, push-ups, sit-ups, pull-ups, squats etc) throughout the day. Combine muscular with cardio exercises and whatever you do, try to keep your heart rate up, for that will best resemble a stand up paddle workout. It will not take long until you notice an improvement in your paddling performance. (Watch Sup TV interviews with elite athletes for training tips.)
Highlights
• Don't push to hard too fast for you are likely to fall back
• Adopt gradual and subtle changes to your workout routine
• Combine muscular and cardio exercises to replicate the sup experience


2. Watch Diet
Satiate your cravings with replacement. In an age of fast food and hectic schedules, health eating seems out of question. But here a replacement strategy might prove quite effective. Some people say, "drop sweets," others, "drop all carbs," and so goes the list of these free this or free that diets. For most of us, these radical changes don't last long. A better approach might be to replace, say, the candy sweets with some organic and healthy sweets, which can equally satiate your sugar craving. For instance, Candice Appleby's green drink, which she shared on her live show, is healthy, organic, and will quickly curb any sugar craving. Replacement is your best friend. But moderation is also key. Let reason, not desire, dictate what you eat and how much you eat. You'll also notice that self-control in general, but particularly on eating, improves once you start training harder. (Get healthy and organic recipes from the Health Spot on Sup TV Live.)
Highlights
• Don't jump into a sudden @@@ free diet
• Satiate your cravings for junk with health and organic alternatives
• Let reason, not desire, drive your eating habits


3. Attend Events
Train harder to pass that person in front of you. Mutual accountability can do wonders to improve health and paddling performance. And whatever your modality, whether surfing, whitewater, or something else, stand up paddle board racing can boost your performance. Find a circuit, identify that person in front of you, and train and eat accordingly to pass them on the next race. Don't get fixated on catching up with elite athletes. Focus on the people right in front of you, pass them one by one, and you might join the elite ranks without even noticing it. But the most important thing is to identify paddlers that can serve as reference points for your performance. Ideally, try to race them every two weeks. That will give you time to train, rest, and a chance of passing them. Southern California has the SoCal Ocean Racing Series, which holds paddle races almost every two weeks. Most places in the world still don't have such regimented circuits. You can help spearhead that effort in your area. But if you don't have the time, get the contact information of the people slightly faster than you, and try to go paddling with them. The community of paddlers is highly inclusive and one of the greatest assets of the sport. Go ahead and tap into it. (Check sup events around the world on Events Page on Supconnect.)
Highlights
• Don't focus on catching up with elite paddlers
• Participate in sup races, whether you're into surfing, white water, etc
• Identify the people immediately in front of you and train to pass them



4. Adjust Paddle
Avoid injury with the right paddle length and blade area. Two of some of the most popular causes of injuries are a weak core and an ill-fitted paddle. The former can be taken care of by your new training routine. But the latter will take some trial and error. There are tons of features that go into a sup paddle. But here we should focus on at least two: length and blade area. The ideal length of the shaft hinges on too many variables for us to go into it. But after all our field research, paddle length seems to be in the ballpark of 8 inches for surfing and 10 inches for racing. Play around with those numbers and see what best suits you. If too short, you'll likely notice lower back pain and, if too long, shoulder pain. Another important feature to consider is blade area. Large blades tend to overpower weaker paddlers and can easily cause injury. As you work toward building your core and other muscles, begin with smaller blades and gradually increase that blade area. Adjusting your paddle is one of the easiest ways to avoid injury, together with strengthening your core. (Learn how to cut a paddle and choose paddle length.)
Highlights
• Don't train hard with a paddle not fitted for you
• Try different paddle lengths before settling on one
• Start using paddle blades with small area and increase area gradually


5. Balance Life
Befriend other paddlers, participate in events, and integrate your family. In the stand up paddle world, you find everything. Those who work too much and paddle too little; those who spend too much time in sup circles and little with family; those who have grand goals but not the discipline to carry them out; and many other profiles. You've heard it a million times that you should aim at balancing all those priorities to avoid the pitfall of leaning too much on one side to the detriment of the other. Stand up paddle boarding, more often than not, has been an incredibly positive force in leading people to live healthier lives and inspiring families to live wholesomely together. And this communal and community aspect of the sport, as mentioned countless times before, is one of its greatest assets. With that in mind, yes, attend events, befriend other paddlers but also try to integrate your family into this paddleboard lifestyle. Perhaps, they will not go to races with you or go out surfing, but you can take them paddling as a family and gradually expose them to the many benefits of stand up paddle boarding and all the cheerfulness of its community. (Engage with other Supconnecters for paddle life insights.)
Highlights
• Don't be a stand up paddle board loner
• Befriend other paddlers wherever you paddle
• Participate in events and invite your family into your paddle life


6. Give Back
Participate in charitable events and introduce others to the sport. There are lots of charitable stand up paddle events all over the globe. These are priceless! Here you have the opportunity to have lots of fun while at the same time raising funds for a great cause. Find these events in your area and, if there aren't any, organize one yourself. The John Wayne Foundation has been the most active charity in the stand up paddle world, organizing some great events, from Sup4Cancer and Paddle2live to Paddle for Privates and beyond. Contact the John Wayne Foundation or another worthwhile charity and gather the sup enthusiasts in your area to have some fun, paddle hard, and raise funds for great causes. Also, use every opportunity you can to introduce others to stand up paddle boarding. By doing so, you're not only growing this great community of ours but also being an ambassador for a healthier and more wholesome living. (Check sup events around the world on Events Page on Supconnect.)
Highlights
• Don't paddle only for yourself
• Participate in charitable paddle events or organize one yourself
• Introduce others to the sport to partake in all the benefits it offers


7. Help Supconnect
Get paddlers to connect with one another and build sup networks. As mentioned earlier, the community of stand up paddlers is one of the greatest assets of the sport. And that's because sup enthusiasts encourage one another to paddle, train, race, surf, travel, and more, building a large and yet tight knit network of paddlers. To continue to propagate this all-inclusive and cheerful character of the community, every stand up paddler must take on him or herself the responsibility of being an ambassador. And if there is no community of stand up paddlers in your neck of the woods, create one and introduce your local folks to the healthy and wholesome lifestyle of sup. (Join the Supconnect Community to help us connect paddlers around the world.)
Highlights
• Don't miss the opportunity to connect paddlers
• Build a sup network in your local community
• Practice the all-inclusiveness and cheerfulness of the sup community
Follow Supconnect on Facebook | Twitter | Youtube & Watch SUP TV Live
What other sup resolutions would you add to this list of a stand up paddle boarder?
Last modified onSunday, 01 January 2012 23:28

Submit your news, events, and all SUP info, so we can keep promoting and driving the great lifestyle of stand up paddling, building its community, and introducing people to healthier living.
Website: supconnect.com
Email

This email address is being protected from spambots. You need JavaScript enabled to view it.