Pool-Wave SUP Contest in South Africa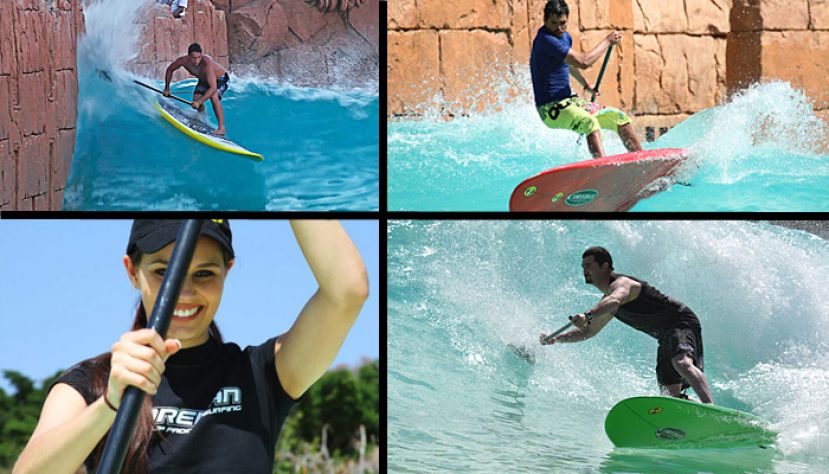 SUN CITY, South Africa - When ancient Hawaiians first started stand up paddle surfing, never in their wildest dreams would they have imagined their traditional sport being performed on a man- made wave in the middle of South Africa.
Riders from around the country flew 100's of kilometers inland to compete at the prestigious Sun City, Valley Of the Waves for the world's first ever stand up paddle surfing event at a wave pool. Riders included world famous big wave surfers Grant "Twiggy" Baker, winner of the XXL Billabong Big wave award, John Whittle, winner of previous Red Bull Big Wave Africa Challenge, Karina Figl from Austria, Eric Groenewoud from Netherlands, Craig Cuff, former SA long board champion plus other top riders from around South Africa.

Friday saw a practice round with competitors being allocated 1 ride to feel the fresh water wave in action followed by a VIP opening dinner at the Lost City overlooking the breathtaking Gary Player golf course.

Saturday morning arrived with perfect conditions, sweltering heat and close to 2000 spectators flooding through the gates of the Valley of Waves venue to experience SUP for the first time.

As the pool pumps started up, one could feel the anticipation of the riders as they stood and watched the first perfect wave peel across the pool. Greg Bertish, big wave pioneer and winner of the Coreban Summer Series face came alive when he realized that at the push of a button and in a matter of seconds the wave could be changed from a right hander to a left breaking wave. A surfers dream come true. Crystal clear water, boiling hot weather, no sharks and a wave every 2 minutes.

First wave and all the pressure of cameras and crowds fell on Nicki Carstens a former world champion wave ski rider, as he paddled out to the lion faced wall. Tension mounted. The most difficult challenge that faced all athletes alike was the wave that "popped" out of nowhere and allowed no room for second chances. The format being- 4 riders in a heat, 1 person on the water at a time, riders rotating with a total of 3 waves per heat with the top 2 rides counting. And if the crowds and cameras that lined the walls weren't enough pressure, the fact that if the rider missed a wave no second chances were allowed, which resulted in some real close heats. Head judges Dom Gaud and Brendon Scharfetter from SUPHQ manned the judges stand and would make the final call on scoring and ensure accurate judging. As the heat increased so did the level of riding. Karina Figl demonstrating that females can also rule the waves, while Twiggy showed his skills on his newly found passion. Both Ivan van Vuuren and Barend Buys advanced in the early rounds but being contest organisers decided to forfeit their places allowing fellow competitors to advance showing the true aloha spirit of stand up paddle boarding. Being a relatively new sport in Africa it was good to see the standard of riding at such a high level with each heat showcasing SUP at its best.

As the wave heats advanced towards the semi finals it was time to turn the wave machine off and get the racing underway. 8 man heats, 4 advancing with all riders on 9ft Coreban Fusion boards. One design racing at its most challenging, with a wind and wave simulated surface causing cross chop and refracting waves off the walls the equivalent to paddling in 40 knot onshore winds. Challenging to say the least with experienced racers such as Greg Bertish, Jonno Rosslind and Morne vd Walt finishing in top places respectively.

Now it's one thing being at a picture perfect wave pool having all the fun but with 2000 guests wanting to get in and cool off the Coreban team seized the opportunity to introduce riders of all ages, sizes and nationalities to this exciting sport. A sight to be seen as hundreds of people flocked into the water many attempting SUP for the first time. The sport has attracted so much attention that even Miss South Africa, Nicole Flint arrived at the event to give SUP a go and right away phoning her mom saying "this is amazing. I am hooked and have found my new sport"

After a long but fun filled first day it was time to chill out and watch the sun set as Sun City erected floodlights and lighting for the New Balance Floodlight Xpression Session. Each of the 20 invited riders having 1 wave with the most radical move counting, allowing the top 8 riders to advance to a final round. Xpression Session at it's best. With a majestic background setting that looked more like something out of a Hollywood set Jonno Rosslind demonstrated style and grace while Gary v. Rooyen displayed true power into 2nd Place and Greg Bertish in 3rd.

A new day and excitement filled the air as the first perfect wave peeled off along the wall to start the final heat of the 2010 Coreban Invitational. Fighting their way through and advancing from earlier rounds were Craig Cuff, former South African long board champion, packed with style and power. Nicki Carstens, Coreban board shaper from the West Coast and competitive machine ready with a bag of tricks. Jonno Rosslind represented grace and Hi- performance all in one package. Big wave rider John Whittle redefined the saying "no guts, no glory" as he took off as close to the wall as was humanly possible. 30 minutes of non- stop action, spectators cheering and judges feeling the pressure resulted in a nail biting final.

As the scores were tallied up and Miss SA presented the final awards, it was unanimously decided that Jonno Rosslind from Cape Town be awarded the winner of the 2010 Coreban Wave Pool Invitational. 2ND Place in the wave riding discipline went to John Whittle from Durban followed by Craig Cuff from Port Elizabeth in 3rd and Nicki Carstens close behind in 4th.

Until next year when the 2011 Coreban Sun City event goes International and open to racing and a wider field of competitors, without a doubt Stand up paddle boarding has once again made headlines and carved its way into history.

For full event highlights visit www.Coreban.com .
Last modified onThursday, 27 August 2015 17:31

Submit your news, events, and all SUP info, so we can keep promoting and driving the great lifestyle of stand up paddling, building its community, and introducing people to healthier living.
Website: supconnect.com
Email

This email address is being protected from spambots. You need JavaScript enabled to view it.