Katie Vineyard, Surfing Beyond the Lineup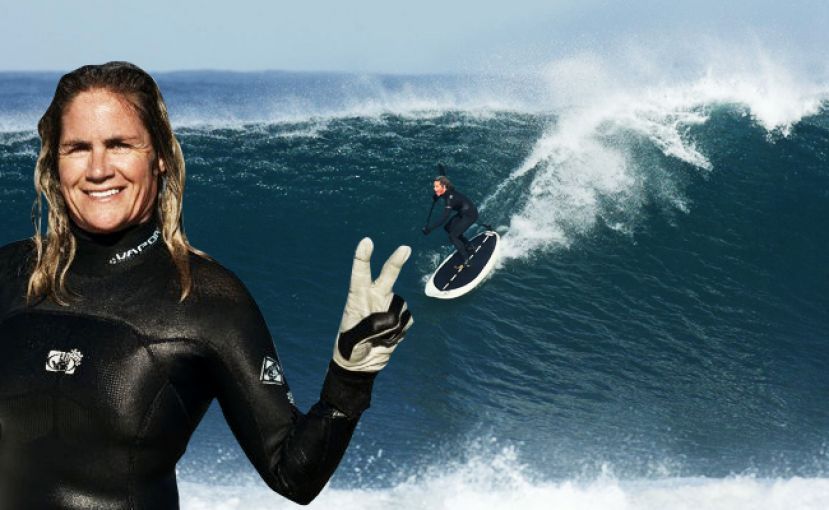 Written by Katherine Vineyard
The wave of her lifetime epitomizes the passion with which women all over the world have embraced the sport.
Katie Vineyard describes experience on Standup Paddle TV.
Take Off

---
The offshore winds were almost blow it all off the wave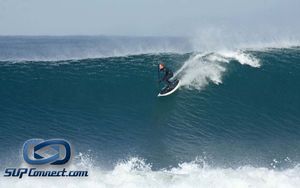 ---
Engaged

---
The point of no return is reached and the buildup begins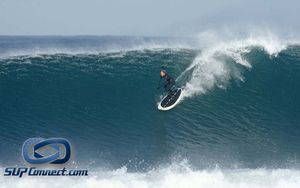 ---
The Scream

---
The most primeval of all screams is let out in action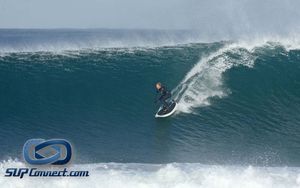 ---
Oh No!

---
The wall is starting to come down on top of ...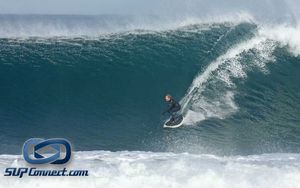 ---
Whew!

---
I made it, I made it ... oh no, it's coming down!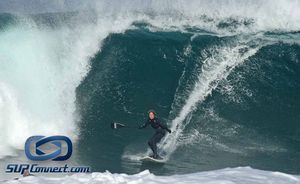 ---
LA JOLLA, California – As we all know, last winter was an El Nino year. Without getting into the details, El Nino is a periodic climate pattern that occurs across the tropical Pacific Ocean on an average of every five years. The detailed account goes something like "warm water up welling, off of the cost of Chile, etc." But I'll not bore you with the details. Now in California, El Nino tends to bring unusually wet winters, flooding, and big waves! (Signup for the SupConnect Newsletter.)


1. Background
So, that being said, I have probably witnessed at least eight El Nino winters of big waves. In fact, the first El Nino waves I remember were from the winter of 1969, with La Jolla Cove breaking 20ft plus, or at least that's what the locals called it at the time. I was in awe, watching the local surfers taking off on these huge mountains of water. I knew at that time I wanted to learn how to surf. Although, I was only 8yrs old at the time, that was enough to get me hooked.

Fast forward to the present. I have been surfing for 34 years and stand up paddle surfing or sup'ing for 3 years. I have been truly fortunate to have grown up in La Jolla, California and have the wonderful opportunities to enjoy the water in various different ways, whether surfing, sup'ing, fishing, or snorkeling. It's been truly a blessed experience. (Join the Sup Surf group on Sup Connect.)


2. Big Wednesday
Then January 20th 2010, a Wednesday, came around, with unusually large waves, inevitably to be dubbed "Big Wednesday." The place: the fastest 50-yard surf beach break in La Jolla, also known as "The Whole," "Green Wall," "Brown Wall," or as some old time locals will refer to it, the "White House." Call it what you will. All I can say about this incredible spot, or moment when it's firing, is "CHARGE!!!! Full throttle!!"

But, seriously that particular day was an epic moment in my life. I had been in the water all week and stand up paddle surfing a swell that was building daily. As a result, I was somewhat fatigued. I had not made my usual crack of dawn morning start and was taking my time getting "it" together. My friends were calling me to tell me how the surf was "Going Off " and strong offshore winds were blowing. With this in mind, I decided to head off with my 8'6 rounded pintail Craig stand up paddle surfboard. (Become friends with Katie Vineyard on SupConnect.)


3. The Ride
When I got to the La Jolla Shores parking lot, the offshore/sideshore winds were howling and holding up the waves a bit. I got so excited I could just feel the energy all around! It looked so clean!! Within minutes I was paddling out unaware of what was ahead of me. The inside was 4-6ft barrels, so I tried to paddle into my first wave and got blown off the top, due to the strong offshore winds. I regrouped and started to paddle to the outside. I was enjoying the scenery waiting for an outside wave when I noticed that I was getting blown out of the line up and past the end of Scripps Pier, really far out there, beyond anyone in the lineup. I started to get a little frustrated with the 15mph offshore wind and wondered if I was going to be able to even catch a wave. Ever determined, I started to paddle back in towards the shore, thinking how to triangulate my position to the waves etc.

With my adrenaline pumping and wind blowing, all of a sudden I noticed a Dolphin (20 yards away) rolling around with something apparently in its mouth. So the curious side of me wanted to investigate and check it out. As I was paddling towards this magnificent creature, I saw this nice swell coming towards me. Totally relaxed, I thought "Oh this looks like a nice bump. Go for it." I knew I had to paddle vigorously and stay low so I would not get blown off the top. With all that in my mind, I took off and experienced one of the most free falling, elevator dropping, gravity pulling, slow motion, time warp, charging moments of my life!! I let out one of the most primeval screams that I didn't even know I had inside of me! (Become a member of her group of friends on Sup Connect, called Sup Sisters.)

By the time I got to the bottom of the wave, the inside was closing out, so I had to doggy door out of there. Whew!! Thank God that I somewhat out raced the lip, and the wave exploded behind me!! Then about 10ft of white water swallowed and nailed me from the back, and the board was ripped away from my leash, heading towards the beach. At this point, I realized I was still holding onto my paddle and started to swim inside to retrieve my board. I got worked over by two more set waves as I was swimming towards the shore. I was so exhilarated and relaxed at that moment that I did not even think that maybe I could be in over my head, literally and physically. Then I realized, after all, that the dopamine/adrenaline boost I was just experiencing seconds ago was quickly turning into a shot of cortisol (FEAR). So, I swam, ASAP to shore, a bit winded/fatigued. (I am 49 yrs old.) I could see my board on the beach. I made my way inside and noticed that a few photographers and spectators were giving me the thumbs up, etc. All I could think is "what a day, what a wave. Thank God all is well. I love the ocean!!!" (Signup for the SupConnect Newsletter.)
© Copyrighted & Exclusive SupConnect.com Content
Last modified onThursday, 27 August 2015 17:22

Submit your news, events, and all SUP info, so we can keep promoting and driving the great lifestyle of stand up paddling, building its community, and introducing people to healthier living.
Website: supconnect.com
Email

This email address is being protected from spambots. You need JavaScript enabled to view it.