Baxter Wins First Round of Triple Crown of SUP
Participants in the first race in the Triple Crown of Stand Up Paddle series sprint from Maliko Gulch to Kahului Harbor. The next race will be held on July 10th and will be a 21-mile paddle from Maliko Gulch to Honolua Bay.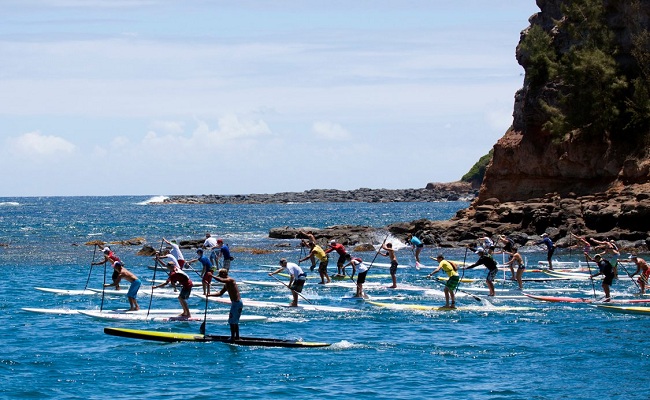 Racers paddle for position as the race begins from Maliko Gulch. Photo: Harry Wiewel
Post pictures from this stand up paddle race and others.
KAHULUI, Hawaii – The first race of the Triple Crown of Stand Up Paddle 2011 was held this past weekend. The Handsome Bugga Poi Bowl saw over 60 competitors battle for 9.54 miles from Maliko Gulch to Kahului Harbor.

In the Men's Elite division, the race was tight between 1st place Conner Baxter, 2nd place Livio Menelau and 3rd place Mark Raaphorst. The Women's Elite division also saw some strong paddling from 1st place Andrea Moller-Bouwens, 2nd place Talia Gangini and 3rd place Devin Blish. Also competing in the Men's Elite division, and placing 7th overall, was Bart de Zwart who recently completed a 5-day, 300 mile paddle from the Big Island to Kauai.

Conner Baxter Recounts His Win

"The race started inside of Maliko Bay between two buoys. I started towards the left side of the bay. When I got outside of the bay, I was in second place behind Jerry Bess. Within 5 minutes of being in the bumps, I passed him up and I was in the lead."

"I just put my head down and focused on one thing and that was wining. I looked back to see my competition a few times, but I stayed focused and kept catching bumps. The trade winds were light to moderate, but still was super fun and I got some good long glides."

"When I came around the outside of Kahului Harbor I was still in first. I had a good lead on second and third place – Livio Menelau and Mark Raaphorst. So, all I had to do was keep my pace coming into the harbor to the finish line at the beach. At the finish there were a lot of people hooting and hollering for my first place finish!"

About the Triple Crown of Stand Up Paddle 2011

The Triple Crown consists of Three Events on Maui. The First Event, held on July 3rd, is from Maliko Gulch to Kahului Harbor (9.54 miles). The Second Event, held on July 10th, goes from Maliko Gulch to Honolua Bay (21-miles). The Third and final Event of the series, held on July 16th, paddlers traverse the Pai'lolo channel from Honolua Bay to Kaunakakai Harbor, Moloka'i (27-miles).

For more information on the Triple Crown of Stand Up Paddle 2011 check out the event's website.
Tell us about a SUP race you are planning to compete in.
.
Last modified onWednesday, 06 July 2011 21:44

After spending the first part of her life in Minnesota, Morgan traded in her snow boots for sandals and moved to sunny California. After graduating with a degree in Communication from The University of Southern California, she eventually made her way down south to San Diego and is taking advantage of the living by the best beaches and burritos California has to offer. If it's sunny, you can find her at the beach relaxing, or exploring the calm water in the bay via paddleboards and kayaks.
Email

This email address is being protected from spambots. You need JavaScript enabled to view it.