Are Rules & Regulations Making it Difficult to SUP?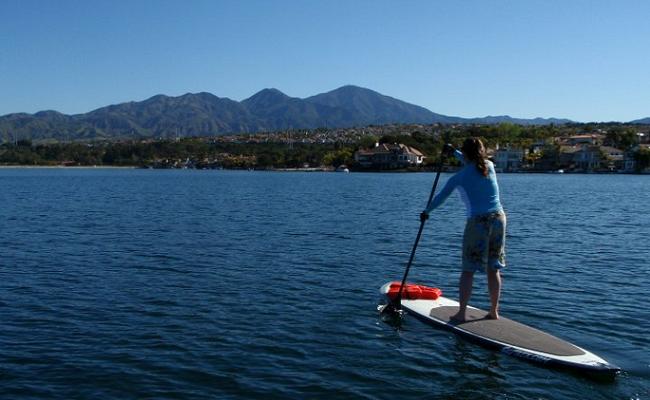 SUP on Lake Mission Viejo, California
MISSION VIEJO, California - Is it getting more difficult to get on the water and just go for a paddle? How many of you have had a hard time overcoming rules and regulations to simply SUP?
On the 4th of July, a stand up paddler headed to Lake Mission Viejo in southern California to visit with some family and friends, have a good time, enjoy some paddling and ultimately watch fireworks on the US independence holiday. However, upon arrival it became apparent that there were some strict barriers to getting on the water.
Lake Mission Viejo is a private lake (actually a reservoir formed by an earth filled dam across the canyon of Oso Creek) and is only open to the public during certain hours of the day. This fact was known before arrival, but the first surprise barrier encountered was the need for a personal flotation device. Understandably PFD's can be important and wise to use, yet many paddlers across the world still do not use them as they feel that their board is the flotation device. Some suggest that using a leash when doing stand up paddle board should be sufficient, but in this case the PFD was a requirement to get on the lake.
While this first barrier/rule could have easily been taken care of and respectfully followed, the second barrier was not so easily overcome. The lake officials also made it known that no one could paddle on the lake without registering their craft. Paddle boards are apparently classified as a type of boat at this lake and fell under the following guideline:
"Boat Registration: Any boat not displaying a current boat registration sticker by February 1st of each calendar year will be subject to impoundment without notice. Impounded boats will be removed from LMVA property and are subject to daily storage fees until registration is issued."
Obviously the risk of getting the paddleboard impounded and being fined was not an option in this case and the rules and guidelines were respected by the visiting stand up paddler. However, they left feeling very frustrated that simply going out for a paddle on a beautiful day became so complicated and resulted in no paddling at all! Renting was the only other option, but would have cost extra money and did not make sense as a board and paddle were already in hand.
Have any of you ever felt that sometimes the guidelines are just a little to strict? Or do you feel that the rules are totally appropriate and people just need to take a little more time to research the rules of where they want to paddle and simply respect them and comply?
.
Last modified onFriday, 06 July 2012 17:57
Email

This email address is being protected from spambots. You need JavaScript enabled to view it.