4° Paddle Marathon Laguna Bacalar 2017 Recap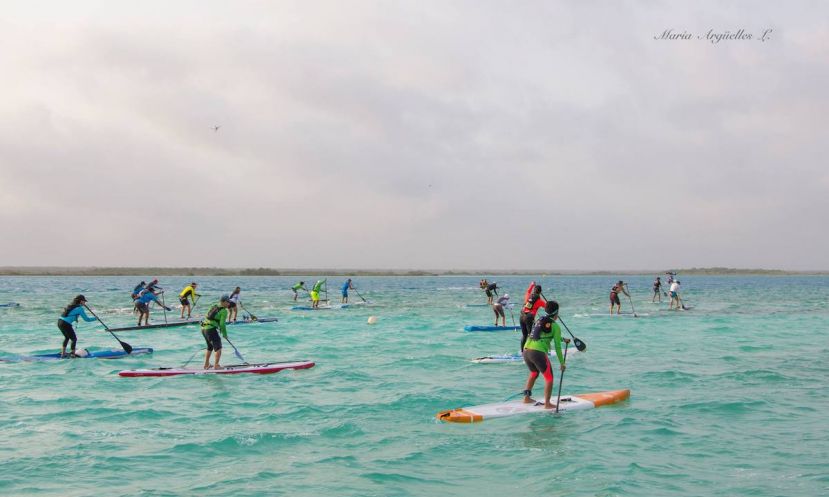 Photo: María Argüelles
QUINTANA ROO, Mexico - At the end of April the small town of Bacalar, in southern Quintana Roo, Mexico is filled up with cars and trailers loaded with Kayaks, Paddle Boards and Surf Skis. Laguna Bacalar with its crystal clear turquoise water once again was showplace for the Paddle Marathon Laguna Bacalar, one of the toughest paddle races in Mexico.
Even though a 30 km race does not seem too long, the heat and the sustained 18 knot SE winds, with gusts up to 25 knots makes it a real endurance race. The lake runs pretty much north-south meaning especially for the SUP paddlers, paddling just on one side for many kilometers.
The 3-day event organized by Active Nature Bacalar and Protudec in conjunction with the town of Bacalar, Gand Costa Maya and Viajemos todo por Mexico draw more than 160 national and international participants to the south of Quintana Roo. This year we had the backup of the Asociación de Surf de Quintana Roo as well.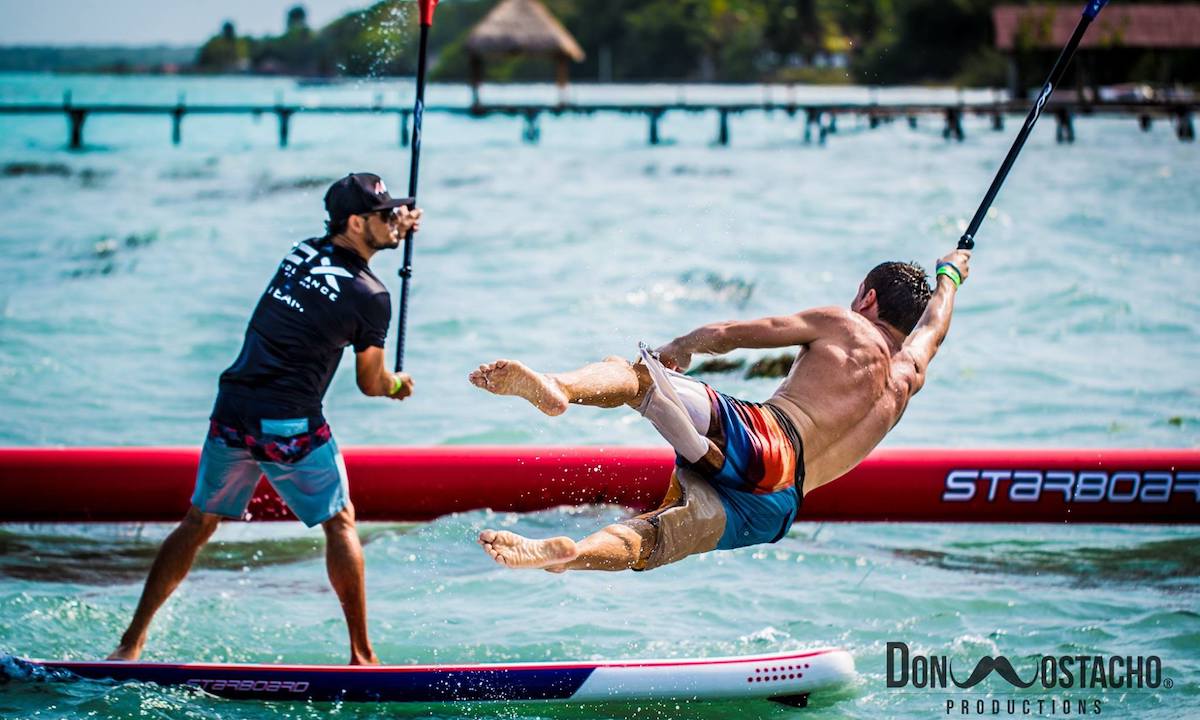 A bit of the SUP Polo action. | Photos: Don Mostacho Productions
A great mix of SUP, Kayak and Canoe paddlers were competing in three different races: 30 km, 5 km and 2 km for young paddlers. For the first time, Bacalar was hosting the Quintana Roo State Championship SUP-Polo, organized by Surf Mexico and Starboard. The SUP-Polo tournament brought a lot fun and excitement for participants and spectators to the first day of the event. 12 teams played under hard conditions for the title, which the SUPMarinos team under the regime of Felipe Rodríguez, Cecilia Gutierrez y Miguel Cantarel Glez took home. Sub champion team Halcones with Maxime Lhuillier, Andrea Perezgil Del Valle and Oswaldo Romero shared 3rd place for Paddle Bacalar-Boat and Board (Steve Lingo, Ninive, Paul Szaroz) and Compas SUP Q.Roo (Fanny Saucedo Diaz, Abraham Velazquez, José Perez).
Early Sunday morning the long distance race was under way with the 104 paddlers (58 teams) were headed into the wind. The big Mayan Canoes, with all the power and energy of 11 paddlers were leading the bulk and in between Segundo Hernandez (first Mexican who won the Euro Challenge Surf Ski/Kayak in 2013 and bronze in 2014) and Ronald Zavala Campeche (national selection) in his K1.
Two minutes later the race started for the SUP paddlers and very early in the race Felipe (Pipe) Rodriguez (who represented Mexico in the 2016 ISA Games World Standup Paddle and Paddleboard Championship in Fiji) made it clear he is here to win this harsh race in the SUP category. Last year winner Maxime Lhuilier wanted to challenge Pipe but unfortunately dropped out early due to injury. So, Felipe was leading the SUP field and finished after 3 hours 40 minutes, 1 hour and 4 minutes before second place finisher Luis Canseco crossed the finish line. Abraham Velazquez (5hrs 10min) came in 3rd and Carlos Granados (5hrs 17min) in 4th place. Carlos has paddled in this event here in Bacalar since 2014, when it covered the entire Laguna with 74 km.
There was more than just racing at the event. | Photos by María Argüelles
The unquestionable leader in the woman's SUP category was Mariana Carrasco finishing after 5 hours 19 minutes, 17 minutes before Fanny Saucedo Diaz and Cecilia Gutierrez Navarro (6hrs 14min).
As for the Mayan Canoes and the Sea Kayak/Surf Ski teams, Segundo Hernandez Montoya came in as the overall winner after only 3 hours and 21 minutes, leaving also last years winners Julio Balinas Bustamente/Alejandro Lima Amaro Veracruz behind. The team of Akbal-Ha (3hrs28min) Mayan Canoe crossed the finish line six minutes before the Cozumel Team (3hrs 34min) and José de Jesús Aguilera Del Hombre (3hrs 29min) Surf Ski. Ronald Zavala Campeche K1 came in 5th overall (3hrs 31min).
Monica Felix Morena reached the finish line after 3 hours 57 minutes and got the 1st place in the Sea Kayak woman's category. In the 'Sit on Top' category the Molkaab team (Leonor Alvarez Cerucha, Isis Martinez G. Canton, Monica Lomeli Saenz and Lisa Primus Stahl) showed everyone what woman power is and convinced the spectators that a Sit-on-Top kayak is suitable for a race like this. Although not everyone completed the race all participants enjoyed a great after race party buffet at Kai Pez where the award ceremony took place later on Sunday night.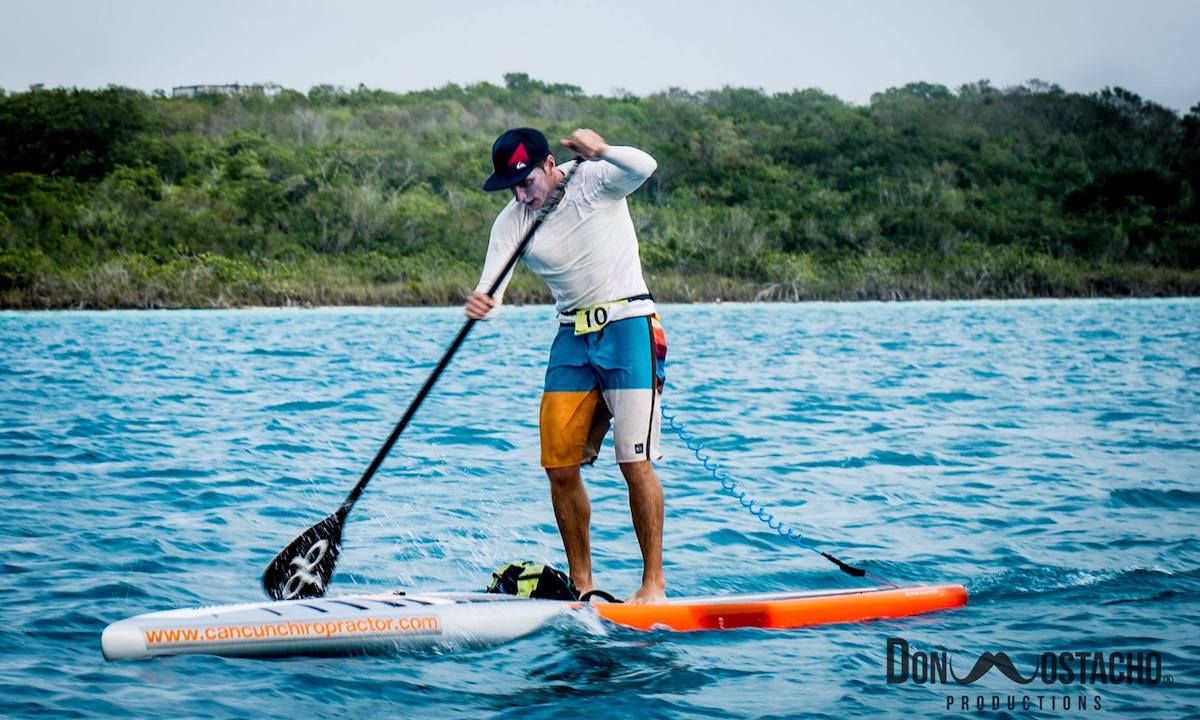 Photo by Don Mostacho Productions
Mondy morning Huraquan, the Mayan God of the wind had mercy with the paddlers of the sprint races and did not make even one ripple on the lake. Felipe Rodriguez Lorenzo again was unstoppable and won clearly both the short races (12min 13sec in the 2 km, 30min 50sec 5 km). For the 5 km, Maxime Lhuilier was back in the game but could not keep up with Felipe and finished 2nd (32min 29sec) but 2 minutes before Luis Canseco.
While Mariana Carasco decided to give other paddlers a chance and raced only in the 2 km, (where she came in 1st) and Cecilia Gutierrez Navarro second. Cecilia was able to prevail in the 5km and achieved 1st place at 42min 07sec and relegated Fanny Saucedo Diaz to the 2nd spot (44min 42sec) and Monica Diaz Cayeros to 3rd (49min 25sec) place.
The youngest SUP racer Ana Mendoza who is 12 years old and Joshua McNair at 13 years old did a great race in the 2 km and earned a lot of respect from much older paddlers which they left far behind.
Gorgeous calm waters for the event. | Photos by María Argüelles
Segundo Hernandez (2nd place in 2 km and 1st place in 5 km) and Ronald Zavala (1st place 2 km and 2nd place 5 km) had a head on head race and divided the 1st and 2nd places between themselves. Fabian Guillermo Olivares Trinidad Tabasco Sea Kayak (15min07sec) came in 3rd at the 2 km while Pedro Aguilar Higuerdo Veracruz Sea Kayak placed 3rd at the 5 km (33min50sec).
As a family event many youngsters enjoyed paddling solo or with their parents or grandparents and could check out the outdoor exhibition what's new on the paddling market here in Mexico. SUP boards from 4TheOutdoorMexico where available to try out, kayak rentals and demos with Conexion Nativa Cancun as well Surf Mexico showed some Starboard SUP boards. DockDepot presented the latest news on Kite Surfing.
Travel'In from Mahahual and Enamora Bacalar did a great job on the culinary needs of participants and spectators alike, complying with the obligation not to use disposable plastic cups and plates. More than 400 cold coconuts were brought in for rehydration for racers and visitors.
During the three days many new friendships where bounded, old-timers met again as well new contacts were made. A broad variety of Sea Kayaks, SUP boards, Surf Skis, Canoes, 'Sit on Top' Kayaks as well an Outrigger canoe were racing against the fierce wind and each other, enjoying the beautiful lake, great company and comradeship.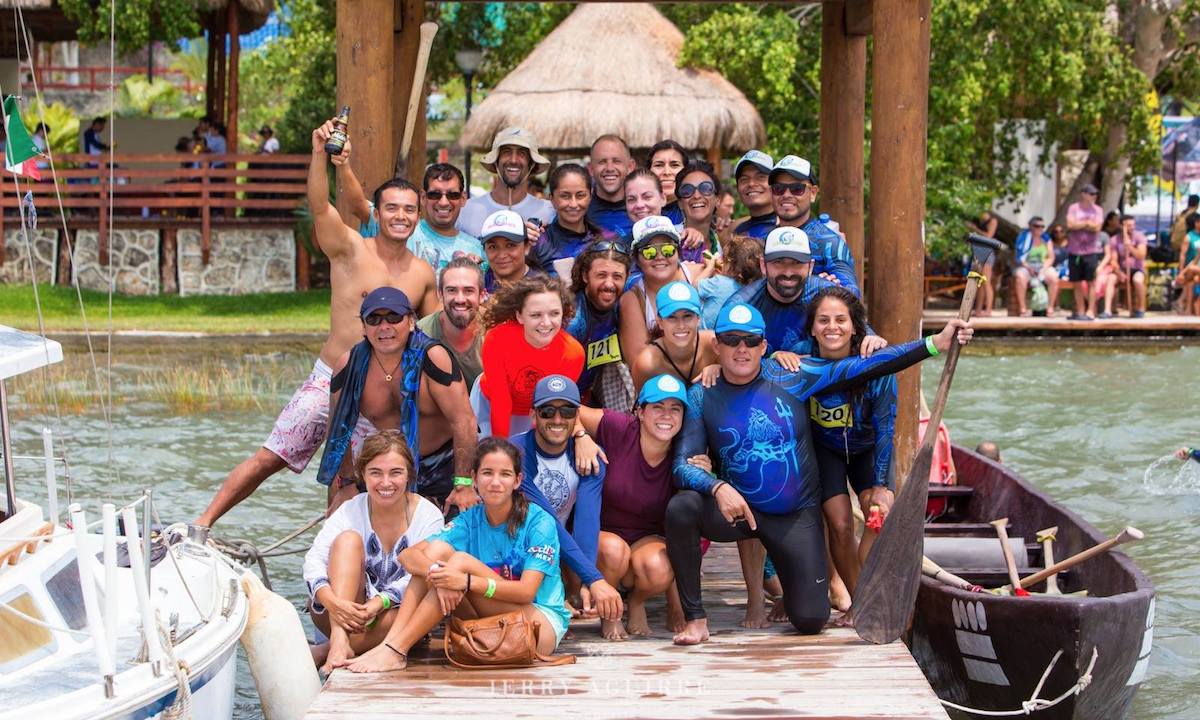 Nothing but comradarie. | Photo by Jerry A.
Most of them did not say goodbye, instead they said see you next year, when once again Bacalar calls together the best paddlers from all over Mexico, North and Central America for the 5th Paddle Marathon Laguna Bacalar 2018. Hereby I will say thank you to all participants, to our sponsors, supporters and helping hands. Without you this would be not possible. Thank you and see you in 2018 in Bacalar.
To see more Race news click HERE.
Last modified onFriday, 16 June 2017 17:12

Email

This email address is being protected from spambots. You need JavaScript enabled to view it.