14 Tips for Paddling at Night
Article Written by Rob Casey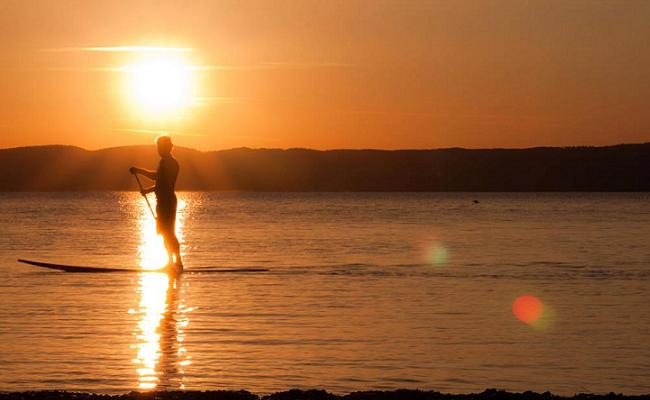 SEATTLE, Washington - A friend recently told me of an amazing evening in November in Seattle of surfing freighter waves under a full moon. Another friend loves the glowing reflection of the city at night on the water around his board. I love experiencing biolumenence during summer evenings when phytoplankton becomes illuminated when stirred by my paddle creating a psychadelic light show below my feet.
Many don't think of paddling at night assuming there's nothing to to see, or that it may be dangerous. In winter when day light hours are short, night paddling can be an extension to your day if you get off work after dark.
Pre-planning is key in assuring you have a great paddle.
1. Get a chart of your route to put in a ziplock to carry with you.
2. Wrap white electrical tape around your paddle shaft to find it easier if dropped in water.
3. Stick reflective tape on your paddle blade to increase visibility if boaters shine a light towards you.
4. Purchase two waterproof lights - one for your board or rear shoulder of your life jacket.
5. The Coast Guard requires one white non blinking light when approaching another watercraft or for paddling in a busy waterway. Attach it so that it doesn't affect your night vision or of those around you.
6. Attach a second stronger light on a short string to shine directly at a boat if you feel a collision is possible.
7. Waterproof laserpointers can be pointed at a boat's pilot house if a collision is imminent.
8. Prior to leaving, tell a friend of your route and return time.
9. Check the wind and water conditions and determine if they are appropiate for your group – be willing to cancel if not.
10. On the beach, give a short safety talk, count the number of paddlers in your group, and ask everyone to stay within sight and vocal distance of you.
11. Underway, always use a leash – it's easy to lose your board in the dark!
12. During breaks on your board, place the paddle under your thigh so it doesn't slip in and float away.
13. Don't rely on on shore lights for landmarks as they may be turned off.
14. Use your ears to listen for boat motors especially in urban areas where your eyes can fail when looking at so many lights on shore.
With a little bit of preparation and common sense, night paddling can be a very rewarding experience.
About the Author:
Pacific Northwest photographer Rob Casey's wanderlust and appreciation of the outdoors compel him to explore both familiar and out of the way places where he discovers unexpected moments that are revealed through his work. Rob is the author of, "Stand Up Paddling Flat Water to Surf and Rivers" and "60 Trips, Kayaking Puget Sound, the San Juans, and the Gulf Islands," both published by Mountaineers Books. He teaches Stand Up Paddling and Kayaking through his business, Salmon Bay Paddle, in the Pacific Northwest and beyond.
More Informatin: www.robcasey.net | www.salmonbaypaddle.com (SUP & Kayaking Classes / SUP Certification) | www.stokemagazine.blogspot.com (SUP tips) | http://www.facebook.com/pages/Salmon-Bay-Paddle/117400248277184
.
Last modified onMonday, 02 July 2012 00:19