Paddle Boarding Destin, Florida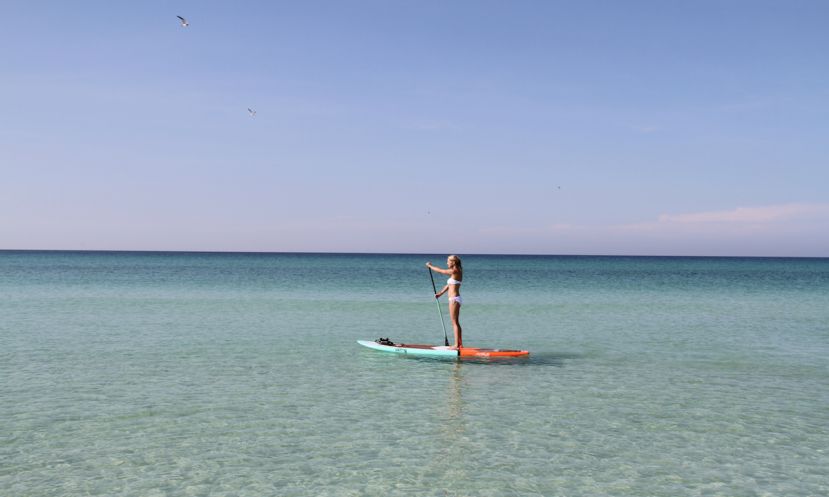 Gulf of Mexico in Destin, Florida. | Photo Courtesy: BOTE
DESTIN, Florida — Destin is a small city situated on the Emerald Coast of Florida. Boasted by multiple beaches, bayous, springs, and most notably, the emerald waters of the Gulf of Mexico, Destin is a prime paddle boarding destination. The town itself is surrounded by water on three sides, in which you must take bridges to get to what originally was a quaint little fishing village. Now, Destin is one of the largest tourist destinations in the Southeast. Although this town is quite small, Destin holds over 80% of the Emerald Coasts' 4.5 million visitors a year who come to see the stark white beaches and beautiful waters. But unbeknownst to the average tourist, there is so much more to this town than its beachfront.
Highlights
Destin is located on a peninsula separating the Gulf of Mexico from Choctawhatchee bay. Originally it was formed as an island, but after multiple hurricanes and changes in sea level, it gradually connected the island to the mainland. This makes Destin a prime spot to paddle due to the constant connectivity of the water, allowing you to get to multiple cities all by waterway. Although not great for our surfers, Destin has some of the calmest waters you will ever see. Sometimes juxtaposed to a lake, the Gulf is often glassy and completely clear, which makes it perfect for spotting fish, manatees, manta rays, and dolphins while on board.
True to its quaint fishing village history, Destin is comprised of small local surf and paddle board shops, including a BOTE retailer that is located less than a minute from waterfront. Although riddled with idle moving boats, the Destin Harbor is a great place to put your board in due to its proximity to Norriego Point and Crab Island, not to mention the plethora of waterfront restaurants that have some of the best seafood in the Southeast.
Looking for a good time? Paddle to Crab Island. | Photo Courtesy: BOTE
Norriego Point and Crab Island are two of the biggest party scenes you will find in Destin. Norriego Point, which you can get to by land, is a small peninsula in the Destin Harbor where boats beach themselves to hang out with friends and float in the shallow waters around the point. Right past the Destin Bridge, Crab Island is an area where the water is completely clear and shallow, however, can only be reached by watercraft. Locals head out to Crab Island almost every day of the summer to hang out with friends, family, and to crack some cold ones. With floating restaurants and water activities, Crab Island is a focal point that you won't want to miss.
Although Destin is remotely small, it does have its own airport for private planes and small airlines. Just over the bridge there is also Valparaiso Airport for more notable airlines. If you are looking to sight see some of the area along the way to Destin, Panama City and Pensacola are only an hour away and boast International Airports, making it cheap and easy to get to town.
Seasons
Although Destin is incredibly beautiful year round, its peak season is from June-August. This small fishing village begins to fill with people from all over the southeast who want to see the white shores of our area. The temperature during the summer months can reach up to 95 degrees but with the warm breeze and water activities in the area, you are un-phased. With a plethora of places to rent boats, jet skis, and boards, there is no way you won't get on the water. Summer festivals such as "Billy Bowlegs" in June and the Poker Run in September are great things to bring your board into town for due to the fact that they all take place on the water.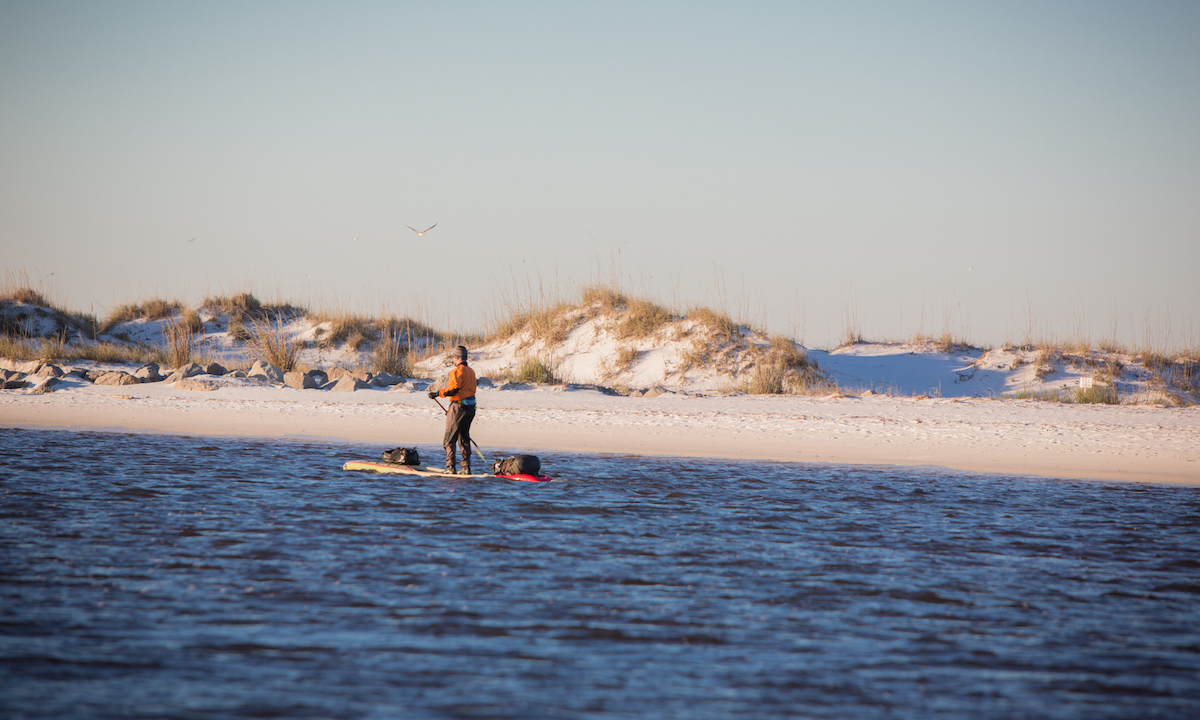 Destin Harbor. | Photo Courtesy: BOTE
If you are looking to visit during a more quiet time of season once the tourists have returned home, then the months of late September to November are the ones for you. Although it does cool down, the temperature still stays in the high 70's, which is perfect for paddling. This is also the most beautiful time of year for the emerald waters--with storms having passed the gulf reaches its most beautiful and clear at this time of year.
If you are in the mood for a good fishing break, there is nowhere better to be than in Destin. With the calm waters and plentiful Cobia and Red fish seasons, this is a hot spot for SUP fishing. In the fall, the Destin fishing rodeo holds its own SUP fishing category where the winner receives a new BOTE board and in the spring when the Cobia run, the Harbor Docks Cobia World Championship does the same. In the off season, you can also find paddle boarders fishing for Sheepshead and Bull Red in the bay and bayous.
Click HERE to see more SUP Destinations
Hot Spots
Crab Island
Crab island is a SUP paradise. | Photos Courtesy: BOTE.
One of the most well-known places to get out on the water in Destin; what used to be an island is now just a very large sandbar. With the water hitting anywhere from your knees to your hips, this shallow water destination is a great place to anchor up and hang out with friends and family. People from all over visit Destin to spend a majority of their time at Crab Island basking in the sun. The catch, however, is that Crab Island is not accessible by land, making a paddle board the perfect vehicle to get there. The best places to put your paddle board in to get to Crab Island are Dewey Destin's on the bay or at Redneck Beach on the West end of the Destin bridge.
Norriego Point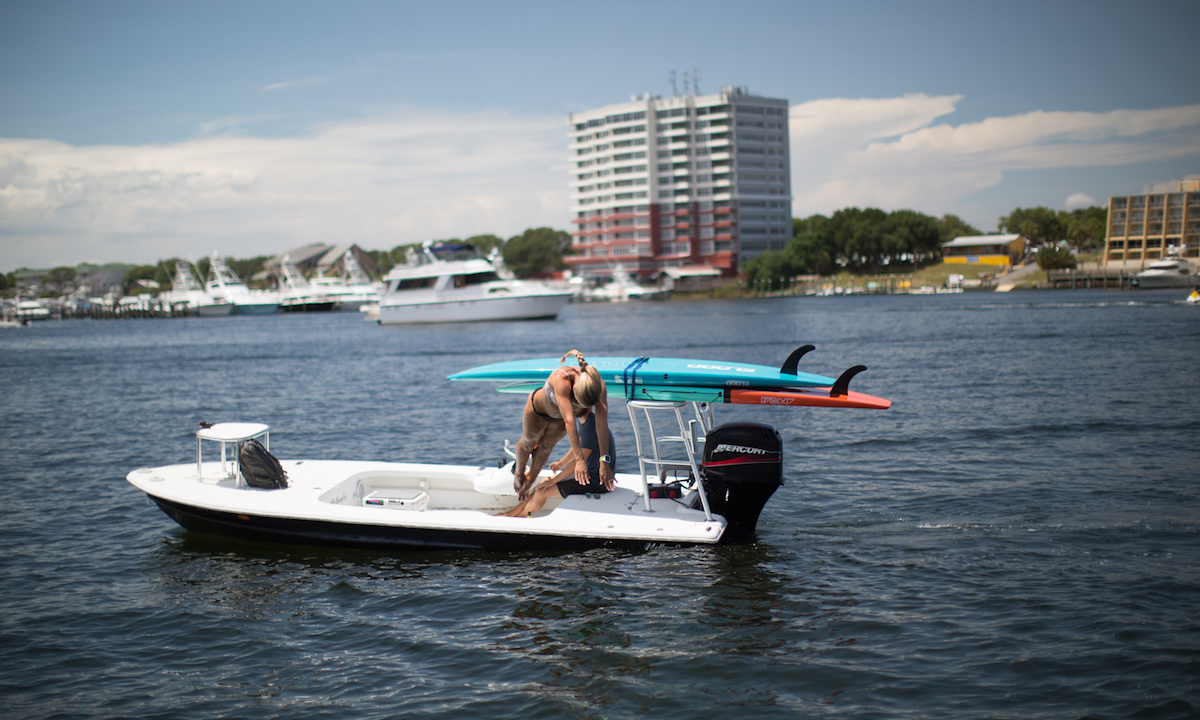 In the harbor at Norriego. | Photo: BOTE
Right under the bridge and through the harbor lies a small peninsula of land called "Norriego Point." This little area is a Destin hotspot during the summer where people beach their boats and throw up tents with crawfish boils and BBQs. If you didn't bring your own food, you are in luck. Straight across from Norriego is the Destin Harbor, which is full of fun restaurants and bars. Don't fret about the amount of boats coming in and out, this is a purely idle zone making it perfectly paddle friendly!
Gulf of Mexico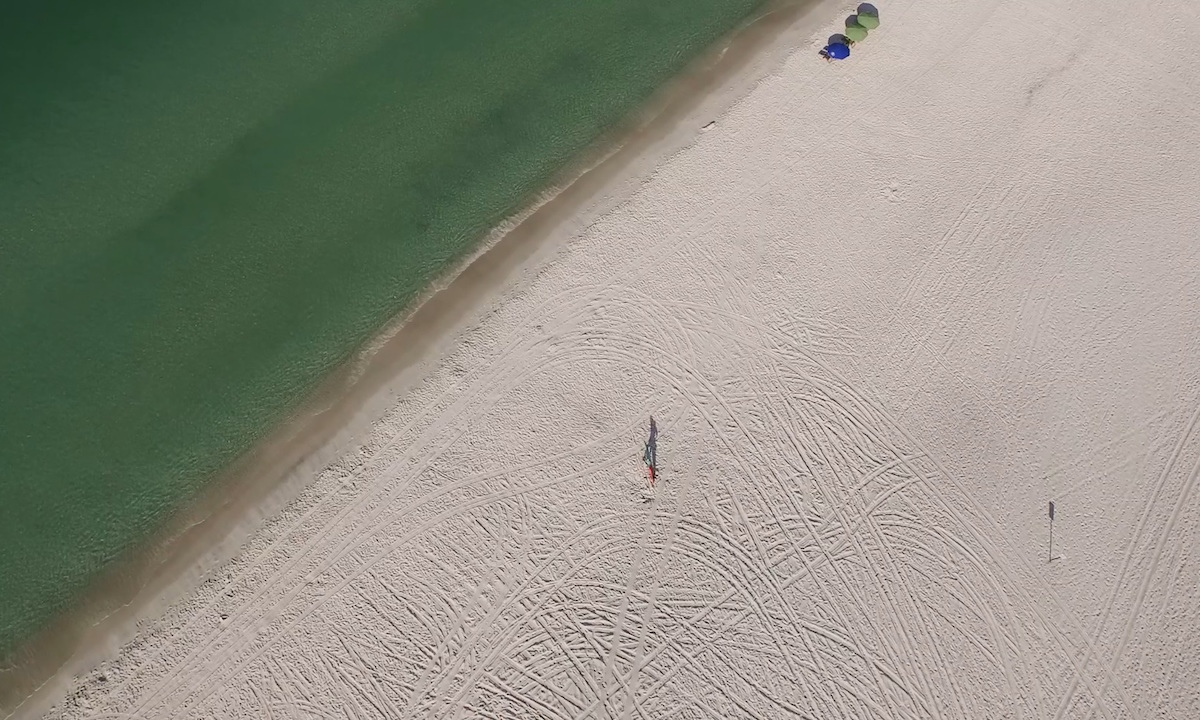 Gulf Beach in Destin, Florida. | Photo Courtesy: BOTE
The gem that brings so many people to this area. Its calm waters and crystal clear view make this the perfect place to paddle out and see some wildlife. Manta rays, sting rays, dolphins, fish and manatees are among some of the unique animals to this area that can be seen near shore. Its pure white sand juxtaposes the emerald water making it a spectacle to see. You can spend a whole day paddling along the beach with stops along the coast at beachfront restaurants, bars, and state parks.
Choctaw Bay
Choctaw Bay. | Photos Courtesy: BOTE
If you are an avid paddler who likes to paddle long distances the bay is the place for you. From the Midbay Bridge to the Destin Bridge, the bay is filled with calm waters and waterfront restaurants to stop into during your paddle. If you're into exploring, you can venture off into Joe's or Indian Bayou to view the beautiful waterfront houses and see some of the residential side of Destin. Also great for some casual fishing spots!
Other Paddlers
Destin is a small area on the northwest coast of a large portion of Florida called the Panhandle. This area in itself is riddled with inlets, bayous, lakes, and more. If you travel west on the main highway in Destin you will end up in Fort Walton Beach, FL, where BOTE headquarters is located. There, you can put your paddle board in at Liza Jackson Park and paddle north to the Mary Esther islands to explore uninhibited parcels of land with native birds and trees. If you were to drive east on the main highway in Destin, you would end up in the 30A area of the Panhandle. This small picturesque area is bountiful in restaurants and parks with wildlife and water to paddle around in. Due to the abundance of calm waters, the Panhandle is incredibly SUP friendly and many of the local paddle board shops, such as BOTE, even provide free demos during the local months.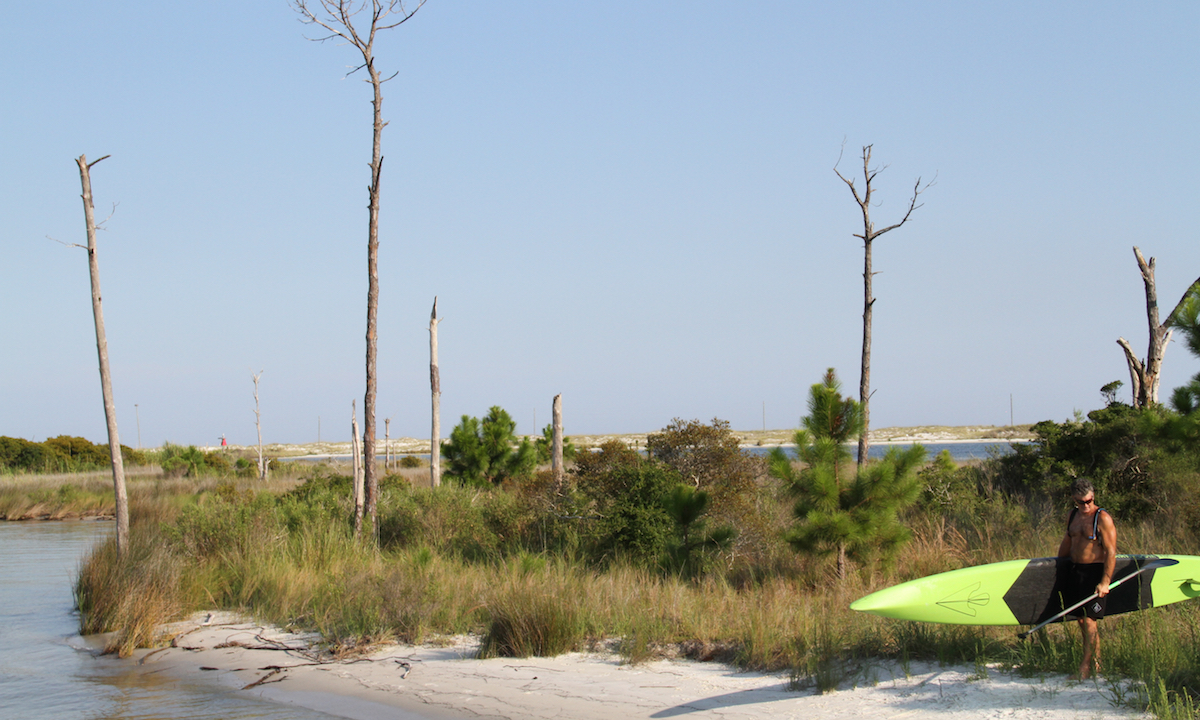 A peak at the Mary Esther Islands. | Photo Courtesy: BOTE
To learn about free summer board demos, follow BOTE Destin on Facebook! To learn more about Destin, click here.
See more SUP Destinations HERE.
About BOTE Board
Founded in late 2009 by Corey and Magda Cooper and Headquartered in Ft. Walton Beach FL, BOTE® is a stand up paddleboard brand. We are a lifestyle brand, we are racers, we are surfers, we are anglers, we are industry leaders and we are technical innovators. The technical innovations are what allow us to Stand Apart. From designing the world's first fishing specific stand up paddle board to creating a new proprietary Chainmail™ weave, BOTE® continues to push our sport forward. These innovations allow our customers to paddle faster, further and with purpose. We are guided by our mission, "BOTE® Stands Apart through industry shaping innovation, fresh ideas and simplicity to create a product that defines a lifestyle".
Last modified onTuesday, 29 September 2020 08:51

Mackenzie Amos is the marketing and events coordinator for BOTE in Fort Walton Beach, FL. Having grown up in the South Bay of California, she developed a deep appreciation and love for the water after spending countless summers at the beach and on the boat. Due to a brief stint of living landlocked in Georgia, Mackenzie quickly made her way down to the Florida Panhandle to reunite with the water and to make a home base in Destin, FL where she currently resides.
Website: www.boteboard.com/
Email

This email address is being protected from spambots. You need JavaScript enabled to view it.