Best Touring Standup Paddle Boards 2018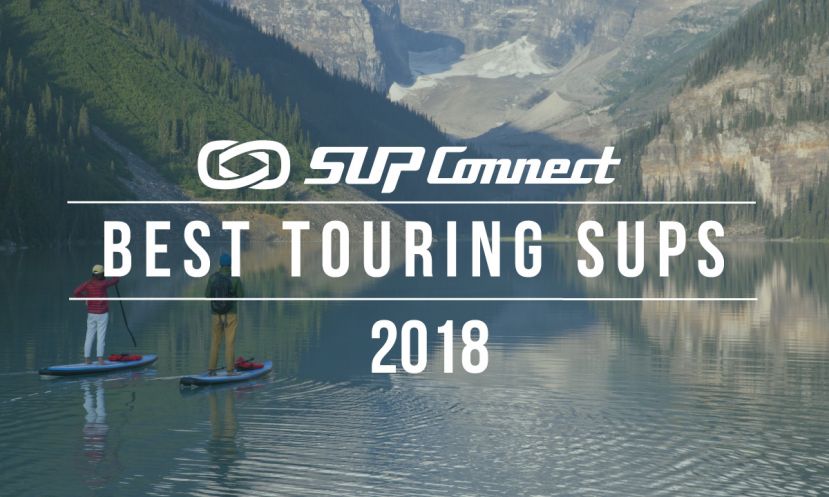 After personally paddling, weighing, and thoroughly testing 110+ boards, our expert staff has selected the best touring stand up paddle board 2018 models. These are designated by the "A" grade and organized by categories (inflatable, all-around, touring, etc). The Supconnect team traveled across 3 states and spent 8 months individually assessing each one of the inflatable SUP boards below, counting a total of 23 metrics per board and consistently applying them across all products. The end result: simply the most comprehensive, consumer-friendly, value-added review platform in the standup paddle world. Click through each one of the reviews and find a consistent, in-depth assessment of each product listed.
Quick Answer:
The Best Touring SUP Boards 2018
| | |
| --- | --- |
| | |
A Comparison
The Best Touring Paddle Boards 2018
Touring Paddle Boards 101
3 Things to Consider to Find the Best Touring SUP
1. USE
A touring SUP is meant to be used and should perform well in a variety of conditions ranging from long distance paddles to expeditions and more. Touring boards can be used for multiple purposes but are primarily intended for long distance paddling and expeditions. Generally, touring boards are built to sustain added weight that comes with hauling gear and have multiple attachment points on the board to hold down and secure that gear. Touring paddle boards are usually 28 inches and wider with anything less being more geared for racing. As a standard, the narrower the board the faster it will go but the less gear it will be able to hold. The wider the board the more stable it will be. So, if you're primarily using the board for a long, off-the-grid expedition you would want to choose a board with more width, around 30 inches+. If you're going out for the day and want to explore and won't need too much extra gear a narrower board might be the better option.
2. ADD-ON'S
Add-on's are accessories for a paddle board that add to your experience on/off the water. The quality of the bag/backpack and the air pump tend to be directly related to the board's price points. Aside from your paddle, bags and pumps are the most important add-on's to your board and can drastically improve your overall experience with the board, such as helping you more easily carry the board and/or pump it up more quickly. Other popular add on's include bungee cords, a minimalist way to haul things; Connexsup, which allows for all sorts of attachments, even fishing rods; and FCS II/Connect, for easy fin instal. Other add on's could be upgraded handles like the Liftsup & EZgrab and paddle holders for when you aren't using your paddle. Add-on's are really helpful when touring to hold down the added gear and supplies so in theory, the more add ons the better.
3. BUILD
Touring sup boards come in various constructions. First, decide whether you should have an inflatable or non-inflatable board. Inflatable boards are easy to store and very lightweight, making them perfect if you don't want the board to take too much space. Most inflatables come with a backpack to hold them and can be thrown in car trunks and checked in at airports without any oversize fee. Inflatables are the go-to option when you're going on a multi-day expedition where traveling the board and hauling your gear are involved. Inflatables, though, normally have less glide and less overall performance when compared to non-inflatable boards. Moreover, non-inflatables often times score higher on durability. Non-inflatable boards with carbon or bamboo tend to be lightweight and durable while plastic constructions tend to be durable but incredibly heavy. Fiberglass/epoxy builds fall in between these two and are the most common non-inflatable constructions. Non-inflatable SUPs are the better option when you're only going out for the day and won't be hauling the board in and out of the water with all your gear.
Best Touring Paddle Board Reviews
NSP COCOMAT PERFORMANCE TOURING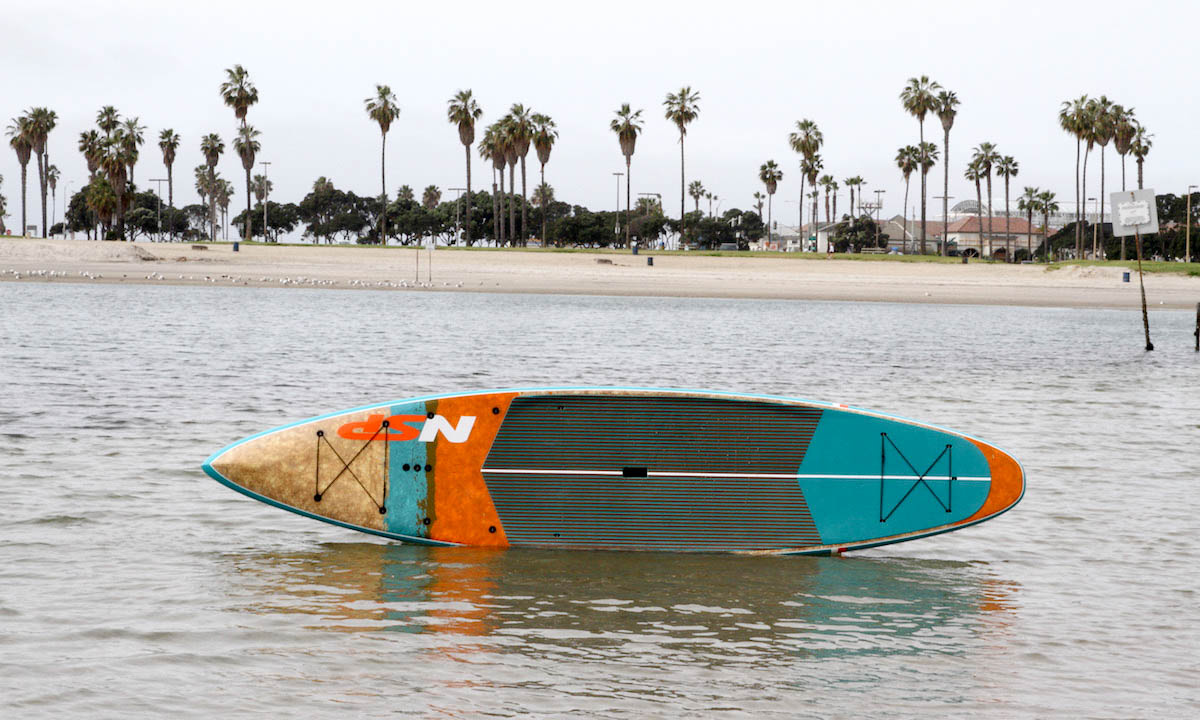 The NSP Cocomat Performance Touring is the ultimate board for a heavy guy or big gal. It's incredibly stable with the traction pad making it feel very comfortable on the feet. It has some lips towards the rails, that really sort of tuck you in inside of the deck. There's lots of accessories with bungees on the nose and tail and the flat rocker makes it a real pleasure to paddle. If you are heavy weight and looking for something that will float you without hesitation, maybe put your kids on it, or go for a long touring expedition, this is the board. One of the things that got us to notice this model more closely this year is that there were major upgrades to the graphics making the board all the more attractive.
| | | |
| --- | --- | --- |
| Price: $1,599 | Build: Non-Inflatable | Weight: 32.3 lbs |
| Use: Touring | Skill: Beginner | Sizes: 12'6", 14' |
BOARDWORKS GREAT BEAR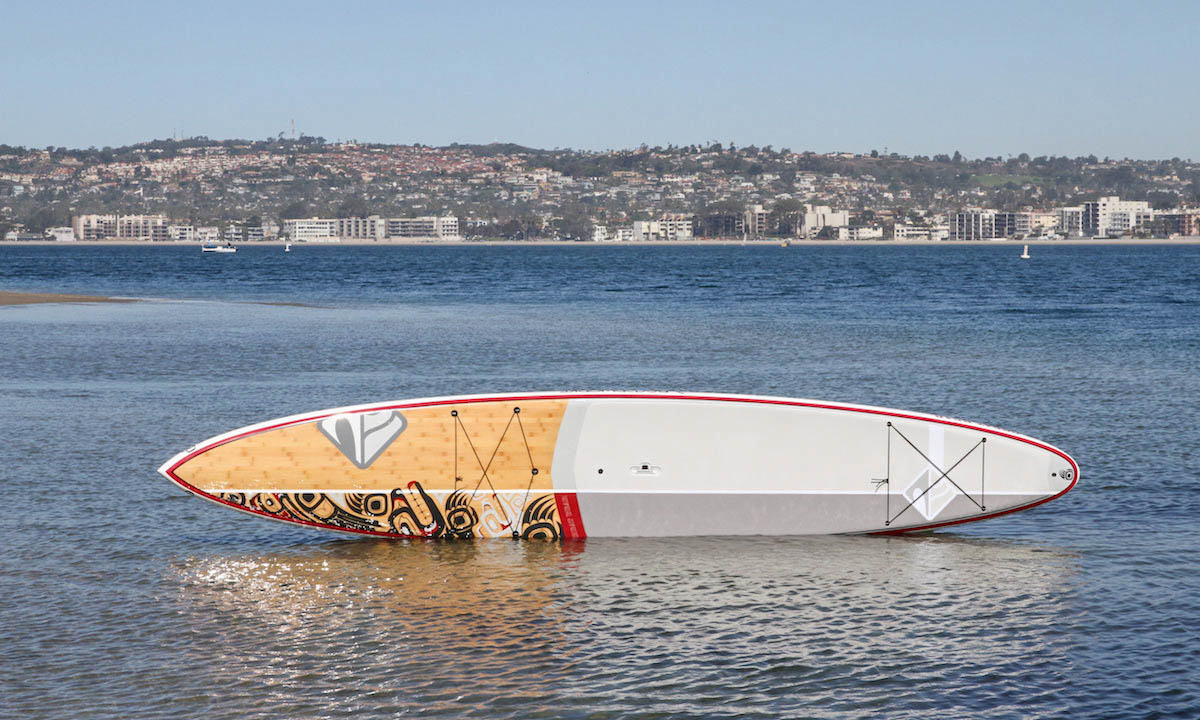 If you're looking for a board that you can do long distance paddling whether it is for race or touring, the Great Bear is a great option. It has lots of bungee cords up on the nose and tail with some really good looking graphics. The board has a beautiful layout of wood on the top of the deck, and the traction pad and graphics of the board work together beautifully overall. The board comes with the LiftSUP handle making it very easy to carry. The Great Bear glides incredibly well, ideally being used in a long distance race and also for expeditions. So for those looking to go that extra mile you should take a close look at this board. Definitely an A grade.
| | | |
| --- | --- | --- |
| Price: $1,799 | Build: Non-Inflatable | Weight: 34.3 lbs |
| Use: Touring/Race | Skill: Intermediate | Sizes: 14' |
PAU HANA ENDURANCE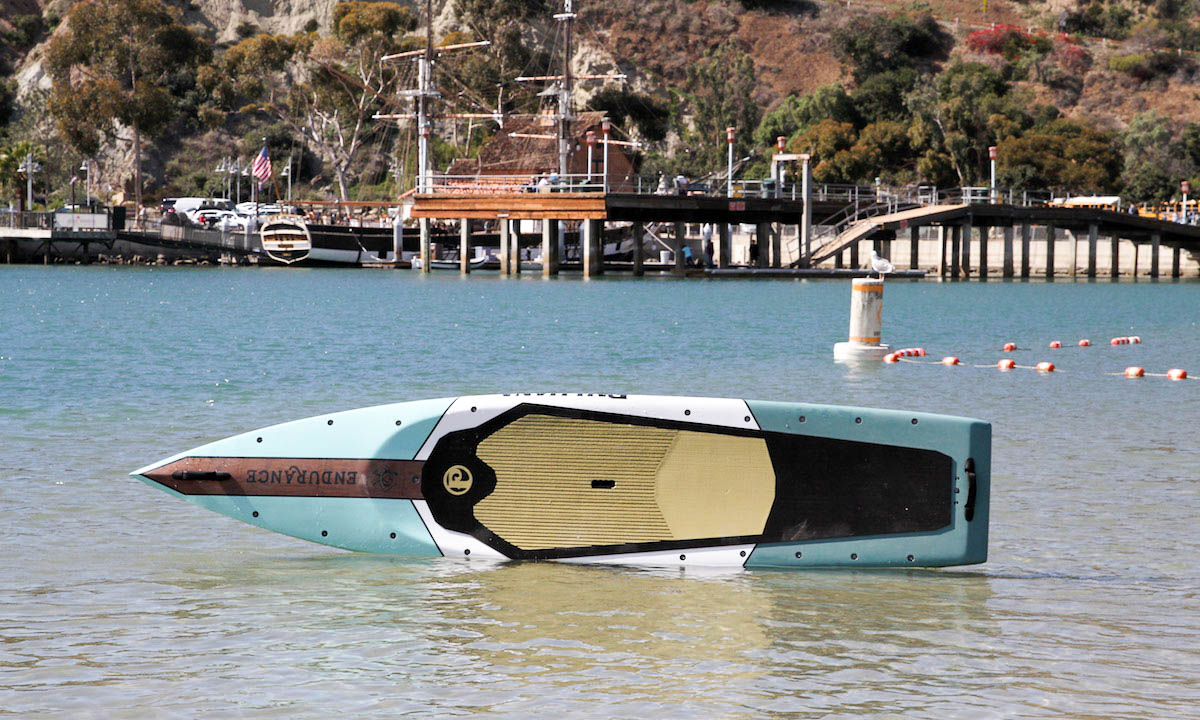 Yes, yes, yes! The Pau Hana Endurance is super fun. It's very stable and is a great board for many uses. The Endurance can be great for touring, racing and all around family fun, making this board incredibly versatile. It's also offered in Pau Hana's Ricochet technology which makes the board virtually indestructible, which if you ask us is a huge plus. It has a beautiful finish and is arguably the most durable board around, which is a hard combo to come by. The board does come in at a heavier weight, about 31lbs, but the durability, graphics and fun factor alone easily carry this board into the A-grade tier.
| | | |
| --- | --- | --- |
| Price: $1,599 | Build: Non-Inflatable | Weight: 31.3 lbs |
| Use: Touring | Skill: Beginner | Sizes: 12' |
PAU HANA NAVIO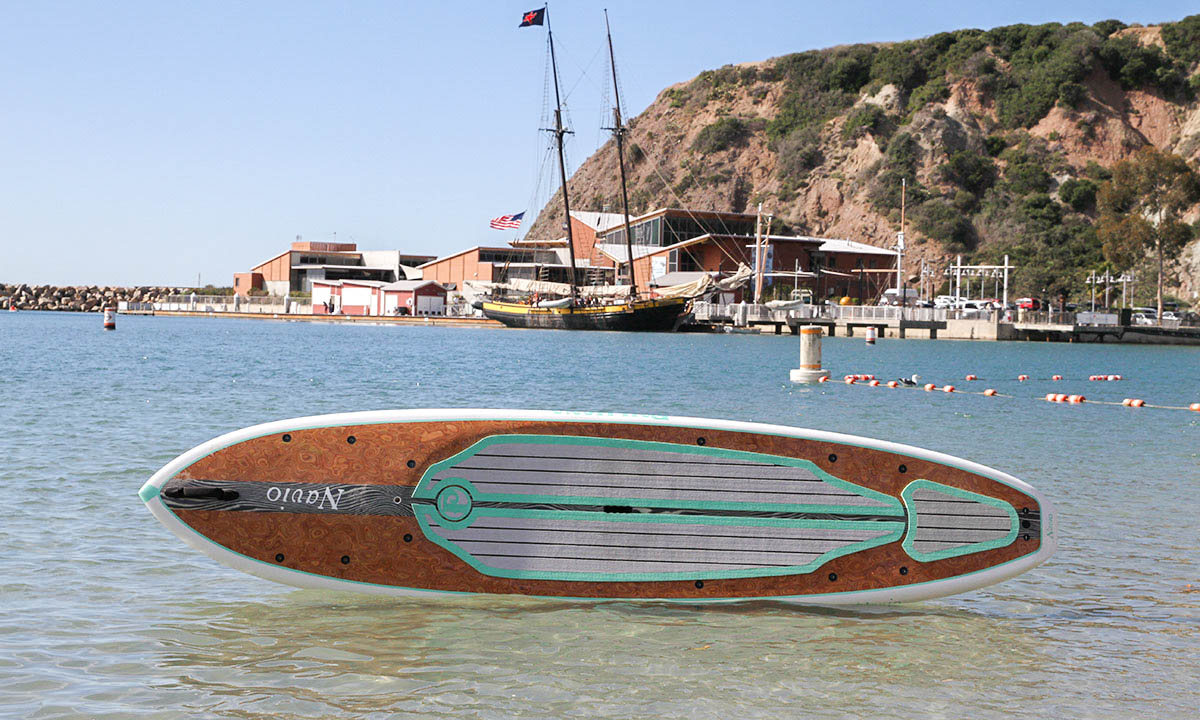 The Navio is not clearly a flat water board, it's not clearly a touring board, it's a combination of both. It comes with the best in class of everything you can think of. It has a beautiful deck, and just beautiful graphics all around. It has a lot of add ons too, so if you want to have your iPad mounted on it, a GoPro, maybe a gps, a fishing pole, a cooler, you name it, you can strap it onto this board. It is highly stable and also tracks really well. It is fairly lightweight for the type of board it is, so phenomenal job by Pau Hana. If you are looking for a primarily touring board that can be very comfortable paddling on flat water, maybe to play around with your family and have kids on the board or some gear for the expedition, the Navio is a great choice.
| | | |
| --- | --- | --- |
| Price: $1,295 | Build: Non-Inflatable | Weight: 28.3 lbs |
| Use: Touring | Skill: Beginner | Sizes: 11' |
PAU HANA MALIBU TOUR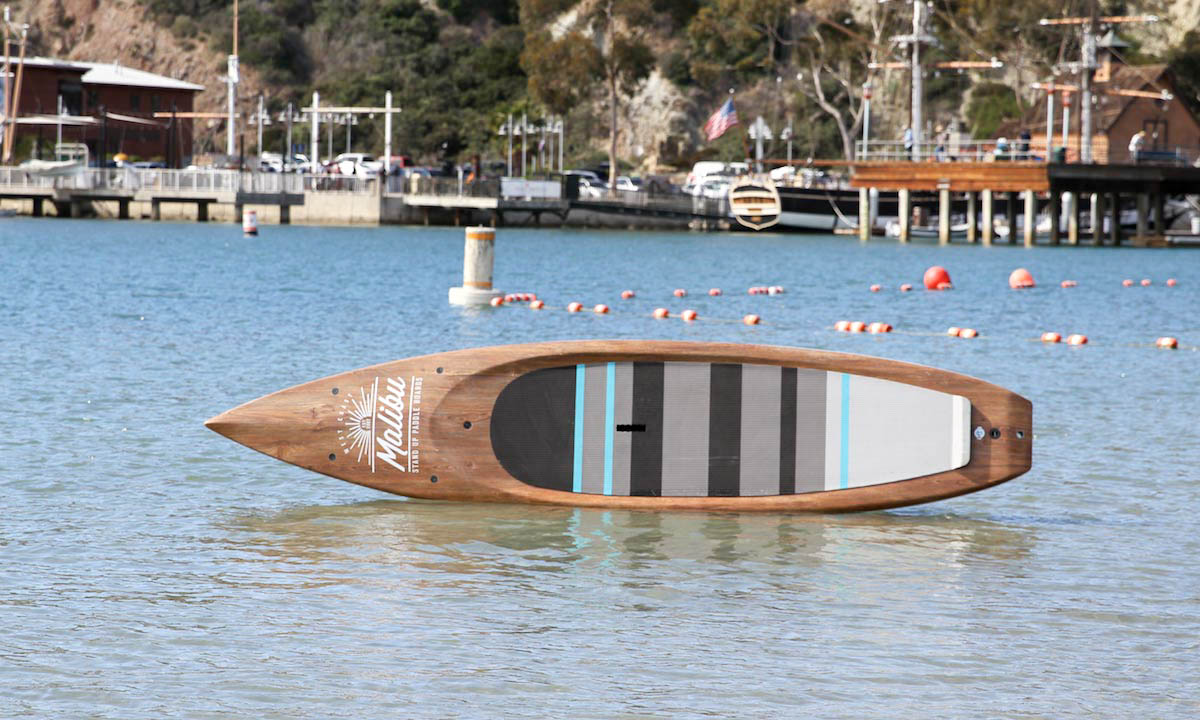 The Pau Hana Malibu is a plastic paddle board that has changed the concept of plastic boards. Plastic boards to date have dealt with a number of challenges. One, the graphics tend to be very plain, usually just white boards. Two, they don't have a really nice finish and tend to have a seam that goes all along the rails on the both sides. Three, they are quite heavy. And four, they also don't float as well as composite boards, normally. The Malibu changes all of that. In fact, the Malibu is the plastic board that can fool you into thinking you are paddling a composite board and to boot it looks stunning. Pau Hana has done a really great job and at the price point it comes at it is an excellent board and a great buy.
| | | |
| --- | --- | --- |
| Price: $999 | Build: Non-Inflatable | Weight: 32.1 lbs |
| Use: Touring | Skill: Beginner | Sizes: 11'6" |
To look through the 110+ boards reviewed for 2018 click HERE.
Photo Gallery
A Look at Imagery from our SUP Reviews
More Resources
© Supconnect.com Copyrighted Exclusive Content
Last modified onFriday, 29 April 2022 16:45

Submit your news, events, and all SUP info, so we can keep promoting and driving the great lifestyle of stand up paddling, building its community, and introducing people to healthier living.
Website: supconnect.com