Best Inflatable Stand Up Paddle Boards 2017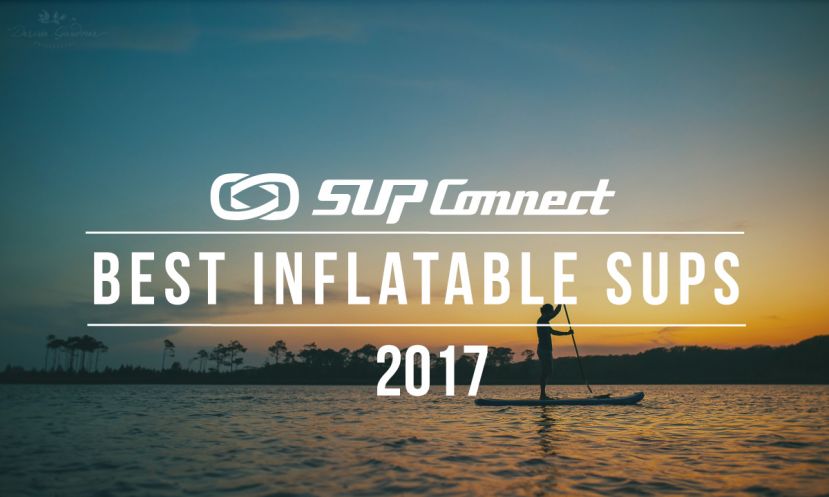 After personally paddling, weighing, and thoroughly testing 70+ boards, our expert staff has selected the best inflatable stand up paddle board 2017 models. These are designated by the "A" grade and organized by categories (inflatable, all-around, touring, etc). The Supconnect team traveled across 3 states and spent 8 months individually assessing each one of the inflatable SUP boards below, counting a total of 23 metrics per board and consistently applying them across all products. The end result: simply the most comprehensive, consumer-friendly, value-added review platform in the standup paddle world. Click through each one of the reviews and find a consistent, in-depth assessment of each product listed.
Quick Answer:
The Best Inflatable Stand Up Paddle Boards 2017
| | |
| --- | --- |
| | |
A Comparison
The Best Inflatable Paddle Boards 2017
Inflatable Paddle Boards 101
3 Things to Consider to Find the Best Inflatable SUP
1. BUILD
Inflatable paddle boards usually fall into 1 of 3 categories of construction: Single Layer, Double Layer, and Double Layer with reinforced rails.
Least Rigid: Single Layer construction is exactly how it sounds: it's a single layer. Advantages of the single layer construction are that it is lightweight and easy to carry. Disadvantages of this construction are that it is not very durable and also it becomes very flexible, which is not ideal for an inflatable.
More Rigid: Double Layer construction is the next step above the single layer and adds an extra layer of reinforcement allowing for the board to not only be more durable but also more rigid and stiff. As expected, adding the extra layer does help with rigidity and durability but it causes the board to be heavier which is an obvious disadvantage. This construction is the standard used in the SUP industry and most boards are built with the double layer.
Most Rigid: Double Layer with reinforced rails are the best quality inflatable paddle boards on the market. The added reinforced rails help keep the board really stiff and also give the board better durability. Added material means more weight so the reinforced rails are adding weight to the board which is the only bummer.
2. USE
The beauty of stand up paddle boarding (SUP) is that there are so many ways and situations where you can participate. Here at Supconnect we break down the different uses of a paddle board into 7 categories: All Around, Touring, Yoga, Fishing, Race, Surf and River. Each category has their own specific purpose and thus, a different shape/design is necessary for each. There are boards that fit into multiple SUP disciplines and can be used in a variety of ways. A brief breakdown of each category is as follows:
All Around: For multiple purposes but primarily for recreation
Touring: For cruising paddles beyond the shoreline and for expedition paddling
Yoga: For optimal stability as a floating yoga mat
Fishing: For stability to cast the line, with plenty of accessories
Race: For speed, coming with lightweight build
Surf: For maneuverability and wave handling
River: For rapids, river eddies and river wave riding
3. ADD ONS
Add-on's are accessories for a paddle board that add to your experience on/off the water. The quality of the bag/backpack and the air pump tend to be directly related to the board's price points. Aside from your paddle, bags and pumps are the most important add-on's to your board and can drastically improve your overall experience with the board, such as helping you more easily carry the board and/or pump it up more quickly. Other popular add on's include bungee cords, a minimalist way to haul things; Connexsup, which allows for all sorts of attachments, even fishing rods; and FCS II/Connect, for easy fin instal. Other add on's could be upgraded handles like the Liftsup & EZgrab and paddle holders for when you aren't using your paddle.
Best Inflatable Paddle Board Reviews
PELICAN ANTIGUA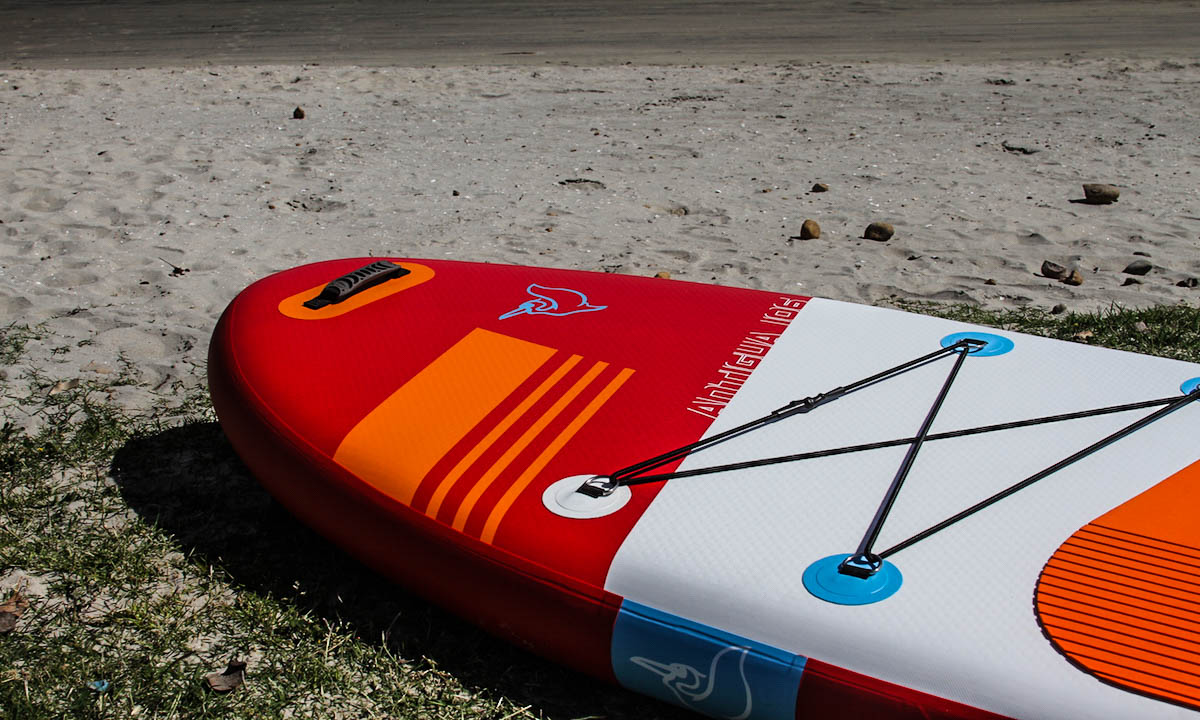 The Antigua is a beginner, inflatable board, offered at some of the lowest price-points in the market, but packing lots of value with beautiful graphics, a nice pump, and an all-around great package. It naturally misses some of the features of intermediate, advanced boards, such as faster glide, reinforced rails, and a more premium bag. But it is an excellent value for that beginner, price-point inflatable board, well deserving of Supconnect's "A" grade.
| | | |
| --- | --- | --- |
| Price: $649.99 | Build: Inflatable | Weight: 23.4 lbs |
| Use: All Around | Skill: Beginner | Sizes: 10', 10'6" |
SIC MAUI AIR GLIDE FLOW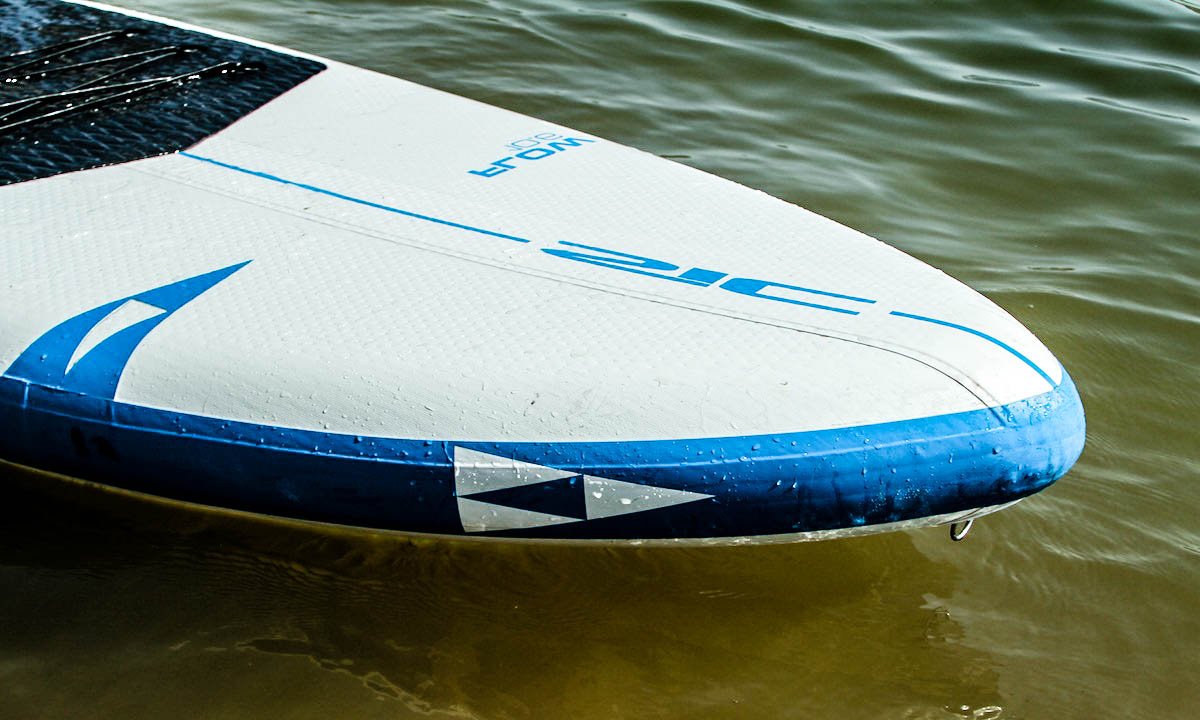 The Air Glide Flow from SIC Maui is an inflatable, all-around SUP, perfect for beginner paddlers and is at an affordable price point under $1,000. The board has a very clean look and takes a simplistic approach with graphics and colors. The packaging that the board comes in is stunning and has a very high-quality, premium feel to it. The board is lightweight thus making it easy to carry and has FCS II tool-less fin compatibility giving it a great value for its price. The high-quality packing and materials combined with the premium look and feel make the board merit the Supconnect "A" grade.
| | | |
| --- | --- | --- |
| Price: $999 | Build: Inflatable | Weight: 21.8 lbs |
| Use: All Around | Skill: Beginner | Sizes: 9'6", 10'6", 11'6" |
SLINGSHOT CROSSBREED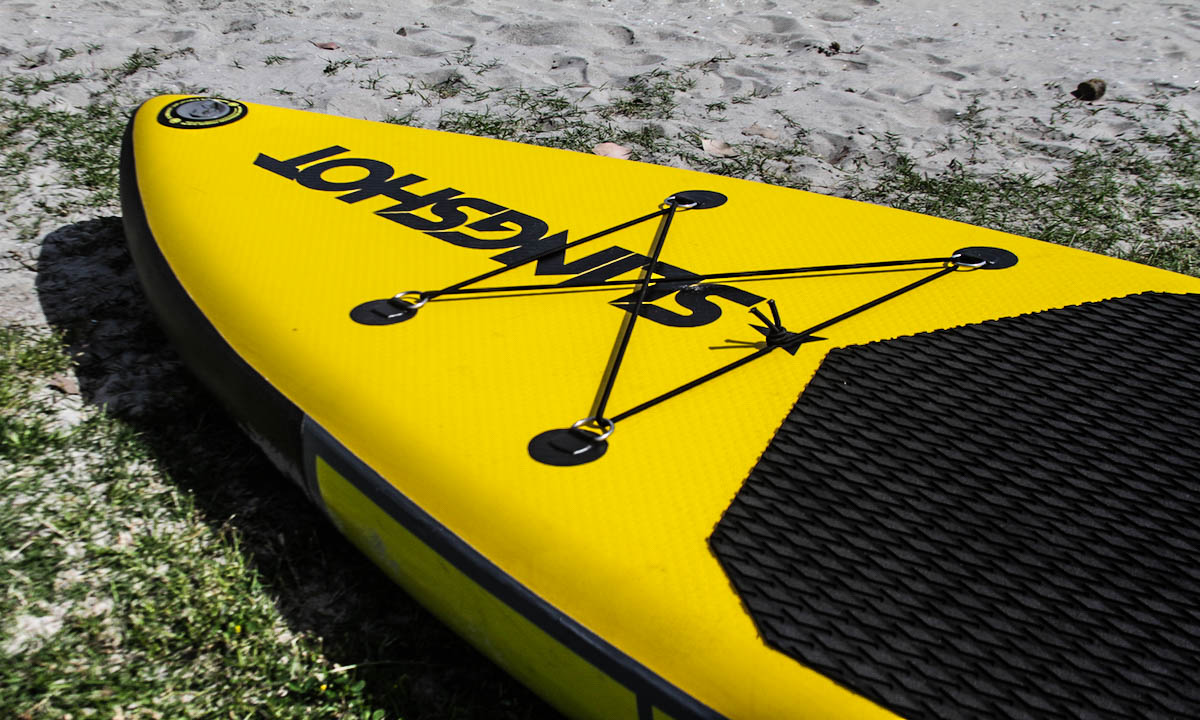 Slingshot's Crossbreed Inflatable is a stable, beginner-friendly board great for all-around paddling and/or short-distance touring. The Crossbreed has some nice looks, coming with a solid yellow throughout most of the board keeping it simple and striking. (The board is also offered in three other colors: Blue, Red, and Green.) At a very affordable price point the Crossbreed has premium qualities to it coming with a nice carrying bag, strong dual-action pump and FCS II fin, among other items, easily making this board a great value for its price and deserving of Supconnect's "A" grade.
| | | |
| --- | --- | --- |
| Price: $799 | Build: Inflatable | Weight: 22 lbs |
| Use: Touring | Skill: Beginner | Sizes: 11' |
BOARDWORKS SHUBU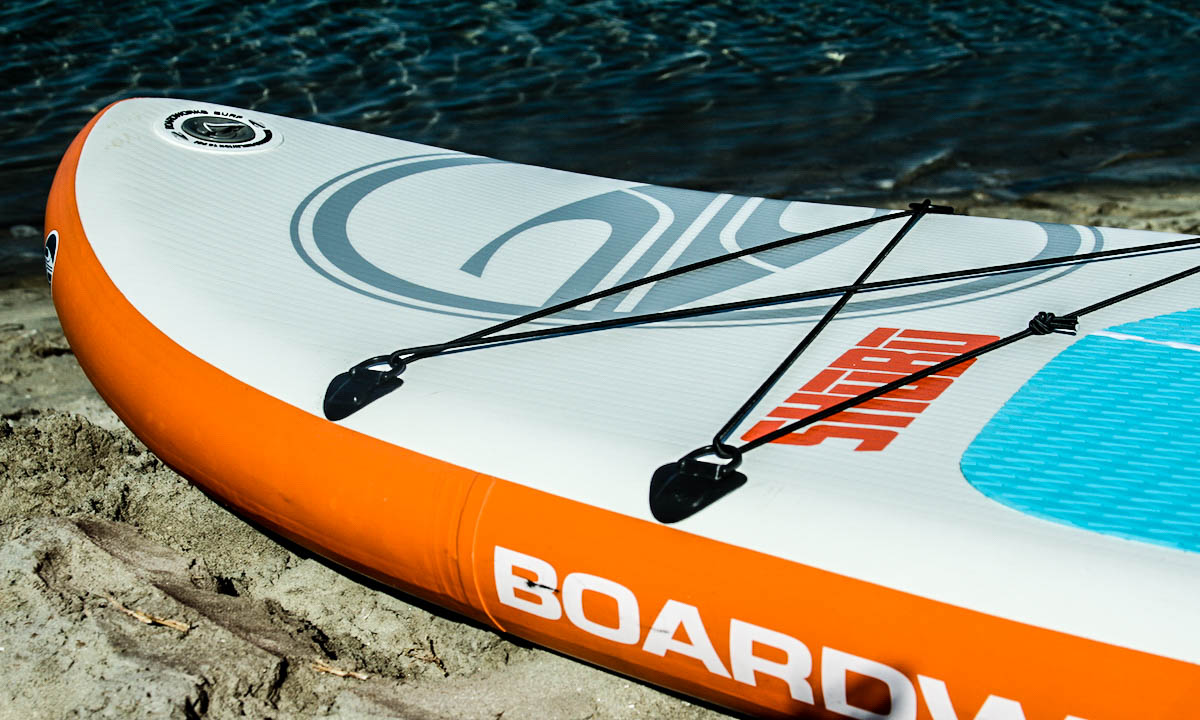 The Shubu is a very stable, inflatable board that is great for beginners. The board takes the simple route in terms of looks, coming with a limited play on color and graphics however, it offers unique features having two side-bite fins and with the option of adding a third, FCS II center fin into the center fin box which is unusual for inflatables. It has reinforced rails and an arch bar in the center to help with rigidity and comes in a nice portable bag and has a repair kit in case of damage. The board has premium qualities for an affordable price, meriting it Supconnect's "A" grade.
| | | |
| --- | --- | --- |
| Price: $1,099 | Build: Inflatable | Weight: 26.7 lbs |
| Use: All Around | Skill: Beginner | Sizes: 9'6", 10'6" |
RED PADDLE CO SPORT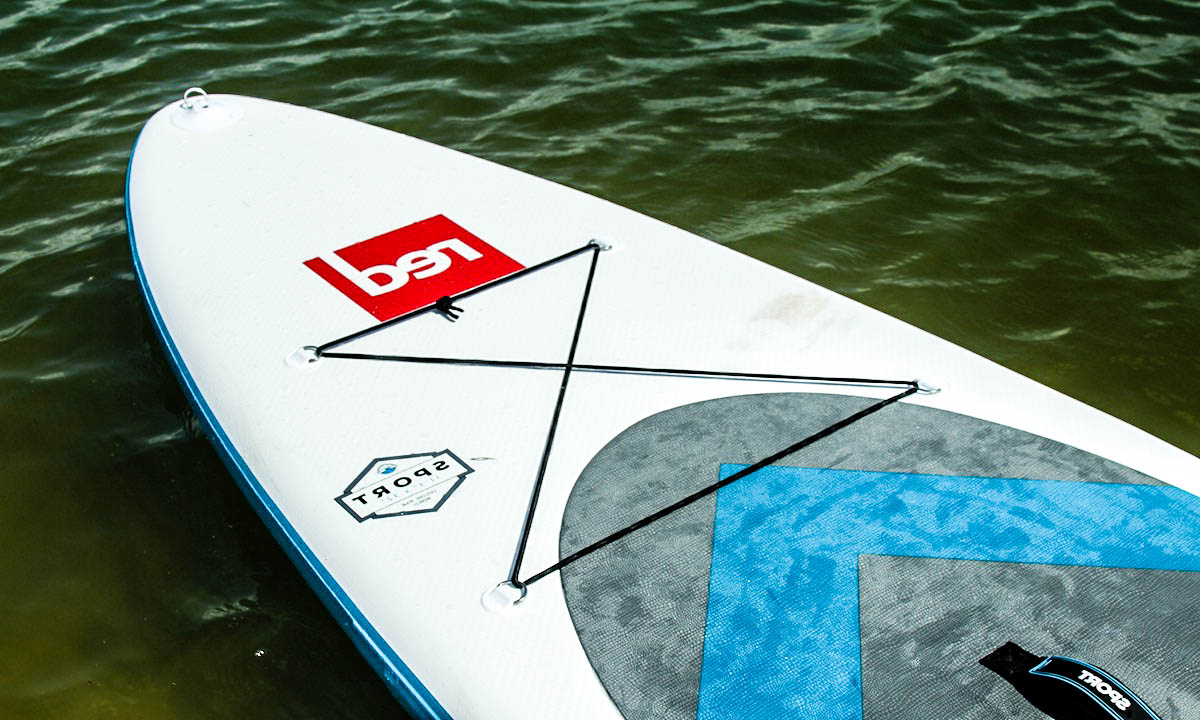 The Sport from Red Paddle Co. is an inflatable touring board that works for paddlers of all skill levels. The board has a very clean look to it with minimal colors and graphics keeping it very simple and clean. The construction appears very strong, as something that can handle heavy use. The board is very stable and very lightweight and is great for paddling mid to long-distances, between 3-10 miles. Its strong, lightweight construction combined with the ability to paddle some distance makes the Sport deserving of Supconnect's "A" grade.
| | | |
| --- | --- | --- |
| Price: $1,499 | Build: Inflatable | Weight: 18.9 lbs |
| Use: Touring | Skill: Beginner | Sizes: 11', 11'3", 12'6" |
STARBOARD ZEN TOURING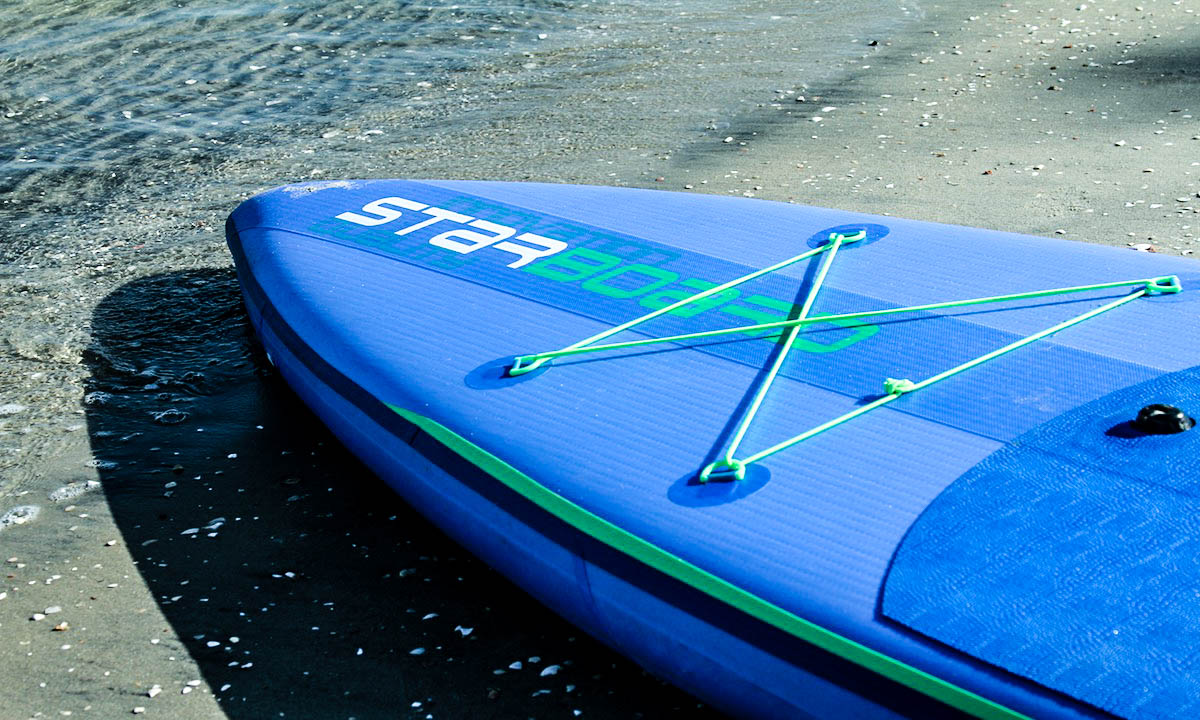 The Touring Zen is an inflatable board great for paddlers of all skill levels. Primarily designed with touring in mind the board is great for paddling mid-range distances up to 3-5 miles max. It has some nice looks with a mix of bold colors, blues and greens that are very eye-catching. This paddle board is easy to carry being that it weighs slightly over 23 lbs and the glide feels fast which is very surprising since inflatables aren't usually fast. The board comes with a tool-less FCS II fin which is a perk and also has an FCS adaptor on the deck of the board which is unusual to have on an inflatable. The board has premium features at an affordable price thus deserving Supconnect's "A" grade.
| | | |
| --- | --- | --- |
| Price: $1,099 | Build: Inflatable | Weight: 23.1 lbs |
| Use: Touring | Skill: Beginner | Sizes: 11'6", 12'6", 14' |
To look through the 70+ boards reviewed for 2017 click HERE.
© Supconnect.com Copyrighted Exclusive Content
Last modified onFriday, 29 April 2022 16:48

Submit your news, events, and all SUP info, so we can keep promoting and driving the great lifestyle of stand up paddling, building its community, and introducing people to healthier living.
Website: supconnect.com