The Boardroom - Badfish SUP MVP
Boards shaped for the ocean or flat water have a reputation for bucking their rider off at the first river boil, bounce or wave train. Badfish SUP has solved this problem with whitewater kayak inspired designs.
Read about Badfish's partnership with Boardworks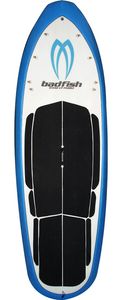 SPECS
Length: 9'0″ & 7'6″

Width: 36″

Rails: 8 1/4″

Standing Area: 6 1/4″

Fiberglass epoxy resin

High quality eps blanks

Rider weight: 100lbs – 225lbs

Uses: Running Rivers, River Surfing, Flat Water touring, Fishing
Badfish SUP co-owners Mike Harvey and Zach Hughes are leading the pack with innovative whitewater SUP designs, integrating kayak tech and design specs into their popular boards. The Mountain Valley Paddleboard (MVP) takes the best of whitewater kayak design and combines it with Badfish's 4 years of experience bringing river surfing boards to the next level of whitewater SUP.

The growing enthusiasm for whitewater SUP and downriver runs, has given rise to a completely different type of stand up paddleboard. Boards shaped for the ocean or flat water have a reputation for bucking their rider off at the first river boil, bounce or wave train.

Mike Harvey, co-owner of Badfish SUP, runs us through the Mountain Valley Paddleboard (MVP) and why this board is the "ultimate tool for running rivers".

"This is our board that is basically inspired by whitewater kayaking, putting whitewater kayaking features into a stand up paddleboard," says Mike. One such feature to be integrated into the MVP is its nose. The big, kayak-type nose sheds water and punches through holes and waves while moving down the river.

To give the board more stability in an environment dominated by the chaotic hydraulic forces of a hungry river, Badfish has added a, "recessed standing area…with 8 ¼ inch rails," adds Mike. But the feature that really makes this board stand out is construction of its bottom.

"The big feature that really makes this board paddle well is the kayak-style chine on the bottom," Mike explains. The bottom is defined by a secondary rail that, "allows the board to roll over on edge to make eddy turns without grabbing in the current and whitewater."

With all of this kayak-inspired design present within the MVP, Badfish has remained true to their river surfing roots by also including a surfing tail on the board that allows the rider to shred the waves in the river.

More information on the Mountain Valley Paddleboard (MVP) can be found at www.badfishsup.com and will be available for purchase through Boardworks at www.boardworkssup.com.

About Badfish Stand Up Paddle
Located in Salida, Colorado at the foot of 14,000 foot peaks on the Arkansas River, Badfish boards are designed by mountain based watermen. From river surfing, whitewater paddling, flatwater touring, and fishing, Badfish makes stand up paddling more fun for the mountain lifestyle.
.
Last modified onSunday, 25 January 2015 18:16

After spending the first part of her life in Minnesota, Morgan traded in her snow boots for sandals and moved to sunny California. After graduating with a degree in Communication from The University of Southern California, she eventually made her way down south to San Diego and is taking advantage of the living by the best beaches and burritos California has to offer. If it's sunny, you can find her at the beach relaxing, or exploring the calm water in the bay via paddleboards and kayaks.