2016 Fall Paddle Boarding Gear Guide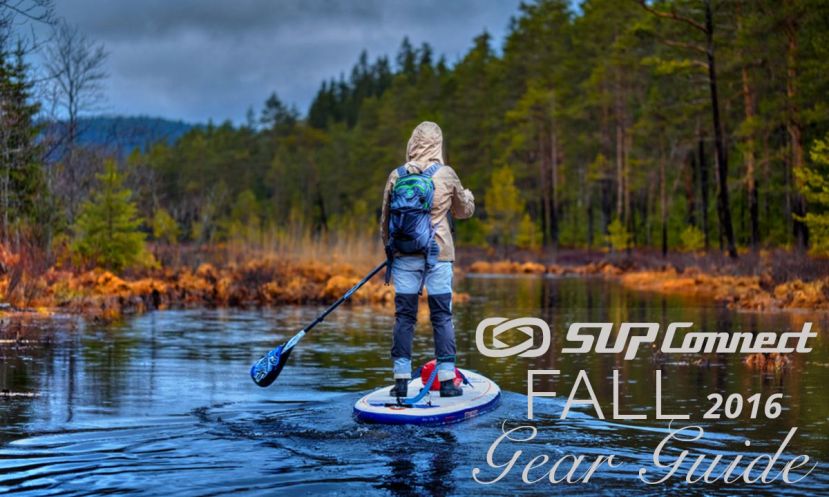 SAN DIEGO, California - Seasons are a-changin' and the cooler weather and fall colors will be making their way to your oceans and waterways in no time. Here, we've put together a list of SUP gear, SUP accessories, SUP boards and all the must have's for everyone from a beginner to the advanced SUP'er for the 2016 Fall SUP season, so there's sure to be something in this guide for everyone!
Take a look at the 2016 Fall SUP Gear Guide below:
Paddles & Accessories
Werner Paddles Rip Stick

The surf specific Rip Stick has had amazing success and given wave riders a performance paddle with features designed just for them. From the "Double Concave" dihedral, sub 16 ounces, low profile shape and softer over feel, no detail was over looked. Werner Paddles, supporting surfers and handcrafting in the USA.

Werner Paddles EVO 75

New for 2017, Werner continues to round out their kid's line with the EVO 75. This innovative material to Werner gives your young paddler a combination of a carbon shaft with a handcrafted, fiberglass blade for light swing weight, stiffness and bright fun colors. For you the parent, this construction, even with an adjustable shaft, keeps the price at just $219.00. Handcrafted in the USA Since 1965.

Werner Paddles Thrive

For those that appreciate good design, craftsmanship and ultimately performance, but need to follow their budget, the handcrafted in the USA, $199.00 Thrive 95 is a paddle to look at. Fiberglass shaft and blade with our Leverlock Family adjustable system, as the Thrive will fit the entire family and give you performance to enjoy your time on the water better. Our innovative blade shape provides cleaner, more powerful strokes with less fatigue all day long.

SIC Maui Battle Paddle

To make a paddle that is just as technical and fast as SIC MAUI boards takes countless hours of design, R and D and testing. For 2016, SIC Maui has reinvented their paddle line by focusing on the details so you do not have to think about them. The SIC Maui Battle Paddle is light-weight with a PVC core sandwich, it has a 12 degree blade sweep for optimal power, it's foiled to minimize turbulence, providing the smoothest entry/exit possible, and has a curved tip and concave power face for a quick catch..

Quickblade V-Drive

The Quickblade V-Drive was named Supconnect's SUP Paddle of the Year for 2016. The Quickblade V-Drive paddle concept was created and shaped by legendary Waterman Dave Kalama. Its design features a unique scooped V section that's edges create a double dihedral for enhanced stability during the power application. The results offer a very stable yet effective power phase with an effortless exit. Great for catching waves, racing and touring.

LiftSUP Handle

The LiftSUP Handle from SUP Think Tank is constructed of recycled, reinforced polycarbonate and is a patented retractable handle that allows the user a significantly safer and more comfortable way to carry, maneuver and secure their board. The LiftSUP handle sits flush with with the deck of the board when not in use and leaves no large openings to step onto or into. The handle also has a strength of over 850 lbs which provides a solid attachment point for a lock and cable to deter theft.

Fusion Stereoactive

The Fusion Stereoactive™ is the world's first purpose built watersport stereo. Designed and engineered in New Zealand by FUSION, the STEREOACTIVE is engineered for the ruggedness of life on the water and tuned to deliver crystal clear music that enhances any activity. This isn't just a standard Bluetooth speaker, this is an IPx7 rated, water resistant portable watersport stereo that FLOATS! Featuring a unique FUSION PUCK mounting system that enables you to securely mount the stereo to any paddle board, kayak, canoe, dinghy or even jacuzzi.


FCS SUP Ankle Leash

The FCS SUP Ankle Leash is a SUP specific leash offering superior reliability & performance. With day-to-day performance and strength, the Regular Leash will perform to the highest standard in a wide range of conditions. Remember, leashes save lives!

Cool Cat Cooler Bag

Use it as a cooler, padded camera case, reusable grocery bag, picnic basket, or multi-purpose protective dry bag. Think 'beers on the beach, snack in the car, or picnic on the fly'. The bag is 100% Waterproof and durable yet soft.

Maui Jim Sunglasses

Maui Jim sunglasses feature patented PolarizedPlus2® lens technology for brilliant color so every detail is crisper and cleaner and without glare or harmful UV. Maui Jim offers amazing sunglasses that not only have incredible protection from the sun for your eyes but also tons of stylish lenses and frames to choose from. If you're looking to protect your eyes while out on the water, Maui Jim is the best in the business.
Boards - Inflatables
Boardworks Shubu 9'6

The SHUBU 9'6 and 10'6 inflatable SUPs are the perfect choice for those looking for more performance in a single chamber inflatable. These boards are ideal for cruising, recreational surfing, river running, and family paddling.

Boardworks Shubu Sport 10'6

SHUBU—"show up and blow up"—inflatable SUPs are made of extremely durable military grade, UV resistant rubber, and can take just about anything you can throw at them. Excellent for cruising, recreational surfing, touring, running rivers, or just goofing around, the SHUBU is extremely versatile and fun is guaranteed!

Boardworks Shubu Raven 12'6

Inspired by the award winning Raven hardboard model, the Raven Inflatable SUPs are constructed with super durable, extra light, extra rigid 6'' drop-stitch material. Designed with the same outline as the Raven hardboard with a tuned up rocker, this is the perfect inflatable SUP for touring, fitness paddling, racing, river running, and all around cruising.

Starboard Touring 11'6


The Starboard Touring 11'6 is a highly efficient shape for cruising and exploring with good glide to cover distance and features a 3/4 EVA deckpad, paddle holder and bungee tie downs for storage. With its shorter length, it is more adapt to lighter riders who want a board that is easier to maneuver on the water.

SIC Maui Flow 10'6

The FLOW inflatables from SIC Maui are a stable and economical first step in your SUP career. New for 2016 is SIC's Stringer Support Technology (SST) which, provides structure and rigidity to the board when inflated, but collapses and folds to store inside of a backpack. Who knew SUP could be this easy and fun?

Slingshot Crossbreed Airtech 11'

From relaxing summer days on the beach with family and friends to backcountry adventures in pristine lakes and streams, Slingshot's Crossbreed inflatable paddleboard is your ticket to user-friendly fun in the great outdoors. The Crossbreed is designed for ultimate versatility and takes the guesswork out of choosing the right board from dozens of specialized shapes. The Crossbreed comes in 4 different colors: Blue, Red, Green and Yellow.
Boards - Hard Tops
Starboard Allstar


2016 Supconnect Gear of the Year for a race board, the Allstar from Starboard is the most versatile and popular race board from elite to beginner riders that can perform and win in all conditions. The new design combines the All Star rail stability with the speed from the triple concave bottom shape of the 2015 Race, making it a winner on flat-water.

Starboard Element

The Element is a popular cruising board for lightweight riders with progression into the surf. It has a good glide for coastal and river cruising and translates into catching waves easily. There is even a windsurfing option on all AST Electric models.

Bark Contender Lite Pro-Elite Blue 12'6" X 25

The new BARK Contender Lite Blue is a reflection of the shift in design towards lower-volume, narrower boards using the same race proven outline of the original Contender. It's wrapped in blue, grey and white racing stripes and is the perfect choice for the paddler looking for that magic, lower-volume 12'6" board to support them in a variety of conditions.

Surftech Sport Touring Explorer TEKEFX 12'6" X 32

Excellent in both chop and flatwater, the Sport Touring TEKefx is ready for whatever your excursion entails. With good stability, glide, efficiency and speed, it has outstanding ocean performance, but would also be fitting for a smoother day on the lake.

Surftech Universal Coretech 10'6" X 32

The Universal Coretech is the best all-around shape for recreational paddling in flatwater or small bumps. It's larger volume and full rails allow you to float with ease in flatwater and small surf, making it a great solution for the entry level paddler looking for additional stability and control.

SIC Maui FX Future Pro

The FX-11.0 Future Pro is the board for tomorrow's pros...delivered today! SIC took the FX design principals and scaled them down into an elite youth race board. It utilizes the same increased bow volume and forgiving rocker line as the adult models. They've reinforced the impact zones with bamboo on the deck and bottom as well and added 360 degrees of Innegra™ ensuring this board will take a licking and keep on ripping. It will not only be super fast but it will also last for the next sibling in line for youth racing.

BOTE HD Core

Introducing the HD Core, a direct descendant of the Axiom. The core style of board combines all of the best features from the Axiom to deliver the most well-rounded all-around paddle board ever created. Dogs, children, or extra gear can ride along on the nose in comfort due to the full-length deck pad, making the core style of board the perfect companion for your companion!

Naish Nalu 10.10 GS

The Naish Nalu 10'10" offers flat water touring, tandem paddling and everything in between. The Nalu is a super stable do-it-all board that also works great in small surf. This size offers a multi-concave bottom that helps channel the water under the board for the ultimate smooth ride. The slightly recessed deck gives great stability and the forward deck comes with 4 inserts for bungee tie downs that can hold your gear for longer treks with a fun and lively feel.

Pau Hana Moon Mist


The Pau Hana Moon Mist finds the perfect balance between stability and performance. Perfect for going through poses or ripping across the face of a wave, the Pau Hana Moon Mist is the one board to cover all bases for the adventurous yogi.

Jarvis Pecos

With a fresh look for Pecos model in 2016, the goal was to design a SUP that would get you away from the crowds and on the water in your favorite exotic destination. It's sized to fit many of the major airlines' size restrictions around the world and is purpose built for chasing waves, exploring remote lakes, and just having fun! Like all of Jarvis' wood SUP's, it is handcrafted in Austin, TX and thanks to its recycled EPS core and wood construction has an average weight of only 22 pounds.

Pelican Baja 100

Versatile enough to dig in and go or to achieve total zen, the stylish Baja 100 SUP offers tremendous value. It's extremely rigid, stable for any level paddler and designed for heavy use. Features include a 5-inch flexible rubber fin, lay down and upright bottle holder, and elastic bungee cords for gear storage. Also, the Baja 100 is incredible afforadble and extremely durable.
Make sure to head to your local retailer to find all these items and more during this summer season!
Last modified onWednesday, 14 September 2016 15:45

Submit your news, events, and all SUP info, so we can keep promoting and driving the great lifestyle of stand up paddling, building its community, and introducing people to healthier living.
Website: supconnect.com