SUP Basics: What's Your Swim Score?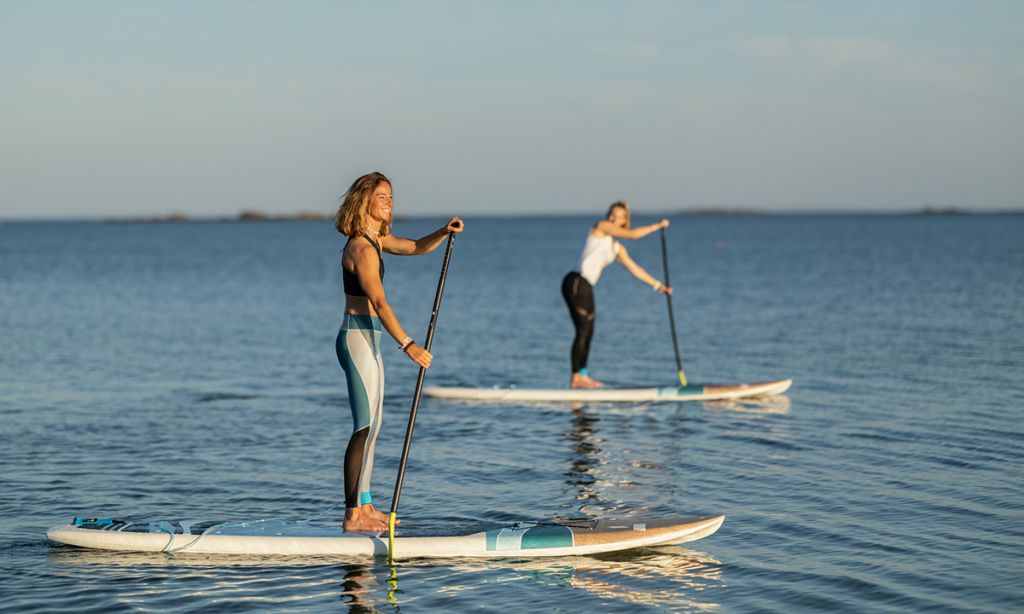 Casi Rynkowski with her daughter. | Photo: Rachel Mccarty
Simplicity is one of the attractive features of standup paddle boarding. When you feel that first glide and realize "Hey, I can do this," it's easy to believe that all you need is a board and a paddle, but when you're standing alone on a platform floating two inches above the water, a few more things are required, because a paddling excursion on any water body can quickly turn into an in-water experience.
Here are some thoughts and feedback about swimming as a standup paddling baseline skill, from a cross-section of seasoned watermen and women. Take a look:
Who needs to know how to swim?
Paddlesport waterman Johnny Kessel, who has competed in numerous events including the Molokai2Oahu Paddleboard World Championships, says "Swimming is key. Basic swimming skills are mandatory. I don't think it is safe for anyone to do any activity on the water if you are unable to swim." Johnny knows the true value of having those skills. "I spent a lot of time swimming in the ocean when I was in the South African military back in the 80s, and swimming saved my life on more than one occasion. A few years ago, I lost my prone paddleboard on a windy day a mile off the coast of La Jolla, California, and had to swim a couple of miles to get back to the shore. What made it easier was the fact that I had done this before and therefore was confident I could do it again."
Paul Byrne, who owns Irish SUP Dublin, and is an ASI Level 3 Standup Paddle Instructor, racer and surf competitor who has represented Ireland in two World Championships, echoes that opinion. "Anybody contemplating taking part in a water sport should have at least basic swimming skills. You may not have to swim long distances, but you must have basic water confidence, so that if you do end up in an unlikely but difficult situation you'll have the skills to think and act." Paul is also a swim team coach at Willow Park School in Dublin, Ireland.
Bob Pratt, Drowning Prevention specialist with the Great Lakes Surf Rescue Project in Illinois, simply says "everyone" needs to know how to swim, noting that "a recent Red Cross study found less than half of Americans could swim well enough to save their life."
Outdoor Fitness Trainer, and BIC SUP Ambassador, Casi Rynkowski believes "any watersport enthusiast should know how to swim in various conditions. I started in the fitness industry teaching swimming to adult non-swimmers at my local YMCA. Every class I taught was completely filled, and it always surprised me how long my students had gone without having learned this life-saving skill. Now that I have a family of my own, I realize that it's almost impossible to avoid water. If you are a non-swimmer, you have to make a conscious decision to either just stay away from water entirely or wear a life jacket any time you are near it, but most non-swimmers do not do this."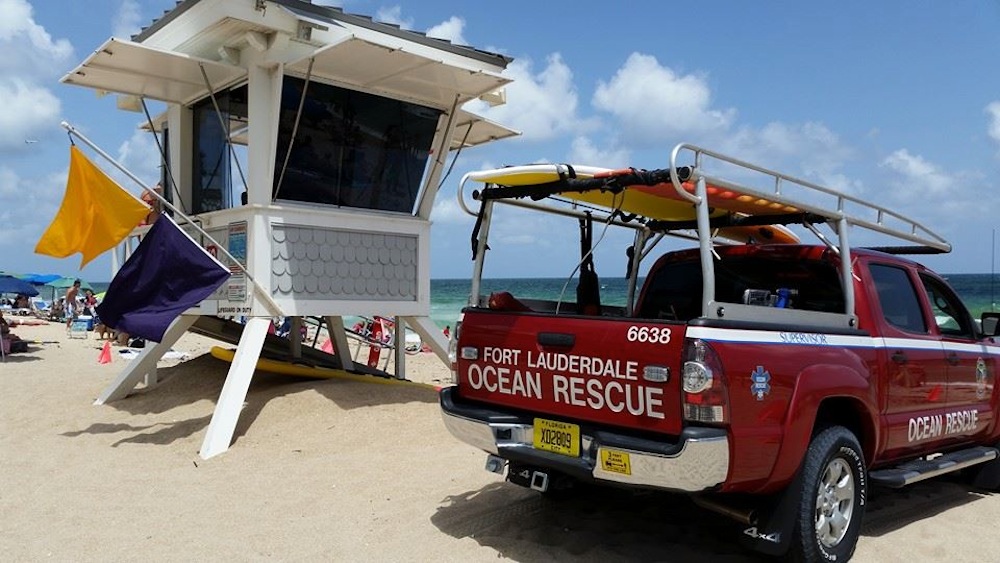 Photo via: Lt. Giovanni.
Lieutenant "Gio" Giovanni Serrano of the Fort Lauderdale, Florida, Ocean Rescue Division agreed, saying "Anyone that lives around water or has any interest in water sports should know how to swim," adding "most drowning victims never intended to be in the water." As a professional lifeguard, Gio has "seen plenty of inexperienced paddlers that have needed assistance because they were weak swimmers."
"They all think they can swim. Nobody is going to tell you that they don't know how." That's the experience of Dan Gavere, who teaches SUP Instructor courses across the USA and beyond. Instead of asking his students if they can swim, he requires that they rate their own skill level, using a system that he'd like to see on the front page of any SUP rental or instruction agreement. 1 = I'm comfortable on the water, but not off the board, 2 = I can tread water and swim to propel myself through the water, and 3 = I'm an experienced swimmer and can swim in a variety of conditions. Dan requires that any "1"s wear a lifejacket.
They all think they can swim. Nobody is going to tell you that they don't know how. - Dan Gavere
Dan thinks "Instructors have to be strong swimmers," but not all are. He requires students to swim 25 meters (82 feet) of lifeguard approach stroke - forward crawl with your head up - while maintaining eye and verbal contact with a "victim." Many of Dan's students - including folks who have been renting out boards, leading tours and giving lessons - can't do it, and they don't earn their certification until they can. Dan's instructor-training partner, Harmony-Dawn McGrath, owner of Urban Ocean in Ottawa, Canada, who rides for Starboard and has been a lifeguard for 17 years, observed "it's amazing how many of our students don't even want to get wet."
Johnny Kessel, who has experienced "numerous occasions" where paddlers have gotten into trouble because they were not strong swimmers, sets a slightly higher standard. "You'll be good to go once you can comfortably swim 500 meters without stopping, while being able to maintain an efficient body position. Most real swimmers will scoff at this, but for most people 500m is a long way to swim." 500 meters (1,640 feet) is 10 laps in a 50-meter Olympic-sized pool.
Want to see more SUP Tips? Click HERE.
Can someone that doesn't know how to swim try SUP?
"Yes," says Team USA SUP Gold Medal winning coach and PaddleFit founder Brody Welte "but when it comes to safety, I always stress situational awareness" which he defines as "the ability to identify, process, and comprehend the critical elements of information about what is happening around you." Brody says. "I try to avoid telling someone exactly what they should do and what the outcome will be. Is swimming is important? Yes. But we need to be careful of messaging. If we told the world that everyone has to be a strong swimmer to standup paddle, we would be severely limiting who we are offering the sport to. If someone is not a strong swimmer, then we need to have the tools to introduce them to the sport safely. We need to balance the barrier to entry of someone trying the sport and proper safety protocol."
"I wholeheartedly agree that swimming is important" says Brody, "but every case requires situational awareness. A client came to me when I had my rental and lesson business in St. Petersburg, Florida. She was in her 30s and couldn't swim, but wanted to learn SUP. So I put her in a life jacket, attached her to the board with a leash, and gave her a one-on-one lesson to learn how to paddle. She was super nervous but did an outstanding job, and she liked SUP so much that she decided to get swim lessons to feel safer on the water. I have seen several examples of situations like this."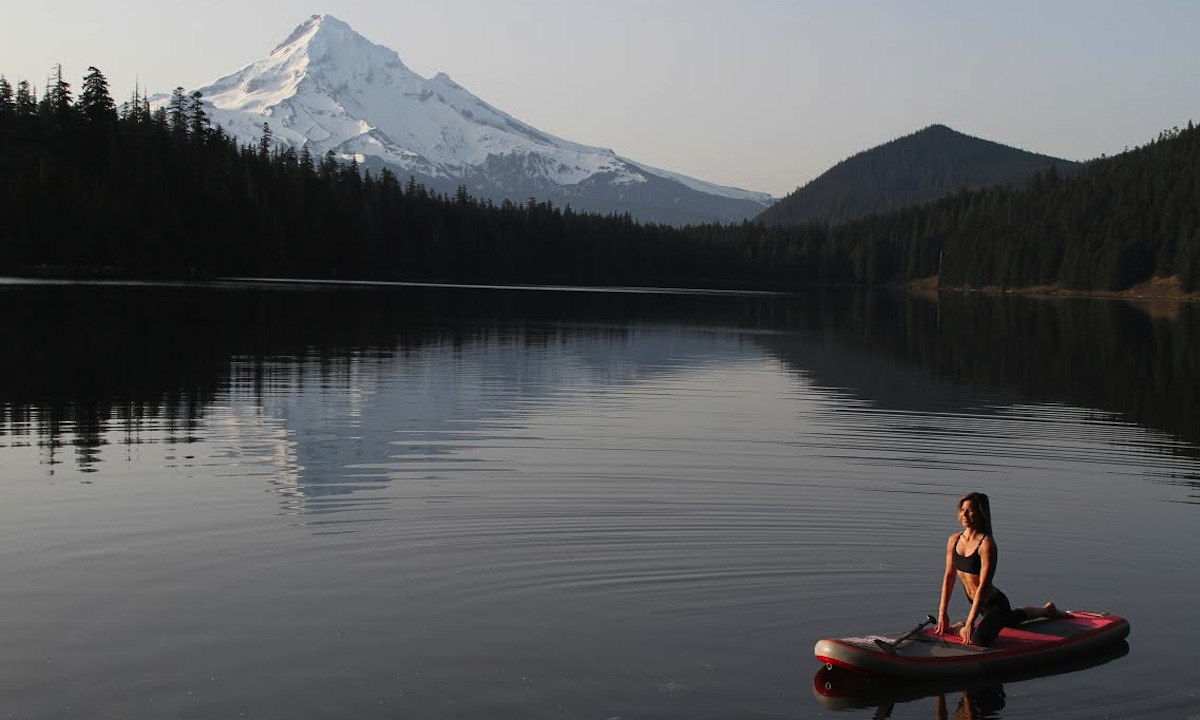 Harmony-Dawn McGrath, Urban Ocean, Canada: "If SUP inspires you to learn to swim, that's great." | Photo Courtesy: Harmony Dawn
Harmony-Dawn McGrath does not think you need to be a swimmer to try standup paddling, but she has observed that most of her SUP students who start out as non-swimmers go on to seek formal instruction in swimming, starting in a pool, and she encourages them to do so. "If SUP inspires you to learn to swim, that's great." She initially assumes that nobody in an introductory SUP class can swim, so everybody wears a lifejacket and leash.
Bob Pratt vacillates regarding the question of whether it's alright for a non-swimmer to become a standup paddler, noting that "there are many variables. In calm, warm water with the proper lifejacket and training, yes it's possible, but not ideal." Paul Byrne took Bob's thought a step further, saying "it's not ideal" for a non-swimmer to standup paddle because it "will always be a weak link in that paddler's skill level – an accident waiting to happen."
The Panic Factor
Changing or unanticipated conditions can play a major role in situations where you may end up in the water. Casi Rynkowski notes that "Many people drown because they underestimate a situation. Even those who can manage on their own in a pool can have difficulty when they encounter currents, wind, waves or rip tides in open water. Water temperature also plays a big part in someone's ability to swim to safety. Panic can affect your judgement and ability to think and, unfortunately, you may not realize it until it's too late. Ask any lifeguard, and they will tell you they have seen even the strongest swimmers get into trouble."
Paul Byrne has seen the same results. "Panic can trigger all types of unimaginable scenarios." He has been involved in situations where paddlers with weak swimming skills have fallen off their board, and he has observed that "90 percent of the time it leads to panic, which can result in water ingestion and secondary drowning. It can also lead to further complications, especially if weather conditions are challenging or the water is cold. In a school situation, it can take attention away from the rest of the students in the group as the instructor deals with the situation, leaving the others at risk." He advises: "To keep yourself and your buddy safe, make sure you are water confident." Paul says swim skills for paddlers should include, at least, "treading water, swimming at least one of the four traditional strokes, and being comfortable and confident with one's face immersed in the water for short periods of time."
Tom Jones, extreme endurance athlete: "If you don't know how to swim right now, learn before you get yourself into real trouble." | Photo Courtesy: Tom Jones
Tom Jones, an extreme endurance athlete whose lengthy resume includes paddling the entire California coastline several times, and from Key West, Florida to New York, defines panic as "a fear caused by not being prepared for a specific type of emergency. My advice to all standup paddlers regarding swimming is simple – if you don't know how to swim right now, learn before you get yourself into real trouble. I've seen a couple of SUP surfers get into trouble when their leashes broke in bigger surf, and they did not have the ability to swim to shore. I've also helped/rescued people on downwind runs who got separated from their boards and couldn't swim fast enough to catch up to them. That's why I always recommend using a leash anytime you're on a SUP board. Even in the harbor with a three and a half mile per hour current, an average person cannot swim fast enough to catch their own paddle board. People think they can, until they realize they cannot."
If you don't know how to swim right now, learn before you get yourself into real trouble. - Tom Jones
Johnny Kessel added: "Anyone who cannot swim well, or is not confident they can keep themselves above water, is usually prone to panic when confronted with a stressful situation in and around the water. Panic kills because it elevates the heart rate and causes hyperventilation that leads to water ingestion and drowning. Swimming is key. With familiarity, practice, and the confidence that comes with swimming skills, most people will be able to deal with minor issues as if they were standing on dry land. Practice makes one comfortable. If you spend time swimming today, it'll help you long term."
Lt. Serrano stresses the importance of swim training as a vital component of paddling safety. "Panic can render the most proficient person useless. Most people stop thinking rationally when they perceive a loss of control over their own life or that of a loved one. The most important thing for anyone that finds themselves in a distress situation is to keep calm, assess the situation, go back to their training and come up with a plan of action. I know it sounds like a lot, but with proper swim training, and plenty of practice, this all comes naturally, just like a good paddle stroke." He recommends "treading water, actual swim proficiency, and the ability to survival float" as bare minimum required skills.
Can a lifejacket and/or an appropriate leash sufficiently protect a non-swimmer?
Bob Pratt said "yes, if it is the right type of PFD for the situation" but added an important point. "A non-swimmer may not be able to deploy an inflatable lifejacket." Bob has been involved in situations where standup paddlers have gotten into trouble as a result of weak swimming skills, and noted that "both times the paddler did not have a leash." He advises "treading water and swimming head up" as absolute basic requirements.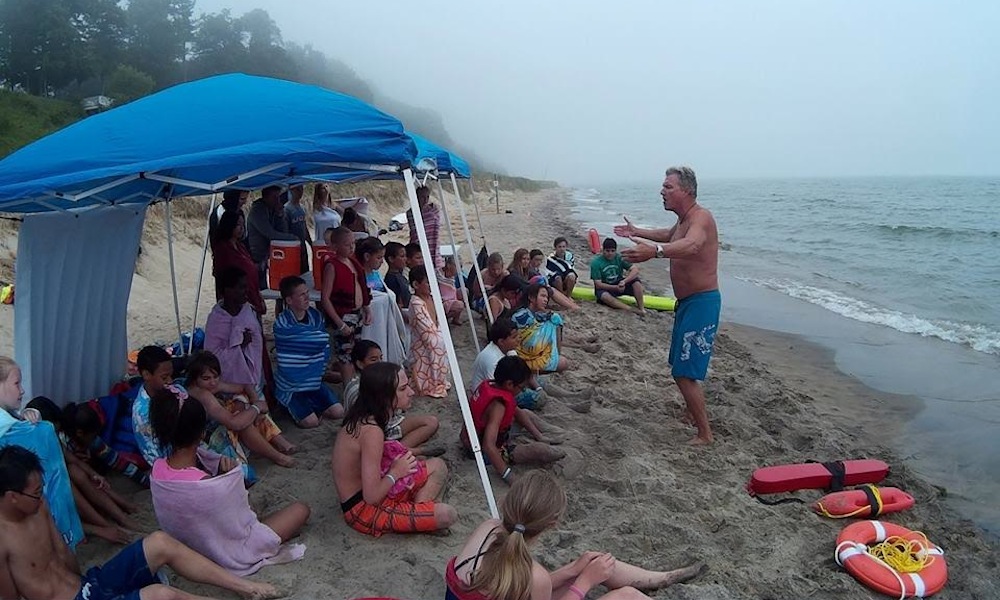 Bob Pratt, mid-instruction. | Photo Courtesy: Bob Pratt
Casi Rynkowski says that "Paddlers should not rely only on safety equipment," noting that "a non-swimmer can have difficulty, even if they're wearing a full-vested PFD. Bobbing around in a PFD in cold water and not being able to get yourself to shore can mean disaster." That said, Casi advocates consistent use of a PFD and leash. "A quick tug on your leash to pull your board back to you, and inflating your belted PFD" can simplify many situations. Casi recommends "practicing basic swimming skills while wearing a PFD, like kicking on your back, holding your breath, and turning from face down to face up position – these simple skills can save your life."
A leash is the most important piece of gear to have, because, unless you're unconscious, it can help you save yourself. - Dan Gavere
Johnny Kessel said "Having to rely on safety devices to avoid drowning is asking for trouble" but agreed that "a leash should be mandatory at all times because a paddle board is the primary lifesaving device. The board will provide anyone who is still conscious the ability to float comfortably, and elevate themselves out of the water to avoid hypothermia in case you get blown out to sea. Even proficient paddlers know the benefits of a leash, but for some reason our elite racers have proven a poor example to the rest. The benefits of a leash are exponentially more apparent when paddling downwind, where your board can be blown away from you in seconds. A standard USCG-approved lifejacket or PFD can be hard to paddle in, but it can save your life if you get knocked out and fall in the water. I don't think anyone has come up with a foolproof method as of yet, so make sure you always wear a leash." Again, Johnny speaks from experience, because wearing leash could have helped him avoid that two-mile swim in California.
CLICK HERE to take a look at more Beginner SUP Tips.
How can you acquire reliable swim skills?
Every contributor to this story recommended formal instruction as the best way to develop in-water confidence and build solid swimming skills. Johnny Kessel said "All journeys begin with a single step. If you have basic swimming skills, find a class at your local YMCA or Boys and Girls Club and learn some swimming technique." Paul Byrne advises "enrolling in private lessons at your local swimming pool with a fully qualified teacher" adding that "private lessons will suit adults better as they will tailor to your needs." Lt. Gio Serrano advised: "The American Red Cross, YMCA or your local community center" has great places to learn from a certified instructor, followed by "practice, practice, practice. Just like with paddling, one can only build endurance by practicing."
Tom Jones agreed that taking a class is "the best, easiest, and safest way to learn. Once you learn how to swim, I suggest as much variation in conditions as possible. Swim laps in a pool, go to a pond or a river, and ocean-swim if you can get to it, but always progress at a slow, safe rate, and use the buddy system. Don't swim alone."
Johnny Kessel added that, after you "get into a swimming class to develop the basics," it can be helpful to "watch YouTube videos, hire a coach or jump on a pre-masters class in your area where a coach can provide technique instruction. Like anything else, swimming is 90% technique, and the other 10% is technique. The more efficient your stroke becomes, the less effort you have to put in and the further you'll go."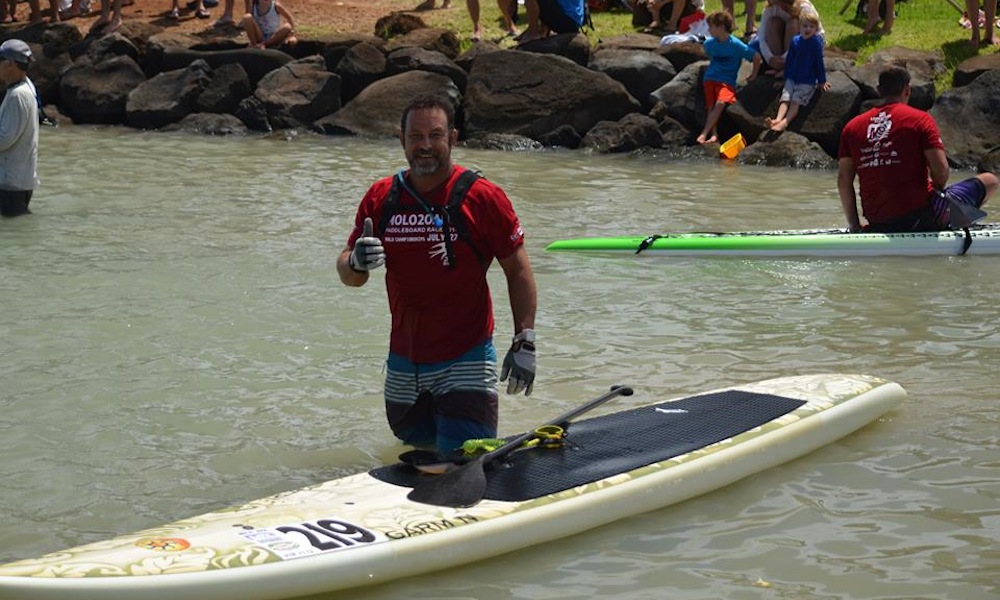 Johnny Kessel, at the Molokai2Oahu finish line: "Swimming is key. If you spend time swimming today, it'll help you long term." | Photo Courtesy: Johnny Kessel
Are pool swimming skills enough?
A pool is the safest place to learn to swim, but do skills built and practiced in a pool compare to what is needed in open water conditions? Tom Jones thinks not. "In my experience, pool swimming skills don't compare to open ocean swimming, because a pool is a completely controlled environment. It's easy to develop a false sense of security. Open ocean – not so much. There are currents, wind chop, varying water temps, animals with teeth, boat traffic … the list goes on."
Casi Rynkowski agrees. "Developing swimming skills and endurance takes practice. Swimming to the side of a pool is not the same as chasing down a board that is being carried away by waves, wind or current." Gio Serrano also concurred. "Pool practice builds general endurance and muscles needed for swimming, but practicing in open water is needed to prepare for factors like waves, wind chop, currents and boat traffic. Practicing in the conditions you could end up paddling in is a must."
Try to view swimming as an extension of your paddling. - Johnny Kessel
Johnny Kessel also values swimming anywhere as a training activity. "There is a big difference between being merely able to stay afloat and training as a swimmer to improve your paddling race performance. From my view, swimming can be one of the best cross training exercises available for prone and stand up paddlers, for a few reasons. It can develop the water comfort one needs as a paddler, while providing excellent strengthening of all the major muscle groups, allowing a great stretch for lengthening/suppleness, and excellent cardio strength training. It is no secret that some of the best paddlers in the world swim extensively year round. Swimming makes you a faster paddler with a lot more endurance than paddling alone. Obviously, there is a big difference between swimming in a calm pool and the raging ocean, where you have to deal with currents and wind, and you should know your limitations, but for training purposes, the benefits are identical. I recently got back into the pool and the results have been remarkable. I surf all the time, prone paddle and standup paddle, but nothing compares to the overall benefits I've received from swimming in a pool. Try to view swimming as an extension of your paddling."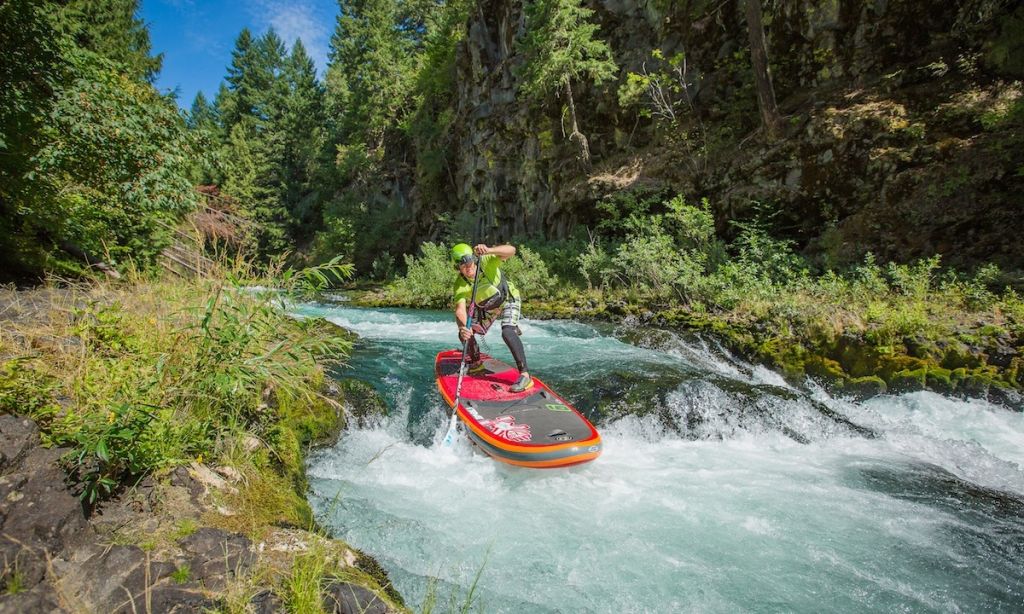 Dan Gavere at his home away from home. River Paddling takes serious swimming skills. | Photo Courtesy: Starboard SUP
What now?
Recall the most challenging piece of water you've encountered while paddling, envision the places you'd like to go, and imagine a worst case scenario in the water.
Do your current swimming skills meet the standards described by these pro paddlers? Test yourself in a safe setting, and be honest with yourself.
If you are convinced that your swimming skills are sufficient, that's great. Keep practicing and encourage others to do likewise. If you're not sure, then realize that you can learn, or improve upon, the skills you need to keep yourself and others safe. It might take some instruction, practice, humility and/or time, but you can do it, and you should.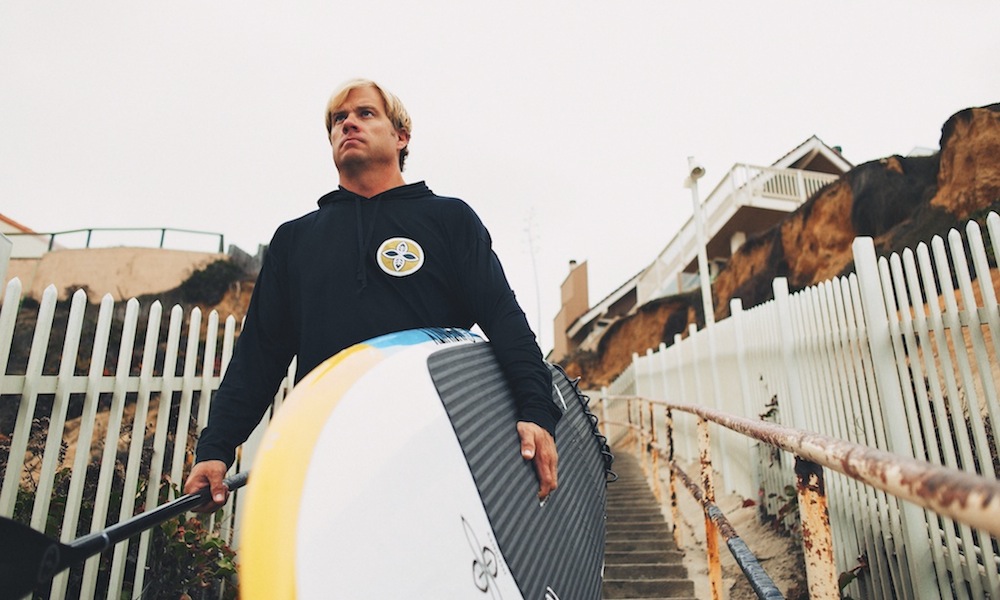 Brody Welte, Team USA SUP Gold Medal winning coach and PaddleFit founder: "Is swimming is important? Yes." | Photo Courtesy: Brody Welte
To learn more SUP Tips Click HERE.
Was this information helpful? Let us know by telling us what you think in the comments below.
Last modified onFriday, 30 October 2020 10:51

Tom Fucigna Jr. is a long-time swimmer, sailor, surfer, paddler, fisherman, diver and general water rat, with a degree in marine biology, a USCG captain's license, and a backyard pile of stuff that most recently expanded to include standup paddleboards.