Supcore Fitness with Kozak & Yeo
Written by Alicia Barry & Noelle Kozak
Supcore is the fitness program of the Surftech Stand Up Paddle Academy with Kozak and Yeo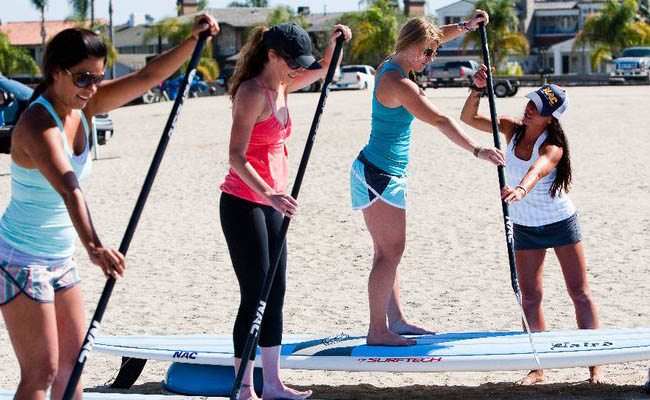 Noelle Kozak (right) at the Newport Aquatic Center going over the basics of paddle stroke technique. Photo Courtesy: Noelle Kozak.
Supcore on Sup TV

---
Noelle and Suzanne showed up at the Sup TV studio

---
Kozak & Yeo

---
The two gurus behind the Supcore program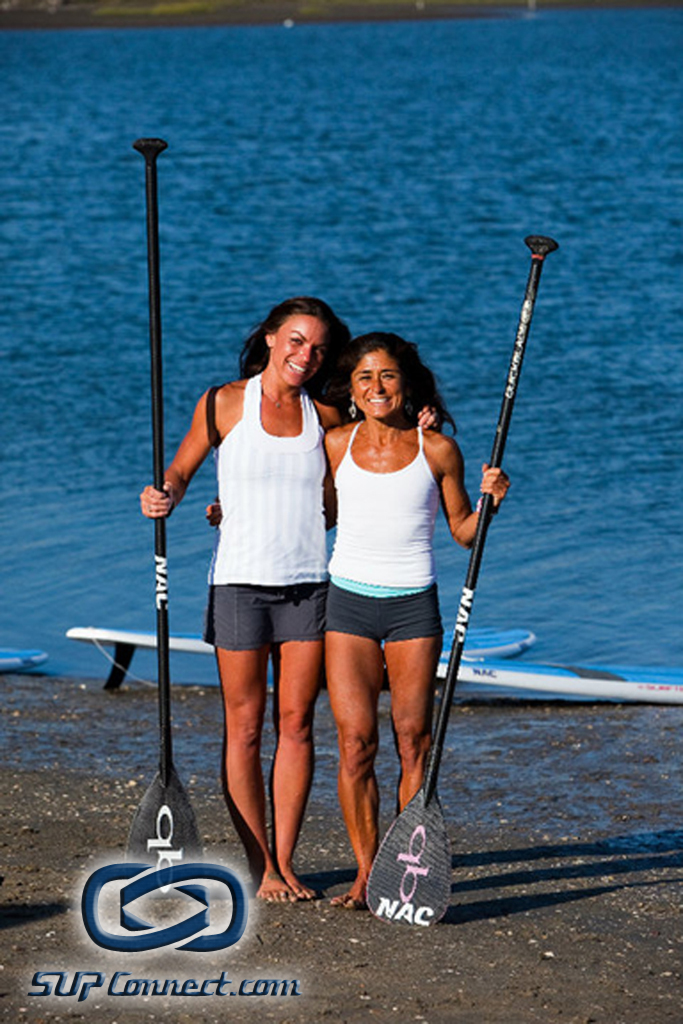 ---
Pre-water Prep

---
Some pre-water preparation to get used with balancing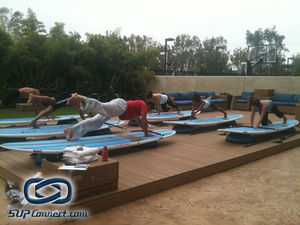 ---
All Smiles

---
Supcore students floating together in SoCal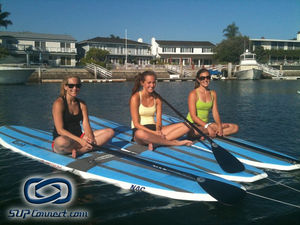 ---
Yoga & Core

---
The balancing on the board adding a new dimension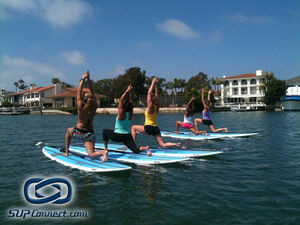 ---
Stretch & Balance

---
Suzanne Yeo showing the possibilities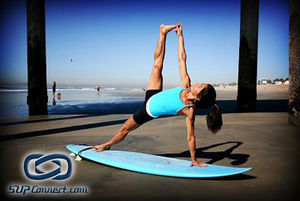 ---
Time to Float

---
From land to sea, as your comfort zone expands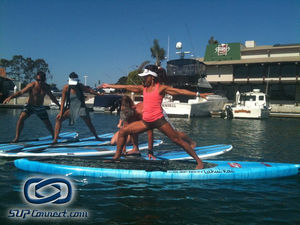 ---
Stretching Afloat

---
The outdoors giving even more of a motivation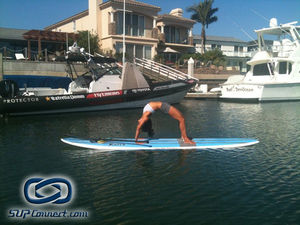 ---
NEWPORT BEACH, California – Noelle Kozak and Suzanne Yeo have brought not only lots of enthusiasm to the stand up paddle (sup) boarding community, but also decades of fitness training experience and an increasinly popular sup program. Alicia Barry, one of Supconnect's contributors, attended one of Kozak and Yeo's Supcore fitness programs and, together with Kozak, reported back to us. Below is an insight into these fitness gurus and their stand up paddle fitness program. (Join the Supcore group.)


1. Fitness Background
Noelle Kozak has been in the fitness industry for over 10 years. Noelle developed a program to train trainers for a national gym, during such time she won the title as top trainer for those sports clubs, nationwide. Clients refer to Noelle as their 'fitness guru'. Her list of success stories includes dozens of clients who gave her programs credit for their improved fitness levels and overall health and new passion for life.
Noelle's newest and most acclaimed fitness adventure, SUPfit-yoga in Newport and Laguna Beach, ensures that each person has a positive experience with a positive result in the world's fastest growing sport, Stand up Paddle boarding. "Our S-U-P unique total body conditioning program offers a streamlined and fun workout. One will get in the best shape of their lives and realize the joy of movement that translates into every aspect of life." (Become friends with Noelle Kozak.)

Suzanne Yeo started teaching group fitness classes in 1981 and yoga classes in 2000. Suzanne lived in San Luis Obispo for 22 years, where she received her BS in Physical Education from Cal Poly. "I love what I do; teaching various formats keeps things fresh (no burnout yet!)".

Since Noelle and Suzanne began creating this program together there has been a continuous flow, the program evolved. As Ambassadors for lululemon, Noelle and Suzanne used their employees as guinea pigs, and tweaked the program, which happened a lot. (Receive Stand Up Paddle Updates in Newsletter.)
2. Workout Program
"The difference with clients is their passion to work out, on top of it, they didn't miss a lesson or workout, bringing more people to the table to work out as groups. As this evolved students started to have more confidence, feeling empowered. Students noticed results immediately, their physiques changed, their core and arms strengthening. SUP core fitness/yoga is a full body workout. Nothing I could have done training any other way.

(We have you learn the techniques prior to coming in to class.) We look at cardio with paddling, working each major muscle group in the fitness program and in the yoga. We offer Power Yoga, still a strong class, lot of pushups, lot of core, plus being on the board your core is firing all the time. In fitness we will be doing squats, lunges. In yoga, lunges and warrior, that's all lower body: core abdominal work, rotations both in fitness and yoga. SUP fitness and yoga overlaps and is interconnected. (Join the General Forum.)

The workout starts out strong, 30-second intervals, sprints, focusing on form and recovery. Sequencing every single muscle group, there's nothing that we miss. We then go in to yoga, and the students are thankful! Yet the workout progresses throughout the yoga. We do finish with savasana, the reward. The final relaxation. When you do yoga, you go through a full body massage, a thorough full body workout then you relax. I then guide the students through a meditation to get them to fully let go and feel buoyant and light. Then when we bring them out gently, and say ok, you can paddle back, it's amazing. They don't even know where they are. After we give them a good workout, we give them dessert.

The extra you get from being on a SUP board on the water contrasted to being in the gym is constantly working on stabilization, like standing on a BOSU dome, you're constantly trying to stabilize yourself. Also you're outside. You have vitamin D, you have the sun, the birds, it's beautiful. You're not in a crowded musky gym; it's your gym on water. I don't even go into the gym anymore. If I miss my workout, I miss SUP.
3. Stand Up Paddle Fitness' Appeal
Noelle Kozak
Age: Guess?
From: Laguna Beach, CA

Title: Supcore founder and trainer
Education: B.S. in Physical Education
Background : Worked managing training programs for instructors and then began developing the stand up paddle fitness programm called 'Supcore.'
---
Suzanne Yeo

Age: Guess?
From: Huntington Beach, CA
Title: Supcore co-owner and trainer
Background: Former gym owner, yoga instructor and co-owner of Supcore program.

SUP is a low impact sport, the reason it is fast growing. SUP is good for anyone who is dealing with injuries by getting the full cardio you would want to have. What other sport can you get your cardio up to 160 beats a minute in a low impact sport? (See Stand Up Paddle Events on Calendar.)

Every person we have taught from the very beginning or who has known the sport of SUP has seen his or her physiques change exponentially. Students get hooked on the sport, so they are going more then they would with any other activity. It's a lifestyle sport and activity that you can stick to. There is so much you can do on a board: it's endless.

Every time we teach a class or we get out to train together, we get so excited; we come up with stuff that works. As a trainer, when I train, I look outside, I look around my environment and see what it is I can use. I never stick to a set platform of the workout for that day. I may write one ahead of time, but the minute you get out there, when you are passionate about what you do, as it comes, you just train your client like that. And that is what is going on with our program, so they have no idea what they are going to get into when they start. (Join the Supcore group.)

We build the power triangle stroke on land atop BOSU balls prior to going out on the water; we teach them how to turn, even cross bow turns, how to stop, how to brace; we have them go through that individually. Once we see that students can do that, we take them out for a paddle. Ideally, it's two lessons: a taste of the fitness and a taste of the yoga. Then you can come in to our full menu of classes. The SUP core class is on when you show up for a workout you want to get a workout, right? We try to keep intense throughout the workout.

We like to give a very thorough lesson, raised on a BOSU ball is almost like doing gymnastics on the board. We layer it though, we try to go three layers, one where we like to see you can already paddle. Then we layer each exercise so everybody feels they've mastered it. Tiny steps, if this is good, we go to the next level. The students can stay within their comfort zone, but have that opportunity to challenge themselves.

Same with yoga, we build a base, add a little bit more intensity or complexity, so we try to go to three levels. Beginner, intermediate and advanced, all in the same class. Which is great because the beginner is able to see what they can look forward to for the next sequence of classes they attend. " (Receive Stand Up Paddle Updates in Newsletter.)
© Copyrighted & Exclusive SupConnect.com Content
Last modified onFriday, 25 March 2011 16:27

Submit your news, events, and all SUP info, so we can keep promoting and driving the great lifestyle of stand up paddling, building its community, and introducing people to healthier living.
Website: supconnect.com
Email

This email address is being protected from spambots. You need JavaScript enabled to view it.