EQUIP Reimagines the SUP Rental System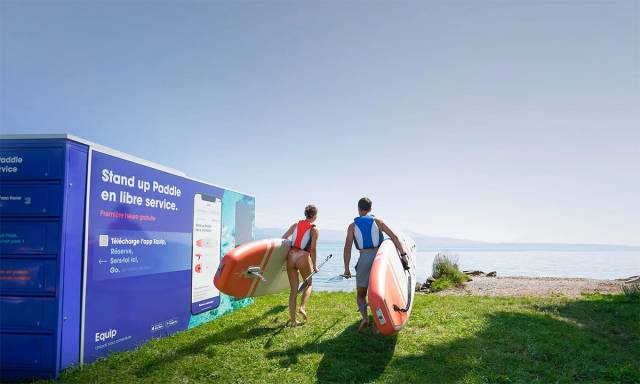 Photo courtesy: Equip
It's safe to say that most of us have experienced frustration and inconvenience when using traditional rental services. Someone who does not have their own gear for a sport can only enjoy it where rentals are available, and renters are not always instructed in how to use equipment properly. Lenders also must hire staff to manage rentals, as well as track down gear that goes missing. And if you opt out of renting, you now have to deal with the challenges of transporting a large board and several pieces of equipment. This is especially inconvenient when you're traveling longer distances.
Equip, a new company based in the US, is rethinking how the rental system works, starting with SUP. Renters and travelers alike can use the Equip app to access a locker unit that is stocked with rental equipment. Every piece of gear is tracked and connected to the app with Equip Intelligence sensor technology, ensuring that equipment is returned in its entirety, stored in the right location, and locked securely after use. Equip stations can be set up virtually anywhere, since locker units are unmanned and don't require an electrical power source (yep—they run on solar energy!). The app also offers instructional videos for basic SUP technique and operating the lockers. And what's more, Equip offers 24/7 support—in the event that something goes wrong, you'll be able to chat with someone to sort out the issue.
Equip's innovative use of sensor systems is foundational to their rental model. The sensors embedded in the rental equipment not only help businesses and renters keep track of and properly store their gear, but they can also detect whether lockers have been secured correctly and allow users to report faulty hardware directly on the app. The user-friendly Equip app is also the renter's tool for discovering rental locations worldwide, managing bookings, and accessing helpful information. For businesses, Equip's intuitive, cloud-based dashboard allows for efficient management of rental stations and reservations, as well as tracking analytics. With this application of sensor technology, the Equip system can give everyone easier access to an active lifestyle.
The folks at Equip are giving us the inside scoop as they prepare to launch rental stations nationwide. We caught up with the Equip team to get more of their insights regarding locker use and the Equip business model, as well as their thoughts about the future.
How did the idea for the Equip system come about?
Equip was founded on the idea that sharing equipment is more convenient than owning. It also saves money, time, hassle, storage space, and through the various iterations of rental stations, it allows access to a large variety of sports equipment. We found that SUP was the perfect starting place to launch our new app-based reservation system and rental stations, which work for large and small sports equipment rentals alike. With the potential for unlimited rental locations to serve a growing client base, familiar with using their phones to access services, Equip is perfectly timed for its market debut and today's social climate.

Where can Equip lockers be used?
Anywhere! That's the great thing about a locker-based system. If you have water and a spot to place the box, you are the perfect candidate for a SUP rental station. Our stations are designed and can be installed nearly anywhere using solar power and a battery storage system, off the power grid therefore does not require any electrical power source.
When will these be available? Where?
We've launched our first station in Miami and will be rolling out nationwide in June of 2022.
Who provides the rental gear?
Safety is our number one priority, so we make sure that only premium equipment is available at the stations. We are in talks with several leading brands, and we also offer our Equip branded inflatable boards as an option.
Who maintains the gear to ensure the equipment stored in the locker is not degraded or damaged?
Ensuring the equipment is in excellent condition is a top priority for our customer's safety and paddling experience. This is why we use technology to assist with monitoring equipment, primarily related to the inflation pressure in the boards. We can remotely monitor the gear in the box through the app to reduce the need for daily checks and, if need be, have the box checked and gear inflated or repaired by the local station partner.
How might you see this idea expanding in the future?
Although SUP is at the heart of our company and will be the first phase of implementation, we see a variety of locker configurations to accommodate a vast array of sports rentals in the future. SUP at the beach, basketballs, soccer, volley or pickleball at the park… the possibilities are endless. These days you can pay a subscription to have all the music in the world. We want the same for sports – reducing barriers for access and making sports equipment available for everyone.
Is there a subscription option for paddlers who want to take advantage of this regularly?
There are benefits to a subscription-based model, and in the long run, we see this as the one important way forward. For the short term, we'll be introducing special offers and trial days with our partners – an excellent opportunity to access SUP at an affordable price, get people on the water and try new locations and new equipment.
How can a partner set up an Equip box in their area?
If you think you've got the perfect location (or even know of an excellent site) for a SUP station, we'd love to talk to you to understand better how we can help. You don't have to be in the industry. You must understand SUP and have a fun site to host the station where paddlers have safe access to the water.
How was your technology developed? How long did it take?
The Equip app, box, and equipment monitoring technology have been under development for a few years now! We've got a great in-house team working to make our stations and service more straightforward and efficient to engage. Technology is at the heart of our operation, and we've got some exciting features coming. One of the most remarkable developments here at equip was our SUP pressure sensor - allowing us to monitor all our boards from one location.
Tell us more about that pressure sensor. What does it do?
We've spent a long time in R&D working on this and we think it's a bit of a game changer. Our pressure sensor allows us to remotely monitor inventory, so we know when boards are well inflated or need a top up. Not only does this make it safer for customers, but it also reduces time spent on daily checks and makes managing the station far less labour intensive. It's compatible with all inflatable SUP and allows our partners to login online and check equipment is present and boards fully inflated at any time of day.
What are some ways that rental stations operators will benefit from partnering with Equip?

We want to make SUP more convenient for those who want easy access to paddling. Equip will promote the SUP stations through the app, a concerted effort, and investment into advertising to drive bookings for the sites. The two large sides of the box can also be custom printed to make the box both attractive and promote their local business. Furthermore, people might find it most surprising that Equip provides the box FREE OF CHARGE to the sight owner/operator. On top of this, there is a very generous revenue share model for all stakeholders. For the site owner/operator, they can make between 30%-45% off all revenue generated from the site. It can be quite a lucrative stream of passive or partially passive income. The station will also come with the necessary PFD's as required by law in almost all locations.
We know SUP is just the first sport where you will implement this app technology and rental stations …when do you foresee other sports utilizing this technology?
Yes, SUP is the start, but we see massive potential in future implementations. We're about to launch our multi-sport box, the ideal rental locker providing for all the sporting items you wish to take to the park or on holiday. It's perfect for campgrounds, cities, housing developments and apartment complexes, local parks, and recreation departments. The station owner can vary rates based on seasonality, time of the day, or week. They can lower the cost, run promotions, and even offer rentals for free as a promotion, for example. There are endless municipal sports facilities worldwide just sitting there and not being utilized to their potential. People may show up with a soccer ball but could also play volleyball, pickleball, basketball, but they did not pack any gear. With the Equip multi-sport box, you can show up and have access to any equipment to play on the fields or courts in the park and leave it there when done. Perfect for city living and for parents who want to play sports at the park with their kids, leagues, etc. We want to help make the most of these beautiful installations that have been funded by city/taxpayers' money.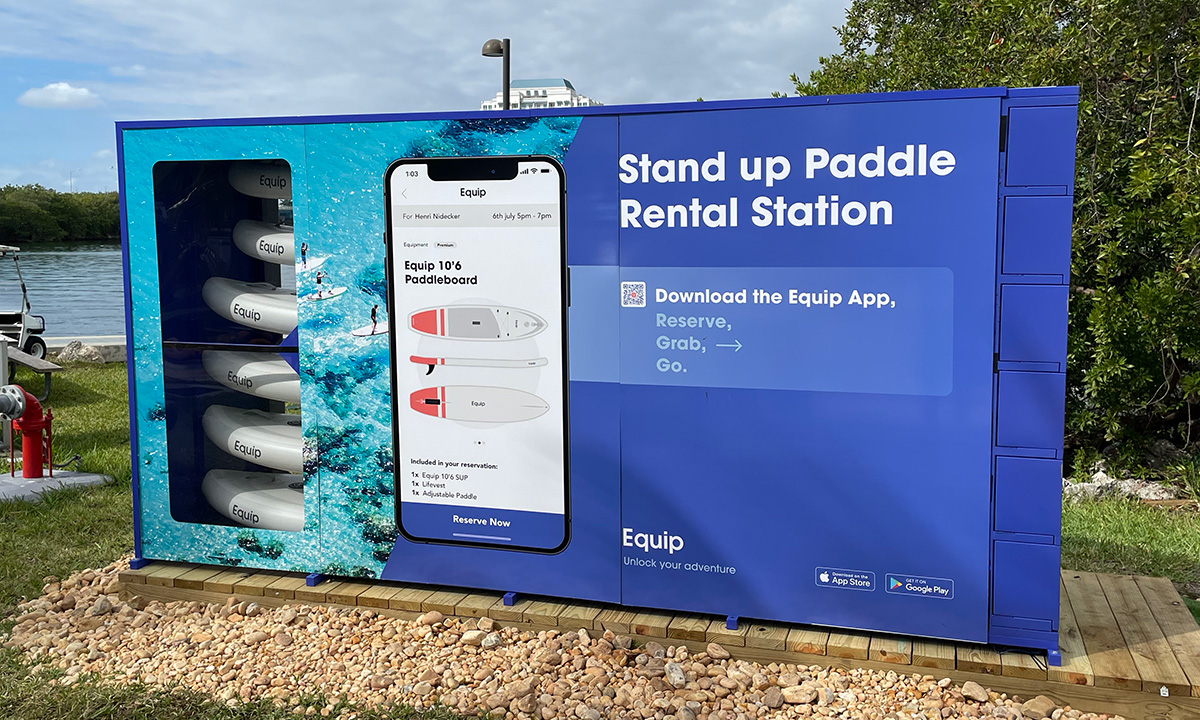 Photo courtesy: Equip
The Equip rental system makes SUP more accessible by providing an easy solution for users. The beginner is no longer inhibited by the need to buy expensive gear, nor are they limited to areas with traditional rental services. More experienced paddle boarders can also enjoy spontaneous days on the water without the need to prep and pack all their equipment. The Equip model is attractive on the business side as well—it's a simple process for retailers, and even cities or towns could consider renting sports gear to the public at local beaches or lakes. It's a win for everybody, and we're stoked to see this increased access to SUP. Equip can be downloaded on your device's app store or you can learn more on their website www.equip.app.
Last modified onMonday, 14 February 2022 13:55

Submit your news, events, and all SUP info, so we can keep promoting and driving the great lifestyle of stand up paddling, building its community, and introducing people to healthier living.
Website: supconnect.com