Los Cabos SUP Classic 2010, Mexico
Held on the Sea of Cortez at Palmilla Beach in San Jose del Cabo with Prize Money and Great Crowd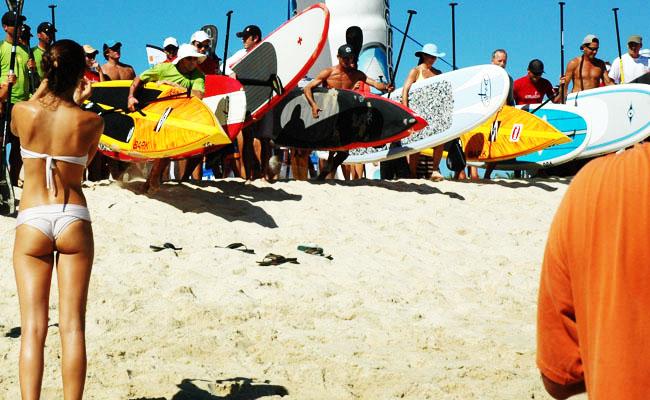 Los Cabos SUP Classic 2010 had spectators of all stripes and an enthusiastic lineup of paddlers. Photo: Alfredo Salafranca
View Photos
---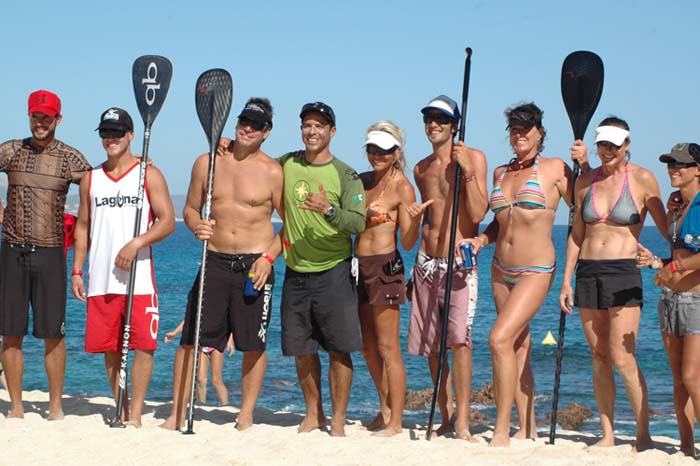 Befriend Organizer
---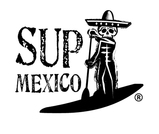 Join SUP Mex Group
---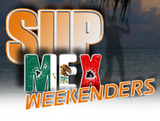 See Race Results
---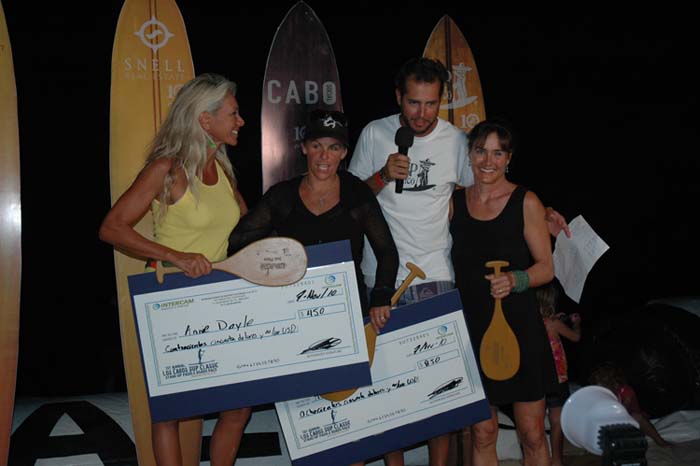 Cabo on SUP TV
---

LOS CABOS, Baja California – Boards, paddles and tanned bodies shimmered on the beach in November as the first annual Los Cabos SUP (stand up paddleboard) Classic took place in the waters of the Sea of Cortez. Hundreds of community members gathered at Palmilla Beach in San Jose del Cabo to participate in three days of competitive SUP paddleboard races, in an event organized by SUP Mexico's owner Alfredo Salafranca and sponsored by Snell Real Estate and Del Mar Development. Proceeds from event inscription fees, tee shirt, rash guard, cap, beer and raffle ticket sales during the event were all donated to the Don Manuel Orantes Marine Sea Turtle Protection Program, a local organization working to raise awareness and restore populations of the endangered marine sea turtles that nest on the shores of Los Cabos.

While the event took place over a four-day period between November 4 and 7, Salafranca has worked diligently for eight months to make the event a reality. When asked where the inspiration came from Salafranca replied "I have been living off the ocean for the past eight years, first as an Eco-tour Company Owner and most recently as SUP Mexico owner the Master Distributor for the top SUP brands in the market. I felt like I wanted to give something back to the sea. I wanted to protect the sacred turtles and that's how I chose the sea turtle protection group to benefit from the event. I love the ocean and I want to help preserve it so our children can enjoy it as we do."

Event sponsor Ron Hatfield, president of Del Mar Development echoed Salafranca's sentiments. "It's so important we all do our part to protect the wildlife and beaches, which are such a huge part of what draws people to Los Cabos. I think it's absolutely vital we take every step we can to protect marine life, whether it's the sea turtles or the whales that migrate here every season."

The first Annual Los Cabos SUP Classic opened with the release of 500 baby sea turtles that had hatched in nests planted by the Don Manuel Orantes Marine Sea Turtle protection group. Children clamored for the opportunity to hold a baby sea turtle in their hands before releasing the tiny creatures on the beach to make their way to sea. The turtle release put smiles on hundreds of faces and left a distinct impression on participants, just as crawling over the sand did for the young turtles that now have the beach imprinted in their memory. The beach at Palmilla is where these turtles will return to nest if they are fortunate enough to be the one out of 1000 who will survive to maturity.

"It was phenomenal to see hundreds of newly hatched sea turtles be released into the wild and to actually watch them make it to the sea." Hatfield said reflecting on the event. "It was really quite special to see so many members of the community there to witness the release, especially the children," he continued.

Over the following three days, competitors of both genders raced across the Sea of Cortez on the stand up paddleboards (SUP) that have been making waves globally as they have grown in popularity. A windy Friday made the three-mile race difficult, but over 30 racers tested skills and exhibited determination in the less than favorable conditions.

On Saturday the winds laid down and near perfect conditions prevailed in the longest race of the Classic. "We were honored to have surf legend Mike Doyle officially begin this race," said Salafranca. Taking off from the shores of Los Zacatitos on the East Cape, over 20 competitors paddled out into open waters searching for the most direct and shortest path back to the beach at Palmilla. "A distance race like Saturday's is all about a navigation system," Salafranca said. "You have to find your line. Some people stayed close to the coastline which was a huge mistake because it made the course longer for them and had them fighting shore current."

On Sunday, 12 teams of 4 competitors each battled it out in a grueling relay race that had a number of local companies forming teams to compete against each other. Not surprisingly, team SUP Mexico took first place in this event, followed closely by team El Dorado. Third place went to team Snell Real Estate. "During the relay on Sunday, competitors saw whales in the water and enjoyed perfect conditions including water temperatures approaching 80 degrees," said Salafranca after the event. "It was a really a magical day."

The event's third day was marked by an early morning "paddle out" to honor professional surfer Andy Irons whose life was cut short by dengue fever acquired while surfing in Puerto Rico. Close to 60 people gathered and paddled out on SUPs, surfboards and kayaks casting flowers to the sea in the impromptu ceremony hastily thrown together just days after Irons' tragic death. SUP Classic sponsor Chris Snell, president of Snell Real Estate, called this an unfortunate highlight of the event. "Beach communities around the world held paddle outs to honor Irons," Snell said after the event. "I am proud that Los Cabos was able to participate in paying tribute to this young surfer who was a good friend of my wife, Raina. Losing someone like Andy at the age of 32 is heartbreaking. The paddle out was an amazing tribute to an amazing person."

The event closed on Sunday with well over 300 people on the beach releasing 200 additional sea turtles and awarding both hand carved wooden trophy paddles and prize money to competition winners.

"Overall I was very pleased with the event," said Salafranca. "Bliss Events did an amazing job coordinating, we made 25,000 pesos for the Marine Sea Turtle preservation group and we learned a lot. Next year's event will be even bigger and hopefully we can make even more money to donate to this worthy cause."

For information about the 2nd Annual Los Cabos SUP Classic, or to find out how to get on a SUP paddleboard from the Master Distributor of the best SUP paddleboards on the market, contact [email protected], mexicosup.com or look for us on Facebook at [email protected]
First Annual Los Cabos SUP Classic — Additional Information

Salafranca first became interested in stand up paddle surfing when he saw it on California beaches three years ago. Since then, he has become an instructor for the sport, as well as distributor for such board makers as Hobie, Boardworks, and Doyle throughout Mexico. SUP boards cost about $1200 US, but are also available for hourly, daily or weekly rental. Demo boards, vendor booths, food and drink from local restaurants and a DJ were on the beach for enjoyment by the public the entire weekend. Surf legend Mike Doyle donated a commemorative painting for auction at the event's closing ceremony, with all proceeds going to benefit the Marine Sea Turtle protection group. Salafranca credits the versatility of the sport as the reason it has captured a wide demographic of followers. From novice to extremist, this sport provides everyone an opportunity to excel. Salafranca says that, on average, it takes about a minute to learn how to stand up, provides a great core and cross training workout, and is a water sport that does not solely depend on waves to have fun.

Last modified onFriday, 26 November 2010 18:56

Submit your news, events, and all SUP info, so we can keep promoting and driving the great lifestyle of stand up paddling, building its community, and introducing people to healthier living.
Website: supconnect.com
Email

This email address is being protected from spambots. You need JavaScript enabled to view it.