Kosterlitz and Baus Win at San Juan's Paddle Royal
The Paddle Royal - San Juan SUP Cup long distance race took competitors around the historic 500 year old city of San Juan.
For more videos from this event and others, go to the supconnect youtube page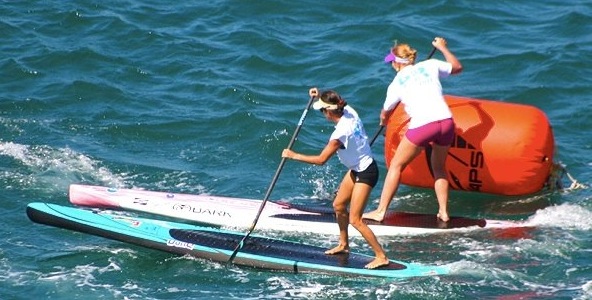 SAN JUAN, Puerto Rico – Stand up paddle athletes sprinted from the start line of the Paddle Royal – San Juan SUP Cup Distance Race on Saturday, October 29th to kick off the weekend's events. More than 130 paddlers competed in two divisions but after the dust settled it was Florida's Chase Kosterlitz and Puerto Rico's own Heather Baus claiming first place overall.

The challenging 8-mile distance race took the stand up paddlers around a collection of turn marks before heading into an open-water downwind section. With spectacular views of the 500 year old city of San Juan as their backdrop, some racers were distracted into missing a critical mark that cost them a 7 point penalty in overall scoring for the weekend.

For a full list of event results go here.

Crossing the finish line first overall in the distance race was Chase Kosterlitz but following close behind him, and finishing 4th overall among a pack of elite male stand up paddlers, was Candice Appleby. Riding her signature Surftech Bark stand up paddleboard.

Sunday's events saw racers compete in four separate and unique sprint races. The races tested not only their endurance but also the competitors' agility while fighting around tight buoy turns. Chase Kosterlitz continued his Puerto Rico SUP domination but taking first in all four sprint races, securing his first place finish overall. Close behind him in both the distance and sprint races was Boardworks team rider, Anthony Vela, who finished first in the 12' division and second place overall.

In the women's division, Puerto Rico's own Heather Baus and world champion stand up paddler Candice Appleby battled each other for points. Appleby won four out of the five races over the weekend but in the end it was a costly mistake in the long distance race that put Baus over the top in overall points. Finishing first overall, Baus topped Appleby by a mere point in the overall scoring.

Congratulations to all racers who participated in this year's challenging Paddle Royal – San Juan SUP Cup. Kosterlitz continues to prove that Florida produces elite paddlers on par with Hawaii and California and Baus valiantly defended her home turf against Appleby.
.
Last modified onWednesday, 02 November 2011 12:01

After spending the first part of her life in Minnesota, Morgan traded in her snow boots for sandals and moved to sunny California. After graduating with a degree in Communication from The University of Southern California, she eventually made her way down south to San Diego and is taking advantage of the living by the best beaches and burritos California has to offer. If it's sunny, you can find her at the beach relaxing, or exploring the calm water in the bay via paddleboards and kayaks.
Email

This email address is being protected from spambots. You need JavaScript enabled to view it.