Incredibly Successful Hiswa SUP Tour in Amsterdam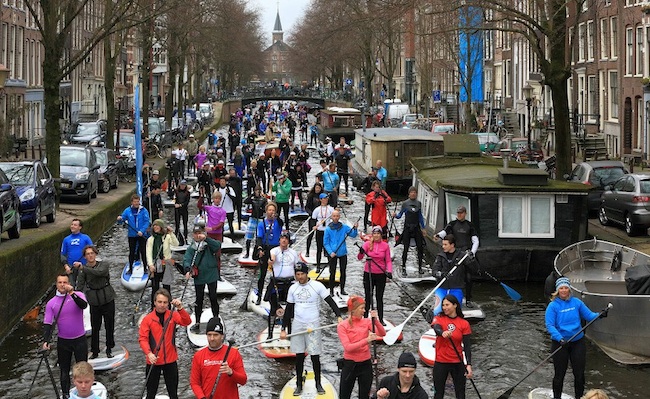 Stand UP Paddleboard - Hiswa SupTour 2013 - Photos Courtesy Jasper van Staveren, Jasper van Overbeek and Jan Peter Popta
AMSTERDAM - Earlier this month on Sunday March 3rd the canals of Amsterdam filled with Stand UP Paddlers for the Hiswa, an annual boat show in Amsterdam. ·The purpose was two fold. ·First, to make an attempt to break the Dutch record for having the most paddlers (78) on the water at the same time, and second to spread the SUP Stoke by displaying that SUP is one of the fastest growing sports for all ages and levels.
The Hiswa seemed to accomplish both its goals as there were 145 paddlers registered and on the water, and the national papers and Television crews came out to cover the local event. ·All the bridges over the canals were packed with people watching and cheering on the SUPers. It was a party on the water and they even did a Harlem Shuffle on the busiest canal in the city, music and all! ·The public exposure to SUP in Amsterdam has been huge and the photos continue to make the rounds on social media and the internet.
According to Morene Dekker, one of the organizers, a special aspect of the event was, "…that everybody came to paddle with us. In Holland it is still cold (the water just defrosted) and all the people who came to paddle were happy to start the season like this. I called it the best season kick off ever!"
Morene Dekker continued to share with Supconnect that she would like to see SUP in Amsterdam continue to grow but grow faster and reach a new level of awareness. She feels that Holland is the perfect country for stand up paddlboarding because, "It's so easy to go for a paddle in the busy canals or go on the lake and enjoy the water and silence, or drive 30 minutes and hop on the ocean." Morene went on to share that one of the greatest aspects of SUP in Amsterdam is that the small community of paddlers still all know one another.
Congratulations to Morene and the Hiswa SupTour team for and incredibly successful paddleboard event! More Photos here: Hiswa Sup Tour, Photos by Jasper van Staveren, Jasper van Overbeek and Jan Peter Popta
About Morene Dekker:
Morene organized the Hiswa SupTour with Hans Schouten. Together they have also organized Friday Night Paddles in Amsterdam since 2011. She is the founder/owner of M&M SUP, also since 2011, and owns two SUP schools in Amsterdam. The first school is in the center of Amsterdam (3 minutes from the Central Station) where they do lessons and city tours. The other school is on IJburg, (a 10 minute tram ride from the center) on beach Blijburg where they go paddling on the lake and do BOGA YOGA classes. Morene is also the official BOGA re-seller in Europe and at the moment is the dutch sup champion in the 12.6ft class.
.
Last modified onMonday, 18 March 2013 20:56
Email

This email address is being protected from spambots. You need JavaScript enabled to view it.