5 Ways SUP Yoga Makes You A Better Yoga Teacher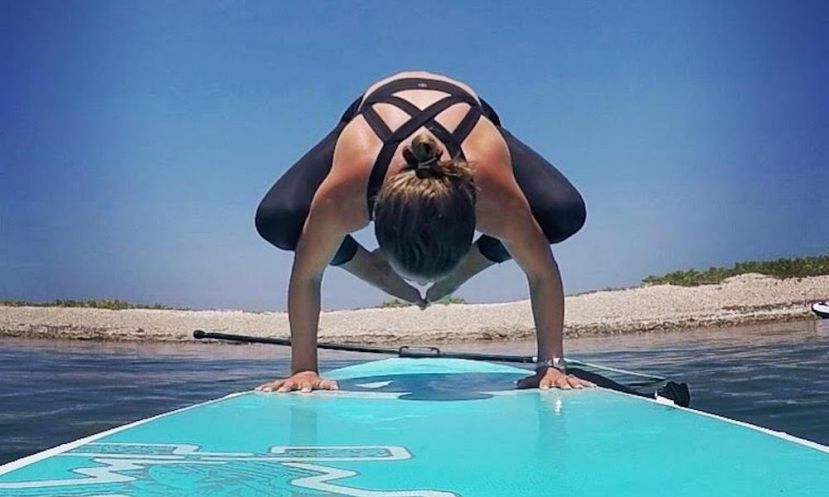 FISHERS ISLAND, New York - Looking for ways to become a better Yoga teacher to help your yoga classes become even better? Take a splash at SUP yoga! Here are 5 ways that SUP yoga can make you a better yoga teacher.
1. It teaches you to be more playful
You have to bring an element of playfulness to your yoga when your out on the water and in the elements. There are days I know I don't want to fall in and so my practice is more reserved, other times I am all about trying the more challenging poses knowing they will likely end in a splash. Sometimes I try things on my board that I don't even do on the yoga mat! Bringing my dog along for the ride always adds an extra challenge, I never know when she will decide to jump in for a swim sending me off the board in a second!
2. It teaches you to go with the flow
Unlike a yoga room, conditions can change out on the water, the wind can pick up, boat traffic can cause wakes and the class can go from clam and relaxing to rough and challenging in minutes. A great teacher can react without compromising their class theme or focus and go with more flow. As a Sup yoga instructor I have to be flexible enough to adjust my game plan at any minute, I need to be tune in to my students needs or abilities and adjust on the fly.
3. It teaches you to have great presence
This is one of those indescribable qualities that you can feel when a great yogi walks into the room, their presence commands attention and make you feel at ease. Presence is so important when teaching SUP yoga as you can't walk around the room and give assistance like in a normal class you need to be able to keep your students full attention and manage the class and safety from a distance.
4. It will supercharge your balance skills
We may think we have great balance until you take our yoga out onto a paddle board. SUP Yoga is far more challenging than regular yoga on your mat, because your board is unstable and sensitive to even the slightest movement. The need to unite and utilize every muscle in the body become vital to successfully achieve some of the more challenging standing and balancing poses that on the mat seems easy. To be challenged again by some simple yoga poses is humbling in a good way!
5. It teaches you deeper mindfulness
If I try an inversion on the mat there are few variables to think about. However an inversion on the paddle board requires me to assess my surroundings and really focus on the pose in its entirety. My head stand could easily turn into a swim, so I have to stay truly focused to flow and be present through whatever the pose will bring me. Every time we challenge ourselves in an inversion or arm balance, we learn a little more about ourselves and how we do in a fearful or stressful situation. Bringing mindfulness to the movement helps us understand what's going on, and the fear goes away.
Take these thoughts into consideration the next time you head to the studio and head to the water instead! All photos taken of Tiggy Ski by Tiggy Ski using a Go-Pro.
See more SUP Yoga news and tips HERE.
© Supconnect.com Copyrighted Exclusive Content
Last modified onWednesday, 15 February 2017 14:56

Tiggy Ski has a passion for Health and Wellness. She is a Certified Holistic Health Coach, Detox Specialist, ERYT Yoga Instructor, PYA Pilates Instructor, Aerial and SUP Yoga Instructor. Having gone though her own health journey she learned how important it is for people to get back in tune with their bodies. Working as an health and fitness coach Tiggy loves helping people get back on track to improve their health and happiness. Check her out on Facebook and Instagram!
Website: www.tiggyhealth.com
Email

This email address is being protected from spambots. You need JavaScript enabled to view it.