Bart de Zwart Hits Nepal During World SUP Excursion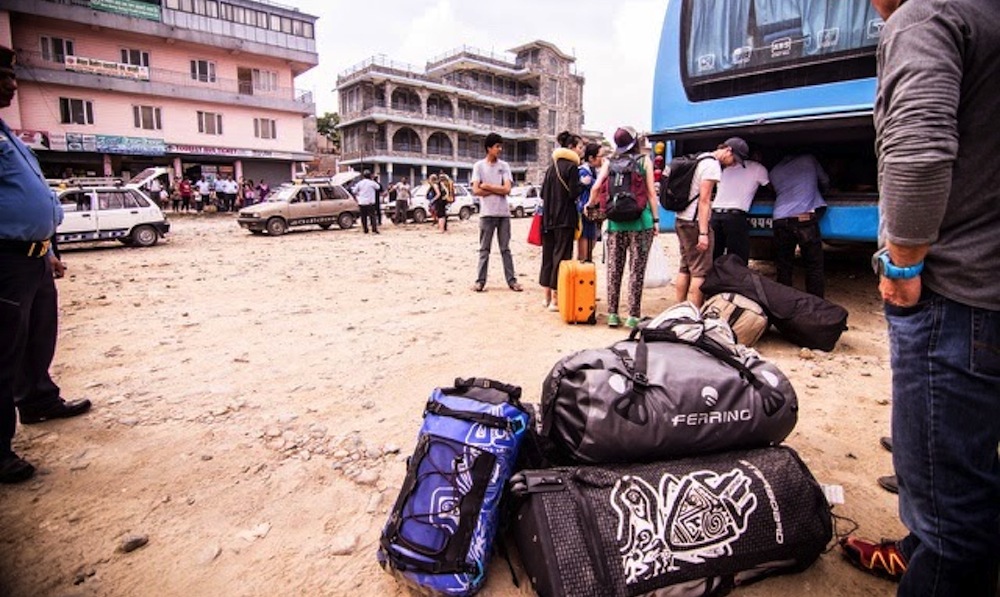 Stop #2 of 'The Ultimate Crossing' is Nepal.
After exploring the isolated island of Yap in Micronesia, SUP explorer Bart de Zwart heads to Nepal to continue his journey. During his stay in Kathmandu, Nepal, Bart experiences first-hand the recent earthquake that was devastating to the country. Read about his time in Nepal here:
KATHMANDU, Nepal - We arrive in a buzzing world of honking cars and motor bikes, chaotically driving through the dusty and dirty streets of Kathmandu. What a contrast with Micronesia, the slow pace made place for a very different scene.
At night we walked through the narrow streets of Thamel full of tiny little restaurants, tiny outdoors gear shops and trekking agents. I feel right at home. This is expedition country; Land of trekking, white water paddling and climbing the highest peaks of the earth. We took the bus to Pokhara, the 130 miles through the mountains along narrow roads which took us eight hours. Pokhara is at the foot of the 8084 meter (25,500ft) high Annapurna.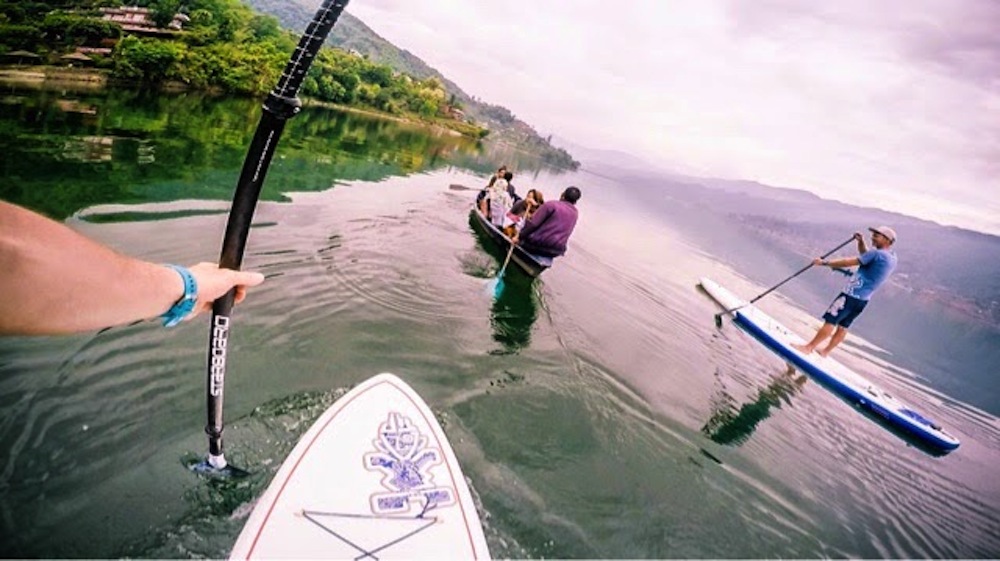 A few days enjoyed on the water were soon to be followed by disaster.
After spending a couple of days paddling and exploring the mountains around Pokhara disaster strikes… The ground suddenly started to shake. People screamed and when we looked up, we saw the buildings moving violently, just about to fall over. Only later, when we met a guide who told us about the many buildings that collapsed and the casualties in Kathmandu, we realized this was a serious earthquake. I contacted Dagmar, my wife, to tell her that we were alright. I got a very worried, but also relieved, Dagmar on Skype. It is in times like these that we realize how much we mean to each other. By then, my mailbox is also full with concerned family and friends who are checking to see if we were alright.
The following night there were many after shocks. Twice we woke up and ran outside. By now, we have read the reports from the rest of the country saying that some villages near the epicenter are totally wiped out and Kathmandu is also seriously hit. Although in Pokhara there was no serious damage, everybody is afraid and doesn't want to stay and sleep in their homes. So, everybody was camping outside in makeshift tents. A day later we took a bus to the Madhi River. Along the road I saw many houses partly destroyed, people sitting on the street and again a strong after shock and everybody ran on the street.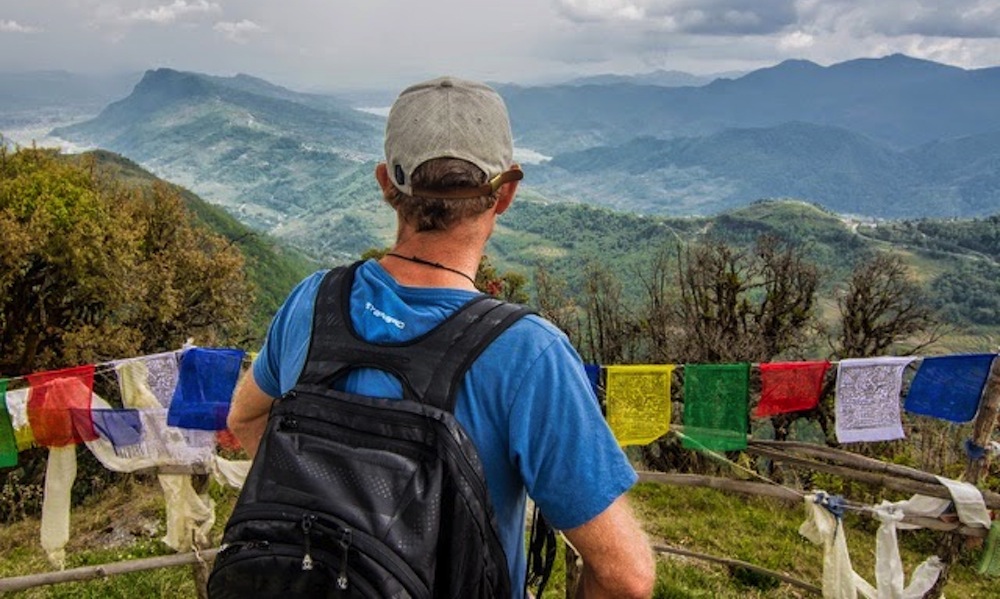 After a long day traveleing, Bart arrives in Borhletar.
After a long day through difficult terrain we got to Borhletar. Here, far away from the rest of the world, you find the real Nepal. We put up our tents on the river bed and met many local kids. They were all talking about one thing: the earthquake. Even here, nobody wants to go inside and everybody is camping or just sitting outside. At night we walk from family to family and get invited for tea or food and hear many stories about Nepal but mostly about the earthquake.
The Nepalese are very shy, humble and very very friendly. They are as interested in us as we are in them. Here is where the real adventure starts. We push off and go down the river on our Starboard SUPs. Our river, labeled a class 2, is a mild one, but exciting enough with all the gear on the boards.
We passed through beautiful landscapes and small little farms, kids playing in the water, fully excited when we pass by and some fishing for their evening meal. We were on the river for two days before it was time to go back to Kathmandu where we saw the devastation the earthquake did; collapsed buildings, a big mess everywhere and many homeless people camping in the streets.
After a beautiful trip on the river, reality struck when they arrived back to the devastation left behind by the earthquake.
We got to our hostel from four days ago where we met the owner who tells us three people died in front of his hostel by the collapsed wall and the other hostel down the street totally came down. Here it is serious but it is even worse inside the country where whole villages are flattened. In seeing the suffering, we decide that we should help too. A donation to The Red Cross seemed like the best option. They have people on the ground and all donations go directly to Nepal. We would like to ask everybody to do the same at: www.redcross.org
We left Nepal with a heavy heart but also with the notion that I have to come back soon and bring my family.
Next stop Ethiopia...
To check in on Bart and get more info on his SUP world tour, head to his blog here.
Last modified onWednesday, 06 May 2015 15:40

Maui, Hawaii - Bart De Zwart is arguably the most respected and accomplished navigational SUP paddler. He has traveled all around the world on his SUP and is a true waterman. De Zwart is one of the nicest guys you'll ever come across on the water and land and a true ambassador of SUP.
Website: sup-crossing.blogspot.com/
Email

This email address is being protected from spambots. You need JavaScript enabled to view it.