Paddle Boarding the Isle of Wight, England
Written by Eric Lawson
Discover England's largest island located in the historic waters of the English Channel. Vacation where the Victorians did and blaze a new path around the island with your stand up paddleboard.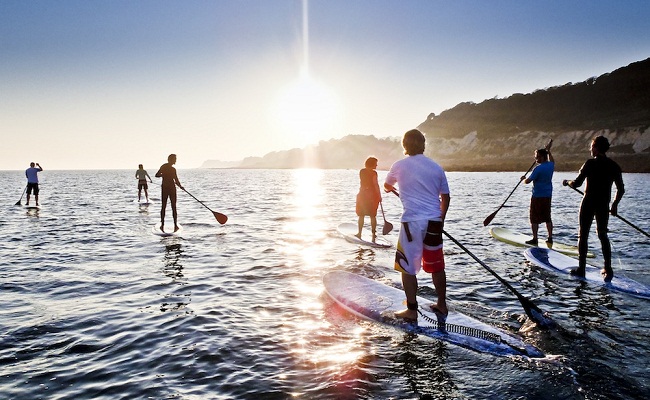 A weekly meeting of beginner and novice stand up paddlers during the island's high season. All photos courtesy of Eric Lawson.
Introduction
The Isle of Wight is a small island (roughly 23 x 15 miles, population approximately 130,000), just off the south coast of England. Travel to the island is via hovercraft, fastcat or car ferries from Portsmouth, Southampton and Lymington (10 - 60 minutes depending upon the mode).

Rugged coastal stretches, protected bays, surf breaks, a major river with marinas and a protected wetlands estuary system serve up a huge variety of options for SUP boarders.

With an incredible number of festivals, carnivals and other special events, including the Isle of Wight Rock Festival (early June), Cowes Week (August), the Scooter Rally (late August), Bestival (early September) and Ryde Illuminated Carnival (early September), there is plenty here to enjoy to combine with some excellent SUP boarding journeys.
Summary

---
| | |
| --- | --- |
| 1 | The best time to visit for SUP is mid-Spring through late Fall. |
| 2 | Make sure to explore Sandown Bay, Bembridge Harbour and the Duver. |
| 3 | Cold waters may warrant wearing a wetsuit if you are prone to falling off your board. |
| 4 | Pay close attention to tides and winds if venturing beyond the areas outlined below. |
Seasons
Mid-Spring Thru Late Fall

---
Stand up paddleboards waiting to be ridden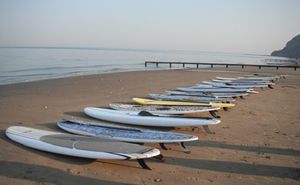 ---
The Isle of Wight depends heavily upon tourism and the season generally gets underway just before the Easter holidays and runs through to October.

The months of April and May have produced some of the most stable sunny weather over the last 3-4 years. However the water temperature is still quite cold, requiring a wetsuit and shoes unless you are supremely confident about staying on top of your board.

Getting into the water before April definitely requires a full steamer wetsuit and possibly a wetsuit cap to avoid ice-cream head. But if you are into surfing your SUP board, there are some great breaks on the island, worth enduring the colds waters.

From April through to September, you should be able to find somewhere to enjoy SUP boarding, with the exception of extreme conditions. It might involve a vigorous upwind paddle for half the journey, but there are plenty of beach cafes to recharge at before a nice downwind return journey.

There is some spectacular coastline around the Isle of Wight, but as always, if you are unfamiliar with any area, exercise caution. There are some very tricky tidal conditions about. Always seek advice from locals and if you are unsure, stick to the safety of Sandown Bay, which has plenty to offer SUP visitors to the island. (Join Destination Group.)
Remember

---
| | |
| --- | --- |
| 1 | April / May through October |
| 2 | Water temps require wetsuit early in the season |
| 3 | Exercise caution around coastline due to tricky tidal conditions |
Hot Spots
Sandown Bay

---
Explore the Culver Cliffs via your stand up paddleboard

---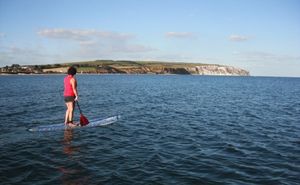 ---
This lovely bay is approximately 4 miles wide, bordered by Culver Cliffs in the north, Luccombe Chine in the south and has Sandown Pier at the midpoint. But seriously, it's a large white sandy bay with plenty to do and reasonable facilities. There are a number of convenient entry points to begin your SUP journey.

Yaverland

At the northern end, there is the Yaverland carpark, complete with toilet facilities, outdoor showers open all year and an excellent cafe, open during the tourist season.

The prevailing winds are from the south east, so if the wind is up, this is a reasonable place to start if you are up for a full exploration of the bay. This option is for intermediate SUP boarders. But if you plan to do some cafe hopping, then you may wish to start further south, into Sandown itself, as it's a long haul from the start to the first cafe.

You can also head north from the Yaverland carpark to explore the spectacular Culver Cliffs, famous for producing significant dinosaur fossils. If the wind is strong, don't venture too far downwind here. The tide comes in to the cliffs, so you may not have the option of walking your board back to home base if the tides are against you. I would rate this option for intermediate to expert SUP boarders.

However, if you are looking for somewhere simple to paddle about, this is a great location, with plenty of sandy beach. Also, if there is a swell, then this is the one of the places on the bay to catch some cheeky waves, right in front of the car park.

Sandown Esplanade

If you have friends and family in tow that don't have boards, there are plenty of bars and cafes on the beach that make excellent places to launch into the water. Sandown Pier is right in the middle of this area, which makes an interesting feature to explore. This is a really safe place to go SUP boarding and makes it ideal for first timers and beginners.
HIGHLIGHTS

| | |
| --- | --- |
| 1 | Beat the prevailing winds and start a journey at Yaverland |
| 2 | Head North from Yaverland to explore the Culver Cliffs |
| 3 | Be careful not to travel too far downwind |
Bembridge Harbour & The Duver

---
Bembridge Harbour provides some cozy views

---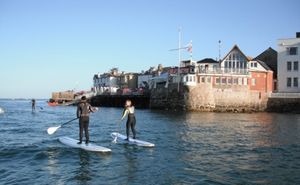 ---
The lovely island villages of Bembridge and St Helens nestle up to the historic Bembridge Harbour. The Duver is a lovely stretch of beach on the north side of the harbour, popular with tourists and providing an excellent view across the Solent to Hayling Island and Chichester Harbour.

From the Duver is one of the prettiest stretches of coastal scenery to enjoy via SUP. Enter the water from the carpark, near the Baywatch Cafe and proceed to the left. If you stay near the coastline, taking care of submerged rocks on the points, you can enjoy an easy paddle, for approximately 3km to the Seaview Yacht Club. At this point you are entering into the stronger currents of the Solent and it is a good waypoint indicating it's time to turn around for the homeward journey.

There are no cafes along the route, but if you are confident enough to take a picnic on your board with you, a stop at the idyllic Priory Bay is well worth the effort. This secluded beach is not accessible by road, providing a lovely romantic setting. (Join Destination Group.)
HIGHLIGHTS

| | |
| --- | --- |
| 1 | Take in the view of Bembridge and St. Helens |
| 2 | Watch out for submerged rocks on the points |
| 3 | Pack a lunch for a secluded picnic at Priory Bay |
Other Paddlers
The Isle of Wight has long been a popular destination for watersports and it's no surprise SUP is taking off here. The versatility of SUP is well suited to the UK climate where summer is short, the water is cold and a discipline that works in a variety of conditions was always going to be popular.

Join others on an informal SUP tour of the island


---

---

 

Contacts


---

 
About the Author

---
Hanging around the beach as my wife and I often do, we heard about some 2nd hand SUP boards for sale through Aaran. Our friend was paddling about on one and we pretty much decided straight away this was the sport for us. We had tried surfing before with no success and the thought of winter swells, near zero temperatures and full body wetsuits never really appealed.

Right now I am setting up a new website, SUPiow.co.uk, which I hope will become a resource for SUP boarders living and visiting the island. The plan is to better document the many SUP locations so that people can safely enjoy the great locations and resources the island has to offer. We are also hoping to bring SUP boarders together to generate interest in organising some SUP events for next year.
More Photos
On Map
© Copyrighted & Exclusive SupConnect.com Content
Last modified onThursday, 22 January 2015 15:38

After spending the first part of her life in Minnesota, Morgan traded in her snow boots for sandals and moved to sunny California. After graduating with a degree in Communication from The University of Southern California, she eventually made her way down south to San Diego and is taking advantage of the living by the best beaches and burritos California has to offer. If it's sunny, you can find her at the beach relaxing, or exploring the calm water in the bay via paddleboards and kayaks.
Email

This email address is being protected from spambots. You need JavaScript enabled to view it.