Getting To Know SUP Up & Comer And Aspiring Surgeon Max Fleming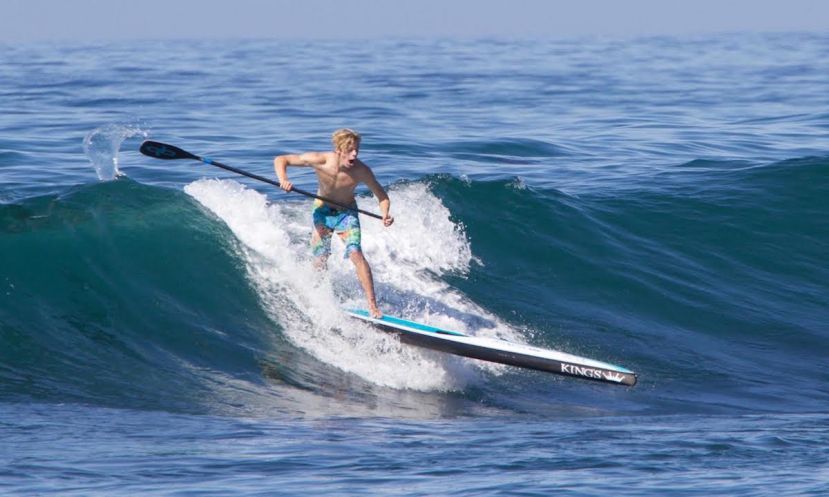 Max Fleming on a 14-mile work out with the TPA crew. | Photo Courtesy: Mike Muir
DANA POINT, California - Stand Up Paddling is on the upswing and the amount of youth that's entering the sport is continuously growing. With training centers and paddle academys popping up everywhere the youth of our sport is looking promising. One up and comer who stands out is 17-year-old Max Fleming from Dana Point, California. What makes Max so special? Not only is he an excellent SUP surfer and SUP racer, but Max is setting his sights high as he has ambitions to become an orthopedic surgeon and he's already well on his way to making this dream a reality. We caught up with Max to chat about his ambitions, how he first discovered SUP and where he sees the sport in 5 years. Check it out:
Supconnect: So how did you discover SUP? How old were you?
Max Fleming: My neighbor would let me borrow one of his old boards once in a while, he was extremely tight with some of the heavies, like Chuck Patterson, Kai Lenny, and Kody Kerbox, so I was able to hang out with them and hear all of their stories about becoming world champion, conquering jaws, and landing airs on SUPs. I got sucked right in. One day my neighbor invited me to do the Dana Point Ocean Challenge with him when I was 13. I did the 5 mile, and got completely destroyed, but I loved the challenge of the sport and made me want to be a part of it even more.
SC: What were your initial thoughts on the sport?
MF: My Dad got me into surfing, fishing, and just being in the ocean at an early age. SUP brought a whole new level of being around the ocean into my life. It gave me new ways to go offshore, ride swells. My initial thoughts when Tom, my neighbor, would take me out was "I love this". And, all of the people in the sport are so kind, healthy, vibrant- the type of people you just want to be around.
SC: At 17 how is it handling the mix between high school/ training/ lifeguarding?
MF: School comes first! I am a junior at Dana Hills High School and enrolled in their HMO program (Health and Medical Occupations) - I have my eyes on becoming an orthopedic surgeon. I am really lucky because Dana is one of the only schools that has a SUP PE program in Dana point harbor. I train after school with The Paddle Academy at least two times a week and sometimes I get to train with Anthony Vela and his Performance Paddling program. Spring of 2015 I completed the OCLG training academy and was hired as a lifeguard. The lifeguard gig is mostly during the summer months so it doesn't interfere with my SUP training. When summer does come around they ask me when I want to work and I schedule my shifts around the race and surf events I want to compete in.
SC: Do you think your time lifeguarding has helped you excel in SUP?
MF: I do. During my time in the training academy for OCLG I learned more about the ocean and its currents than I could have imagined. Knowing what I know now about how the water works helps me a lot whether it comes to racing or SUP surfing.

SC: SUP surfing or racing?
MF: I like both equally because they each complement each other. I take the skills I learn from surfing and use them in technical races, and race training to keep my stamina up in surfing.
SC: Where do you see yourself in the SUP world in 5 years?
MF: Hopefully as much of an inspiration to kids as Chuck, Kai, and Kody were to me. I will be balancing education and pushing the limits of every SUP discipline, as a pro athlete. If the stars align, maybe even in the Olympics.
SC: Where do you see the sport of SUP in 5 years?
MF: It seems like the sport is growing every year. I see more young kids get involved every year. Especially in Mike Eisert's TPA program. Actually, I see people of all ages getting more involved. Hopefully the Olympic committee will add SUP as an event like we have been hearing. I see a bright future for the sport of SUP.
SC: Who are your biggest supporters?
MF: First of all, a paddler isn't going to get anywhere fast without a great board, and thankfully Dave Daum with Kings Paddles Sports shapes me the best boards there are! I cannot be more thankful for all of the support him and his whole crew at King's has given me.The team at Salt Life have been great supporters. Jim Terrell at Quickblade, amazing. Tyler at FCS has taken good care of me and taught me a lot about competing and fins. Mike Eisert, Anthony Vela, Candice Appleby, Ian Cairns, team mates and rivals, and most of all, my mom and dad.
Where does Max Fleming want to be in 5 years? He wants to be an inspiration! | Photos Courtesy: Mike Muir / Casey Fleming
Be sure to keep your eye on this kid as he has his sights set on getting to the top. Max will be participating in the 4th Annual Quickblade Jr. Pro and SUP Fiesta in early May and a with the Men's title up for grabs Max is sure to be a top contender.
© Supconnect.com Copyrighted Exclusive Content
Last modified onTuesday, 08 March 2016 10:40

Submit your news, events, and all SUP info, so we can keep promoting and driving the great lifestyle of stand up paddling, building its community, and introducing people to healthier living.
Website: supconnect.com
Email

This email address is being protected from spambots. You need JavaScript enabled to view it.