Tahoe SUP, Stand Up Paddle Board Company
Written by Ron Ayers
Tahoe SUP has raised the bar through its pioneering vision, elegant graphics, and fine craftsmanship.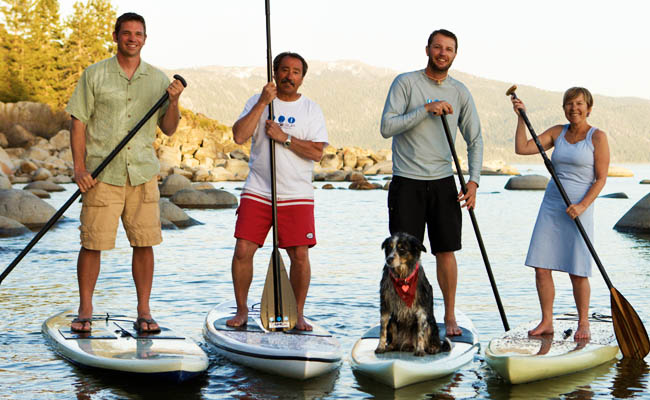 Tahoe SUP Task Force (from left): Doug Erwin, Ernie Bassard, Nate Brouwer, Allison Wrenn. Photo Coutersy: Nate Brouwer.
LAKE TAHOE, Nevada – Tahoe SUP has become known for both its pioneering efforts and distinctive product line. In a time when stand up paddle boarding was seen purely in terms of surfing, Tahoe SUP not only had the vision to identify the inland potential of the sport, but also to rollout a full product line specifically tailored for the touring market. Its elegant graphics and fine craftsmanship have raised the bar of the design, construction and aesthetics of stand up paddle boards. Nate Brouwer, founder and president of Tahoe SUP, gives us an insight into the inner workings of this one-of-a-kind stand up paddle board company. (Become Friends with Tahoe SUP.)
Background

---
Lake Tahoe Film

---
Tahoe SUP Team Riders Circumnavigate Lake Tahoe

---
Paddling Prototype

---
Nate Brouwer Paddling Donner Lake in Lake Tahoe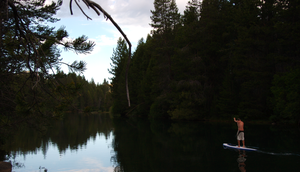 ---
Touring with Dog

---
Nate Brouwer and his dog touring in Lake Tahoe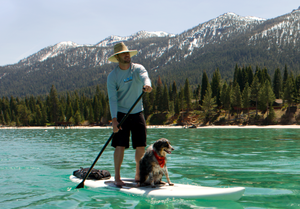 ---
Paddling with Bears

---
A mother bear and her cub, Lake Tahoe's Locals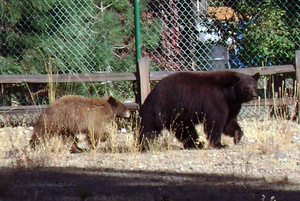 ---
Grom – learn more

---
Specifically designed for kids to paddle with ease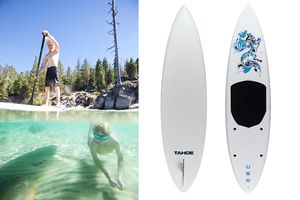 ---
Bliss – learn more
---
World's first standup paddle board designed for women.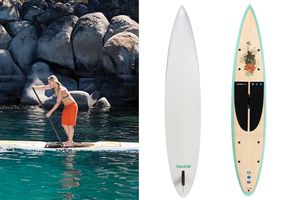 ---
1.1. Inspiration

Lake Tahoe is place of balance where crystal clear water is cradled inside the peaks of the Sierra Nevada's. The perfect birthplace for a company centered on balance in life and on the water: TAHOE SUP. Standup Paddling may have been born at sea level in the tropical Hawaiian waters decades ago, but now reaches new heights on the flatwater mecca, Lake Tahoe, at an elevation of 6225 feet. The vast expanse of the serene alpine lake and its 72 miles of rugged coastline served as the inspiration for TAHOE SUP founder Nate Brouwer.

In February 2008, while visiting Southern California from his home in Tahoe, Nate saw SUP's at a local surf spot. On the 9 hour drive back into the Sierras, Nate had begun to formulate the idea for flatwater water specific boards, ideal for touring the waterfront wilderness of Lake Tahoe, calm oceans and inland waterways everywhere. (Join the Gear Talk Group on Supconnect.)
1.2. Company in the Making

Nate had spent the previous 10 years running a small snowboard clothing company in Tahoe, learning about design, development and production. "I felt there was really something magical about standup paddling", says Nate. "And after making a few prototypes and paddling them around places like Donner Lake and Lake Tahoe, I was convinced."

On one of those early paddle sessions, Nate and Ernie Brassard, who would later become director of sales for TAHOE SUP, were paddling on Donner Lake when they came upon a mother bear and her cub swimming. "They weren't really headed anywhere, just swimming around for fun!" remembers Nate. "They cruised around with us for about a half hour. It was unreal, kinda like having a whale come up next to you in the ocean." That day would solidify Nate and Ernie's friendship. Ernie's background of working in the surf and dive industry added valuable insight. (Become Friends with Tahoe SUP.)

By October 2008, Nate had put everything he had into TAHOE SUP and needed financing to take the company to the next level. Through friends, he was introduced to Doug Erwin and Dr. Allison Wrenn. The two had been partners in a previous venture and were very much involved in outdoor lifestyles and curious about SUP. That curiosity turned into devotion after just one paddle for both of them. Awarded Entrepreneur of the Year in the State of Nevada in 2005, Doug's energy and passion for business and new love for SUP was the perfect balance for the new CEO of TAHOE SUP. Owning several patents in the medical field, Allison also had experience building successful companies. As the V.P. for TAHOE SUP, she inspires everyone with her infectious work ethic, whether its hauling boards across the country or helping build prototypes on the assembly line, she is never afraid to get her hands dirty. With the roles now assigned there was one piece missing. They invited Ernie to be Director of Sales and the team was complete. (Signup to Newsletter.)

Products, Design & Construction

---
Rubicon – learn more
---
Designed for durability and #1 choice for rentals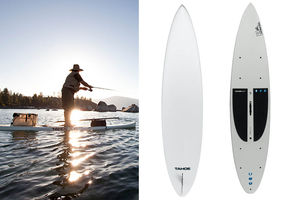 ---
Woody – learn more 

---
Premium ride with wood laminate deck and hull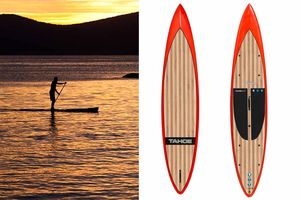 ---
Z-Elite – learn more
---
Comes in 12'6" and 14' with hybrid carbon design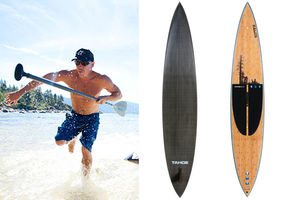 ---
Zypher – learn more 

---
The flagship of the Tahoe SUP Product Line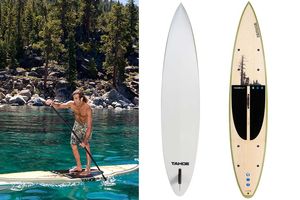 ---
2.1. Accessories

Today, TAHOE SUP has established itself as the leader of the touring SUP market and has acquired a large global dealer base. Also offering a line of custom accessories that includes paddles, fins, packs, clothing and the Buddy Pad, an attachable non-skid pad for your dog. The quality and innovation in each of the 8 different models of boards they produce is backed up by a commitment to customer service that has grown tremendous customer loyalty.


2.2. Design & Construction

Each TAHOE SUP stand up paddle board model features displacement hull technology, developed from R&D with the TAHOE SUP Expedition and Race Team. The stability of the boards, combined with the displacement hull and added volume for carrying cargo, opens up the opportunity to explore and go on tour. To better keep all your gear onboard, TAHOE has custom molded new deck plugs that are wider and deeper than traditional plugs to accommodate larger straps and tie downs. And, of course, do it all in style. All of the fiberglass and carbon fiber TAHOE boards have bamboo laminate decks that not only add to the natural beauty of your surroundings, but also are stronger and lighter. (Join the Gear Talk Group on Supconnect.)
2.3. Stand Up Paddle Boards

The TAHOE line of boards includes something for everyone, from the wildly popular TAHOE "Bliss" 12'6", the first SUP made specifically for women, to the premium ride TAHOE "Woody", with custom color and wood laminate deck and hull. For 2011 TAHOE SUP introduces 2 new production boards. The "Grom," a smaller and lighter board, easy for the kids to paddle with fresh and fun graphics that have become a trademark of the TAHOE boards. And a limited production race board, "Z-Elite"12'6 and 14ft, that offers a unique carbon hybrid construction and a design that was once only available to Team TAHOE racers. The durable "Rubicon" model received a facelift (and some weight loss!) for 2011 and continues to be the choice for rental board fleets. Along with the "Bliss," the flagship board "Zephyr," available in 12"6' and 14', both dropped 10% off last year's weight and got splashed with new color scheme too. (Become Friends with Tahoe SUP.)
© Copyrighted & Exclusive SupConnect.com Content
Last modified onMonday, 26 January 2015 12:08

Submit your news, events, and all SUP info, so we can keep promoting and driving the great lifestyle of stand up paddling, building its community, and introducing people to healthier living.
Website: supconnect.com
Email

This email address is being protected from spambots. You need JavaScript enabled to view it.