2016 Summer Paddle Boarding Gear Guide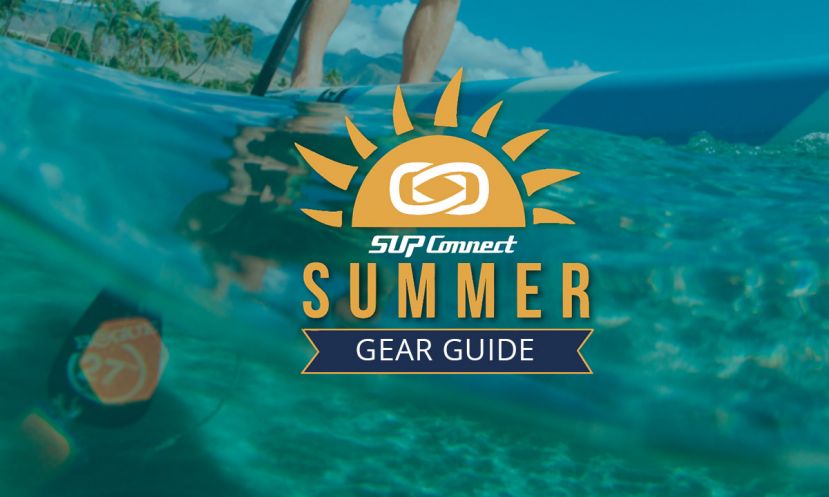 SAN DIEGO, California - Whip out your boardshorts and bikinis, it's summer time! Nothin's better than summer and we're so stoked that our favorite time of the year is finally here. Here, we've put together a list of SUP gear, SUP accessories, SUP boards and all the must have's for everyone from a beginner to the advanced SUP'er for the 2016 Summer SUP season, so there's sure to be something in this guide for everyone!
Take a look at the 2016 Summer SUP Gear Guide below:
Paddles & Accessories
Sun Bum Pro SPF Sunscreen

The Sun Bum Pro premium, mineral based sunscreen is specifically designed to offer the very best broad spectrum protection to those who work and play hard in the sun. It will never bleed into your eyes, never make your hands slippery, and won't come off during even the most rigorous activities in the water, wind, or blazing hot sun.

Werner Paddles Rip Stick

Why would a paddle designed for race, or versatile use be expected to perform at a high level in the surf? As SUP surfers we need to start thinking, not just about the right board for the conditions but our paddle as well. After months in the R&D room and on the water, we enter the new age of the Rip Stick with a slew of innovative designs to excel in the lineup.

Werner Paddles Grand Prix

Fast forward to the innovative 12 degree blade to shaft offset of the Grand Prix, designed from the ground up for race. Handcrafted attention to detail means optimized flex, the widest range of fit options, including 3 blade sizes and 3 shaft options, and sub 15 ounce weights.

Werner Paddles Thrive

For those that appreciate good design, craftsmanship and ultimately performance, but need to follow their budget. Utilizing the same great fiberglass shaft, and Family adjustable system, as the Vibe, step up to a stiffer and lighter fiberglass blade with the Thrive. You'll feel cleaner, more powerful strokes and feel less fatigue all day long.

LiftSUP Handle

The LiftSUP handles are the strongest, most technically advanced handles on the market. They sit flush with the deck of the board when not in use but pop-up when you need to carry your board, creating a good solid grab point that anyone can use to safely maneuver their board from car to coast. An additional benefit of the LiftSUP design is that it provides a solid and secure place to attach a cable lock, which helps keep your SUP safe when you're not paddling.

FCS SUP Race Boardbag

The FCS SUP Race Boardbag is the ultimate bag in mobility & protection for racing board transportation. Some of the features of the bag include an airflow System, coffin wall construction, heat reflective silver panelling, 8 x compression cinches and reinforced nose and tail area.

Futures Fins HI Downwind

Over the past two years Futures has been focused on creating an elite set of downwind fins. With help from current World Champion Standup Paddler, Connor Baxter, we bring you the HI Downwind. An upright design gives this template a loose feel with positive release and a surf style tip, creating a responsive pivot to maneuver into the next bump.


Slipin Surfskins Zippered Mini

A short tight-fitting, long sleeve, figure-flattering, upper body spring suit providing excellent sun protection with 60+ SPF and preventing rash development while surfing or standup paddling. It can be worn under a wetsuit or by itself. It is similar to yet more sexy than, a high rise spring suit. The front zipper keeps you in charge of the attraction factor.

Astral Air Belt PFD

Forget the bulk of a typical PFD this summer with your new companion for SUPing, fishing, and canoeing…Astral's Airbelt works perfectly in calm water. The design stays out of your way, but converts into a simple, buoyant bubble if needed. The ultimate paddling PFD for easy water! The Airbelt is made of Denier High Tenacity Nylon and Polypro webbing. Sizing is universal.

Maui Jim Sunglasses

Maui Jim sunglasses feature patented PolarizedPlus2® lens technology for brilliant color so every detail is crisper and cleaner and without glare or harmful UV. Maui Jim offers amazing sunglasses that not only have incredible protection from the sun for your eyes but also tons of stylish lenses and frames to choose from. If you're looking to protect your eyes while out on the water, Maui Jim is the best in the business.
Boards - Inflatables
Starboard Inflatable Whopper

The Starboard Whopper is a shorter length SUP which increases the maneuverability, making it an easy board to turn, whilst maintaining good glide for flat-water paddling. The 35" width means it is an incredibly stable board that is great for surfing, stretching, fitness, yoga and river.

BOTE Breeze

The go anywhere, do anything Breeze is a rough and tumble inflatable paddle board that transforms from a fully functional SUP into a form factor small enough to fit in a back-pack in under 30 seconds. Trek into those hard to reach hunting and fishing grounds with the lightweight Breeze inflatable system strapped to your back. And don't worry about scratches and dings because the military-grade PVC skin is virtually indestructible.

Red Paddle Co. Explorer 13'2"

The 13'2" Explorer+ is the ultimate board for exploration, loaded with features and conceptualized with epic adventures in mind. With its high sides, large volume and narrower width, it's a high-speed cruiser, designed for competent paddlers. It's got cargo tie-downs front and back for all your gear and under those are extra-grippy deck sections that help keep your cargo in place. It also has a removable fin, a nose runner fin to aid tracking in side winds, and two rear runner fins to cancel out 'tail drift' when the board is loaded with gear.

Slingshot Slingshot Crossbreed Aritech 11'


The 2016 Crossbreed Airtech from Slingshot is a lightweight, safe, impact-resistant, high-performance, versatile inflatable SUP that is great for you and your family. The board comes quipped with a full deck EVA traction pad, bow and aft storage bungees, bow and stern anchor/tow rings, dual action speed pump, pressure gauge, backpack storage bag, repair kit, and a 9" keyless removable fin - plus a 2 year warranty against manufacture defects!
Boards - Hard Tops
Boardworks Kraken 10'3"

The award winning Kraken SUPs are all about versatility and performance. Whether you're gliding over glassy water, cutting through wind chop or sliding down the face of a mellow wave, the smooth and stable Kraken will put a smile on your face. The Kraken SUPs are generously wide providing incredible stability for paddlers of all sizes and abilities. These boards are a great all-around choice for flatwater cruising and surfing.

Boardworks Muse 10'6"

Beautiful and inspiring, the Muse is the perfect all around Stand Up Paddle board for exploring your local waterway no matter where you live. At 32″ wide the Muse is stable and comfortable in a variety of water conditions. The refined shape lets you glide through the water with ease. This board is equipped with a thin and light weight croc-skin deck pad for superior comfort and traction. You will be able to paddle for hours without the foot fatigue that occurs with some other deck pads.

Boardworks Special 9'4"

Designed and tested in southern California, the Special is a "daily-driver" performance surf SUP. Your go-to board for surf in the 2′-6′ range. The Special also doubles as a nice cruiser for those looking for a smaller SUP than most standard boards on the market.

Starboard Freeride

The Starboard Freeride combines stability and comfort of an all round cruising board with speed from a race board. The Freeride has maneuverability and speed for riders up to 90kg and has a wide nose section for extra stability and chamfered double concave nose, offering amazing water deflection.

Starboard Hypernut

The Starboard Hypernut is stable for riders up to 90kg with acceleration and ability to turn on the spot and project effortlessly and easily in any direction. Thickness is relatively low which keeps you close to the waterline, aiding balance and sensitivity. The wide nose and tail make it possible to drop down in board size without losing balance.

SIC Maui Bullet 17.4 w/ASS

The Bullet 17 is the fastest open water board on the planet bar none. It is THE must have board for any open-water elite racer who wants to strike the podium or takes their gliding seriously. This downwind missile has a narrower outline and more gradual rocker, which keeps you in the energy zone of the swell, maintains the highest average speed, and can maneuver quickly to catch bumps from any direction. Its Panel-V tail design keeps the nose elevated in the troughs and in the chop.

SIC Maui F-16 w/ASS

The F 16.0 has become an icon and timeless classic for racing, touring and all around open water paddle enthusiasts. Its full rails provide tremendous rail-to-rail stability and make battling cross-chop and steep troughs a breeze. The rocker profile and pronounced nose eliminates purling in tighter interval swell. Still actively raced today and a favorite of elite and recreational paddlers alike, this open ocean machine still holds its own.

SIC Maui Bullet 14 V2 w/ASS

The Bullet 14.0 V2 is the ultimate downwind racing machine. This board is offered with and without the SIC F.A.S.T. Steering. The outline's widest point has been shifted slightly forward and the rocker flattened, which provides the rider with better stability when powering up in lower wind ranges and smaller chop.

Surftech Bark Contender Lite Pro-Elite Blue 12'6"


The new BARK Contender Lite Blue is a reflection of the shift in design towards lower-volume, narrower boards using the same race proven outline of the original Contender. It's wrapped in blue, grey and white racing stripes and is the perfect choice for the paddler looking for that magic, lower-volume 12'6" board to support them in a variety of conditions.

NSP DC Ocean Race Pro Carbon 14'0"

This board was a board that was designed to be raced in small ocean conditions thru to flat water. Drawing inspiration from outrigger canoes designers reduced the width, added roll in the bottom and lowered the deck. The result is a low center of gravity and bullet like performance through the water. Travis Grant rides the 14'x24.5" Pro Carbon model, which has won in numerous races dating back to the 2013 Battle of the Paddle distance race, and more recently the Carolina Cup in 2015. For 2016, the design has been further refined – and proven, with a win by Travis in the Cline Mann race in Hawaii.

Surftech BARK Vapro Pro Elite 14'

Designed by Joe Bark in collaboration with the world's best paddlers, the Vapor brings together an entirely new outline, rocker and foil to create a board that is fast, stable and serious in a variety or racing conditions. Combining the best of both displacement and floatation design, its minimalist outline curves, decreased rocker and all-new nose design gives it fluid entry and glide to maximize the speed of every stroke.

Naish Glide Touring 12 GTW

A great fit for a wide variety of riders, the fast and easy-to-paddle Glide Touring board from Naish provides enhanced directional stability, making it the ultimate choice for all-around SUP touring. The newly developed outline with its wider nose and tail—increases stability in a variety of conditions. Its displacement bow effortlessly pierces through chop, while a deep single concave tail creates added directional stability, enabling riders to complete more strokes per side.

Pau Hana Mini Sport

The Pau Hana Minisport has been updated for 2016. The new model features a wider tail, which increases the weight capacity and stability. The new Minisport is still lightweight and fast like the previous models making this a great training and sport board. With a displacement hull, it paddles fast in the lake, river, or marina. Its light weight and soft grab handle makes it easy to carry and transport.

Pelican Baja 100

Versatile enough to dig in and go or to achieve total zen, the stylish Baja 100 SUP offers tremendous value. It's extremely rigid, stable for any level paddler and designed for heavy use. Features include a 5-inch flexible rubber fin, lay down and upright bottle holder, and elastic bungee cords for gear storage. Also, the Baja 100 is incredible afforadble and extremely durable.

Jarvis Rio-Grande Texas Edition

This beautiful wooden board handcrafted from Jarvis is designed and built for flatwater fitness and touring. It's lightweight, fast, and stable. Its sleek displacement hull is made using several different woods including Paulownia, cherry, cedar, and fir wood, yet the board still weighs only 30 or so pounds, thanks to its modern recycled foam core. And at a generous 31 inches wide, the Lone Star Edition board is uniquely suitable for SUP beginners.
Make sure to head to your local retailer to find all these items and more during this summer season!
Last modified onFriday, 24 June 2016 14:43

Submit your news, events, and all SUP info, so we can keep promoting and driving the great lifestyle of stand up paddling, building its community, and introducing people to healthier living.
Website: supconnect.com