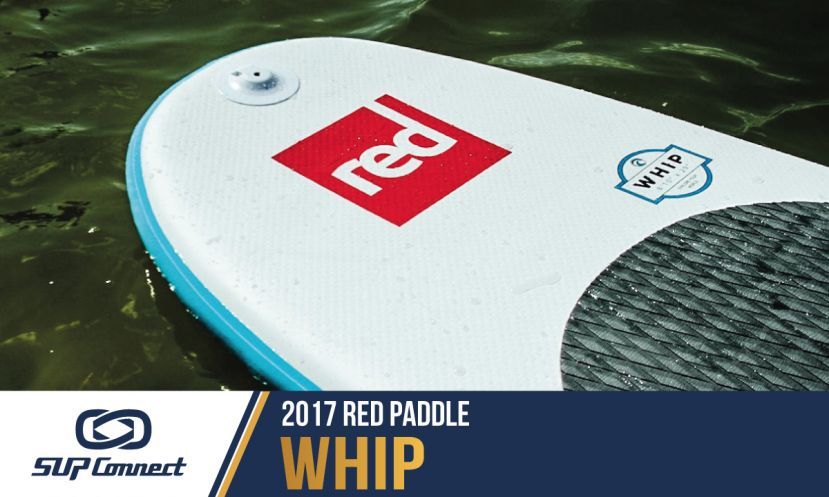 --
Only best products in a given category receive "A" grade.
Category: N/A
Overview:
Paddle Board Highlights
Who is it for?
If you're looking for a stable, inflatable, surf board to paddle short distances then the Red Paddle Co. Whip is worth a look. This stand up paddle (SUP) board comes in the MSL construction which is very durable and has its ups and downs. Due to its 29 inch width the board is somewhat stable and has 1.94 lbs per foot weighing 17.1 lbs total, making this board very lightweight. Its shape makes the Whip great for surfing either in the ocean or on the river that can be used by surf and river enthusiasts with an intermediate skill-set. Its construction and shape combined best fit this board for recreational paddling of short distances. Retailing at $1,199, the Whip is in the popular mid-tier market in terms of affordability.
First Impressions
On first impressions, the graphics and color are bland, the shape design is quite average and the construction strikes as rugged. The Whip has a very simple look, clean and with minimal colors and graphics. the shape design is commonplace for boards in these categories, offering features tailored primarily for recreation. The construction does appear strong as something that can survive heavy use. This paddle board is very easy to carry since it's only 17.1 lbs and the glide is slow, which is to be expected since speed-centric design is not a focus. And once you put it all together, the Whip is a somewhat stable board that most people should be able to easily stand on and paddle away.
Benefits
Paddle Boards fall into two broad categories, All-Around and Specialty boards, with all-around designed primarily for recreation while speciality boards for top performance in specific disciplines

Durability is largely a result of the board construction and shape, with more durable boards typically carrying more materials (added layers, PVC, etc) and as such adding to the weight.

Carrying ease is determined by board weight and handle type, where a board weighing under 20lbs with a Liftsup handle is extremely easy to carry while a 35+lbs board quite difficult.

Stability is a product of construction and shape, where boards w/ 30"+ wide and 200+ liters in volume offer plenty of stability for your AVG adult while a board under 26" wide is a challenge.

Glide is a result of board shape and construction, w/ boards weighing under 30lbs and designed for racing offering best glide while recreational boards normally being on the slow side.
Learn more on the Red Paddle Co. website.
Features
Dimensions

8'10" x 29" x 3.93"

Industry standard in board dimensions reads: L (length, from nose to tail) x W (width, from rail to rail at midpoint length), and H (height, from top to bottom of board at midpoint length).

Standup paddle boards tend to fall into 4 different weight classes: extremely lightweight (under 20 lbs), lightweight (20-28 lbs), average weight (28-35 lbs), heavy (above 35 lbs).

Volume is a key metric to determine how much weight a board can carry. Boards w/ 200+ liters offer most floatation with boards under 150 liters typically for high-performance surf.

Capacity is the max cargo weight a stand up paddle board can carry, considering not only the paddler's weight but whatever else the paddler may choose to carry alongside him/her.

Add-on's include bungee cords, a minimalist way to haul things; Connexsup, which allows for all sorts of attachments, even fishing rods; and FCS II/Connect, for easy fin instal.

Handles directly affect carrying ease, with external grip handles (Liftsup & EZgrab) offering most comfort, Internal Ergo Grip the mid-tier comfort, and box handles as least comfortable.

Fishing rod holders and/or paddle holders can make paddling that much more pleasant, esp. when needing holders for the rod or having a safe place for the paddle during yoga.
Sizes Available
| Length | Width | Thickness | Volume |
| --- | --- | --- | --- |
| | | | |
| --- | --- | --- | --- |
| 8 Feet 10 Inches | 29 Inches | 3.93 Inches | 150 L |
Similar Products
For more detailed reviews and to look at similar models, visit Supconnect.com. If you like this review, give us the thumbs up. Don't forget to leave your thoughts in the comments. And make sure to subscribe to our newsletter so you never miss the latest news and reviews from Supconnect.
Last modified onThursday, 10 May 2018 11:32