What To Expect At The 5th Annual Carolina Cup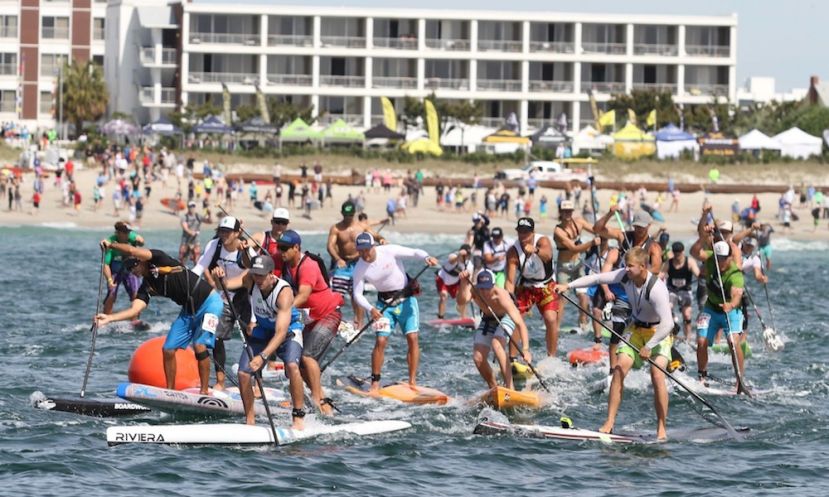 This year the competition will be at it's toughest for the 5th Annual Carolina Cup. | Photo: Mike Muir
WRIGHTSVILLE BEACH, North Carolina - Tomorrow will be a day to remember. Tomorrow is the biggest day in stand up paddle racing so far this year in 2015. Tomorrow is the 5th Annual Carolina Cup. The Carolina Cup is the largest SUP event on the East Coast of the United States and arguably one of the largest if not the largest SUP events in the world.
Last year in 2014, there were over 700 participants and this year is expected to be even bigger! With more than just stand up paddle board races to be a part of, there are tons of activities to be involved with including a variety of clinics, demos and even movie nights. Bring the whole family down as the event has already kicked off on Tuesday of this week. (See the Schedule of Events below.)
The Carolina Cup has a history of being one of the go-to SUP races as it has been known to gather a high majority of the World's best Elite SUP racers to compete in the challenging elite race course. Because of the attention that the Carolina Cup attracts among the elite racers, it heightens the prestige of the event, so, winning this race is a true honor and accomplishment. As an amateur competing in this event it is also the perfect opportunity to race alongside the best-of-the-best and test yourself to see if you have what it takes to be among the elite. Even if you don't, the Carolina Cup is awesome because you are able to partake and compete alongside some of the top pros, a rare thing in the world of professional sports.
See more news for the Carolina CUP here.
Here is a breakdown of what you can expect to see this weekend:
Location
The Carolina Cup takes place in the cozy town of Wrightsville Beach, North Carolina. With a forecast for sunny 70 degree weather for today, Friday, April 24th the clinics and SUP sessions being held today should be an awesome time to get acquainted with the area and the event arena. Tomorrow looks like it has the potential to be a different story though as a thunder storm is expected to move in into the late afternoon and early evening, so we could be seeing some rough seas and harsh paddling conditions for the races on Saturday morning!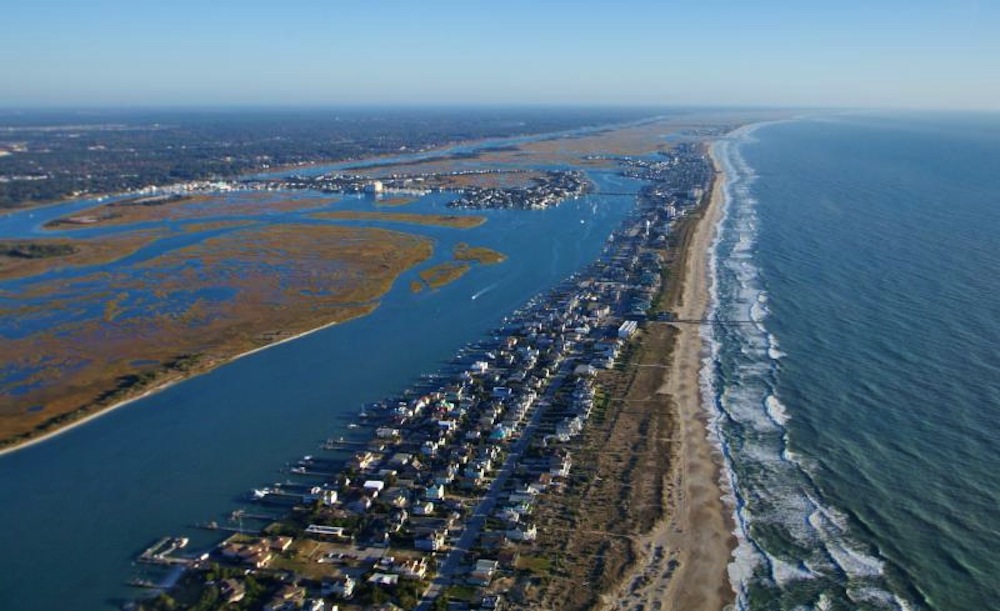 Aerial view of the venue for the Carolina Cup.
Races
Harbor Island 3.5 Mile Race
This is a 3.5-mile flat water race, in the inland waterways and ICWW around Harbor Island in Wrightsville Beach. There are currents and wind, some boat traffic, but no ocean swells and a large portion of the race is in no-wake zones. This 3.5 mile race around Harbor Island on Wrightsville Beach is the 5K of the SUP race scene. It's the perfect distance and course to start off on your SUP race adventure. Depending on your board and experience, it will take between 50 minutes and and hour and a half to complete the course. This is a great opportunity to get on a board and enjoy the water and enjoy the day.
Money Island 6.5 Mile Race
This is a longer flat-water race, in the inland waterways around Wrightsville Beach, Harbor Island and the spoil islands between WB and Masonboro Island. Just like the Recreational Race, there are currents and wind, but no ocean swells. This 6 mile race around Harbor Island on Wrightsville Beach is the 10K of the SUP race scene. It's the perfect distance and course if you've been paddling and want a challenge. This is an intermediate to advanced race. Depending on your board and experience, it will take between 1 and 2 hours to complete the course. This is a great opportunity to get into the racing scene, to push your body, and to see what you can do.
Graveyard 13.2 Mile Race
This is a beach start and finish. This is a 12.6-13.2-mile ocean and flatwater race, started on the ocean side of the Blockade Runner Beach Resort, out through the surf, downwind to the inlet, into the inland waterways and ICWW around Wrightsville Beach. There are two inlets, one of which will require racers to surf waves in through the inlet. There will be some boat traffic, and ocean swells. The ocean section of the race will be the downwind section, if the weather cooperates. We will change the direction of the race to optimize the conditions for a fast, fun, challenging race. The mileage depends on the line you take. This Carolina Cup paddle race is for elite paddlers with the skill and fitness to complete this endurance challenge. Depending on your board and experience, it will take between 2 and 3.5 hours to complete the course. This is a great opportunity to push your limits and measure yourself against some of the best paddlers in the world.
Ocean of Hope Cancer Awareness Paddle
The race will be Sunday and will and will be divided into age appropriate brackets to encourage safety and the camraderie of friendly competition. Every kid's a winner and everyone walks away with a shirt. It's for kids 7 to 14 and is more of a family, fun event.
The more future watermen there are, the better the world will be. Let's all pass the aloha on…
All competitors have to wear USCG-approved life jackets and can not wear waist-inflatable PFD's. Race can be cancelled due to weather and conditions. All kids get a t-shirt and a free lesson with registration.

Who's Coming?
The correct question to ask is who isn't? That list of names is much smaller. Naish athlete Kai Lenny, Fernando Stalla and Riggs Napoleon are perhaps a few of the names you'd hope to see on the roster, but this year they will be absent at the Carolina Cup. It's also on the fence as to whether current BOP champ Candice Appleby will show…we shall see.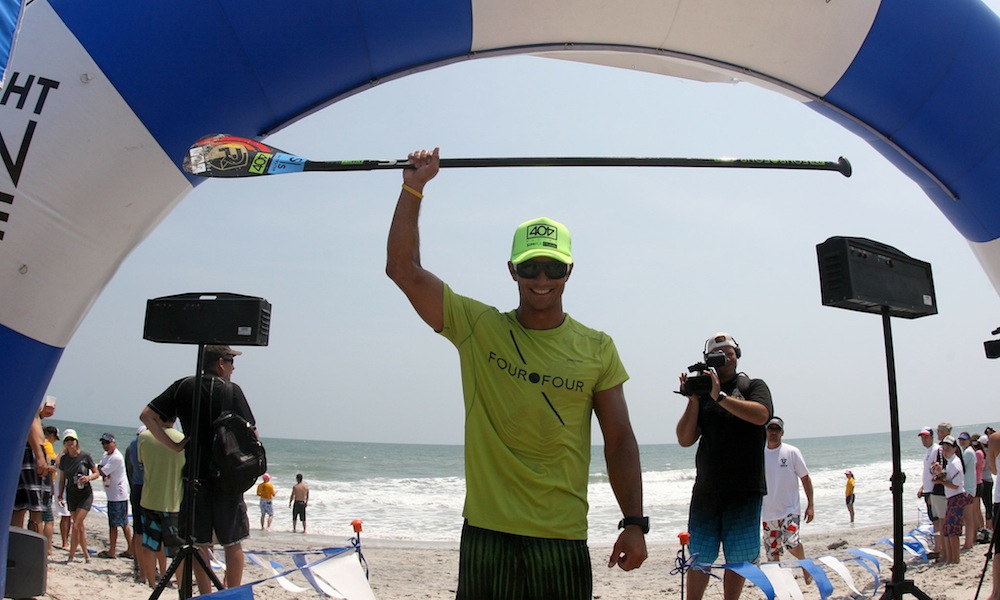 Danny Ching is a 3-time winner here at the Carolina Cup...can he make it 4? | Photo courtesy: Carolina CUP
Danny Ching is the guy to beat at the Carolina Cup as he has won this event three times. Could this be the year where we see a new champ? There's a definite chance. We have Tahitian Georges Cronsteadt (SIC Maui) with an abundance of momentum coming off of his win last weekend at the Air France Paddle Festival and he also came in 2nd place behind Danny Ching last year, so you know he's gonna give it all he's got to make sure he comes out on top this year. We also have Travis Grant (FCS) who did well here last year making it on podium in the third spot. Then we of course have guys like Connor Baxter (Starboard) who is the Stand Up World Series 2014 Champ and Aussie Jake Jensen gunning for the win. And don't count out last year's European SUP Cup champ Zane Schweitzer (Starboard) and young gun Mo Freitas who will be looking for a podium finish.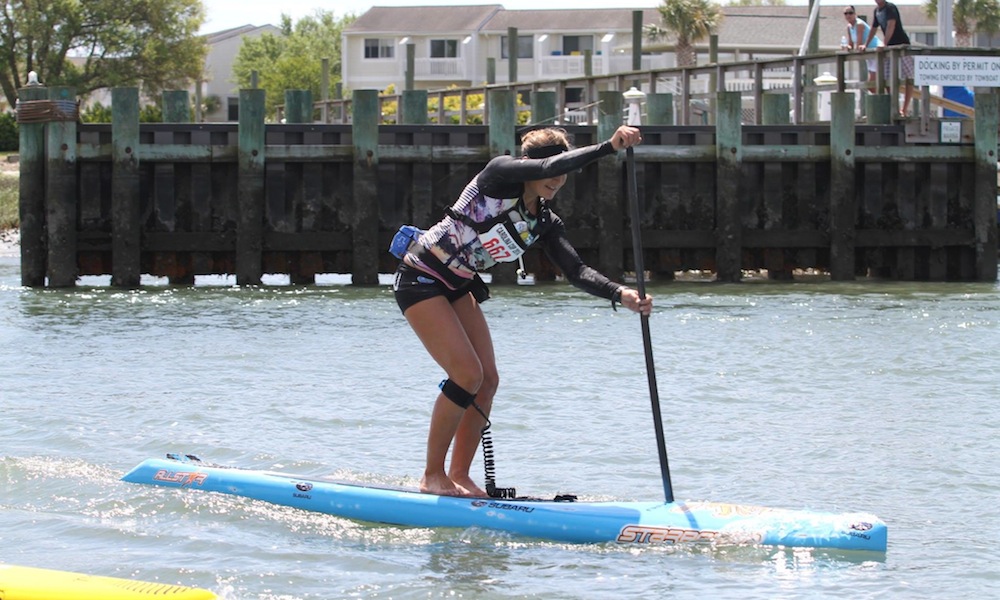 Can Annabel win for the 3rd time at the 2015 Carolina Cup? Stay tuned... | Photo: Mike Muir
For the ladies, Annabel Anderson is looking for a three-peat as she has won the Carolina Cup for the past two years. She has confidence and momentum on her side as she, like Georges Cronsteadt, is coming off of a big win at last weekend's Air France Paddle Festival. She is still recovering from having the flu so if she isn't at 100% by race time there is a big chance that she will forfeit her winning streak. Who should we look out for? SIC Maui athletes Lina Augaitis and Sonni Hoenscheid are two ladies who can easily come out with the win here. There's also Jenny Kalmbach who placed second here last year only 6 seconds behind Annabel Anderson. Last year for the Elite Women between first and third place there was only a difference of 11 seconds making it an exciting finish to say the least so we can only hope and expect that it will be like that again this year.
All in all, this year's Carolina Cup will be it's most challenging yet with the elite roster at the most competitive we've seen yet. Good luck to all of the competitors this year!
Schedule of Events
Friday, April 24
7-11: Expo Tent Setup for Vendors
12 Expo Begins
8-4 Lazy Dog Paddle Yoga Training Register here
12:30-2 REI Carolina Cup SUP Session, Register here
3-4:30 REI Carolina Cup SUP Session, Register here
9-11 Jenny Kalmbach Women's Paddling Clinic Register here
8:30-11 Larry Cain 1-on-1 Clinic Register here
12-7 Racer check in and late registration
2-4 Dan Gavere Intro to Ocean Paddling Clinic Register here
3-5 Jamie Mitchell Prone Clinic Register here
4 Mark Colino: Sports Psychology and Mental Preparation (Free)
4:30-7:30 The PRONE 2 PADDLE™ Reveal and ENDURANT™ Brand Launch – Racers Reception Party
6-7 AUTOGRAPH SESSION! With the pros.
7 Racer Meeting
7:30 Safety Meeting, Volunteers Volunteer here
Tides: L6:51am, H12:48pm, L6:51pm

Saturday, April 25
8:00 Expo Start
8:30 Harbor Island 3.5 Mile Race Racers Meeting
8:50 Racers start to get on water
8:58 Racers line up
9:00 Harbor Island 3.5 Mile Race Start
9:15 Racers Meeting Money Island 7 Mile Racers Meeting
9:25 Racers get on water and to the line
9:30 Money Island 7 Mile Race Start
9:45 Graveyard 13 Mile Racers Meeting
10:00 Graveyard 13 Mile Race Start
2:00 Banquet: Food, Live entertainment
4:00 Raffle
4:30 Awards
Tides: L7:53am, H1:39pm, L7:57pm

Sunday, April 26
Expo Start
9am – 10:30 REI Carolina Cup SUP Session, Register here
9-10 Bailey Rosen's Kids Clinic Register here
9-10:45 SUP Surf Clinic with Zane Schweitzer Register here
11 Kids Race Register here
11:30 – 1 REI Carolina Cup SUP Session, Register here
12 O2H Team Relay Race
1:00 Kids and Relay Awards
2-4 Danny Ching Paddle Clinic Register here
4 Expo Closes
Tides: L8:48am, H2:31pm, L8:57pm
Find a SUP Event Near You on the Supconnect Events Calendar.
Last modified onThursday, 30 April 2015 10:46

Submit your news, events, and all SUP info, so we can keep promoting and driving the great lifestyle of stand up paddling, building its community, and introducing people to healthier living.
Website: supconnect.com
Email

This email address is being protected from spambots. You need JavaScript enabled to view it.