Sean Poynter's Night SUP Photoshoot Blows Minds!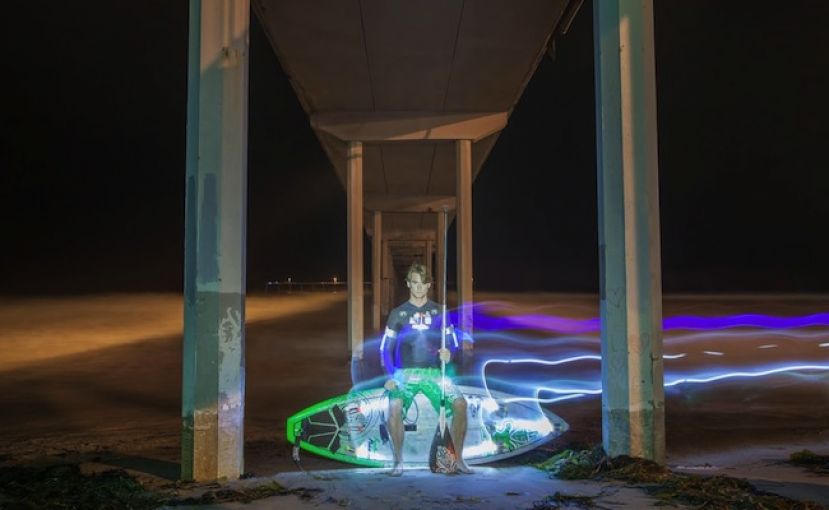 All images by Jason Neitzke
SAN DIEGO, California - Sean Poynter is well known for his huge hacks and tail slides with his SUP. We'll say it, he absolutely RIPS at SUP surfing. What we haven't seen from Sean is his artsy side, so, when Sean sent us these killer photos we couldn't help but to do a Q&A with him and photographer Jason Neitzke, who, we might add, found Sean on Craigslist. Here is the story: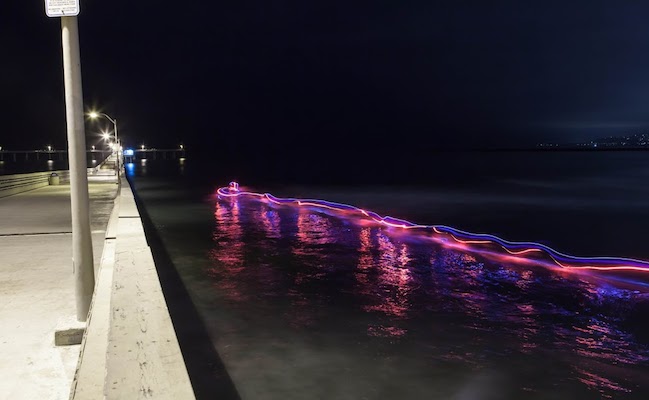 Allie Brown: So you guys met on Craigslist, tell me about it. Who posted an ad, and what was it for?
Sean Poynter: Yup we met on Craigslist, I posted the ad. It's something I like to do when I have the urge to work with someone new. I've met some really great photographers and talents through the site.
Jason Neitzke: Yeah we met on craigslist. I responded to Sean's add about a photographer and luckily he called me back.
AB: How, and who came up with this concept, and what the concept was?
SP: The idea came about when we first met. Going into it though we both knew what we did, Jason with his rare LED lighting photographry and me with SUP Surfing so I think we both came into it with an idea of combining the two before we met. It wasn't until we finally at a restaurant that overlooked the Ocean Beach Pier before we realized what it would be. Combining pier angles with lights fixed to my boards and paddle.
JN: When we first met I knew that Sean Was a SUP surfer and he had seen some of my photos of previous work. When we sat down to lunch and started talking we both realized we had
the same idea of tracking your line on the wave. I have done photos similar to this but never in the ocean or with a SUP board.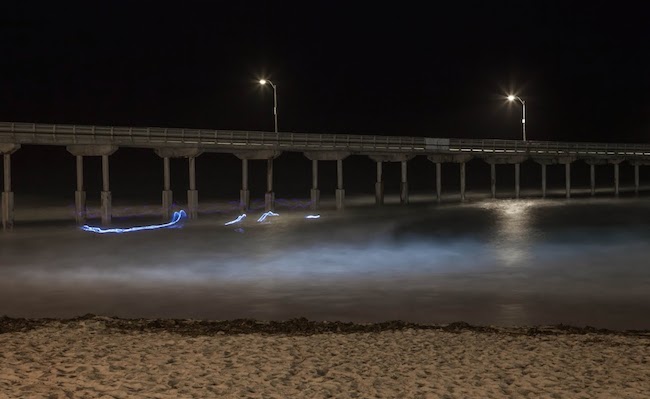 AB: Tell me a little bit about the process of how you guys went to set it all up.
JN: During lunch we had a million ideas bouncing off each other. By the end of lunch we had a plan. We need a lot of duck tape, lights and flares. The first night was a failure due to a broken paddle but on the second night Sean wrapped his paddle in foil then taped a flare to it. We then taped 8 lights to Sean's board and taped a few lights and glow sticks on Sean.
AB: How long of a planning process was there to make this shoot possible?
SP: Several hours total. We had the lunch and then the rest came at the beach when we were rigging up the board and paddle.
JN: We talked about it at lunch then did the rest at the beach as we were setting up the rig.
AB: How long did this shoot take?
JN: The shoot took two nights. Sean was leaving town so it was all we could get in before he left. The first night was about an hour due to a broken paddle and the second night was about 4 hours.
SP: We did two consecutive nights of shooting - it was all we could get in before I had to leave town. The second night we were out there from around 10pm-2am.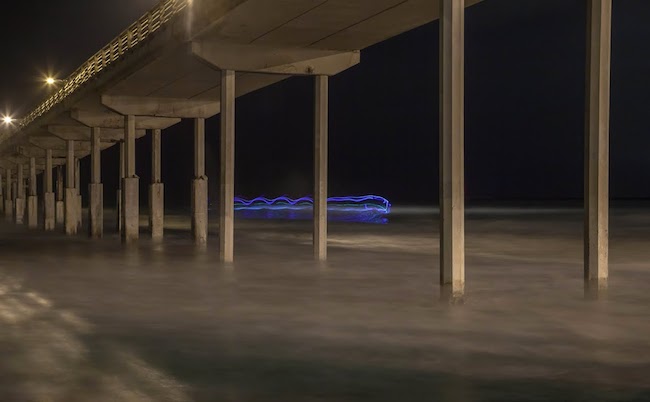 AB: Were there any failed attempts? Tell us about your setbacks and what you learned.
SP: Set backs for sure, nothing that we didn't expect though, we knew the whole idea was going to be challenging to execute. I certainly knew on my end maintaining the duct-taped lights on the board without kicking them off tied in with keeping the flare dry in the water - the waves were about 8ft on sets - was going to be tough. Our first night was the definite trial and error. We had the board set up with glow sticks duct taped to the board and a light placed in my handle cavity with a flare fastened to my paddle.
Upon going out to the peak, one of the glow sticks ripped off immediately after getting hit by a wave and the flare - that wasn't lit yet - was near getting wet each time because I had it too low on the shaft of the paddle. I had to do the most shallowest paddle ever while trying to get out in 5-7 ft occ. 8ft conditions, at night, it was difficult. Once I finally made it out that first time, lighting and standing from a sitting position with the lit flare was so difficult. I was on my Starboard 7'4" x 25.5" which isn't that stable to start and then now with the flare real low you had to find a way to jump up without to your feet without setting your paddle in the water - because it would have dunked the flare. I was able to get one wave with the flare lit before it got dunked and went out. The next flare burned through my paddle. Trial and error.
The following night, we decked the whole rig and person up way more. 8 small flash lights on the board, 1 on me and two glow sticks on my arm, and flare on the paddle. This time we tried tinfoil to reflect the heat of the flare so not to burn through it - it worked. We lost some flashlights, dunk some more flares, but we ended up getting some pretty good rides.
AB: Will there be any future collaboration between the two of you? Anything in the works?
JN: Definitely, I am working on a helmet right now and Sean has some ideas for his suit and board. I can't wait to get back out there and see what happens next.
SP: Oh yeah. We're definitely excited to get back out!
Last modified onFriday, 23 January 2015 15:59

Allie Brown is orginally from Kona, Big Island and, as an islander, her life has been in the water – ocean more precisely. She has been a sponsored competitive surfer, represented the NSSA College National Champions while surfing for San Diego State University, and today remains deeply connected to the watersports lifestyle. Brown is both a shortboarder and a paddleboarder, loving to take out her inflatable SUP for a ride. With a journalism degree from San Diego State University and her passion for the water life, she brings an excellent combination of skill and passion to Supconnect. Twitter: @alliebrown808 / Supconnect Profile
Email

This email address is being protected from spambots. You need JavaScript enabled to view it.