Michael Booth and Olivia Piana Win the Battle for Bilbao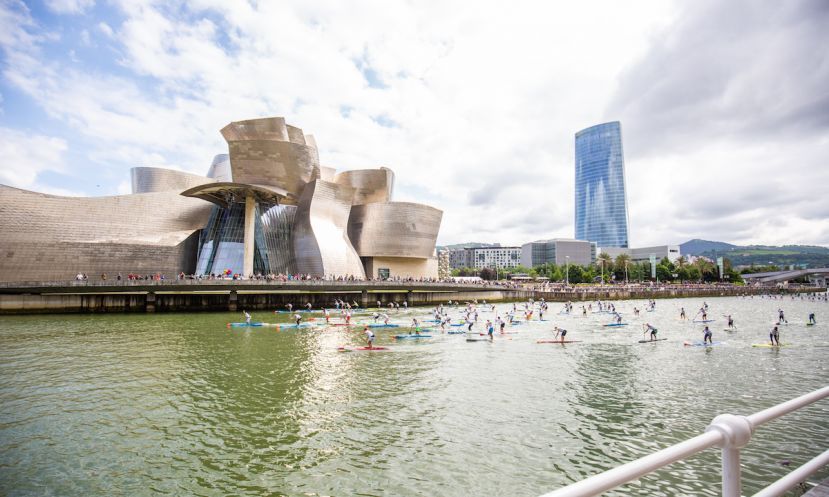 6th annual Iberdrola Bilbao World SUP Challenge in the Basque Country of Spain. | Photo: Paddle League / Georgia Schofield
BILBAO, Spain - With a record field of 272 athletes across all divisions (kids, juniors, elite, amateurs) the 6th annual Iberdrola Bilbao World SUP Challenge in the Basque Country of Spain was the fifth stop of The Paddle League World Tour and week 7 of the 2018 EuroTour presented by Rogue.
Located on the inner-city river of Bilbao, The Iberdrola Bilbao World SUP Challenge is a collaborative event that helps to promote and grow the sport in Europe. The event awards equal prize money for men's and women's podiums (as with all EuroTour and Paddle League events) which helps draw the international and elite athletes each year. Despite this being billed as a flat water event, it was anything but as the high tide and stone walls of the city river produced a washing machine-like effect that made life challenging for competitors.
MEN'S ELITE RACE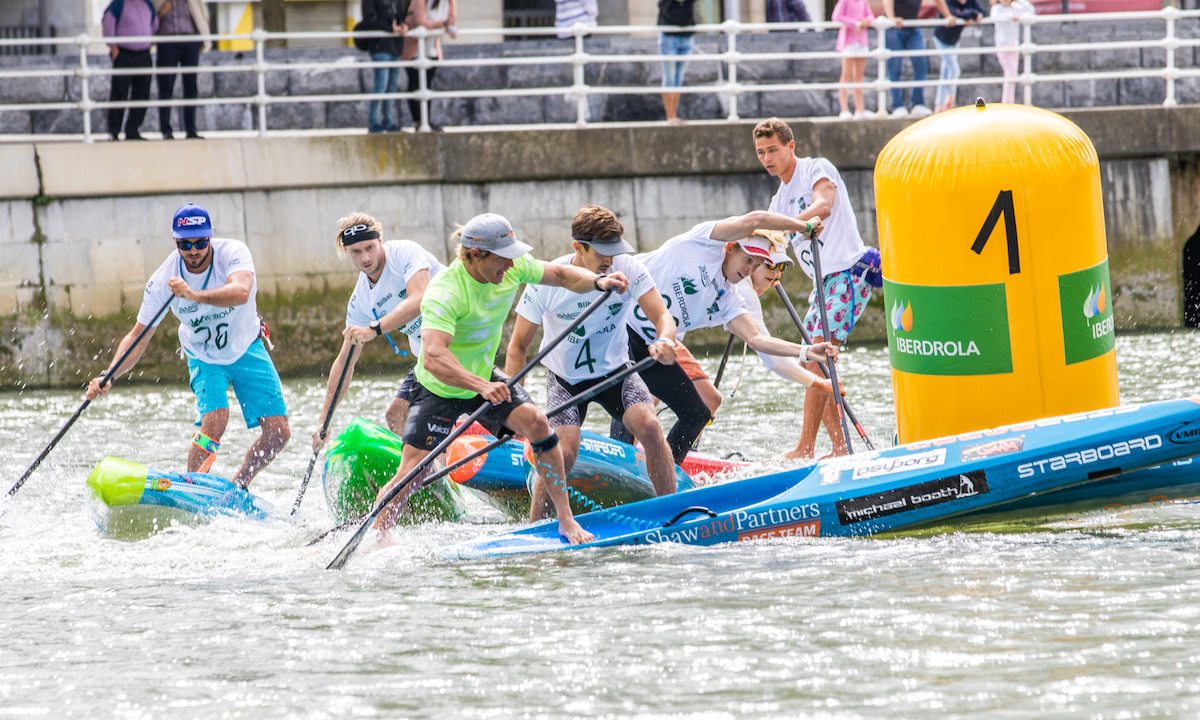 73 elite men stood shoulder-to-shoulder along the width of the river in front of the iconic Guggenheim making it an intense start to the race. After surviving the chaotic first buoy turn, Michael Booth 'Boothy' broke away at the 1.5km mark as the leaders paddled back into a stiff headwind. The Aussie extended his lead to about 80 meters before holding his pace almost the entire way to the finish.
Behind Boothy the Hasulyo Brothers, Lincoln Dews, Titouan Puyo, Connor Baxter and Tahitian dark horse Enzo Bennett all took turns on the front of the train working to close the gap that Boothy had but were not successful. The chase group was whittled down to 11 men as the pace picked up, however the group was too large to effectively work together and the race essentially became a race for second.
Men's Elite race. | Photos: Paddle League / Georgia Schofield
While Boothy finished half a minute clear, the battle for second place was intense and produced a couple of photo finishes (there was just 15 seconds between 2nd and 10th). In an effort to close the gap Australia's Lincoln Dews made a final surge with 1km to go, but while he closed the gap from 50 seconds down to 30, he ran out of runway and had to settle for a well-deserved second place. The number one seed and newlywed coming into the event, Connor Baxter was looking strong but was knocked off his board at the final buoy 2km from the finish, which dashed his hopes of a podium spot. Baxter ultimately finished in 11th.
With his win at the Iberdrola Bilbao World SUP Challenge, Michael Booth claimed his fourth-straight EuroTour win after claiming the previous three stops in Crete, Costa Blanca and San Sebastian, which strengthens his bid for back-to-back European titles. This win also is his second on the Paddle League World Tour which extends his lead on the World Title ratings.
WOMEN'S ELITE RACE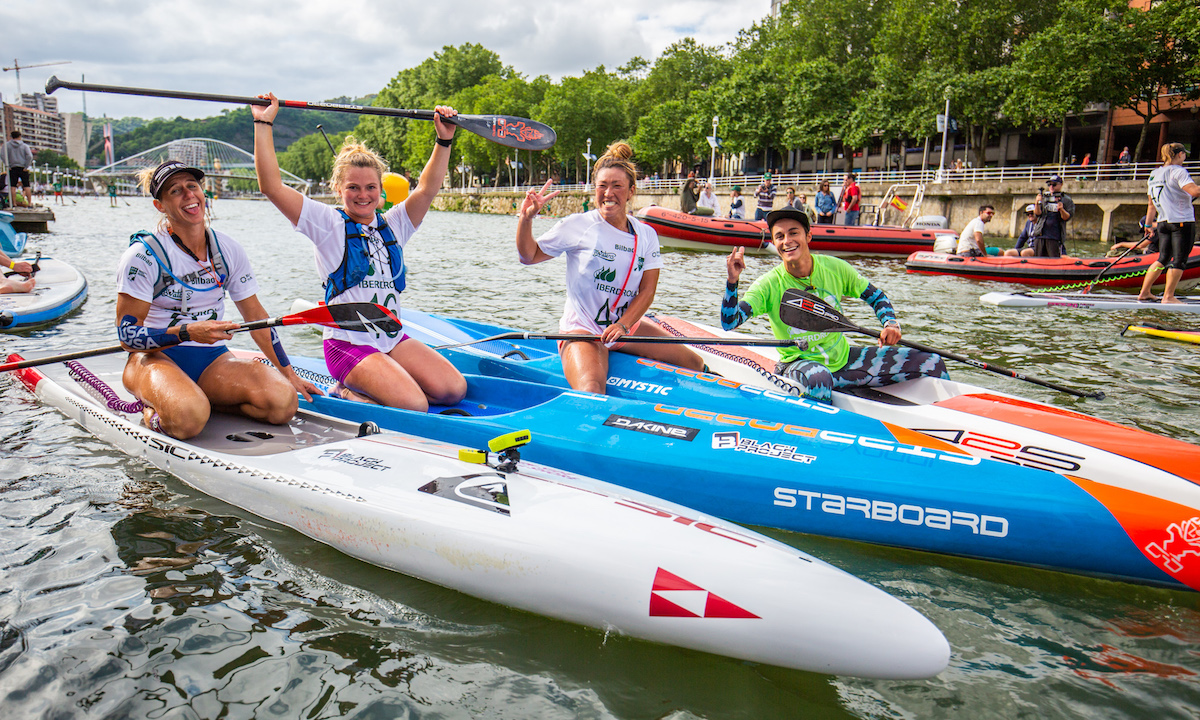 L-R: Seychelle Webster, Fiona Wylde, Yuuka Sato, Olivia Piana. Top 4 Women's Elite finishers. | Photo: Paddle League / Georgia Schofield

The Women's Elite race was no less exciting than the men and had one of the largest and strongest fields of elite women that we've seen all year. After an intense start and a chaotic first buoy turn that caught many paddlers off guard, Olivia Piana, Seychelle Webster, Fiona Wylde and Amandine Chazot set the early pace in a breakaway group of four.
Australians Kate Baker and Angie Jackson worked hard to close the gap but got caught up in the bumpy, inner-city river conditions. The only woman who successfully closed the gap on the front pack was Japan's Yuka Sato who continued to prove her power and strength that's been on display thus far this season.
Traffic jam during the women's elite race. | Photos: Paddle League / Georgia Schofield
In the final 2kms of the race Olivia Piana and Seychelle Webster broke away from the pack and had a battle to the finish. The final 500 meters was one of the closest/most exciting finishes we've seen in women's racing, with the Frenchwoman and Floridian going quite literally stroke-for-stroke towards the line. Olivia ultimately proved too strong and won by a board length, but the real winner was the women's sport of paddling after such a hard-fought, exciting race.
Olivia's victory gives her three EuroTour wins after saluting in Vendee and San Sebastian and the Frenchwoman is now the closest rival to Sonni Honscheid's World Title quest.
To catch up on more Paddle League World Tour news, click HERE.
RESULTS
ELITE MEN TOP 10
Michael Booth 1:01:17 (Australia; Starboard)
Lincoln Dews 1:01:50 (Australia; DEEP/QB)
Mo Freitas 1:01:52 (Hawaii; Rogue)
Titouan Puyo 1:01:54 (France; NSP/QB)
Daniel Hasulyo 1:01:55 (Hungary; Starboard)
Noic Garioud 1:01:56 (New Caledonia; Sunova)
Martin Vitry 1:01:56 (France; SIC)
Bruno Hasulyo 1:01:58 (Hungary; Starboard)
Arthur Arutkin 1:02:00 (France; Fanatic)
Tom Auber 1:02:05 (France; Fanatic)
ELITE WOMEN TOP 10
Olivia Piana 1:13:27 (France; 425)
Seychelle 1:13:29 (USA; SIC)
Fiona Wylde 1:13:41 (USA; Starboard)
Yuka Sato 1:14:13 (Japan; Starboard)
Kate Baker 1:14:40 (Australia; ONE)
Laura Quetglas 1:15:31 (Spain; Starboard)
Amandine Chazot 1:16:00 (France; Starboard)
Angie Jackson 1:17:32 (Australia; ONE)
Susak Molinero 1:18:12 (Spain; RRD)
Caterina Stenta 1:18:48 (Italy; RRD)
ELITE JUNIOR BOYS
Noic Garioud (New Caledonia)
Enrique Hurtado Serra (Spain)
Aaron Sanchez Quetglas (Spain)
ELITE JUNIOR GIRLS
Duna Gordillo (Spain)
Sheila Sirvent (Spain)
Marina Loayza (Spain)
6km OPEN RACE: MEN'S TOP 10
Javier Aguera (Spain)
Julen Juaristi Mena (Spain)
Ander Unzueta (Spain)
Omar Urdampilleta (Spain)
Manuel Albiol Simo (Spain)
Enrique Martinez (Spain)
Aday Cabrera (Spain)
Steve Trott (UK)
Alvaro Rezola (Spain)
Aitor Ganzabal (Spain)
6km OPEN RACE: WOMEN'S TOP 10
Laura Laqueche (Spain)
Loles Albiol Simon (Spain)
Beatriz Canudas Pujol (Spain)
Edurne Ibarrondo Mezo (Spain)
Elena Alfaya Pereira (Spain)
Montse Serra Senon (Spain)
Gadea Ibarloza Arrizabalaga (Spain)
Sarah Weidert (Germany)
Ana Belen Valiente (Spain)
Miren Hernandez Martin (Spain)
6km OPEN RACE: under 18 BOYS
Lucas Simoncelli (Spain)
Daniel Delgado (Spain)
6km OPEN RACE: under 18 GIRLS
Nuria Hurtado Serra (Spain)
Aida Sobervio Nepola (Spain)
6km OPEN RACE: under 16 BOYS
Sam Axford (Jersey)
Alejandro Perez Rivas (Spain)
Benat Villagarcia Horn (Spain)
Inigo Gandara (Spain)
Marc Simoncelli (Spain)
Unax Etxeberria (Spain)
Toby Axford (Jersey)
Diego Lazcano Abaitua (Spain)
Laird Dawson (Jersey)
6km OPEN RACE: under 16 GIRLS
Sonia Caimari (Spain)
Sonia Hurtado Serra (Spain)
Amaia Mellado Anso (Spain)
Rafa Jr Ceniga (Spain)
June Ormaetxe Iriondo (Spain)
Adriana Abaitua (Spain)
Clara Aristegi (Spain)
For more race news click HERE.
Last modified onMonday, 18 June 2018 14:21

Submit your news, events, and all SUP info, so we can keep promoting and driving the great lifestyle of stand up paddling, building its community, and introducing people to healthier living.
Website: supconnect.com
Email

This email address is being protected from spambots. You need JavaScript enabled to view it.