History Repeats Itself At 2017 Carolina Cup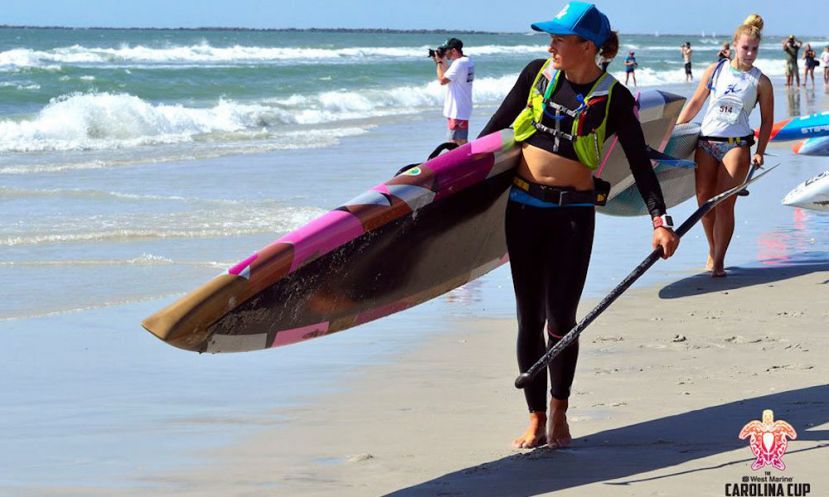 Annabel Anderson of New Zealand, strategizing her launch of the 2017 Graveyard Race at West Marine Carolina Cup | Photo Courtesy of Laura Glantz
WRIGHTSVILLE BEACH, North Carolina - In one of the most action-packed races of all time, defending champions Titouan Puyo and Annabel Anderson were crowned the 2017 Carolina Cup Champions.
From start to finish the Graveyard Course was intense. With 10 to 20 mph winds, 2 to 4 ft seas, flowing tidal inlets, and choppy flatwater, the 13.2-mile Graveyard Race, already one of the most challenging professional-division courses in the world, was even more grinding and grueling in 2017. The men's field of competitors was at one of the highest levels ever and competition was fierce. While there were the usual favorites (Michael Booth, Danny Ching, Travis Grant, Titouan Puyo, etc.) who were all shoe-ins for who would win it was anyone's game. The competitive field was stacked to say the least.
For a majority of the men's elite race the lead pack consisted of five paddlers: Michael Booth, Mo Freitas, Connor Baxter, Titouan Puyo and Travis Grant. With the lead changing at multiple times throughout the race it was impossible to predict who would win. These five fought long and hard to keep the lead ahead of the chase pack of 11 or so paddlers but ultimately, the chase pack led by Georges Cronsteadt caught up. With just under two miles to the finish the race became all the more exciting.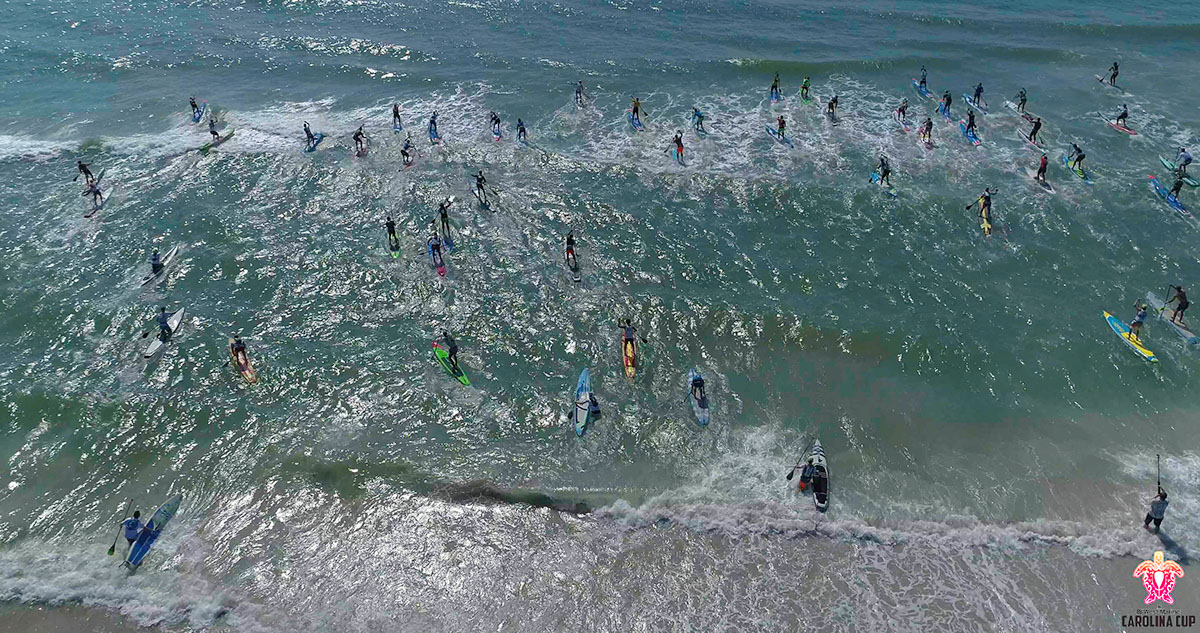 2017 West Marine Carolina Cup | Photo Courtesy of Peter Newman, Aerial Images ILM
After turning the jetty and heading into the final stretch of the race, New Caledonia's Titouan Puyo (NSP) caught a small bump and gained a bit of a lead. From there, Puyo kept finding and catching small bumps extending his lead even further, pretty much cementing his second consecutive win at the Carolina Cup. It was now a fight for second place between Travis Grant and Tahitians Steve Teihotaata and Georges Cronsteadt.
As usual, the Graveyard race was grueling, especially in 2017, and took its toll on a number of paddlers. One of the paddlers who was affected was Australia's Michael Booth who with just over a mile to go hit a wall of exhaustion and fell far behind. Booth was a heavy favorite to take the win at this race so it was a shock to watch him slip away.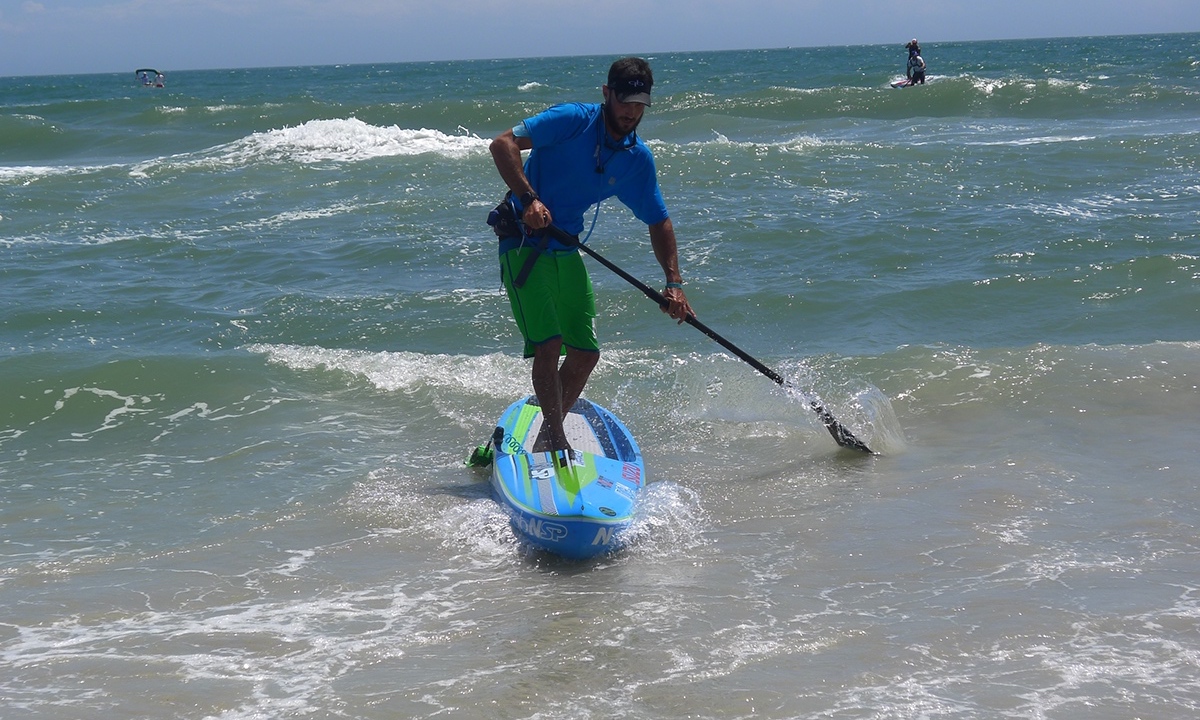 Titouan Puyo of France captures 2nd consecutive Graveyard Race title at the West Marine Carolina Cup | Photo Courtesy of Karen Pennington
For the women, all eyes were on New Zealand's Annabel Anderson as she was fighting to win her 5th consecutive Carolina Cup. While the turnout for the elite females was not as intense as the men there were still a number of heavy hitters that would give Anderson a run for her money. Starboard and Werner Paddles athlete Fiona Wylde, France's Olivia Piana, SIC Maui's Seychelle Hattingh and local April Zilg were all present to challenge Anderson. Noticeably absent were California's Candice Appleby and Shae Foudy as well as Germany's Sonni Honscheid. At the end, Annabel Anderson once again proved why she's the best in the world and cemented her historic 5th consecutive win at the Carolina Cup.
"I executed exactly what I wanted to do and opened up the after-burners at the 2-hour mark," said Anderson, the top-ranked and fastest woman in the world, leaving her competitors minutes behind at the finish. "I am extremely grateful to be back and able to challenge for number five."
"Every year this race is different," said Anderson. "It's got a bit of everything to test our entire skill set. That's what makes it the Carolina Cup. The Graveyard Race is one of the classics."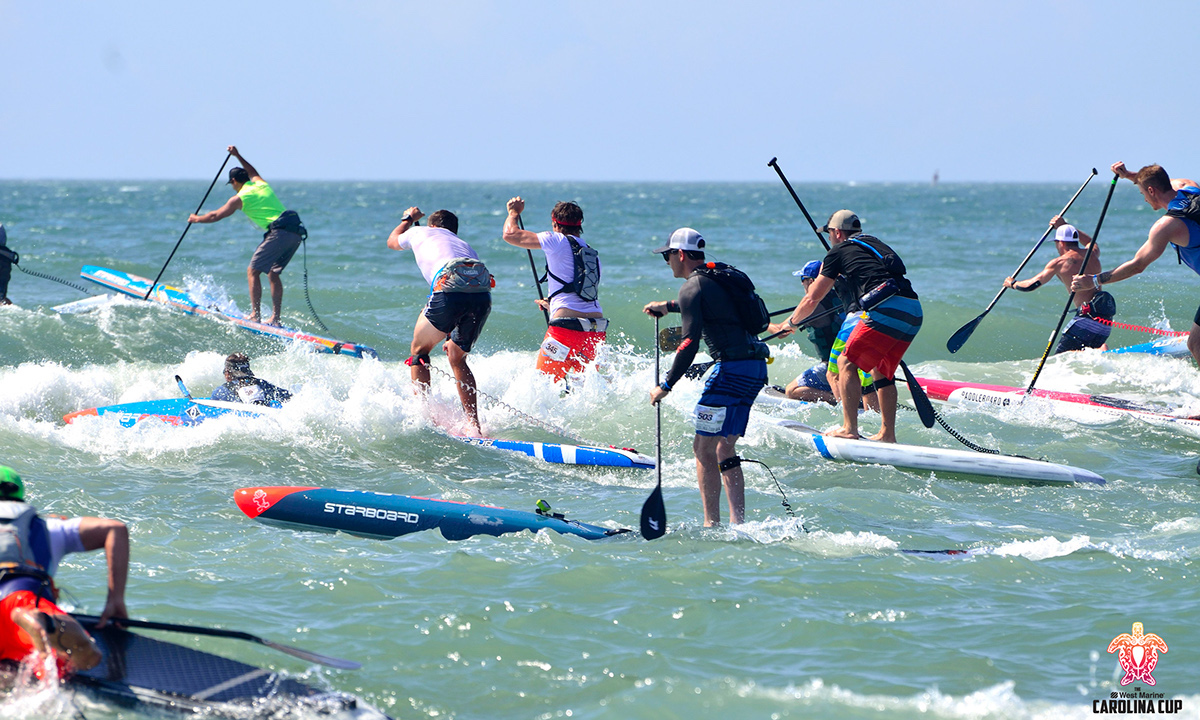 2017 West Marine Carolina Cup | Photo Courtesy of Laura Glantz
Organized by the Wrightsville Beach Paddle Club and sanctioned by the World Paddle Association, the West Marine Carolina Cup is a key stop on the World SUP Tour. All races, clinics, demos, plus the expo and trade show originate at host hotel Blockade Runner Beach Resort in Wrightsville Beach.
The 2017 Carolina Cup itinerary, April 18-23, includes the renowned World SUP Tour Graveyard Race, a demanding and grueling 13.2-mile ocean and flatwater race; the 6.5-mile Money Island Open Race; the 3.5-mile Harbor Island Recreational Race; the 9-mile, 6-person Outrigger (OC-6) Blockade Runner Flatwater Race; the new 4-person SUP Dragon World Series; and a popular Kids Race for children 7 to 14. Competitors include Olympians, world-record holders, champions, professionals, amateurs, and first-time paddlers.
2017 Carolina Cup Results
Top-10 Women:
Annabel Anderson, New Zealand
Fiona Wylde, OR, USA
Olivia Piana, France
April Zilg, Wrightsville Beach, NC, USA
Seychelle Hattingh, FL, USA
Lena Ribeiro, Brazil
Penelope Strickland-Armstrong, New Zealand
Susak Molinero, Spain
Hannah Hill, OR, USA
Lexi Alston, CA, USA
Top-20 Men:
Titouan Puyo, France
Travis Grant, Australia
Georges Cronsteadt, Tahiti
Steeve Teihotaata, Tahiti
Connor Baxter, Hawaii
Vinnicius Martins, Brazil
Kelly Margetts, Australia
Josh Riccio, HI, USA
Rete Ebb, Tahiti
Danny Ching, CA, USA
Martin Letourneur, France
Bruno Hasulyo, New Zealand
Mo Freitas, Hawaii
Arthur Arutkin, France
Trevor Tunnington, Australia
Chase Kosterlitz, Florida
Bullet Obra, Hawaii
Michael Booth, Australia
Giorgio Gomez, California
Martino Rogai, Italy
For a full list of results, click HERE.
To see more news on the Carolina Cup, click HERE.
Last modified onMonday, 24 April 2017 11:29

Allie Beucler is orginally from Kona, Big Island and, as an islander, her life has been in the water – ocean more precisely. She has been a sponsored competitive surfer, represented the NSSA College National Champions while surfing for San Diego State University, and today remains deeply connected to the watersports lifestyle. Brown is both a shortboarder and a paddleboarder, loving to take out her inflatable SUP for a ride. With a journalism degree from San Diego State University and her passion for the water life, she brings an excellent combination of skill and passion to Supconnect.
Email

This email address is being protected from spambots. You need JavaScript enabled to view it.