Grom Take Over at 2018 Gorge Paddle Challenge
Aerial view of the race village. | Photo: Paddle League / Georgia Schofield
HOOD RIVER, Oregon - The highly anticipated Columbia Gorge Paddle Challenge returned to the infamous Hood River over the weekend and the excitement from the weekend has the industry buzzing. The biggest takeaway from the event: the SUP youth is a force to be reckoned with.
Saturday - Double Downwinder
With winds forecasted to be most favorable for the downwind race on Saturday, event organizers made the call to run the double downwinder to give paddlers the best opportunity to catch some bumps and that they did. The Double Downwinder combines times from two consecutive downwind runs at Viento and the fastest of the two combined times is the winner.
Women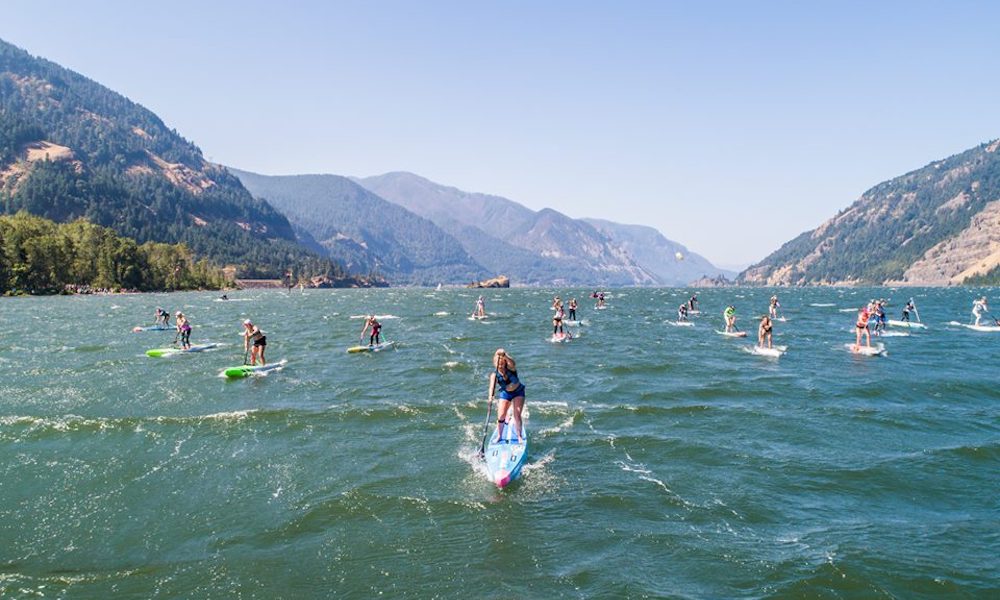 Fiona Wylde leading the pack. | Photo: Gorge US Photography
(Left) Fiona Wylde, (Right) Annie Reickert. | Photos: Gorge US Photography
L-R: Fiona Wylde (1st), Annie Reickert (2nd), Terrrene Black (3rd). | Photo: Paddle League / Georgia Schofield
The race started just before noon with the women hitting the water first for their first of two runs at Viento. The woman to watch during the race was none other than miss Fiona Wylde (Starboard) who has won the race for the past two years with her local expertise and knowledge of the event site and she proved to be the best yet again. Fiona took home her third consecutive win in the Double Downwinder race with a time gap over her nearest competitor by a full three minutes.
Second place finisher Annie Reickert (Naish) turned heads with her runner-up performance as the young paddler is only 17-years-old and took out just about every currently top ranked female in the world rankings. Very impressive performance from the young Maui native.
Other noteworthy performances came from third place finisher and downwind veteran Terrene Black as well as fourth place finisher Amandine Chazot who finished in third overall largely due to her killer second run where she finished in third, moving her up overall finish to fourth place. Also, the battle for fifth was an exciting one between SIC Maui's Seychelle Webster, April Zilg and Angie Jackson with only 30 seconds separating the three paddlers to which April Zilg came out on top.
Men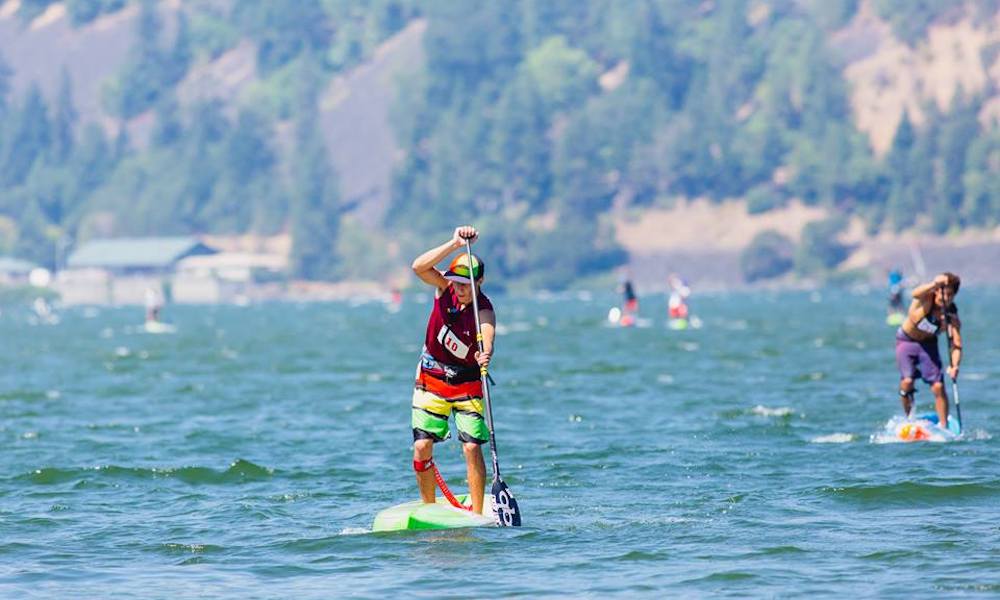 Noic Garioud dominating in the double downwinder. | Photo: Gorge US Photography
Men elite racers hit the water. | Photos: Gorge US Photography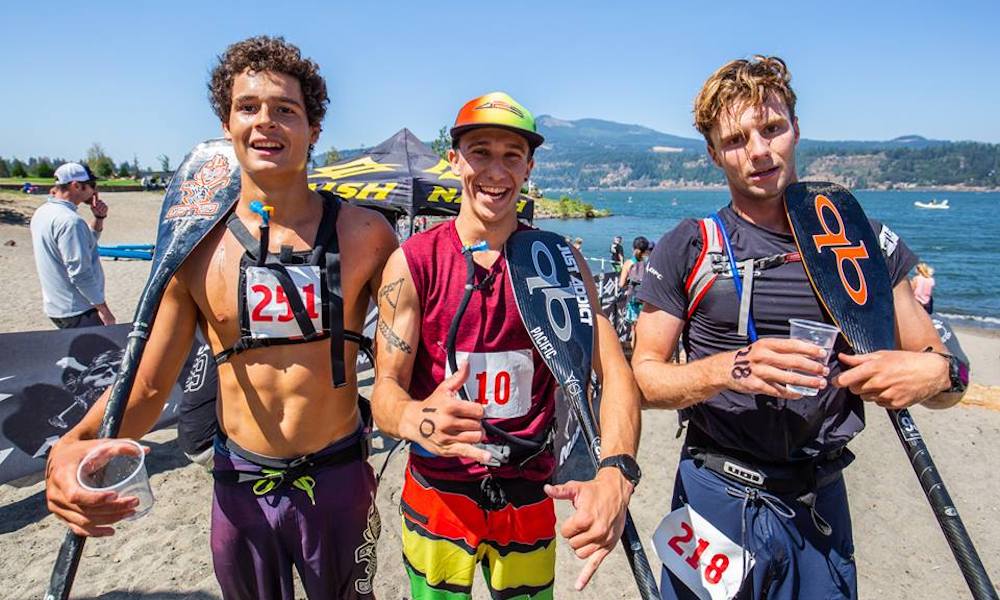 L-R: Clement Colmas, Noic Garioud, Lincoln Dews. | Photo: Paddle League / Georgia Schofield
Shortly after the women took to the water the men lined up and prepared for an all out war once the horn blew. All eyes were on the veterans to be the top performers as the Gorge tends to be a very technical race so it was quite the surprise when freshly crowned Supconnect Grom of the Year, 16-year-old Noic Garioud from New Caledonia, was the one who outperformed everyone to be crowned 2018's Double Downwinder champ.
Noic won both the first and second downwind runs with only his fellow New Caledonian, 17-year-old Clement Colmas, able to get anywhere close. Clement was able to keep up to speed with Noic on the first run and finished right behind him but fell short to veterans Titouan Puyo, Connor Baxter and defending champ Bernd Roediger on the second run, making the battle for second place overall an exciting one.
FULL RESULTS - (combined times)
Women
Fiona Wylde (2:15:38)
Annie Reickert (2:19:10)
Terrene Black (2:20:37)
Amandine Chazot (2:21:38)
April Zilg (2:22:04)
Seychelle (2:22:25)
Angela Jackson (2:22:34)
Shae Foudy (2:25:16)
Olivia Piana (2:28:07)
Jade Howson (2:28:54)
Yuka Sato (2:30:04)
Candice Appleby (2:31:07)
Hannah Hill (2:31:16)
Stephanie Shideler (2:32:51)
Kimberly Barnes (2:34:52)
Shannon Bell (2:35:19)
Lara Claydon (2:36:52)
Sarah Sandstrom (2:38:34)
Erika Benitez (2:38:52)
Susanne Lier (2:39:07)
Maddie Miller (2:40:02)
Abby Baker (2:40:11)
Jennifer Lee (2:41:34)
Kristy Morris (2:44:19)
Victoria Burgess (2:45:27)
Alyssa Joy (2:46:15)
Mary Howser (2:50:48)
Karen Kennedy (2:56:20)
Adel Umannova (2:58:06)
Kira Buchanan (one run)
Men
Noic Garioud (1:58:33) Sunova
Clement Colmas (1:59:58) Starboard
Bernd Roediger (2:00:33) Naish
Titouan Puyo (2:00:38) NSP
Lincoln Dews (2:00:41) DEEP
Travis Grant (2:01:25) NSP
Connor Baxter (2:02:01) Starboard
Matt Nottage (2:02:37) Starboard
Marcus Hansen (2:02:53) NSP
Arthur Arutkin (2:04:42) Fanatic
Vinnicius Martins (2:04:59) JP
Jake Jensen (2:05:17) ONE
Tom Auber (2:06:09) Fanatic
Georges Cronsteadt (2:06:45) 425
Enzo Bennett (2:07:24) 425
Alexandre Bicrel (2:07:30) NSP
Ty Judson (2:07:41) NSP
Martin Letourneur (2:07:59) Hobie
Martin Vitry (2:08:16) SIC
Chase Kosterlitz (2:08:51) JP
Josh Riccio (2:09:56)
Boris Jinvresse (2:10:58)
Slater Trout (2:11:15)
Ben Tardrew (2:12:06)
Benoit Riviere (2:12:14)
Paul Jackson (2:13:18)
Harry Maskell (2:13:19)
Takuji Araki (2:13:54)
Tyler Bashor (2:14:06)
Leonard Nika (2:14:14)
Tiavairau Chang (2:14:21)
Mo Freitas (2:15:28)
Garrett Fletcher (2:16:00)
Itzel Delgado (2:16:25)
Trent Carter (2:17:48)
Steve Walker (2:19:23)
Eri Tenorio (2:20:39)
Fernando Stalla (2:20:50)
Slater Fleck (2:20:52)
Lois Chardebas (2:21:46)
Tim Warner (2:22:28)
Sam English (2:22:52)
Rodney Ellis (2:23:21)
Steve Miller (2:23:58)
Christopher Norman (2:24:10)
Keaton Rose (2:24:32)
Elijah Schoenig (2:24:52)
Zach Rounsaville (2:27:45)
Zeke Rose (2:27:45)
Barry Wicks (2:28:38)
Belar Diaz (2:29:51)
Fielding Pagel (2:30:02)
Matthew Abbott (2:32:40)
Martijn van Deth (2:37:37)
Dan Miller (2:44:53)
Kody Kerbox (one run)
Sunday - 'Hot Lap' Course Race
Groms races started off the day Sunday. | Photos: Paddle League / Georgia Schofield
On Sunday spirits were high from the previous day's downwinder with athletes ready to jump in the water and keep the momentum going. The first races of the day started with the groms and were followed by the girls and boys junior races. Following the morning youth races the men's elite paddlers started in the early afternoon with their preliminary heats and were followed by the finals for all categories of the day.
The Course race is an exciting race that gives paddlers a course in which they are able to shortcut one of their laps. Known as the 'Hot Lap', paddlers strategically use this feature in the race to gain an advantage over their competitors.
Women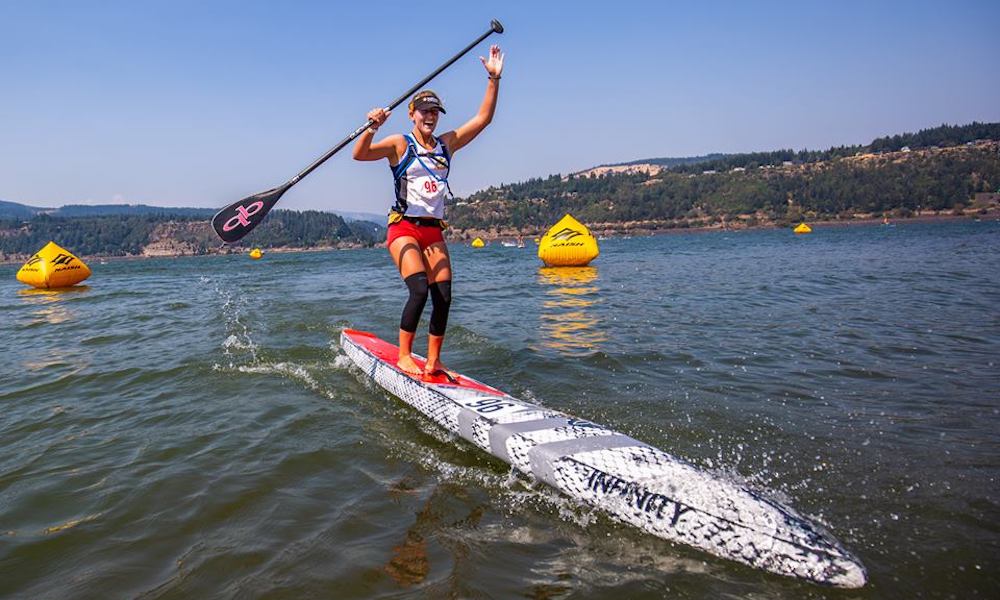 Shae Foudy all smiles at the finish. | Photo: Paddle League / Georgia Schofield
In the women's showdown, Shae Foudy delivered a solid performance and was too strong for the all-star field that included pretty much all of the world's top-ranked athletes. Shae strategically waited to take her 'hot lap' until lap three where she then made her move and was able to overpower Seychelle Webster, Olivia Piana and Fiona Wylde for the win. With this win Shae officially graduates from her 'grom' status as she earns her first major win on the Paddle League World Tour.
Men
Men's Course race. | Photos: Paddle League / Georgia Schofield
In a battle between fellow teammates and countrymen, paddle powerhouse Titouan Puyo beat Arthur Arutkin and Marcus Hansen in a hard-fought race to the finish. The race almost seemed to be a game of Follow the Leader as all but one paddler in the entire race followed Titouan's lead and took the 'hot lap' on the first lap of the course. The paddler that opted to wait was none other than Boardworks' Mo Freitas who opted to take his 'hot lap' on the third lap of the course and ended up taking 5th place overall.
Course Race Results
Women's Course Race Final
Shae Foudy (0:32:34)
Seychelle (0:33:02)
Olivia Piana (0:33:24)
Fiona Wylde (0:33:29)
Yuka Sato (0:33:36)
Angela Jackson (0:34:13)
April Zilg (0:34:36)
Candice Appleby (0:34:48)
Terrene Black (0:36:20)
Jennifer Lee (0:36:26)
Shannon Bell (0:36:49)
Jade Howson (0:37:12)
Maddie Miller (0:37:19)
Kimberly Barnes (0:37:26)
Stephanie Shideler (0:37:34)
Sarah Sandstrom (0:38:23)
Erika Benitez (0:39:32)
Abby Baker (0:39:46)
Lara Claydon (0:40:35)
Karen Kennedy (0:47:36)
Adel Umannova (0:51:01)
L-R: Seychelle, Shae Foudy, Olivia Piana, Arthur Arutkin, Titouan Puyo, Marcus Hansen. | Photos: Paddle League / Georgia Schofield
Men's Course Race Final
Titouan Puyo (0:25:57)
Arthur Arutkin (0:26:06)
Marcus Hansen (0:26:39)
Enzo Bennett (0:26:58)
Mo Freitas (0:27:04)
Martin Vitry (0:27:10)
Clement Colmas (0:27:15)
Ty Judson (0:27:22)
Noic Garioud (0:27:46)
Tom Auber (0:27:57)
Georges Cronsteadt (0:28:06)
Josh Riccio (0:28:09)
Lincoln Dews (0:28:49)
Itzel Delgado (0:28:54)
Leonard Nika (0:29:15)
Slater Trout (0:29:51)
Kody Kerbox (0:30:24)
Matt Nottage (0:30:58)
Fernando Stalla (0:31:21)
Connor Baxter (0:31:22)
In its 8th year, the Columbia Gorge Paddle Challenge was yet again an event to remember. Windy conditions on-hand made the event exciting and the paddling community from all over the world coming together was truly something special.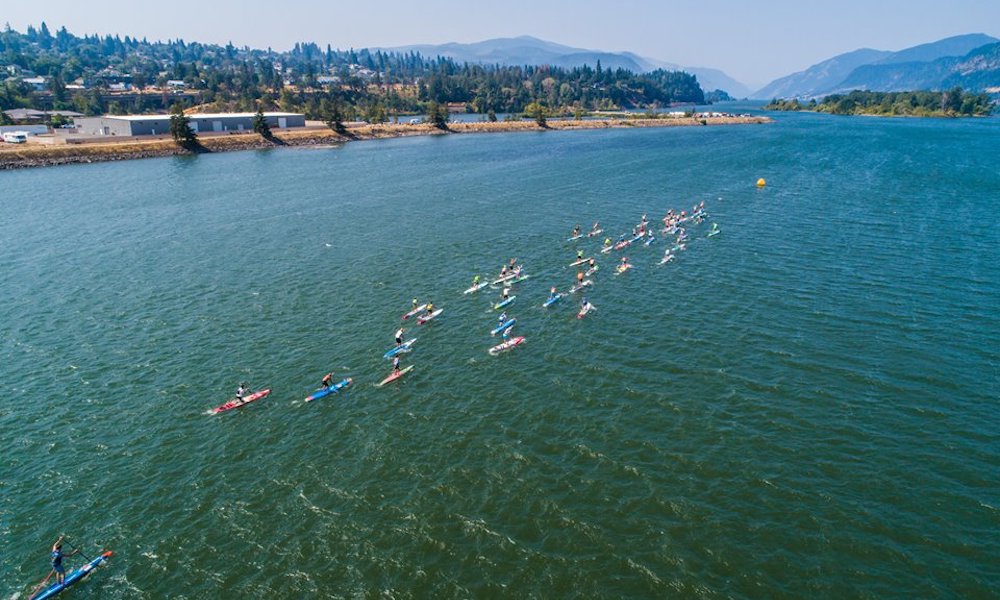 Photo: Paddle League / Georgia Schofield
For more news on the Naish Columbia Gorge Paddle Challenge, click HERE.
Last modified onMonday, 20 August 2018 16:56

Submit your news, events, and all SUP info, so we can keep promoting and driving the great lifestyle of stand up paddling, building its community, and introducing people to healthier living.
Website: supconnect.com
Email

This email address is being protected from spambots. You need JavaScript enabled to view it.