Grant and Anderson Conquer The Graveyard At 2015 Carolina Cup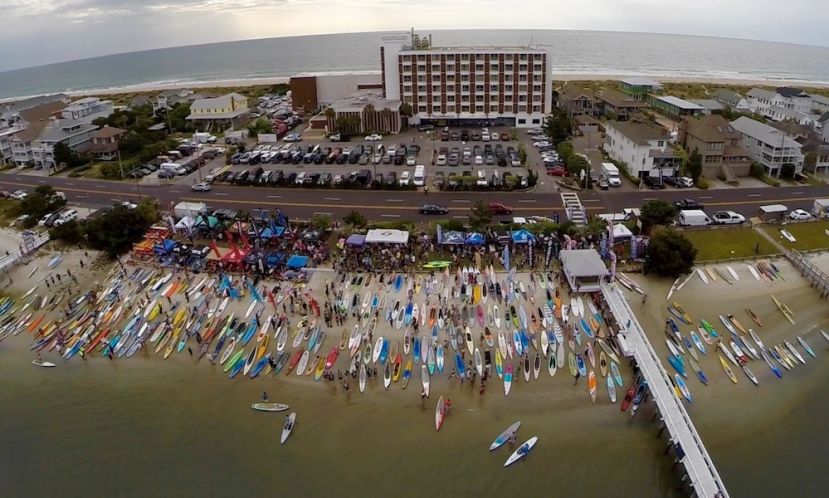 The Carolina Cup once again saw record participation in only its 5th edition. | Photo courtesy: Carolina Cup
Photos courtesy of NC Press Release
WRIGHTSVILLE BEACH, North Carolina - Australia's Travis Grant and New Zealander Annabel Anderson took 1st Place in the Men's and Women's divisions of "The Graveyard" at the 2015 Carolina Cup. In its 5th edition, it is now becoming evident that if this is not the world's largest SUP Race (750+ Racers this year,) it is probably the most technical. The Top 10 of both genders was overwhelmingly made up of athletes that excel in open ocean conditions as well as more benign inshore tracts.
Front Row Seat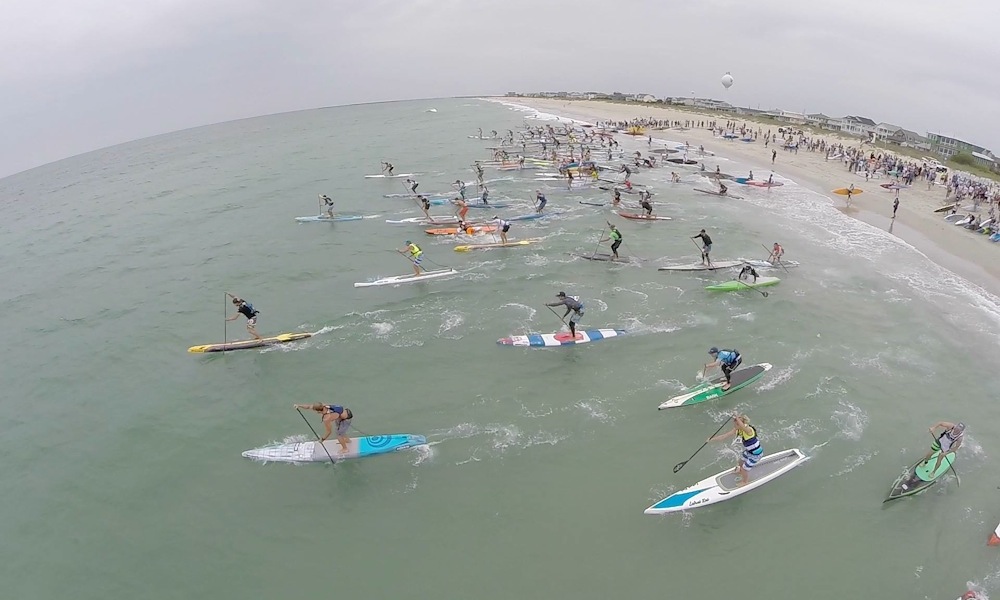 The start to the Graveyard Course, one of the most techincal races of the year. | Photo Courtesy: NC Press Release
I am fortunate each year to serve as the Captain of the media boats and this year with the help of my good friend Newland Crocker, we were able to take and give most of the international SUP Media a front row seat for the Graveyard. Everyone saw first-hand how this race unfolded.
The Men's Race
The race started in 2-3 foot seas with a 20-knot south wind, which meant a 3.5 mile downwind run right out of the gate, from the ocean side at the Blockade Runner to the always challenging Mason's Inlet. At the start most of the Top 20 made it cleanly around the offshore turn buoy and took the sharp left turn, heading north to Mason's. Those caught up in the pack though, had quite a "yard sale" at the offshore buoy. The hard south wind wreaked havoc on those unaccustomed to "side to" conditions and 25 paddlers within inches of their boards. "Carnage" was the most commonly used term being thrown around the press boats at this point.
After the turn, locals witnessed some of the most amazing downwind technique ever seen at Wrightsville Beach. Connor Baxter (Starboard) and Travis Grant built a quick 100 yard lead in the open ocean. I have always maintained that the great ones make it look easy and these two certainly did. At one point I was watching Conner; pull, pull, glide; pull, pull, glide, hit the camelback; pull, pull, glide.
As they made their way through Mason's Inlet, Connor and Travis were side by side, but Defending Champ Danny Ching (FCS) was only 100 yards behind. A pack of 15 of the world's elite, including SIC Maui's Georges Cronsteadt, Starboard's Titouan Puyo, Jake Jensen and BIC SUP's Eric Terrien were another 100 yards behind Danny. The course now changed from an open ocean downwind run to an inshore flatwater course, but one with 7 miles of upwind, upcurrent conditions to tackle. Once inshore, Danny Ching put it into another gear and caught Travis and Conner without any assistance. These 3 traded positions in a draft train for almost 7 miles, while navigating boat traffic, shoals and constantly shifting currents. These 3 kept two separate draft trains at bay for the entire inshore run. At one point, Chris Parker from SUP Racer commented "Can you believe so and so is in 18th place? That guy is one of the best in the world and he's in 18th!" I thought that was quite a testament to the quality of the field.
As Travis, Connor and Danny rounded the south end of Wrightsville and headed out Masonboro Inlet, they were still bow to stern, 3 deep! But then things started to heat up. Travis and Danny broke free of Conner and wisely hung within feet of the North Jetty, avoiding the 2knot head to current coming into the inlet. Once parallel with the jetty though, and within site of the finish line, Travis caught a bump and poured it on. He rounded the jetty, 1 mile off the beach and 2 miles from the finish line. By this point the 20 knot southerly had dropped to less than 10 knots, but there was still enough swell in the water for some short downwind runs. The site of Travis, head down, hammering and gliding across those final 2 miles of Carolina Ocean was impressive.
In the end Danny held his position in 2nd place, but Georges and Titouan overtook Conner in the last offshore run to take 3rd and 4th.
The Women's Race
The Women's Race started in the same 2-3 foot seas and 20-knot south wind. The start for this race was much cleaner and may have been a testament to the fact that most of the more pragmatic female entrants knew their limitations and kept to the soundside races, unless they were fully capable of navigating "The Graveyard." As I've said before, this is a very technical race, and you're gonna need a Big Boy/Big Girl Paddle to get around this course. This ain't your momma's flatwater race.
The top female entrants also put on one helluva downwinder, with Fiona Wylde (Starboard, Werner) building a 100 yard lead on the pack in the open ocean while entering Mason's Inlet. As they made their way into Mason's, the Women's Race was eerily similar to the Men's Race; Fiona was out front, Defending Champ Annabel Anderson was 100 yards behind and with a 10-pack of the world's elite, Quinton Chapperino, Sonni Honnscheid and Lina Augaitas (SIC Maui) all within striking distance.
But here's where things got different. Once inshore, Annabel put the hammer down, caught Fiona and built an insurmountable lead. Her training and technique really showed through at this point. Working mostly alone, she fluidly made her way around Wrightsville's inshore waters, came out of Masonboro Inlet and crossed the finish line nearly 4 minutes ahead of her nearest competitor. Well done young lady. Quinton Chapperino, Sonni Honnscheid, Lina Augaitas and Angela Jackson rounded out the Women's Top 5.
Mason's Inlet Boogey Man
Mason's Inlet is an unmarked, rarely navigable, natural inlet, whose sandbars can and will change overnight. This year Mason's was set up with an inshore sleu (channel) that would allow racers to cut 2-3 minutes off of their overall times, assuming they could successfully navigate the narrow channel. When most of the Top 15-20 racers hit this sleu, they encountered a shallow sand bar. Many of the world's best racers made the decision to carry their boards across this bar. The unfortunate part of this though, is that all of the local racers I polled, successfully negotiated this part of the course without ever leaving their boards.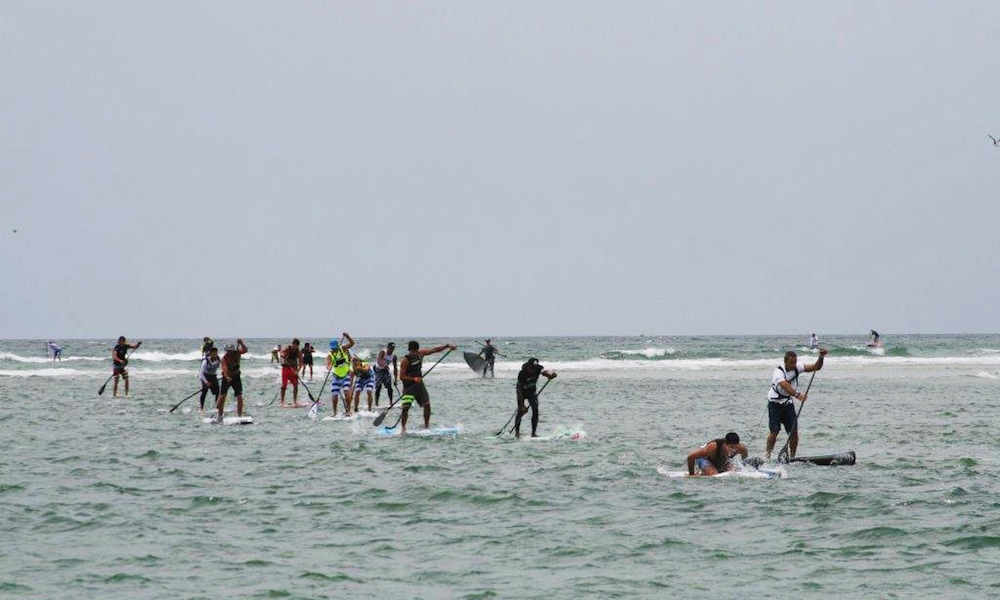 Mason's Inlet caused a bit of controversary this year. What are your thoughts? | Photo: Chris Parker via SUP Racer.
Did this make an overall difference in the race? Not really. The Top 20 in both genders would have essentially been the same, with maybe the exception of April Zilg, who might have finished a spot or two higher in the Women's Race.
Did it unfairly impact most of the local men and women that finished in the middle of the pack. Yes it did. So I am going to give a shout out to the locals that did the right thing; Barry Blackburn, Eric Carter, Eric Bigsby, Kim James, James Bain, Brad Howard, Mike Medewif, Jeremy Whitted (sorry SC, but he belongs to us now), et al., you are all fine examples of sportsmanship and the kind of people that we are lucky to have representing this area. It's just unfortunate that local knowledge actually hurt those that are most familiar with these waters.

Did the race committee handle this correctly? It would have been a very difficult decision to DQ a significant number of the Top 20 in the Men's and Women's field. In fact, it may not have been made clear enough at the Racer's Meeting about how to handle this sand bar. But if I know anything about the guys that run this race, it will be straight next year.
Epic Final
The 2015 Carolina Cup will go down as maybe the most exciting, and definitely the most stacked ever. The organizers have refined this huge event and continue to make everyone feel welcome. The volunteers on the water and on land were hospitable and reflect the cool, laid back, welcoming vibe that Wrightsville Beach is known for throughout the Surf World. See y'all in 2016.
Last modified onMonday, 28 March 2016 10:29

Wrightsville Beach, North Carolina - Haywood is the 5th Generation of a family that began exploring the waters of Wrightsville Beach in the 1820's and by the age of 7, Haywood had his first skiff. Fishing, crabbing, clamming, seine netting, surfing, hunting and water skiing are just some of what Haywood can do. When not surfing, you can find Haywood looking to catch some fish.
Website: https://www.facebook.com/haywood.newkirk
Email

This email address is being protected from spambots. You need JavaScript enabled to view it.