Florida Woman Breaks Paddle Boarding World Record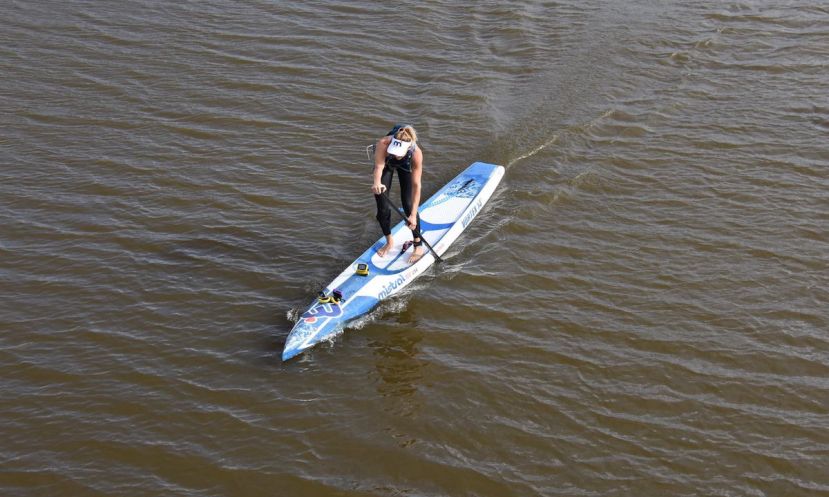 Seychelle on her way to a new world record. | Photo: David Rush
SARASOTA, Florida - Seychelle Hattingh has just accomplished an incredible task. Seychelle just broke the record for longest paddle (man or woman) in 24 hours, paddling 110 miles pretty much non-stop for 24 hours straight (her longest break was only around five minutes). Seychelle broke the current record of 101 miles set by Shane Perrin on December 5th and 6th, 2015 and did it all to raise funds to sponsor athletes from Florida Monroe County that participate in the Special Olympics.
Prior to the record breaking attempt, previous holder Shane Perrin and Seychelle talked about what was to come about a month prior to her attempt. "After speaking with her a few times and also an interview I did with her, I knew she would beat the women's and men's record" said Shane Perrin. "She had her nutrition, training and mental status all dialed in and she made a great decision to make the attempt at a zero conditions facility. During our interview I even told her she was going to break my record. I thought she would be at about 108 miles. She is one amazing athlete smashing it at 110 miles!"
To learn more about this record breaking event we caught up with the new record holder herself and asked her a few questions. Take a look:
First off, congratulations on breaking the current world record for men OR women for distance paddled in 24 hours and nabbing the new world record! What was your motivation and inspiration in going into this record attempt?
It all started with wanting to paddle from Key Largo to Key West. My boss and training partner at the time thought it would be a simpler idea to just do a 24 hour non-stop paddle. So we did. Last New Years. I went in to my first 24 hour paddle with little preparation and little expectation and ended up blowing myself away. I paddled 94 miles that day and it sparked in me a drive to do a 24 hour paddle officially and with proper training, to see how far I could really go. It was the beginning for me of realizing my potential in this sport.
Seychelle is all smiles as she paddles for 24-hours straight. | Photos: David Rush
What would you say your purpose or goal was in breaking this record? Was it solely to break the current record or was it something bigger than that?
It began with simply wanting to break the current record, but grew into so much more. Or should I say, I grew into so much more. On my 10 month journey of training and preparing physically and mentally for the event I have learned so much. About fitness, nutrition, strength, and recovery, but most importantly what is possible when you are truly dedicated to achieving your goals. I want to inspire people to look beyond the limitations that they may think they have. Also I wanted to raise awareness and funds for an amazing cause, The Special Olympics SUP team from my home town.
How awesome! How much were you able to raise?
$1,550 :)
Tell us about the setting of the location in Sarasota where you paddled and what the conditions were like throughout the 24 hours.
I did the paddle at Nathan Benderson Park in Sarasota, Florida. It is a rowing venue made to be a zero condition lake, (no net wind or tidal effects, as per Guinness guidelines). The lap course that we set around the lake was almost 3 miles. It was quite windy that day and that was a huge challenge, but I focussed on the good parts of it, like the downwind leg.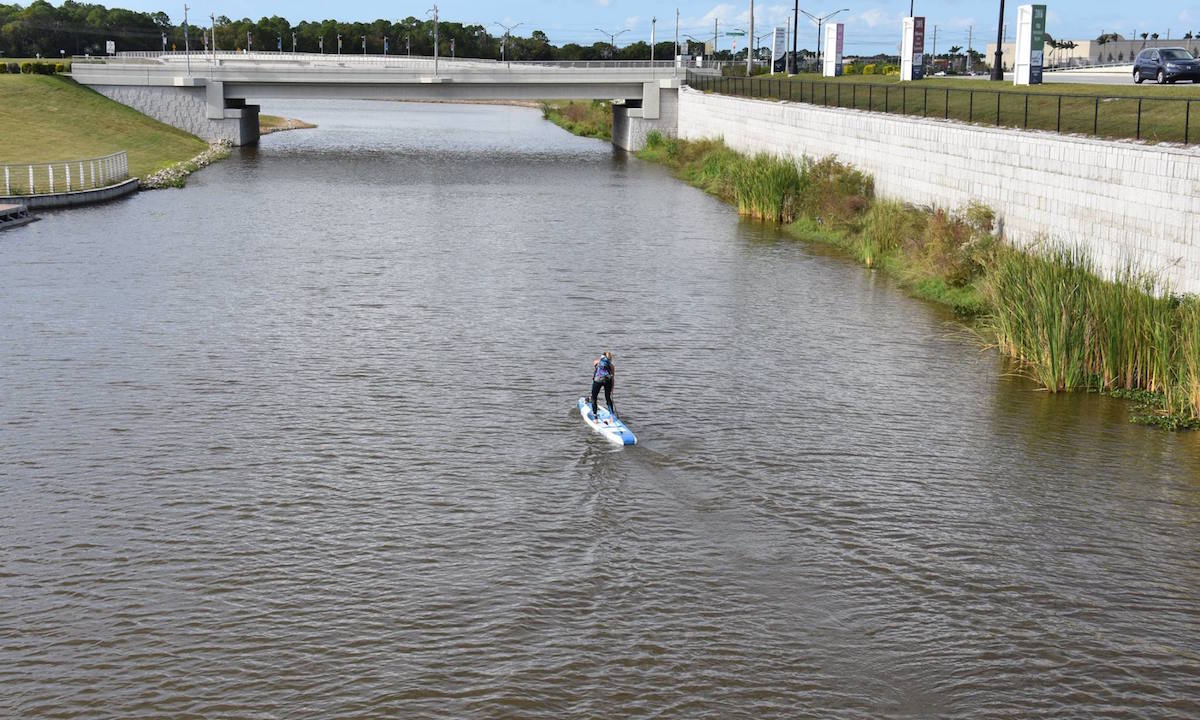 Seychelle mid-lap at Nathan Benderson Park. | Photo: David Rush
What were your preparations like leading up to the 24 hours? Did you have a training regimen?
I followed a program written by Mick Dibetta for 22 weeks leading up to the event for my paddle workouts. I also did some Crossfit workouts for strength training as well as Yoga and pilates almost daily for more strength, flexibility, and breath awareness. I made sure I gave myself enough time to recover between long races and workouts (SUP 11 City Tour, Chattajack). I saw my chiropractor and acupuncturist every week. I worked closely with a nutritionist Gene Lentz from Remedy's Nutrition for the entire 10 months to make sure my diet and supplements were on point. On top of that there was so much planning that goes into a 24 hour paddle to adhere to Guinness guidelines. I basically had to stop working and focus every aspect of my life on preparing for this event. It was a lot. It was difficult and still is. I am totally broke right now, but it is worth all the effort and every single moment of it.
Nutrition must have been a key element in allowing you to power through the 24 hours and 110 miles. What foods/supplements were you eating and how often would you eat to keep your energy levels up?
I use Tailwind Nutrition. I sipped that constantly through my hydration pack. Then after about 6 hours I stopped every 3-4 hours to nibble on a banana, Urawk bar, or slurp some Cliff organic energy sweet potatoes. Its like baby food, but it did the trick.
How much of a role would you say your mindset played into your ability to accomplish your goal?
I'd say 70% mental. My physical strength is what determined the speed I was able to paddle. My mental strength is what gave me the determination to keep that speed up and not quit.
In looking back at your time on the water, what moment about this experience stands out the most?
Honestly, my favorite part was right around midnight when I didn't have any other paddlers in the water to keep me company so I called the safety boat to stay close and my parents were on board and my Dad sang to me every song he could possibly think of for two entire laps. There was so much love throughout the entire event. All of the volunteers that came out to support me, family, friends, and some people I had never even met before. The energy was incredible. It really kept me going.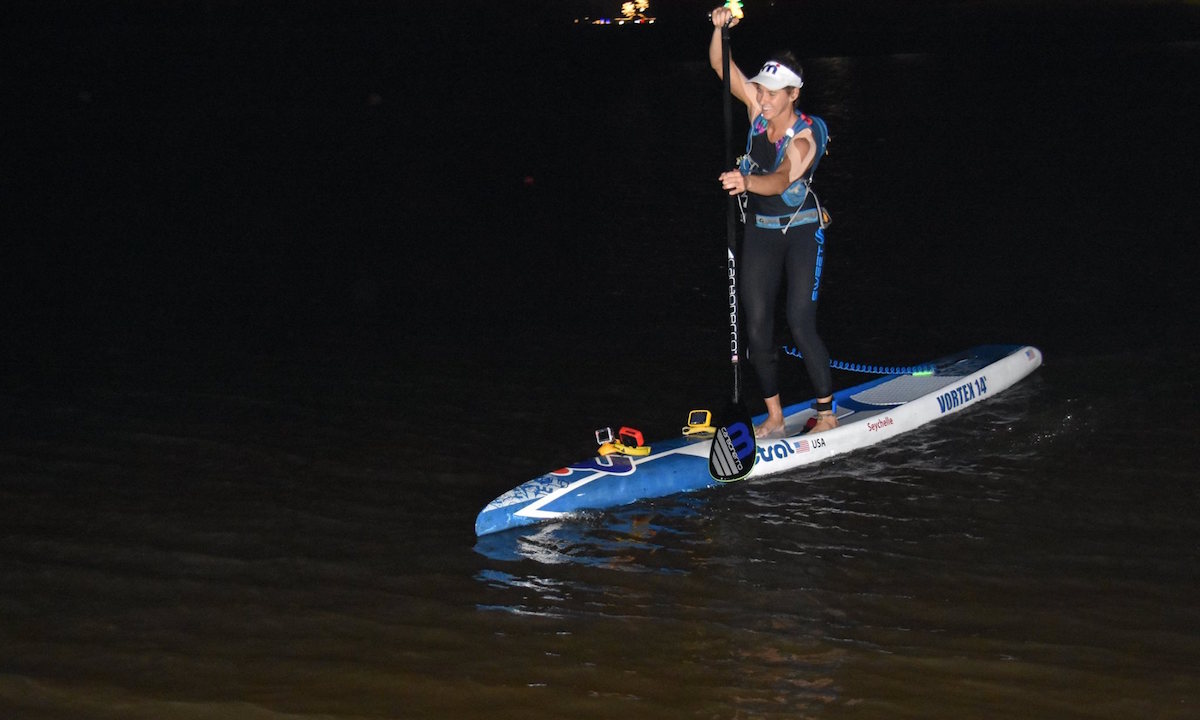 Late into the night Seychelle was still seen sporting a smile. | Photo: David Rush
What was the most difficult thing you faced?
Haha...Well last week I would have told you the wind. This week I think the most difficult thing has been trying to compile all the evidence to submit to Guinness for the final milage approval. I am having loads of frustrations. Paddling for 24 hours was the easiest part of this entire process. Really.
If someone attempts to break your record, can we expect you to come back and do it again to break the record yet again, or was this a one-time thing?
I'll do it again, but I hope it's not any time soon. ;)
Where do you want to go from here now that you are the record holder? Any future goals?
In 2016 I hope to focus more on speed and less on endurance. I plan to do more races this year and get some more traveling in. At the moment I have more smaller detailed goals like gain 5lbs of muscle and go surfing once a week. lol.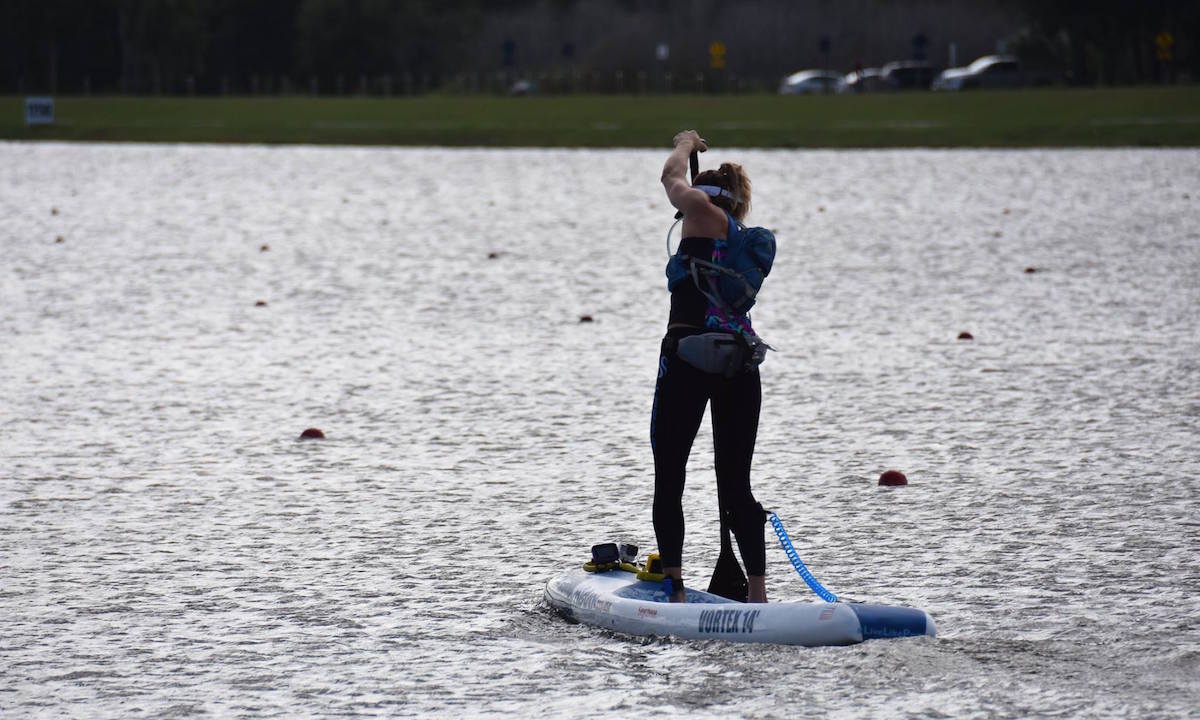 Seychelle looking stronger than ever during her record-breaking paddle. | Photo: David Rush
To learn more about Seychelle Hattingh click HERE.
© Copyrighted Supconnect Exclusive Content
Last modified onFriday, 18 December 2015 14:33

Allie Beucler is orginally from Kona, Big Island and, as an islander, her life has been in the water – ocean more precisely. She has been a sponsored competitive surfer, represented the NSSA College National Champions while surfing for San Diego State University, and today remains deeply connected to the watersports lifestyle. Brown is both a shortboarder and a paddleboarder, loving to take out her inflatable SUP for a ride. With a journalism degree from San Diego State University and her passion for the water life, she brings an excellent combination of skill and passion to Supconnect.
Email

This email address is being protected from spambots. You need JavaScript enabled to view it.