Fiona Wylde Reports on SUWT Turtle Bay Event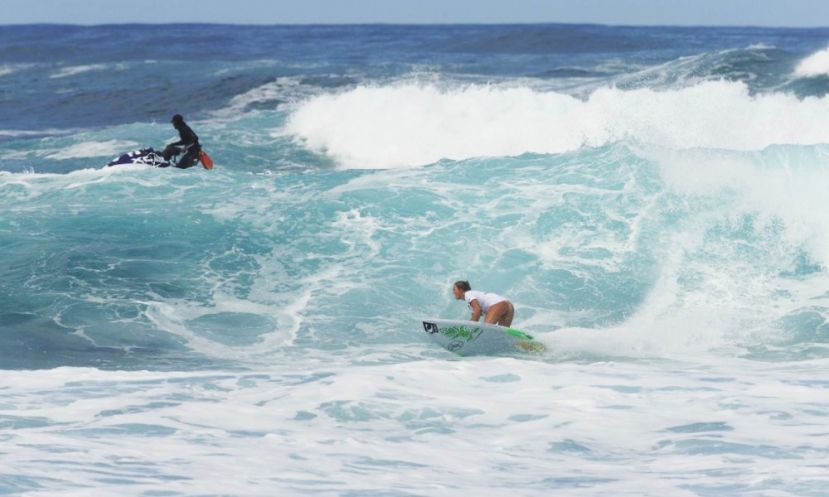 Fiona with a classic bottom turn gaining momentum for a big forehand hack. | Photo: Brian Bielman
SULTAN, Washington - 17 year old Waterwoman, Fiona Wylde, has had a pretty insane start to 2015 and just wrapped up her first big competition of the year with an awesome finish. Re-signing to be a part of the Werner Paddles family was exciting news but she then added on a new sponsor when she became part of Team Starboard for both SUP and wind sports. (Fiona is currently one of the top competitive wind surfers in the World and rips in kite gear too.) She got to testing her new boards and breaking in some new Small Fit paddles (which she helped R&D) just days before the first Stand Up World Tour event on Oahu. Her first year as a full time competitor on the tour, she wanted a solid start to the season and got it with a 7th place finish against some of the world's best women. She made this statement fresh off the water.
"I've just completed the first event of the 2015 Women's Stand Up World Tour at Turtle bay on the North Shore of Oahu. Unfortunately I did not make my goal of reaching the finals at this event. After having a great heat in the quarter finals and posting the highest heat total of the event, I wasn't able to back it up in the semis. Consistency and heat strategy are my biggest things that I am working on now along with improving the power of my surfing. Although I am bummed that I did not make my goal in terms of results, I am excited to learn from my mistakes and build on this opportunity. The next Stand Up World Tour event will take place the middle of April in Sao Paolo, Brazil. See you on the water or at least on the web!"
See the full results and wrap up of the event HERE. Follow Fiona in her adventures, racing, surfing, sailing, smiling, HERE. Fiona uses the Werner Paddles Nitro S, in Small Fit.
Congrats Fiona and try to get a short break.
Last modified onMonday, 18 January 2016 15:15

Hood River, Oregon - Fiona Wylde comes from the American capital of wind and kite surfing. So (no surprise!) she is into both of those sports. But more interestingly, she comes from one of the greatest kids SUP programs, hosted by Steve Gates, owner of Big Winds. Wylde's raw talent and discipline found a catalyst in that venue and group, catapulting her into the world stage and the top of the stand up paddle competitive scene. After graduation, she was diagnosed with Type 1 Diabetes. But that has not stopped her. Instead, Wylde is now becoming all the more of an inspiration for the millions of people who face that challenge while aiming to continue to live that outdoors athletic life.
Website: www.fionawylde.com/
Email

This email address is being protected from spambots. You need JavaScript enabled to view it.