Whitewater SUP Safety From a Wahine
Written by Nikki Gregg
This Whitewater Safety Guide is Supplementary to Dan Gavere's "How to Be Safe in the Rapids on SUP"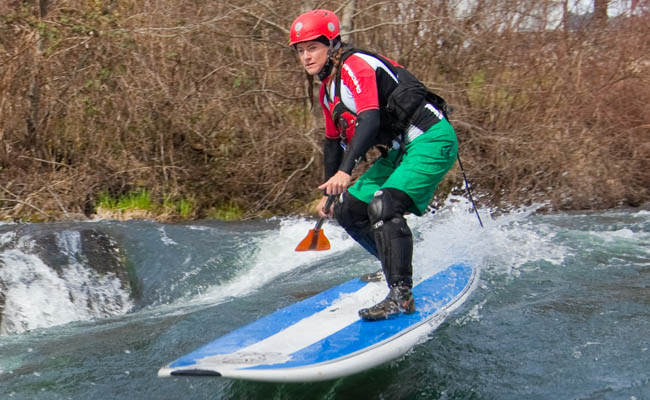 Nikki Gregg posing in all her whitewater sup gear charging Hood River sup-style. Photo: Rob Casey.
HOOD RIVER, Oregon – With all the dangers involved in whitewater SUP, some may wonder what pleasure is found in this unique discipline of the sport. River running can be deeply rewarding and is both physically and mentally challenging. If you've never experienced whitewater, allow me to paint a picture for you:
Thrilling & Threatening
---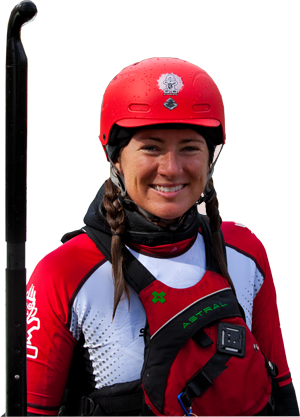 In the distance the river drops off.· The horizon line indicates where the river's gradient increases and a rapid forms.· As you draw near you can hear and almost feel the rumbling in the distance with intermittent spurts of water rising up from the river.· Your adrenaline begins to flow in anticipation of what's to come and you feel more alive than ever.


In addition to the heart-pumping challenge of making it through a rapid while in a standing position is a feeling of complete joy when paddling with your friends and taking in surroundings oftentimes not accessible by foot.· There are no aggressive or foul-mouthed surfers calling you a 'sweeper' or a 'kook' in the line up, only smiling faces and encouragement from people who are rooting for you to do your best.· There is a special bond made with friends and with the river that is indescribable and will last a lifetime.



As much fun and reward that whitewater SUP brings, I am acutely aware of the potential hazards and situations in which things can wrong, and they can go wrong quickly. Anyone drawn to a SUP river adventure must be aware of the following.
---

1. Learn The River & Its Waters

a. Learn River Features.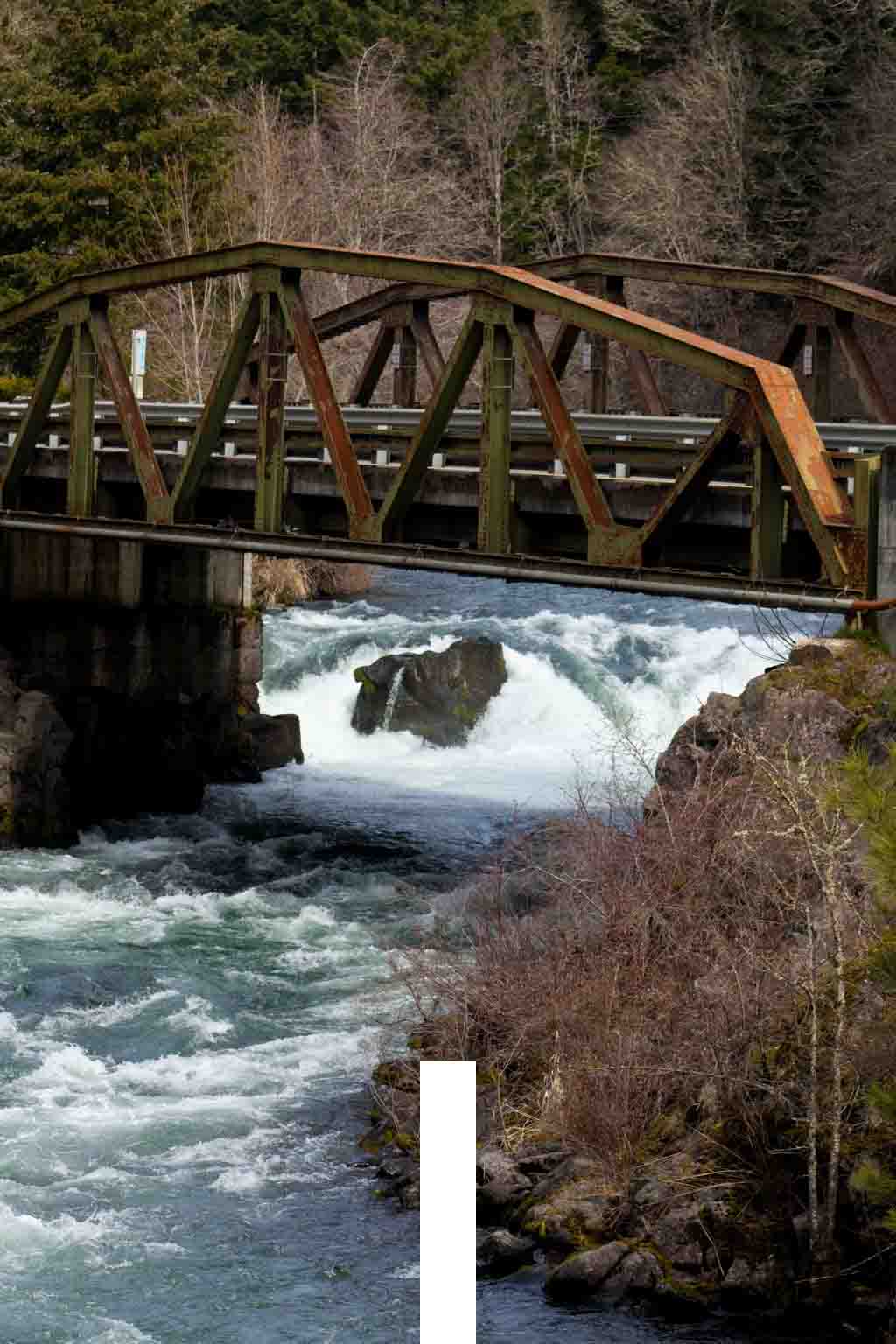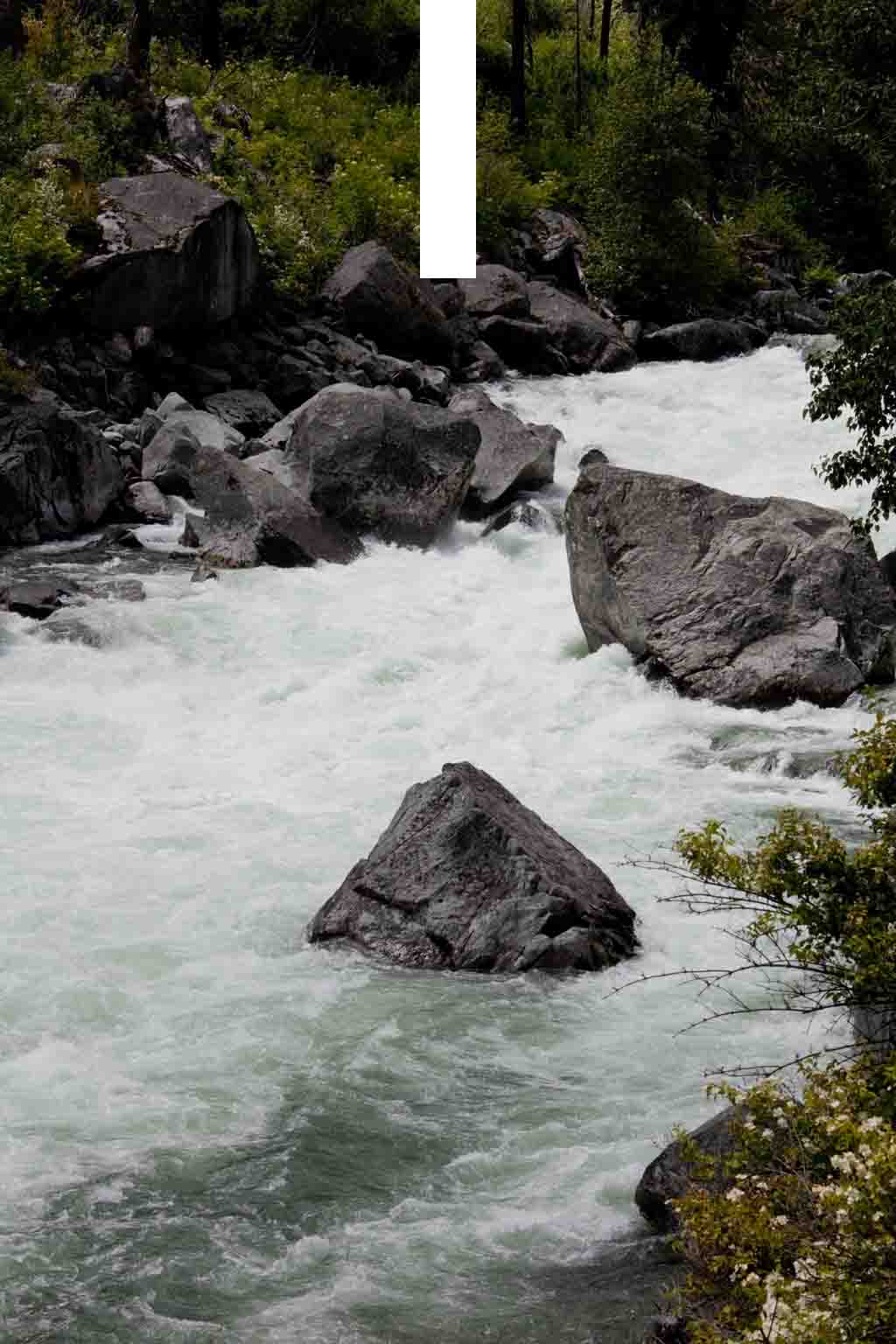 Some basic river features include standing waves, holes, eddies, strainers, pourovers, undercut rocks, ledges, wave trains, drops, eddy lines, etc. There are many books and online resources available to educate yourself. I recommend taking a lesson firsthand from an experienced river paddler.

b. It's Not the Ocean.
Even big wave surfers and professional stand up paddlers should be cautious when planning to run the river. In my opinion you can take almost everything you know about the ocean and forget it because many times the river dynamics work in the opposite manner than the ocean.

c. Eddies Are Your Friends
Learn how to catch an eddy. Eddies are areas on a river where the water moves in a different direction or speed than the current. They are formed by and found behind rocks, logs, bridge pilings, on the side of the river or inside of river bends. An eddy is a place of refuge, a place to catch your breath, wait for the rest of the group to catch up, or to park your board to scout an upcoming rapid. You should have the skill and board control to catch an eddy, even at a moment's notice in case of an emergency. Practice on gentle sections of river before getting into more technical rapids. It is critical to learn how to catch an eddy and to learn other basic river running and maneuvering skills.

2. Be Confident. Be Aggressive.
a. Be Proactive.
Do NOT float down the rapid and hope for the best. You must paddle aggressively, be proactive, know your line and get your speed up. Keep paddling and keep your paddle in the water all the way down the rapid for more stability. Get low and if in doubt, get down and paddle on your knees.
b. Know When to Step Out.
If you are not confident that you can run the rapid safely that day then walk around it. It's not worth getting hurt and nobody is going to judge you. There are times I've opted out running a big drop because the reward does not outweigh the consequence. It's all about calculated risk and it will be there for another day.

c. Understand the Fear Factor
Control your fear to make smart decisions. When you are 'white-knuckled' and terrified you will most likely panic and not make logical choices in critical situations where split second decisions need to be made. One of the exciting parts of whitewater is learning to harness and control your fear, but if you can't think straight you will end up in trouble. If it's not fun, don't do it.
3. Know How To Communicate with Hands

There are basic signals used on the river to communicate with each other either from the top to bottom of the rapid or across river. You often cannot hear what others are saying due to the noise of the rapid. Hand signals are the preferred method of communication on the river.
Examples are:
Stop
Arms outstretched horizontally.

All Clear

Arm stretched overhead in the direction the paddler should proceed, whether it's toward river left, river right or down the middle of the rapid.
I'm Okay
Repeatedly patting the top of your head with one hand.
Need Help
Waving your paddle and blowing a whistle.
4. It's Not a Fashion Show
In general, you're not going to look cool or have amazing style on the river. Knee pads, shin pads, helmet, PFD, wetsuit and river booties may not be making the Joan Rivers best dressed list, but even if someone hands you the dorkiest barney brain bucket you've ever seen, put it on. No one is going to judge you harshly for being smart and safe.


5. Be Ready to Swim & Take Hits
You WILL fall and you will get some bumps and bruises. There will be awkward dismounts off your board and sometimes all your paddling technique will go out the window. Keep at it, have fun and have the ability to laugh at yourself out there! Be safe!
About Nikki Gregg

Nikki Gregg is a standup paddle fitness expert and owner of NRG Lifestyle Fitness Training. Proud of years of experience as a personal trainer and now being one of the world's greatest ambassadors for women sup, she offers keen insights on the fitness aspect of standup paddling and is one of the biggest proponents for taking fitness classes out of the "gym" and onto standup paddle boards, where the dynamics of the water and the beauty of the environment make it for a much more effective and motivating body trimming experience. For more from Nikki Gregg, check NikkiGregg.com.
Copyrighted and Exclusive My Local Lineup Content.
Last modified onThursday, 05 February 2015 17:26

Hood River, Oregon - Nikki Gregg is one of the pioneers in growing the sport of Stand Up Paddling and is an accomplished whitewater paddler and all around SUP athlete. Nikki has her own fitness company, NRG Fitness, where she does everything from fitness dvds, to lifestyle coaching and training clients.
Website: nikkigregg.com/
Email

This email address is being protected from spambots. You need JavaScript enabled to view it.