Top Things to Know Before Trying Tandem SUP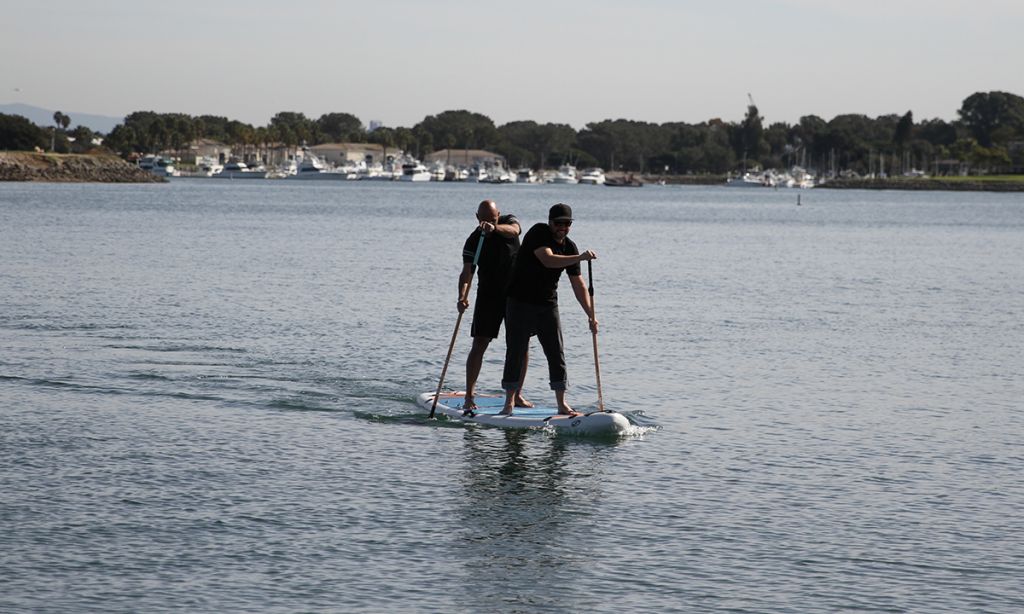 Photo © Copyright Supconnect
Paddleboarding is a fun and healthful activity that anyone can enjoy. The sport combines a low-impact workout, a nature trip, and a social event, all in one. Tandem paddleboards allow two or more people to ride on one paddleboard. Tandem SUP is for couples looking for time together, children who cannot use a solo paddleboard yet, or friends who want to dip their toes in the sport together! Here are 8 things to know before trying out tandem SUP!
1. As always, safety first.
Safety first during paddleboarding is vital to ensure that everyone is having a great time. Both riders should follow basic safety rules and regulations such as wearing a properly fitted personal flotation device. Wear a leash to make sure your paddleboard does not drift away. Since you are just starting, an ankle leash should suffice for calm waters. Waist-belt leashes are for flowing/rougher waters.
Featuring the Tandem SUP from Body Glove. | Photo courtesy: Body Glove.
2. Know the most suitable type of paddleboard based on the material of construction.
It is good to know the different kinds of paddleboards available if you plan on buying one. Epoxy paddleboards are the most traditional type. These paddleboards are rigid and great for surfing, gliding, and tracking. However, they are harder to store and transport. Tandem paddleboards are larger than regular paddleboards, so bringing an epoxy tandem paddleboard is even harder!
Inflatable tandem SUPs are the newer model that can be folded up and deflated when not in use. Many of them are built with quality materials that allow for the board to be quite durable. They're even safe for your dogs to climb on with their claws! Though the performance of epoxy boards is slightly better than inflatable ones, the benefits of the latter outweigh the cons, especially for tandem when more often than not you're just looking for a good time. The softer frame and easy storage and transportation make inflatable boards more comfortable and convenient for casual paddlers and beginners.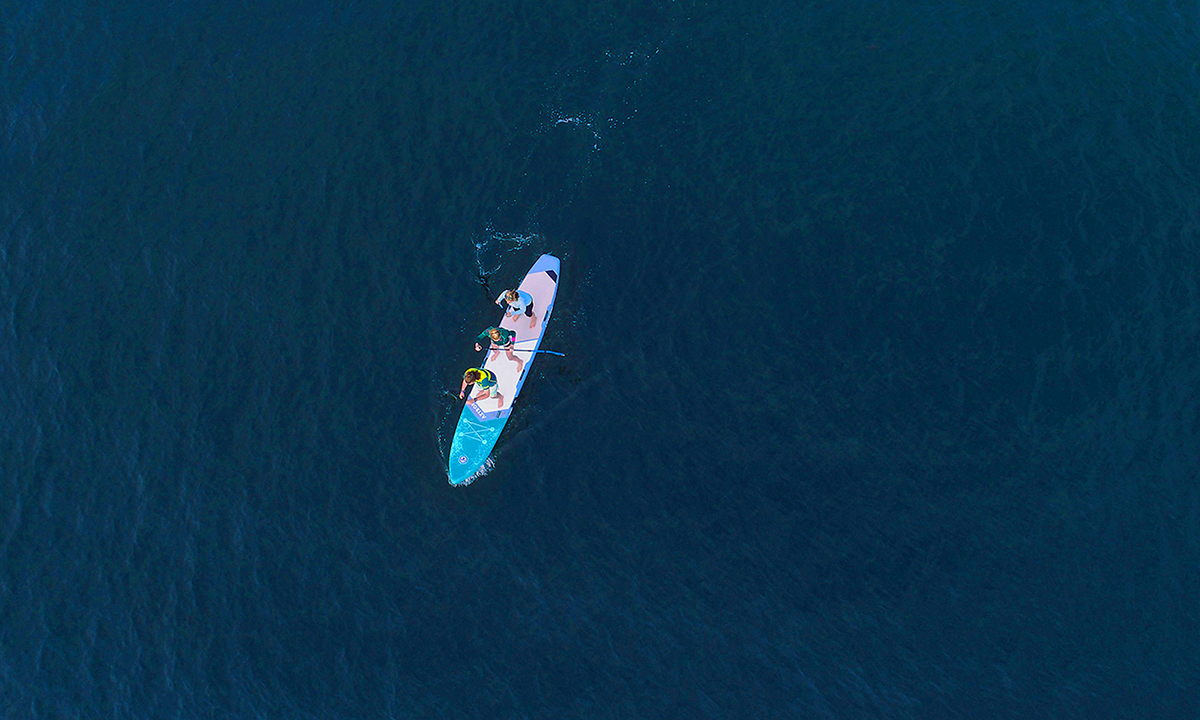 Featuring Aztron's Galaxy SUP. | Photo courtesy: Aztron
3. Tandem paddleboards are big!
When shopping for a paddleboard, you might be surprised by how large multi-person paddleboards can get. The larger size makes it harder to maneuver, but it also comes with upsides. 15-foot paddleboards can handle large weights and are hard to flip. Just remember that larger inflatable paddleboards take longer to inflate. Keep this in mind if you're on a schedule or if you're deciding whose turn it is to inflate the paddleboard! There are also plenty of electric powered pumps that help get the job done.
4. Proper posture is essential.
If you want to be able to balance on a paddleboard, proper form is essential. The first thing to know is where the center of balance on your paddleboard is. Tandem kayaks balance two people on either side, which also applies to paddleboarding. Do not cram yourselves too close to the center. In addition, keep your knees flexed to brace for any swell or roll that may rock your paddleboard. Try to look forward! While it feels more natural to look down to watch your board as you paddle, looking forward will help you balance.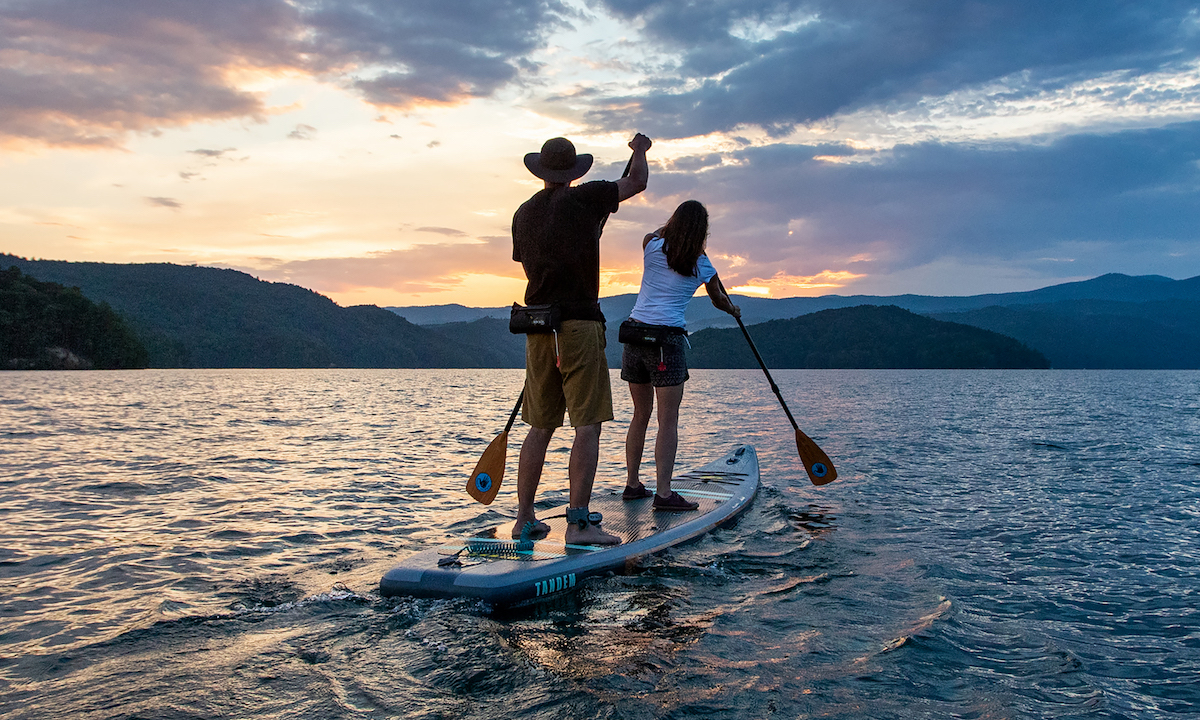 Featuring the Tandem SUP from Body Glove. | Photo courtesy: Body Glove.
5. Start slow and manageable.
A calm body of water is perfect for a first tandem paddleboarding experience. Do not worry about speed or time. Take your time to get used to the water with your partner(s)! Learning to be comfortable in the water, practicing basic etiquette, and being safe are your top priorities as beginners to the variation of the sport. Worry less and be more self-conscious for a better experience. It always feels better when you learn and make mistakes with somebody!
Featuring Aqua Marina's SuperTrip SUP. | Photo courtesy: Aqua Marina
6. Tandem paddleboarding is about teamwork.
When you are tandem paddleboarding, one thing that becomes obvious very quickly is the importance of teamwork. Moving forward, keeping balance, and maneuvering require both people on board to work together and execute well-coordinated paddling. The person paddling in front is the one that sets the rhythm/pace that the one at the back can follow.
The person at the back's job is to stay in sync with the strokes in front. The back also has the job of correcting any wrong strokes and steering the paddleboard like a rudder. It is also good to avoid zigzagging. Timed, in-sync paddles should keep you moving in a straight line.
7. Tandem paddleboards are versatile.
Tandem SUP boards are wider and longer than solo paddleboards, helping them balance two people and support their weight. That also means you can bring things you couldn't bring on a normal-sized paddleboard! Larger paddleboards are the best stand-up paddleboards for people with gear and equipment to carry when out on the water.
Tandem paddleboards can accommodate chairs and fishing gear if you plan on taking fishing trips on the side. It's also wide enough to bring children with you. The best place for kids is either in front or in the center where you can see them. With the extra space, two-person paddleboards are perfect for a relaxing time floating on the water! Just make sure to give your kids leashes and PFDs.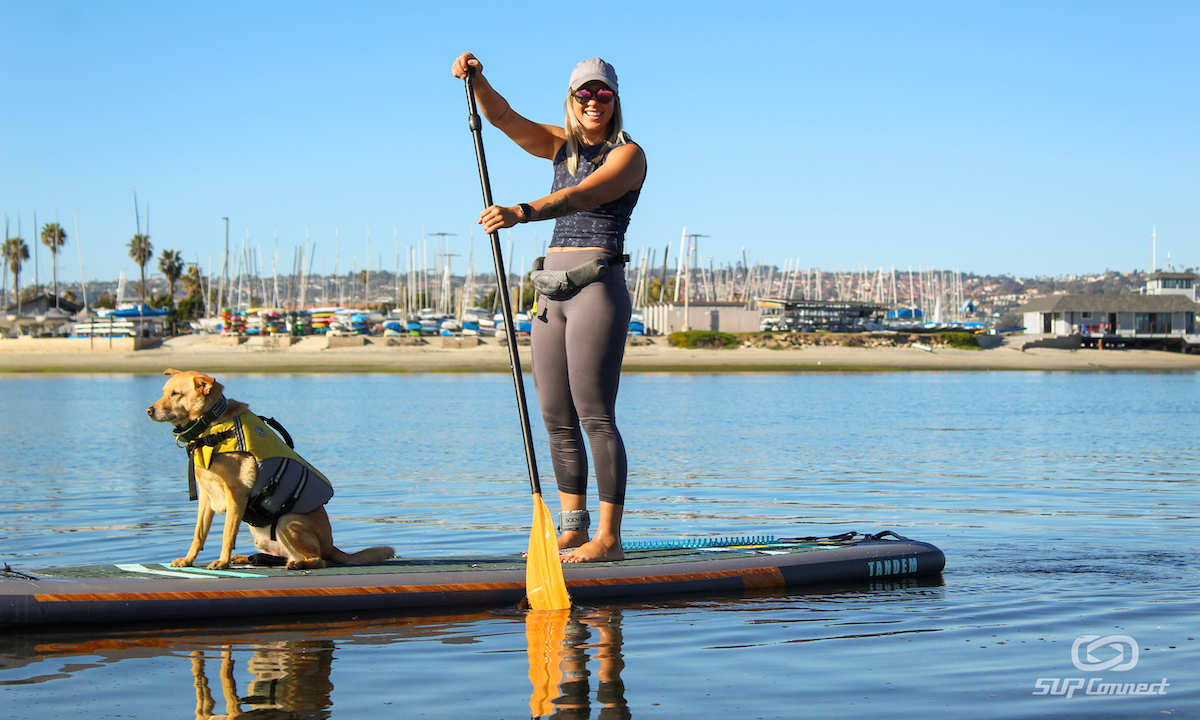 Featuring Body Glove's Tandem SUP. | Photo © Supconnect
8. Be more careful with the wind.
Strong winds can drag your paddleboard in a disorderly direction, making it harder for you to balance and paddle. Wind speeds of 1 to 5 mph should be manageable. You'll start to feel resistance at around 5 to 10 mph. You can expect to have a hard time with wind speeds greater than 10 mph. An additional passenger will make maneuvering at strong winds more challenging, most especially in unexpected situations.
Paddleboarding can be likened to kayaking with a sail. When you're standing on a paddleboard, your body functions as a sail. Standing up increases the force of the wind against your body. With your body raised high, the wind will use it to push you wherever it's headed! If you think the wind starts to blow hard, sit down to lessen the surface area against the wind, then start paddling.
Tandem paddleboarding can be an exciting and engaging experience for family and friends! Learning the ins and outs of SUP with a loved one is a great bonding activity. Remember these tips the next time you think of taking SUP to the next level.
For more SUP tips, click HERE.
© Copyrighted Exclusive SupConnect.com Content.
Last modified onThursday, 26 May 2022 08:52
Julien is a travel blogger and an extreme sports enthusiast. His great experiences with the outdoors drove him to launch a one-stop shop for adventure travel, XtremeSport4u. As an adventure junkie, he never stops trying new things that would get his blood pumping, including mountaineering, watersports, boardsports, and air sports.
Website: XtremeSport4U.com
Email

This email address is being protected from spambots. You need JavaScript enabled to view it.