Holiday SUP Gift and Gear Guide 2017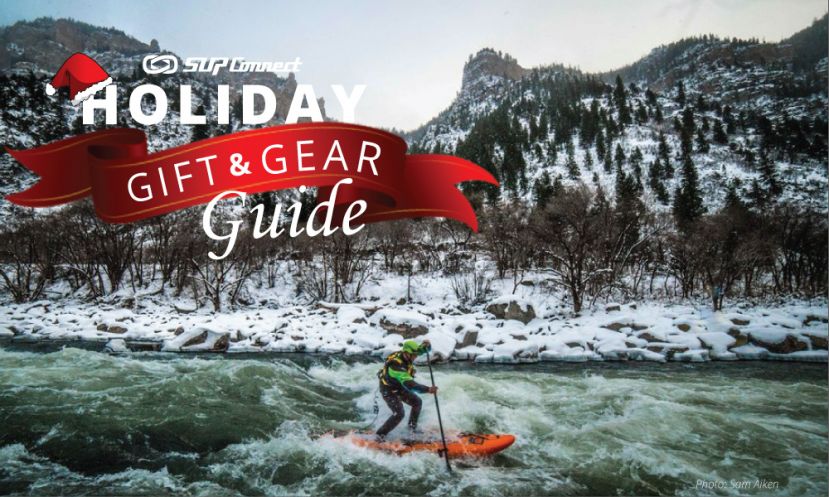 SAN DIEGO, California - Can you believe 2017 is coming to an end?! With the gift-giving holidays right around the corner, it's time to think about getting something awesome for the SUP'er in your life so here at Supconnect, we've put together a gift/gear guide of the newest and coolest items to have recently hit the shelves and racks on the SUP market. If you're looking for something to get for your lover, mother, brother, sister, friend, or anyone for that matter this holiday season, this guide will be perfect for the stand up paddler in your life. And who's to say you can't get a little something for yourself, 'Tis the season after all! Treat yourself to something you've always wanted! We've put together a list of SUP gear, SUP accessories, SUP boards and all the must have's for everyone from a beginner to the advanced SUP'er, so there's sure to be something in this guide for everyone!
Take a look at the 2017 Holiday SUP Gear Guide below:
Paddles & Accessories
Werner Zen 85

Before even getting to the water you will feel the balance and see the beauty of the Zen 85. Our Premium fiberglass process blends perfection in craftsmanship and materials for a stiff, light, elegant looking blade. Add our HD Graphics, and now you have a true work of art. Our carbon shaft helps keep the overall weight down while adding a perfect overall flex to the paddle.

Fusion STEREOACTIVE™

The STEREOACTIVE is the world's first portable floating watersports stereo, designed for the challenge of life on the water. The combination of world-class industrial design, high quality music reproduction, intelligent functionality and an extensive feature set has resulted in a rugged portable stereo that is prepared for anything. Sources include Bluetooth, radio tuner, USB and iPhone & Android audio playback and charging. Let STEREOACTIVE provide the soundtrack to your next SUP Adventure.

Slingshot Hoverglide Surf/SUP Foil

The Hover Glide FSurf/SUP Foil is designed to deliver surfers an advanced wave riding experience. The aluminum design is affordable but more importantly, it increases stability and eliminates the "twitchy" behavior that full-carbon foils typically exhibit. With the FSurf/SUP Foil, you can ride rolling swell on the outside, catch whitewater on the inside, or when you're ready, paddle into breaking waves like you would with a regular surf or SUP board.

LitraTorch

LitraTorch™ is the worlds most versatile adventure photo and video light. At 1.5"x1.5" in size, the Torch provides 800 lumen of continuous, high quality light. It's waterproof up to 30 feet, incredibly durable and can illuminate your paddles at night! The light is compatible with almost all GoPro accessory mounts and fits perfectly into the GoPro Session cage. With the Litra Torch you can paddle in the dark and feel confident!

Mizu V8 Insulated Bottle

The Mizu V8 is a 26oz insulated stainless steel bottle that is perfect for longer days when you need to step up your hydration. We like the V8 on daylong winter backcountry missions or surf sessions. Best part? The V8 comes in a ton of different colors and fits right in that holiday stocking!

Blasome Wetsuit Dryer

How many times you slipped into a cold wet wetsuit on a gray winter morning and regretted the day you started with SUP? Durable, portable and silent, Blawesome is able to dry a 3mm wetsuit in just 20 minutes. It carries a powerful fan inside which blows 290 m3/h in 360º while its 1000w resistance gently warms the air. The airflow temperature is controlled to protect your equipment. The result: your wetsuit will be perfectly dry in the morning and for the evening dip too, even in freezing winter days!
Boards - Inflatables
Surftech Alta

The Air-Travel Alta introduces two unique graphics, with women specific lengths and shapes to the Surftech Air-Travel lineup. These models provide any type of paddler with the best option for their recreational and touring adventures. The Surftech inflatable boards combine progressive outlines, strategically placed handles and fin boxes, an integrated DeckPad, high pressure valve, and the most advanced drop stitch technology to create one of the most lightweight inflatable compact travel partners.

Pelican Antigua

Pump and go with the NEW Pelican ANTIGUA 106 inflatable stand up paddle board (SUP). This 10.5 ft ultra-light SUP (27 lb) has a remarkable color arrangement of bright orange, piercing red and concentrated baby blue. The ANTIGUA 106 features an anti-slip cushioned deck pad for comfort and secure footing, an elastic bungee cord for storage, a leash ring, an air valve, a removable 10" fin and carrying handles. This inflatable SUP comes equipped with a carry bag, pump and leash.

Starboard Tikhine Sun

The perfect gift for the fashionable paddler in your life! The NEW Starboard Tikhine line features custom artwork from Starboard Team Rider Sonni Honscheid. The Starboard Inflatable fits great under a holiday tree, and you can give twice when you purchase a Starboard – for each board sold, Starboard plants a Mangrove Tree. Buy a board, plant a tree.

Aqua Marina Beast

Featuring STDS (SuperTough Dual Stringer) technology, BEAST is a versatile all-around board with extraordinary rigid yet lighter with superior stroke power, control and balance. It is an all-condition SUP that delivers ultimate fun.
Boards - Hard Tops
Pelican Moorea

The NEW Pelican MOOREA 106 is a striking SUP combining bright lime and earthy brown colors, with wood themed accents. This lightweight (30 lb) SUP is great for serious paddle boarders and for light surf. Featuring an anti-slip cushioned deck pad, it provides secure footing and comfort. So be bold and hit the water with your MOOREA 106 to create memorable stories worth sharing.

Pelican Flow 106

Newly redesigned for 2017, the Flow 106 is an easy-to-paddle flat water and light surf SUP with superior stability. This board's damage-resistant Ram-X™ construction and five-inch rubber fin offer exceptional durability; no need to worry about encountering rocks and other hazards. The Flow is the perfect board for touring and exploring local waterways.

Bark Aleka

The Aleka Tuflite V-Tech is the perfect Stand Up Paddlboard for any paddler that seeks versatility. Joe BARK shaped the Aleka to be stable enough for flat-water cruising, but it will also perform well in small to medium surf. The prAna collaboration adds an amazing aesthetic with patterns matching their 2018 Swim Line. The board has been verified Level One by Sustainable Surf's ECOBOARD Project for its use of Bio Based Resin and BLOOM (20% algae biomass based) foam. This SUP is specifically designed for a paddler interested in sport and fitness.

Surftech Lido

The Lido SUP, constructed in UTILITY ARMOR, has a larger volume and full rails allowing paddlers to float with ease in fat-water and small chop. The EPS foam, high-quality fiberglass, epoxy resin, reinforced rails, and molded Armor shell makes the Lido extremely durable for SUP rental facilities, beginners and families. The Lido also features a full DeckPad with cutouts, which reduces weight, deck tie downs, an integrated rental/ ledge handle for more comfortable carrying plus security, and a extra large security/leash plug providing two points to lock this board.

Boardworks Navigator

Designed for day tripping, fun expeditions, for middle distance paddling and open water conditions. The increased nose volume makes for a more stable platform, while maintaining a great hydrodynamic glide. Its versatile nature caters to all abilities has multiple secure points for the gear that you need for a successful, fun day on the water. The Bombshell construction allows the board to take a little more abuse than most.

Boardworks Solr

This board is great for all around water activities, while the shape allows for all paddling abilities, it's great on both the ocean and flat water. The convenient package makes it easy to get on the water and fun for the whole family.

Boardworks Riptide

A great do-it all standup paddle board for the whole family that is versatile & built to take a beating. The board features a performance hull design, and ultra comfortable honey comb deck pad and Boardworks' strongest construction available. The board is a stable and comfortable platform to have fun on the water!

SIC Maui Bullet V2

The Bullet Series has become an icon not only for its open water prowess and downwind superiority; these boards have gained a huge following from paddlers who love cruising, touring, fitness and even mixing in a bit of surf. Stable, fun, fast and incredibly versatile the Bullet can literally do it all. The Bullet has won numerous awards for its overall performance and versatile fun. While the Bullet series is often imitated it has never been successfully duplicated.

SIC Maui RS

The SIC RS Series is proven to be among the fastest all-water race boards in the world. The RS boards have been put to the test in technical, long distance, sprint, and downwind races in order to validate that the RS is one of the fastest, most well rounded, all water race boards out there. The RS will surely take you to the top of your game and the front of the pack.

SIC Maui Tao Srf

The SIC TAO Surf Series is inspired by traditional surf designs. The full nose, gentle rocker and straighter outline help drop in to waves, carry speed down the line and carve turns with ease. The wider width makes the board stable in a variety of conditions, making for nice cruising boards that track and glide well. The boards can run multiple fin configurations and the volume is designed to accommodate the whole family, small to large.

BOTE Rover

Rover evolved from the most innovative paddle boards on the planet, and it was designed as a paddle board first. It's channeled, Deep-V nose design quietly slices through the water and paddles efficiently through a variety of water conditions. It's a stand up paddle board. It's a micro skiff. It's everything in between. No matter what you call it, one thing's for sure, it's a BOTE.

Naish Mana GTW


The Mana GTW Series features an exaggerated wave design for riders who want
both stability and optimum performance in medium to small size surf. It has an exaggerated tail rocker, V bottom and soft rails to make turning on a wave
incredibly easy. This shape is perfect for lighter riders in small surf and bigger riders wanting more stability in a shorter wave board.

Pau Hana Endurance Touring


The Pau Hana Endurance is a rugged touring board built for off the grid adventures. The board is protected with Ricochet and features thirty nine strategically placed seamount attachment points. The deck of the board doubles as a sleeping platform for your bivy sack. Named after Ernest Shackleton's famous trans-antarctic attempt at the turn of the century, this board is dedicated to the hardy characters who choose create their own adventure.

Slingshot Air Strike

The Air Strike combines the amazing efficiencies of foiling with the wide-range performance of stand up paddling for an experience that will completely redefine your level of fun in the waves. The Air Strike SUP foil surfer is the big brother to our Skywalker surf foil board. It features Slingshot's signature EARLY TAKE-OFF tail, which catches more energy from the waves and whitewater to propel you to speed and on-foil faster.
Make sure to head to your local retailer to find all these items and more during this Winter season!
Last modified onFriday, 20 March 2020 16:59

Submit your news, events, and all SUP info, so we can keep promoting and driving the great lifestyle of stand up paddling, building its community, and introducing people to healthier living.
Website: supconnect.com