Molokai 2 Oahu 2017: Who to Watch
Kai Lenny on his way to breaking a World Record in 2016. | Photo: 808photo.me
MOLOKAI, Hawaii - As the 21st annual Molokai 2 Oahu Paddleboard World Championships (M2O) are set to take place this weekend there are a number of talented athletes to be on the lookout for as possible champions. See our list of the top contenders for the 2017 title.
Men
Connor Baxter
This year Connor Baxter (Starboard) is out for blood. After Kai Lenny broke his world record in the 2016 race you know Connor is looking for redemption and hungry to reclaim the World Record and another title to his name. Connor is one of the most winningest paddlers at the M2O and likely has the most downwind race wins of any paddler.
James Casey
Australia's James Casey has been a top finisher at the M2O but has never been able to secure the big 'W'. James is hungry and eager to step up his game in the 2017 race and has been training hard to make a win here in Hawaii a reality. James has the talent and determination to make his dream a reality so watch him closely this year as he's sure to be a contender for the win.
Connor Baxter (left) and James Casey (right) during the 2016 M2O. | Photos: 808photo.me
Travis Grant
The M2O is a race where Travis Grant (NSP) shines. If he isn't the top finisher here you can expect Trav to still make the podium as he is one of the most consistent paddlers, always finding himself as a top finisher. Trav has one this race twice now and is ready to take home his third win. And while he will have a field of hungry paddlers around him looking to take their first M2O title you know the experience and talent that Travis has is hard to beat.
Kai Lenny
After his dominating performance in last year's race Kai Lenny (Naish) now owns championship wins and records in both the Unlimited and Stock categories at the M2O. Because of this all eyes will surely be on Kai to see if he can have a repeat performance and stay on top. There's a high possibility of this happening too as Kai has been training and doing channel crossings all throughout the year across the Hawaiian Islands.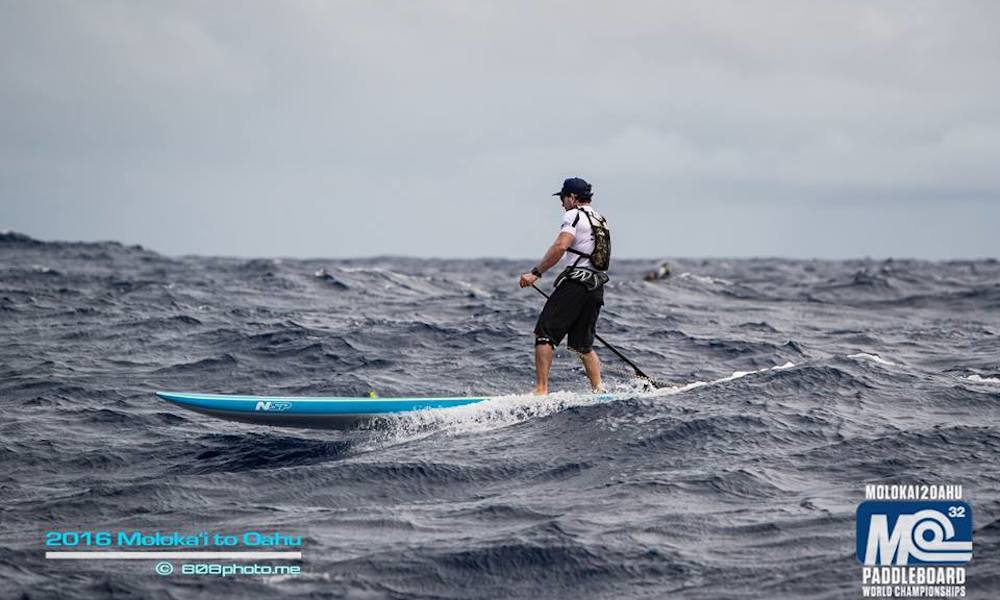 Travis Grant riding bumps. | Photo: 808photo.me
Titouan Puyo
As a somewhat new face to the M2O race Titouan Puyo is no stranger to downwind and long distance paddling. In fact, he's quite the beast in these conditions. Titouan does extremely well in tough conditions so if the winds aren't ideal you know he's going to have the strength and stamina to power through til the end. No matter the conditions on hand on race day you know Titouan is determined to prove himself in this event and finish on top.
Women
Annabel Anderson
In the past Annabel Anderson has competed in the Stock category and dominated. She's such a powerhouse that even in the Stock category she was able to finish second overall in 2015. This year, Annabel is transitioning over to the Unlimited category and is no doubt looking to destroy. There's a high possibility of her coming on top but she will have to fight for it as the other ladies are just as hungry as she is to take the title away from 3x winner Sonni Honscheid.
Annabel Anderson. | Photo: 808photo.me
Terrene Black
Former M2O champ Terrene Black will make her return to the M2O this year and will no doubt be looking to reclaim her title. Terrene has been on a tear this year on the APP World Tour and currently sits on top of the rankings. She's a double threat, excelling in both racing and surfing, which is key to performing well in a downwind race. Terrene will no doubt be a force to be reckoned with in 2017.
Sonni Honscheid
In 2017, Germany's Sonni Honscheid will be looking to obtain her 4th consecutive M2O title. Sonni has dominated the M2O for the past three years and has been untouchable in the Channel. She's got the experience and know-how to take hold of the conditions she's dealt and will be a strong force in the race. She will however have a target on her back as there are a number of determined ladies ready and willing to dethrone the 3x M2O champ.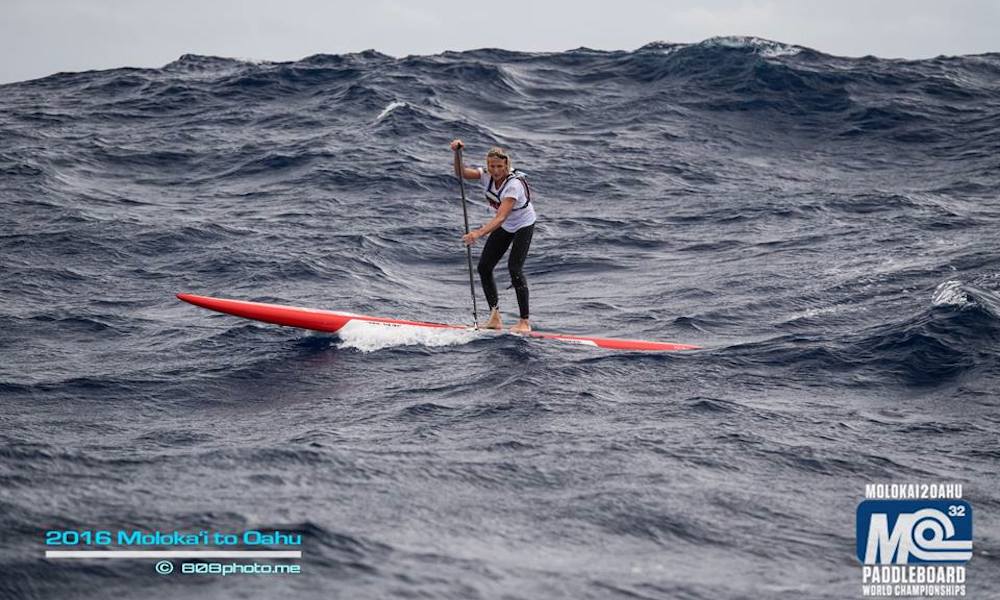 Sonni Honscheid will be looking to nab her 4th consecutive M2O title in 2017. | Photo: 808photo.me
Andrea Moller
Coming off an injury that derailed pretty much her entire year last year, Andrea Moller (SIC Maui) is ready to return to the M2O. Andrea is a 2x M2O champ and is one of the best downwind paddlers in the world. The only thing standing in her way is 32-miles of open ocean and treacherous conditions.
Penelope Strickland
New Zealand's Penelope Strickland will be competing in the Stock category and is the favorite to win in her category. She's already won in 2014 so she has the experience and knows just what it takes to win here at the Molokai 2 Oahu World Paddleboard Championships.
The M20 crosses the infamous 26-mile Ka'iwi Channel, which translates to "Channel of Bones" and it certainly lives up to that name. The Ka'iwi Channel is one of the most dangerous bodies of water in the world having howling winds and open ocean swells making their way through the narrow channel between the islands of Molokai and Oahu. With the combination of these dangerous winds and waves the Ka'iwi Channel isn't a place for the ill-prepared whether it be physical or mental. This infamous channel has taken the lives of many and is to be crossed with extreme caution. That being said, the M2O is largely a downwind race and starts at Kaluakoi Beach on Molokai and finishes at Maunalua Bay on the island of Oahu.
Best of luck to all the competitors crossing the channel this weekend!
For more news on the M2O click HERE.
Last modified onWednesday, 26 July 2017 11:34

Submit your news, events, and all SUP info, so we can keep promoting and driving the great lifestyle of stand up paddling, building its community, and introducing people to healthier living.
Website: supconnect.com
Email

This email address is being protected from spambots. You need JavaScript enabled to view it.