Lake Mary Jane Paddle Fest - Ride the Wave!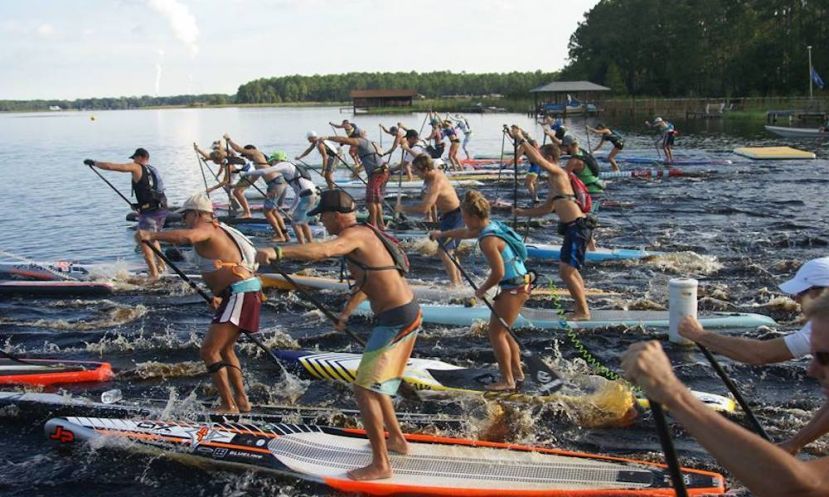 Photo Courtesy: Jessica Cichra
"Watching people accomplish their goals. Seeing hugs at the finish line and the spark of someone racing for the first time. Hearing laughter during the relays and clapping hands at the awards ceremony. Counting up the money we've raised for charity with pride."
If you like the idea of being part of that scene, you're in luck. The 6th Annual Lake Mary Jane Paddle Fest is scheduled to blast off in Orlando, Florida on Saturday, September 23. The largest flat water SUP race in Central Florida, LMJ has fun and challenging courses for all paddle craft, ages and experience levels, from a sprint to a six mile money race, plus a kid's course, first-timers race, parent/grom division and the infamous "Tug Life" relay.
The event will include food trucks, lawn games, a floating island, live DJ and raffle. You can attend a pre-event dinner party, enjoy live music and a movie screening, or try Stand Up Paddle and SUP yoga classes. You can even camp on the Lake Mary Jane shoreline at Moss Park in an RV or tent.
Photo Courtesy: Jessica Cichra
Proceeds benefit Above the Wake, a non-profit whose mission is to create positive experiences on the water for children with Autism or cognitive delays, break down stigmas, and unleash potential for greatness though individual teachable moments. LMJ organizer Jessica Cichra, owner of Wave of Wellness (www.WaveOfWellness.net), says she developed a love for SUP racing because she "liked the competition, the physical feeling, but mostly the camaraderie and community connection. I wanted to share that through my own company, and so the Lake Mary Jane Paddle Race was born."
The Wave of Wellness philosophy is that "achieving wellness is like dropping into a wave – get present in the mind, strong in the body, and free in the spirit." Their customized, onsite wellness solutions help you achieve and maintain a healthy lifestyle through outdoor activity, personal growth, inner peace and community. That approach translates perfectly to the Paddle Fest goal of "creating an all-inclusive event that's challenging but, more importantly, fun, where everyone feels like they belong and are part of our family, and participants can learn from each other, grow together, and create lasting positive memories."
The LMJ volunteer team - Jessica Melger, Sandra Ercol, Albert Cichra, and Amanda Volence - has selflessly committed to this event for years, and Jessica acknowledges the value of that camaraderie. "They are what keeps the engine running. It's the collective energy of all involved that motivates me." Her favorite part is "Event day, seeing it all come together. There's an overall and overwhelming feeling of love when everyone comes together for the same thing - all like-minded, with hearts full - it's an intensely positive and addicting energy." Du har kanskje hørt begrepet énarmet banditt bli brukt om spilleautomater? Dette navnet stammer fra USA, der datidas spilleautomater gjerne var utstyrt med en «arm» på høyre side, som måtte dras ned for å sette spillet i gang - norske automater på nett casinonorske.com.
Come on down and get some.
When: Saturday, September 23, 2017
Where: Isle of Pines Association Park: 13694 Lake Mary Jane Road, Orlando FL 32832
For more info, contact: Jessica Cichra, 407-900-8348
To find an event in your area check out the Supconnect Events Calendar.
Last modified onWednesday, 31 January 2018 05:24
Email

This email address is being protected from spambots. You need JavaScript enabled to view it.