Kai Lenny & Sonni Hönscheid Win The 2016 M2O In Record Breaking Year
Kai Lenny celebrates his record-breaking win at the 2016 M2O. | Photo: Red Bull / Brian Bielmann
OAHU, Hawaii - 2016 was one of the most exciting years ever in the 20 years that the Molokai 2 Oahu Paddleboard World Championships has been held. This year saw record breaking performances in both stand up paddling and prone paddle boarding and the field of athletes to compete was packed with standouts. This year it was 23-year-old Kai Lenny (Naish) who won the men's unlimited stand up paddleboard (SUP) race in 4:07:41. Kai's win bests that of previous record-holder and fellow Maui paddler Connor Baxter's (Starboard) record of 4:08:08 set in 2014.
For the women we saw Germany's Sonni Hönscheid (SIC Maui) win her third consecutive M2O Championship in her personal best time of 5:01:40. Sonni was only minutes behind the course record of the unlimited SUP of 4:55:02 set in 2012 by Talia Gangini.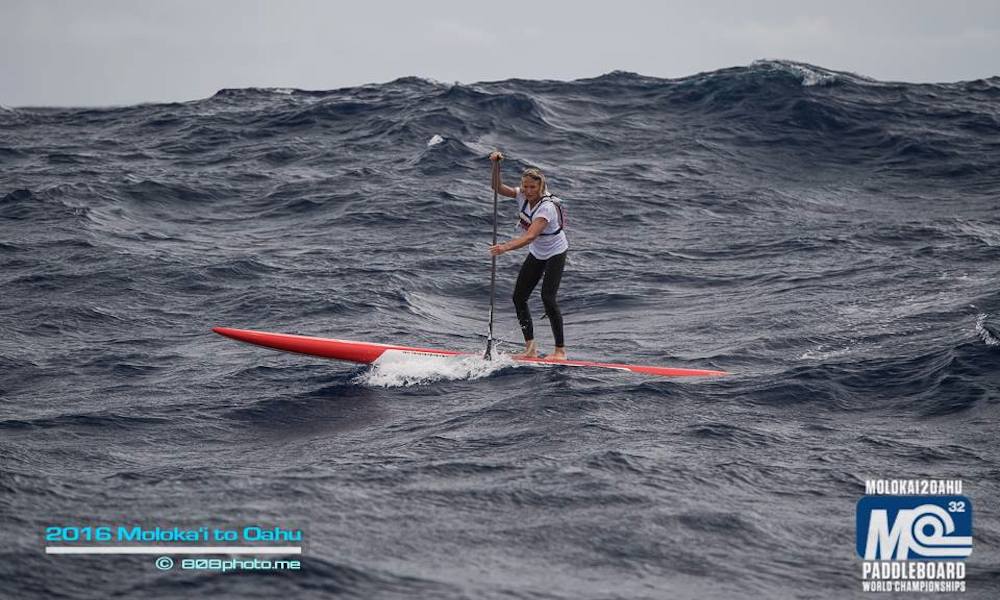 Sonni Hönscheid on her way to her 3rd consecutive win at the M2O. | Photo: M2O / 808photo.me
The prone action was just as exciting as we saw standout and dominator Jordan Mercer win her sixth consecutive M2O this year in 2016. She is unstoppable!! In the men's prone, Australia's Matt Bevilaqua took his second M2O win and completely demolished the previous time record set by Jamie Mitchell in 2011 (4:40:31) and came in with the new record time at 4:29:32!
Jordan Mercer (left) and Matt Bevilaqua (right) the prone winners of the 2016 M2O. | Photos Courtesy: Molokai 2 Oahu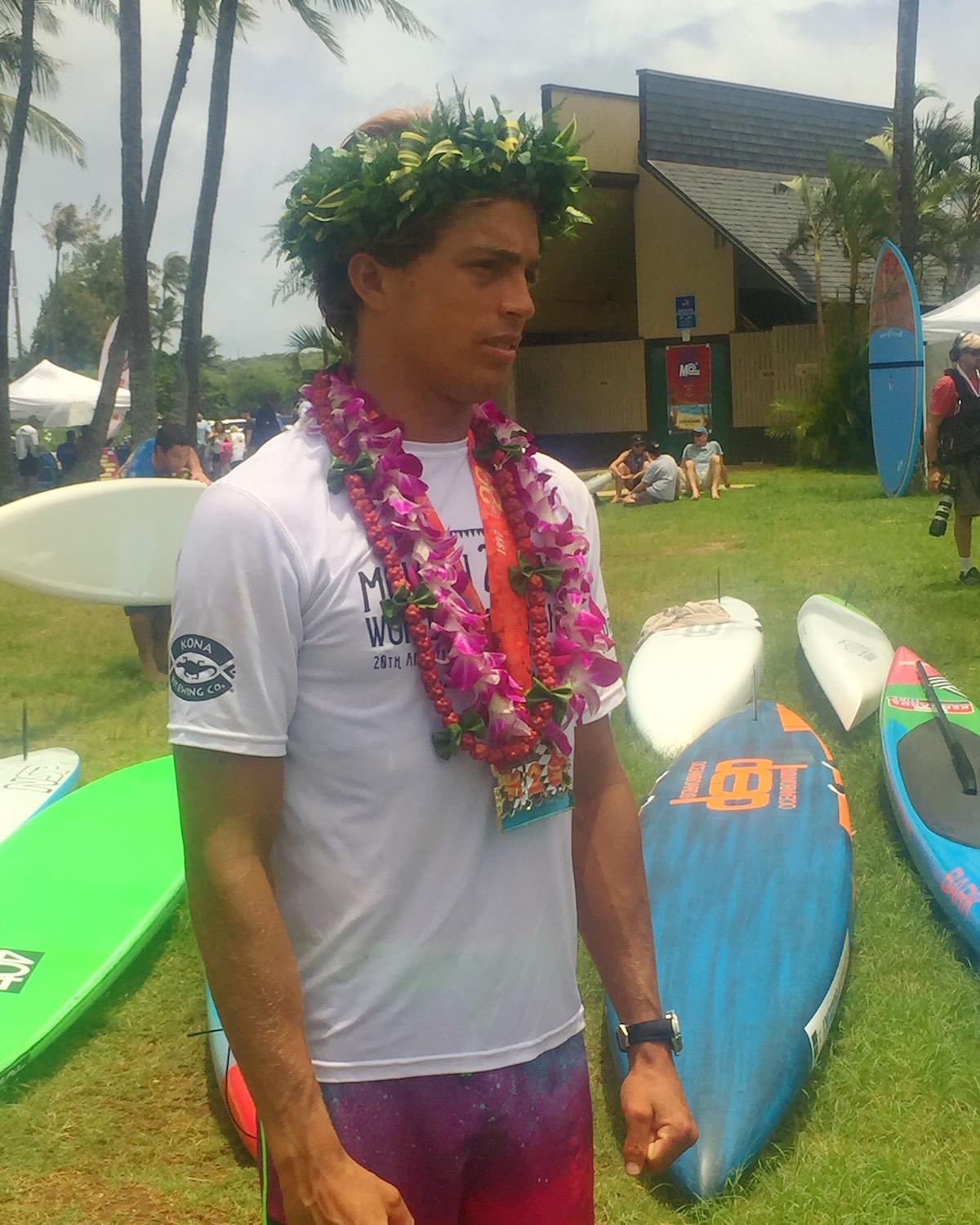 The treacherous 32-mile paddle between the two Hawaiian islands is the ultimate test for any waterman: surfing, downwinding, long-distance paddling, reading ocean swell and wind, and mental fortitude must all come together to successfully cross the "Channel of Bones". It is, by all accounts, the "hardest race in the word." But after a record-breaking finish over three-time winner Travis Grant (NSP) and his childhood rival and three-time winner Connor Baxter, Kai Lenny just cemented his place in the waterman's proverbial Hall of Fame.
Arriving to the race finish line at Maunalua Beach Park on Oahu's South Shore Sunday morning, it was rainy, windy, and cool- a far cry from 2015's stifling, windless race day. A small television screen showed the racers' positions, and we watched as Kai Lenny's small dot pulled away from Travis Grant and Connor Baxter on the monitor. "They have begun to hit the surf and Kai is pulling away," a volunteer explained. Kai's mother, father, and girlfriend stood by, looking somewhat nervous but excited.
After only 4 hours of paddling, we saw Kai round the corner in the distance at China Wall. Kai crossed the finish line in only 4:07:41, breaking the previous record held by Starboard's Connor Baxter. Australian Travis Grant, last year's winner, arrived only moments behind. Kai, a Maui native emerged from the water smiling and looking hardly winded, as his mother placed a lei around his neck.
Though Kai, at 23, has proven his dominance on the world stage as a waterman across every discipline, Molokai is a dream that has eluded the celebrity waterman in years past. I spoke with Lenny just after his victory and asked if his experience with big-wave surfing affected his win. "Absolutely. I spent the past summer surfing on a hydrofoil and the winter surfing 60 foot swells. It trains you mentally to stay calm." Lenny says he was the "most focused he has ever been in a race" as he concentrated more on navigating wind and swell than on paddling. "Surfing 60 foot swells teaches you to focus in a way nothing else can." Muscle and force will not get you across this channel. Clarity, focus, and an ability to read the ocean and successfully negotiate whatever she throws at you is the only way to win this crucible. When asked about his strategy just after the race, Lenny explained "I was just catching these big swells and then just peeling off to the right. I just found a rhythm. I honestly paddled a lot less hard than the last few years. I just paddled smarter. That's kind of what I needed to learn. You know, my mind needed to mature for this race."
Travis Grant spoke with me about his second place finish. Though he woke up on race day with severe vertigo, Grant says once the race started he got into his rhythm and felt great. "Kai is just a freak of nature. I paddled well and rode the swell, but Kai kept pulling ahead."
Men and Women's Podium finishers. | Photos: Megan Bryan
At the awards ceremony at the historic Waikiki Outrigger Canoe Club later that evening, ocean athletes from across the globe gathered to celebrate the victory. Chuck Patterson, Jamie Mitchell, and many of the water greats were in attendance. Three-time Women's SUP unlimited winner, Sonni Honscheid (SIC Maui) took to the podium, as did rising star Jordan Mercer, who dominated women's unlimited prone.
As the sport of Stand Up Paddle Boarding progresses, one theme keeps emerging: the top paddlers surf. Jamie Mitchell, the previous prone record holder? Surfer. Connor Baxter? Surfer. Mo Freitas, Travis Grant, Georges Cronsteadt, the list goes on. These men and women immerse themselves in the ocean and learn to read her through various disciplines, but surfing her waves is the best way understand her. And this year, big-wave surfer and all-around waterman Kai Lenny, won the ultimate race.
Congrats to all the amazing watermen and women who took on this challenge at the M2O.
To see more news on the 2016 Molokai 2 Oahu Paddleboard World Championships, click HERE.
Last modified onWednesday, 03 August 2016 06:52

Megan is a water girl who has difficulty sitting still or staying indoors. This health nut spends her days surfing and paddleboarding in the ocean, and writing about others who do the same. Raised in the mountains of Tennessee, she grew up kayaking, climbing, camping, and playing in the woods. Once she discovered surfing and SUP, however, a door to a whole new world opened and she never looked back. Megan loves family, dolphins, chocolate, good friends, and any place with sun and good waves.
Website: www.saltwaterchef.com
Email

This email address is being protected from spambots. You need JavaScript enabled to view it.