Fiona Wylde's Top 10 SUP Destinations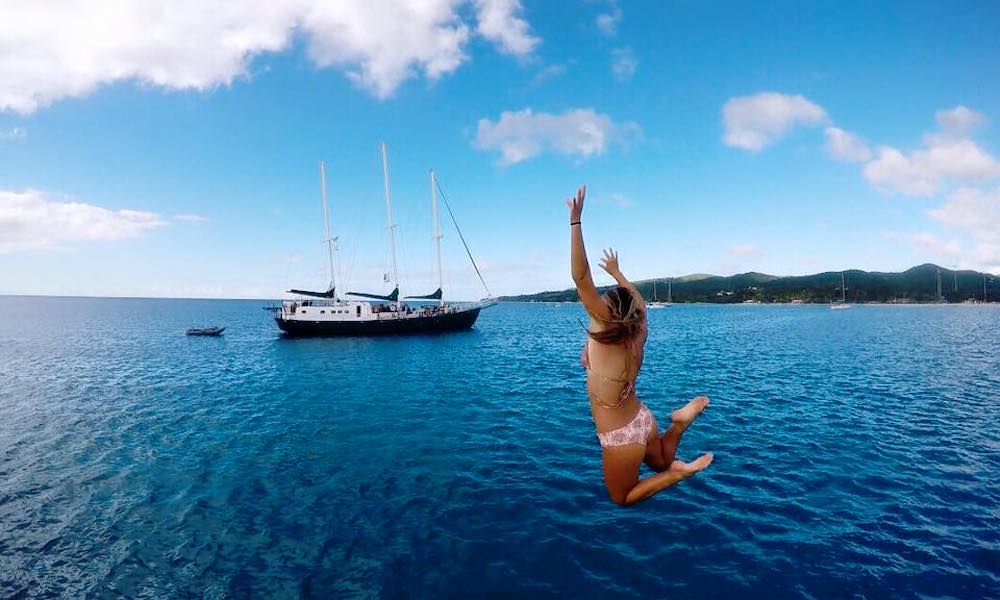 Fiona Wylde jumping for joy in St. Croix. | Photo Courtesy: Fiona Wylde
HOOD RIVER, Oregon - At the ripe young age of 18-years-old, Starboard and Werner Paddles athlete Fiona Wylde has traveled the world and back again. In 2015 alone Fiona went to Japan, all over the mainland U.S., Europe, the Dominican Republic, Mexico and more, so to say she's well traveled is an understatement. Seeing as she's been all over the world and getting to stand up paddle in amazing places we wanted to get Fiona's opinion of where her top SUP destinations are located. Check out what she had to say:
10: Cascade, Idaho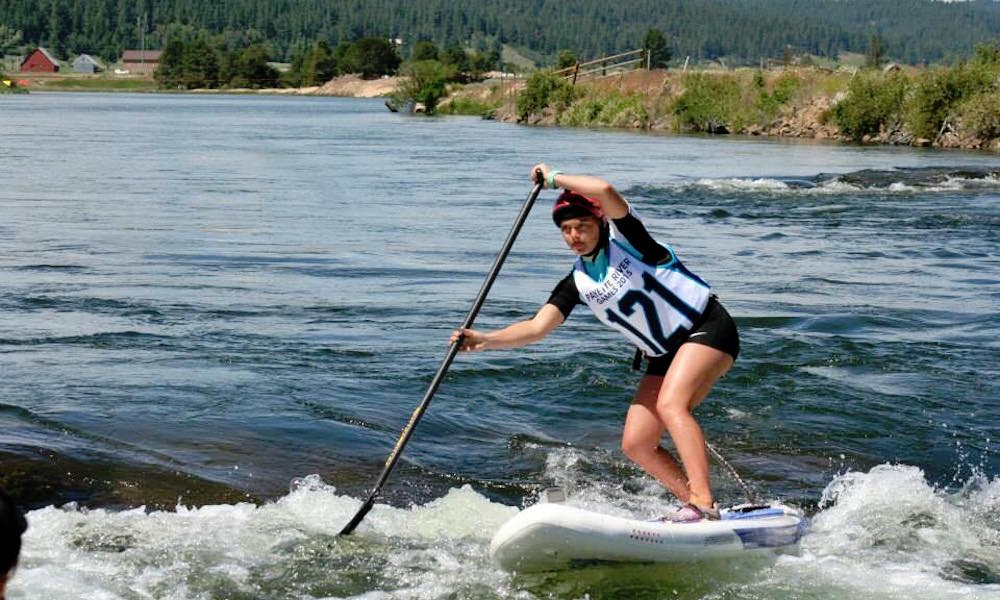 Fiona Wylde at the 2015 Payette River Games. | Photo: Werner Paddles
Home of the PRG (Payette River Games)! I was so sad to hear when the Payette River Games wasn't happening in 2016, however I will never forget the memories I have from paddling on the Payette River in Cascade Idaho! This is the place where I learned to white water stand up paddle. It's the perfect introduction location to whitewater for either stand up or kayaking, but at the same time it can be as challenging as you make it. Not to mention the scenery is absolutely beautiful and you're surrounded by nature at it's purest!
9. Wrightsville Beach, North Carolina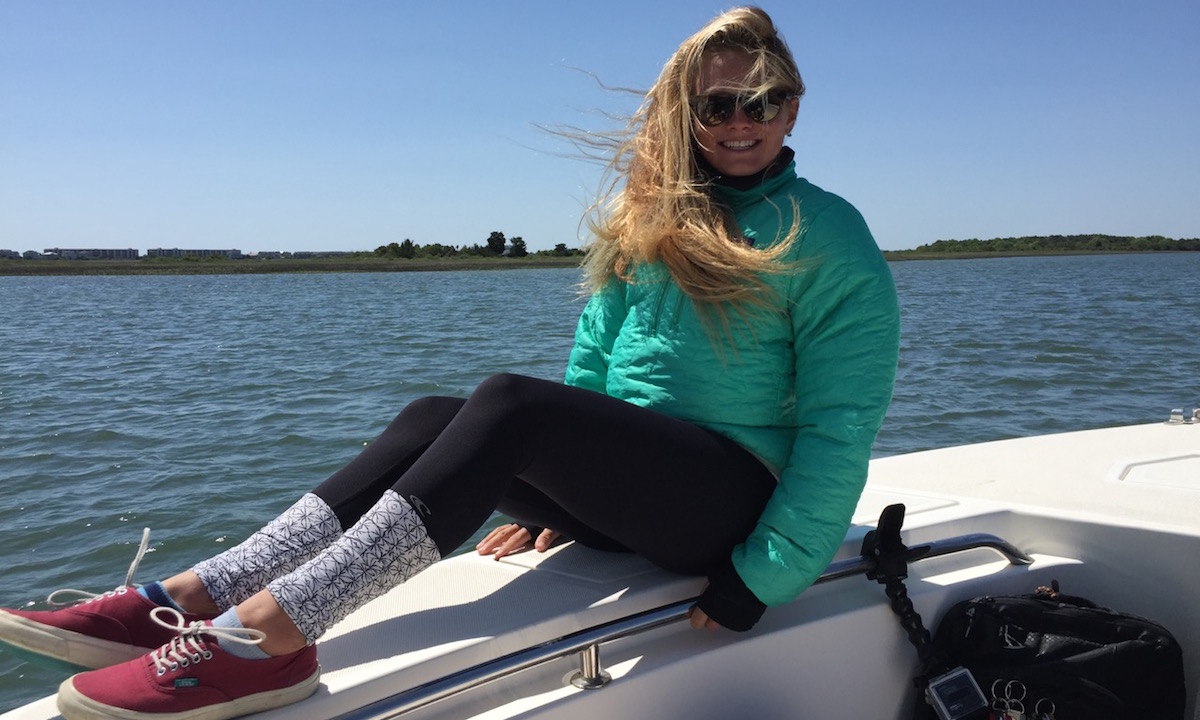 Fiona Wylde enjoying the view in Wrightsville Beach, North Carolina. | Photo Courtesy: Fiona Wylde
I am thankful for the Carolina Cup… despite how grueling the race is, to have been introduced to Wrightsville beach! What better paddle set up can you imagine? Calm waters on the Inter Coastal Waterway, combined with surf and downwind ocean conditions just on the other side of town! It's a perfect paddle getaway for paddlers of all levels.
8. Cabarete, Dominican Republic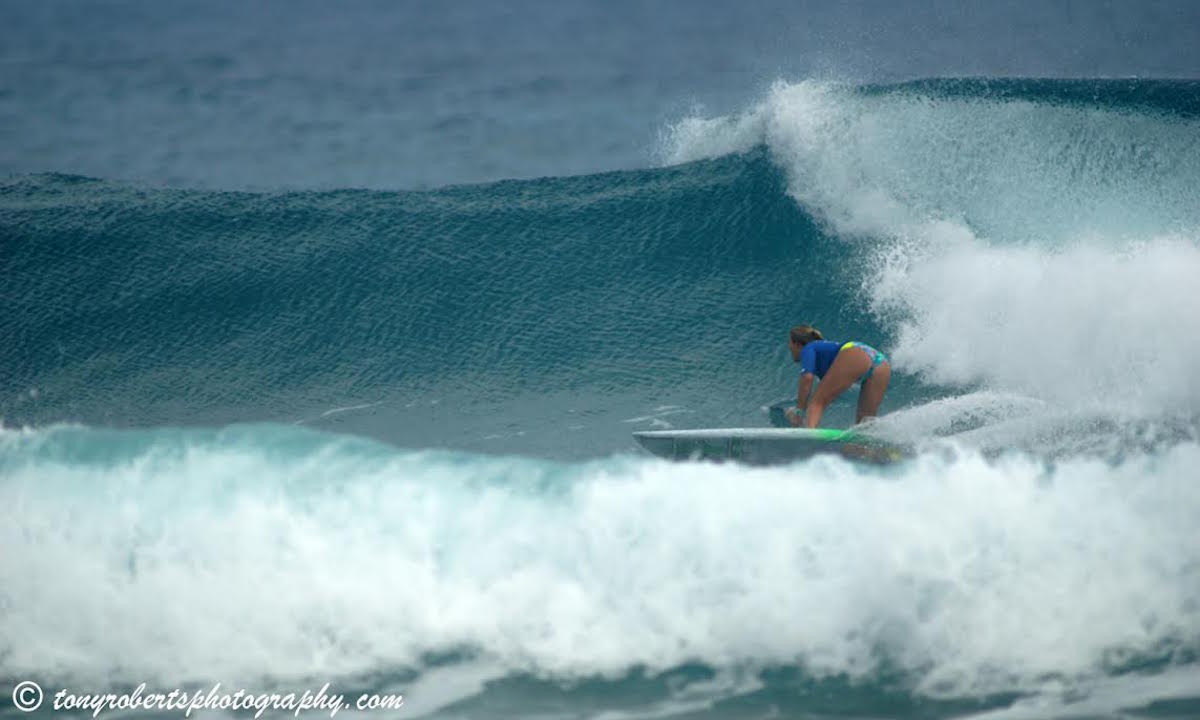 Fiona during competition at the 2015 Master of the Ocean event. | Photo: Tony Roberts Photography
For the last two years in a row, I've been fortunate enough to explore Cabarete in the Dominican Republic. Each year I've competed in the "Master of the Ocean" Waterman event. This even takes place at Ecuentro beach, just outside Cabarete, and the surfing is picturesque Caribbean surfing!… Cute reef break, turquoise water, and the people with the biggest and brightest smiles around!
7. Los Barriles, Baja, Mexico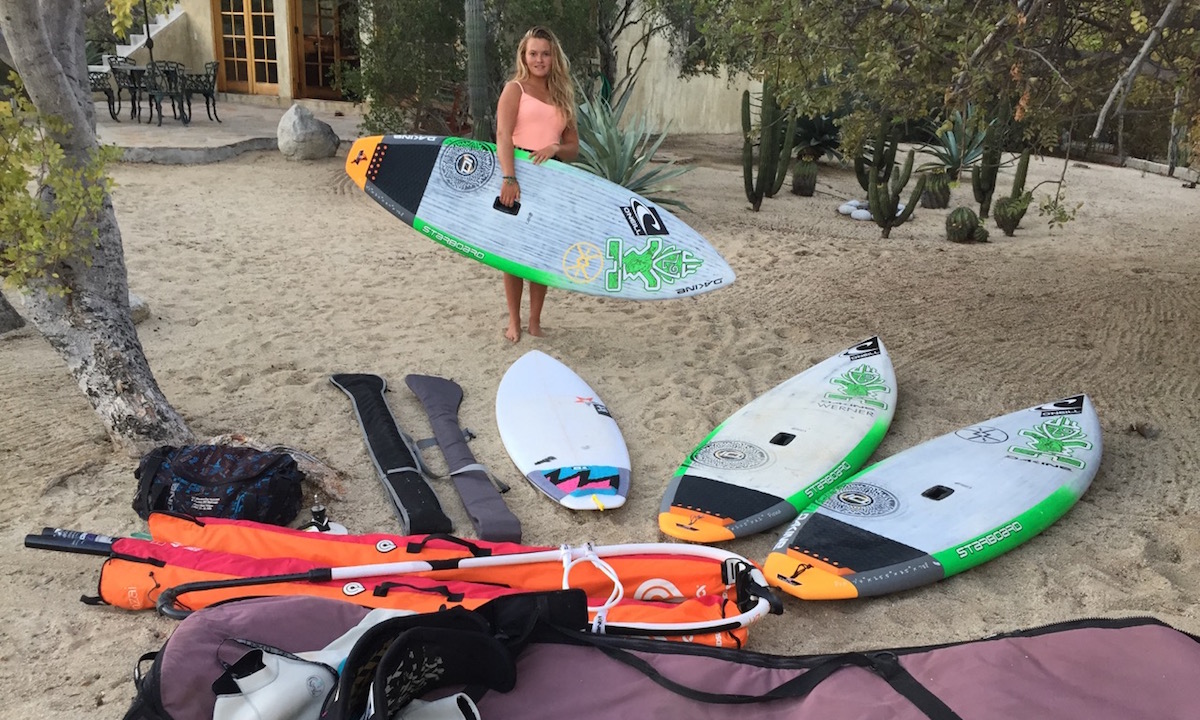 Fiona and her Mexico quiver. | Photo Courtesy: Fiona Wylde
Los Barriles is a place that is very important to me. I've grown up living there and attending the local school since I was three years old. Los Barriles is a place I call home. Originally known for it's windsurfing, as stand up has come onto the scene, it's been a secret gem of downwinding and clam morning paddles. If you're looking for a calm, easy downwinder, the Pescadero to Los Barriles run is perfect… 15-25 mph breezes push you in straight downwind to end up back in the middle of town, close enough to walk to the fish taco stand. Not only are the downwinders fun, but if you drive about an hour to 1.5 hours depending on the spot, you can score some really fun surf!
Check out our always-growing guide for SUP Destinations HERE
6. Chigasaki, Japan
Fiona at the Japan Cup in 2015. | Photo Courtesy: Fiona Wylde
Japan has embraced stand up paddling to the extreme! At the start of the Open race during the Japan Cup, there was 200+ paddlers on the start line! That doesn't happen everywhere. Chigasaki, on the east side of Japan, just south of Tokyo is a perfect oceanside town. And stand up paddling fits into the community like a piece of the missing puzzle. There's a really fun beach break and depending on the day, you can either enjoy a downwinder or a calm flat water paddle in the Pacific. Not to mention that Japanese Culture is beautiful, and it completes the 'stand up paddle/cultural adventure trip' package!
5. Pacasmayo, Peru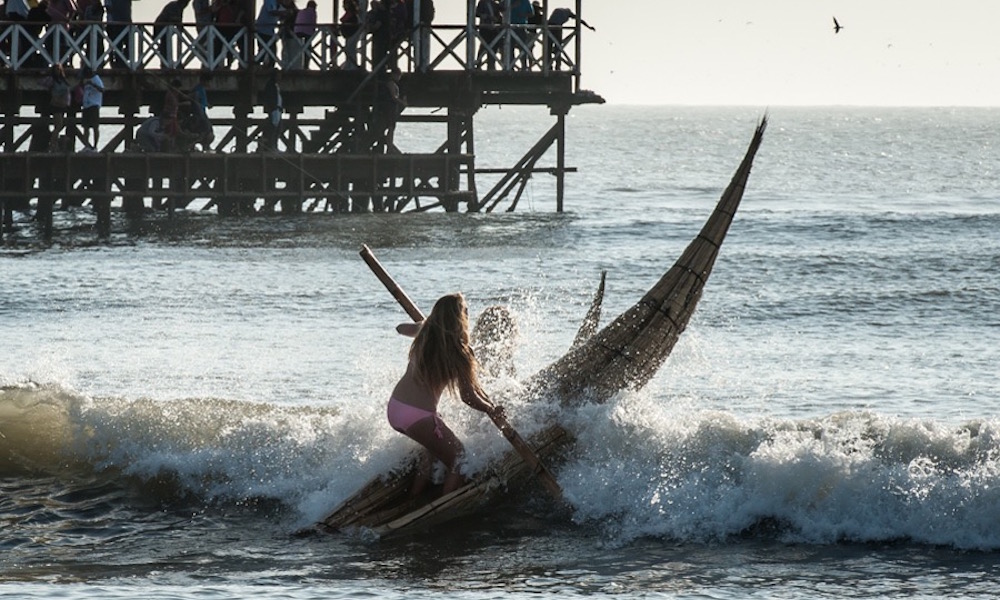 Fiona testing out Peru's original SUP. | Photo Courtesy: Fiona Wylde
Located 12 hours North of Lima, Pacasmayo is the definition of a Left Point Break. I traveled here in 2014 with Bernd Roediger, Kai Bates, Carolina Butrich, and Forrest Ladkin. We were told that there was going to be insanely long lefts, but we were in a for a surprise when we arrived to a left that peeled for a mile starting at the lighthouse on the point and traveling all the way into the little town of Pacasmayo. Talk about a wave that is tuned for perfecting your turns! Whether it's small or big, Pacasmayo is a super fun place for SUP Surfing!
4. Barbados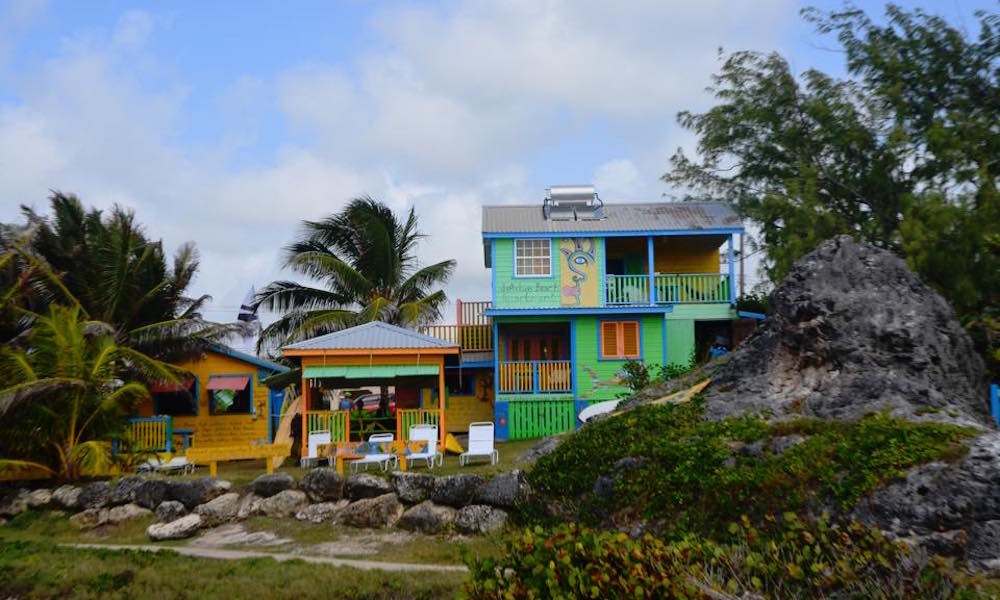 Barbados holds a special place in Fiona's heart as it was her first international SUP surf destination. | Photo Courtesy: Fiona Wylde
I traveled to Barbados in 2013, but I am going back in March of this year! This was my first international trip that included stand up surfing. I visited Brian Talma while traveling with Bernd Roediger, and the stories that go along with this trip are endless, pretty similar to the waves. Brian has the set up in Barbados! He's got his hotel/shop right on the beach with waves out in front, downwind conditions, windsurf and kitesurf conditions, not to mention there are some world class waves all over the island!
And now for the top three…
3. St.Ives England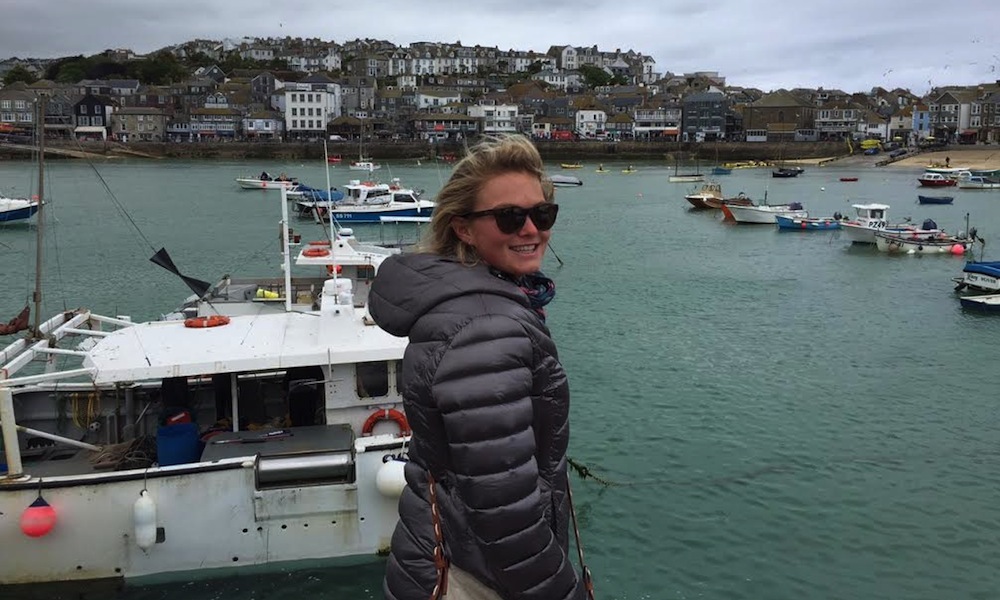 Fiona taking in the view of the cutest town on the hillside. | Photo Courtesy: Fiona Wylde
Despite not surfing during this trip, it still ranks in the top three for the incredible paddling scenery! When paddling in crystal clear turquoise water with the sun shining, I could not imagine that I was paddling in England! However this little slice of heaven called St. Ives provided exactly all that! Between the perfect flat water conditions, down winding, and the cutest town you could ever imagine etched into the hillside, St. Ives was one of my favorite trips of 2015 and I'm definitely hoping to go back this year!
2. Maui, Hawaii
Fiona surfing all around Maui this winter. | Video: Norman Roediger
Maui is an extremely special place to me, but I think that I share this feeling with a lot of other people. If you're talking about windsurfing, it's mecca, if you're talking about stand up downwinding, it's mecca, kitesurfing, mecca, and surfing too! Yup, mecca! To me, Maui is the all around waterman island. It is pretty incredible to have world class conditions for wind sports during one part of the year and then the epic conditions for surfing the other part of the year. Maui is where I learned to stand up surf, it's where my best friends are, and of course it's one of my most favorite places to be. I couldn't help but rank this #2, because if you're a stand up paddler, and you like paddling, flat water, downwind, and surfing, Maui is one of the greatest places on this planet to be!
1. Hood River, Oregon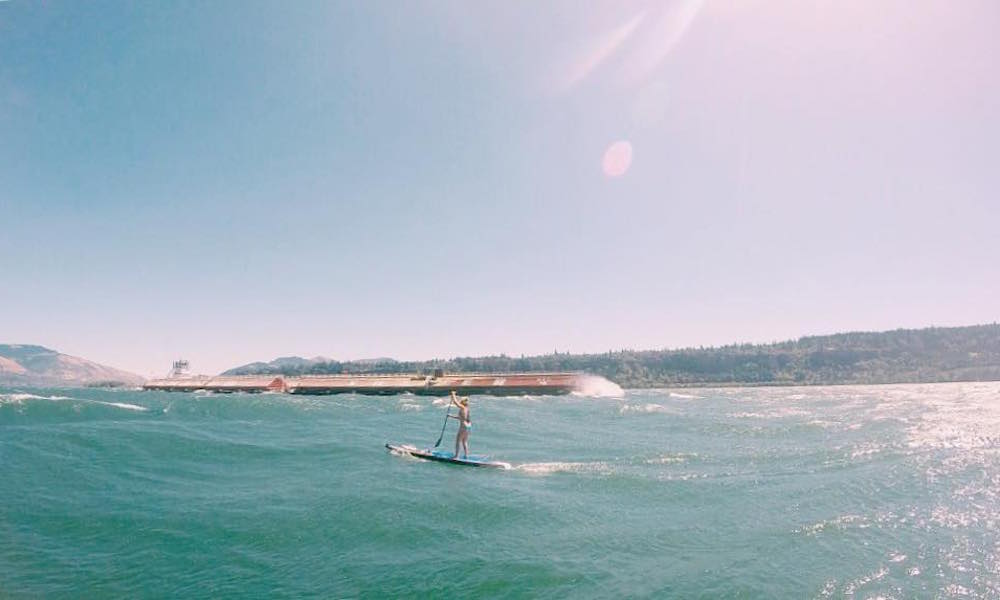 Fiona at home. | Photo: Bernd Roediger
Call me biased, but I had to put Hood River as number one. I am so proud of how much my home town has embraced stand up paddling! If you think about it, Hood River has one of the biggest 6 star races of the year, it has world class downwind conditions, world class whitewater conditions, beautiful lakes and it's only 1.5 hours from the Oregon Coast where you can find some epic waves! This small town of six thousand people, is full of outdoor enthusiasts who have naturally gravitated towards the ever growing sport of stand up paddling! When I drive down to the river from my house, it's normal to see anywhere between 25-100 people stand up paddling everyday! Like I said, maybe I'm biased, but my home town of Hood River is my #1 place for stand up paddling of 2015.
To see more from Fiona Wylde, click HERE.
© Supconnect.com Copyrighted Exclusive Content
Last modified onThursday, 15 February 2018 13:23

Hood River, Oregon - Fiona Wylde comes from the American capital of wind and kite surfing. So (no surprise!) she is into both of those sports. But more interestingly, she comes from one of the greatest kids SUP programs, hosted by Steve Gates, owner of Big Winds. Wylde's raw talent and discipline found a catalyst in that venue and group, catapulting her into the world stage and the top of the stand up paddle competitive scene. After graduation, she was diagnosed with Type 1 Diabetes. But that has not stopped her. Instead, Wylde is now becoming all the more of an inspiration for the millions of people who face that challenge while aiming to continue to live that outdoors athletic life.
Website: www.fionawylde.com/
Email

This email address is being protected from spambots. You need JavaScript enabled to view it.