What To Look For At The 2015 Payette River Games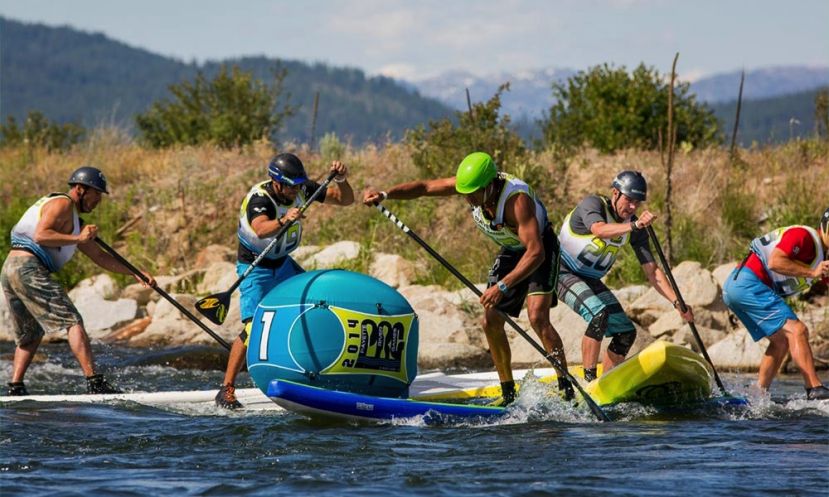 Fernando Stalla leading the charge during last year's SUP Xross event. | Photo Courtesy: PRG Gallery
CASCADE, Idaho - It's here. The 3rd annual Payette River Games, with the largest prize purse in stand up paddling at $50,000, takes place this weekend at the famous Kelly's Whitewater Park in Cascade, Idaho.
Although primarily still a new event with it only being in its third year, the Payette River Games has skyrocketed in popularity and is one of the top events on the SUP circuit for the elite to attend alongside events like the Carolina Cup and the BOP. This year is no different and you will find the best of the best, world champs and river masters all gathered in one place to battle it out for their piece of the $50k prize purse. "It's the first year where SUP is the main event" said athlete and photographer Paul Clark.
"Dan Gavere, champion kayaker turned river SUP guru, is the race director. He is expected to put a challenging course together with technical maneuvering around buoys in swift current and standing waves. To take home money, athletes must finish in the top ten of over a hundred competitors and race in both SUP Xcross and Super G."
Here's what we can look forward to this weekend:
Venue:
With a backdrop of snow-capped peaks, wide open plains and with a charming country community Kelly's Whitewater Park provides a spectacular atmosphere to the event. With the challenging and exciting conditions on offer at Kelly's Whitewater Park, this is going to be a race to remember. The action goes down right in front of the on-site rock wall amphitheater, giving spectators and competitors an amazing, up-close view of the action as it happens.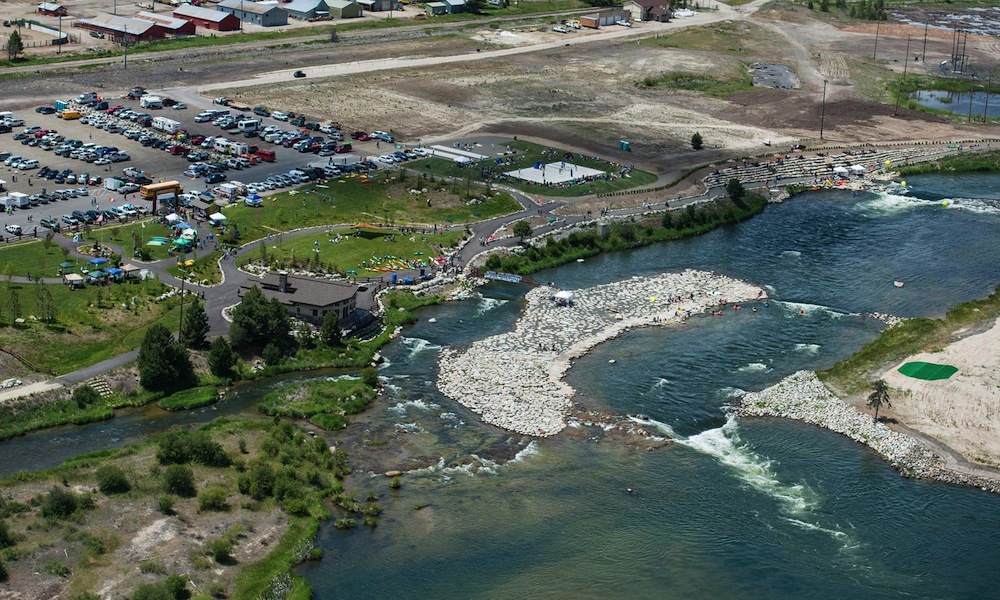 Kelly's Whitewater Park is an awesome venue for specatators providing beautiful scenery and an on-site rock wall amphitheater to watch all the action from. | Photo Courtesy: PRG Gallery
Courses:
The Payette River Games SUP event has two separate races – the SUP Xross and the SUP-er G – with results combined at the end to produce the overall champions.
SUP Xross
The most challenging and spectacular race is the SUP Xross, where paddlers have to navigate a technical course set directly in and around the fast-flowing rapids, all while battling against half a dozen eager rivals. And now with whitewater supremo Dan Gavere in charge of the SUP racing, expect no favors on the class 3 main feature at Kelly's Whitewater Park.
Similar to last year, the SUP Xross will feature a knockout bracket system, with the field getting smaller and smaller until we reach the finals on Sunday afternoon. However unlike last year, the course will constantly change over the three days, getting progressively harder as the competition gets tougher.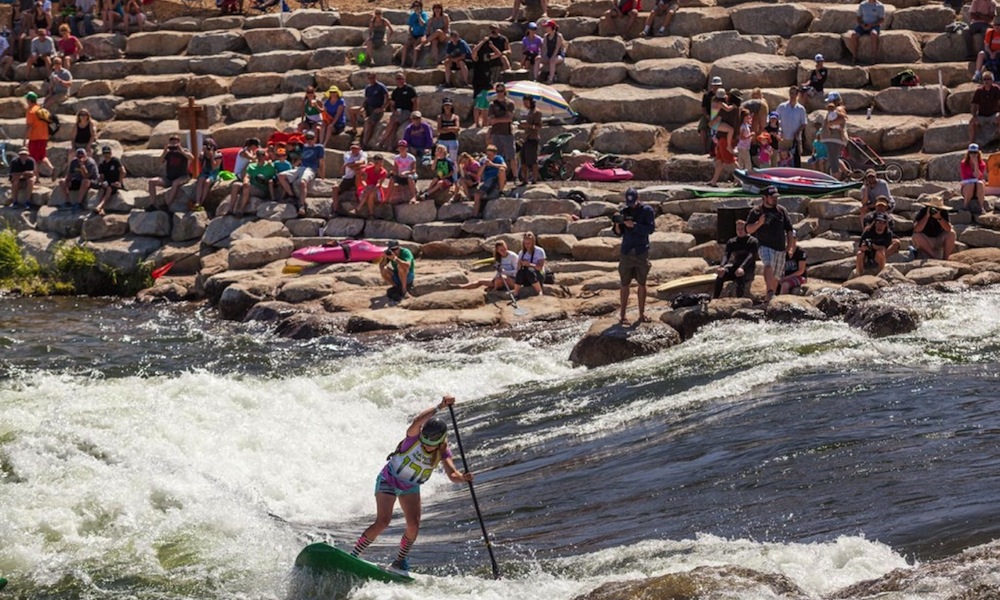 SUP Xross is a fan and athlete favorite for the events. | Photo Courtesy: PRG Gallery
SUP-er G
The SUP-er G race is the other half of the SUP challenge at the Payette River Games. Last year's "Downriver Sprint" course has been completely wiped and a new giant slalom type race has been created, which is sure make it more interesting and challenging for the paddlers, as well as more exciting and easier to follow for spectators.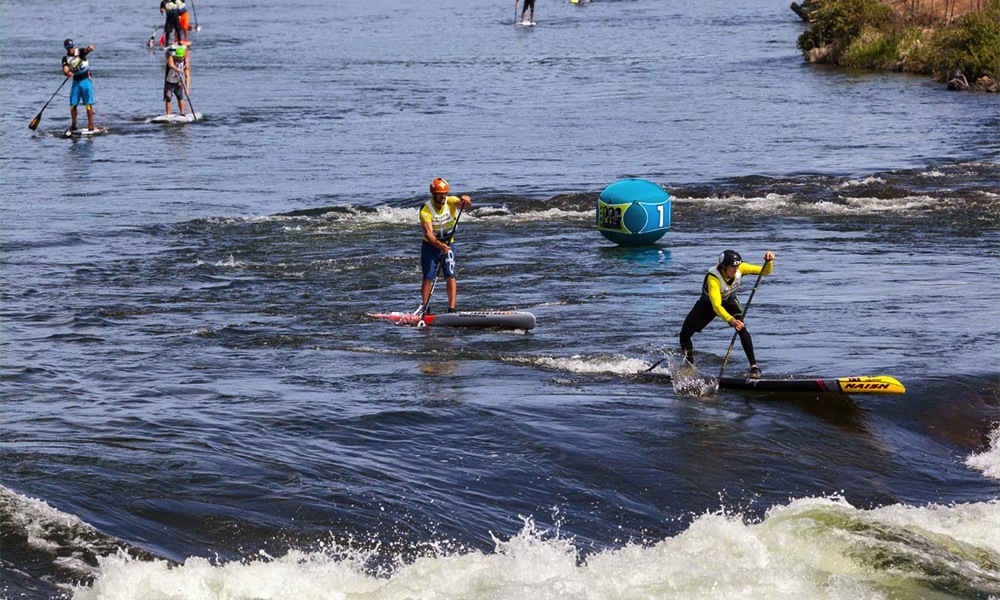 Say goodbye to the SUP sprint at the PRG's. It has been wiped and replaced with the SUP-er G course. | Photo Courtesy: PRG Gallery
The race will begin inside Kelly's Whitewater Park, immediately above the top feature. Paddlers will then race upstream in a zig-zag, giant slalom course, before turning and racing back downstream. The finish will be under the bridge after navigating rapids for the final 100 meters of the course.
Some say this race makes the Payette River Games a fair fight for those paddlers who spend most of their time in the the ocean or on flat water and aren't as experienced in the whitewater as the river specialists. But make no mistake: Those with an intimate knowledge of the river will be rewarded even in the SUP-er G, as you'll need to read the eddies and currents and pick the best line up and down the stream.
To see more news and info surrounding the 2015 Payette River Games, click here.
Contenders:
We suspect that this year will be even larger than last year and competitively stacked for both the men's and women's events. The massive prize purse on offer has athletes flocking to the area from all over the globe. Here are a few competitors to look out for this year as we think they have what it takes to stand atop the podium.
Pictured: (left) Kai Lenny, (right) Fernando Stalla. | Photos Courtesy: PRG Gallery
Men:
Mike Tavares
Boardworks athlete Mike Tavares is one we are keeping our eye on this year as he was in the top 5 in last year's ranks and he is coming in hot off a win at the recent GoPro Mountain Games. Mike is a master of the river and you can bet he feels right at home at Kelly's Whitewater Park.
Fernando Stalla
Prior to last year, you might not have considered Fernando to be a threat at this event seeing as his background is on the ocean, but after he came and won this event last year, he proved how versatile of a paddler he truly is. We'd be silly not to have him as a contender for the title again this year.
Kai Lenny
If Kai Lenny isn't on the list for a title contender at a race or surf event, then something is really wrong. Kai Lenny (Naish SUP) is one of the best paddlers in the world in both surfing and racing and he has numerous titles to prove it. Part of being a champ is being able to adapt and Kai can do just that. His specialties aren't on the river but he learns real quick. He was in the top 5 here last year and won the GoPro Mountain Games in 2014 as well so don't be surprised if he takes the cake.
Ben Sarrazin
Ben Sarrazin was so close to victory last year that the taste of it has been lingering within him reminding him of what almost was. Last year Ben came in a close second behind Fernando Stalla and we're thinking that he wants to come back this year and take it all for himself, so, if we're right he will once again be a top contender at the 2015 Payette River Games.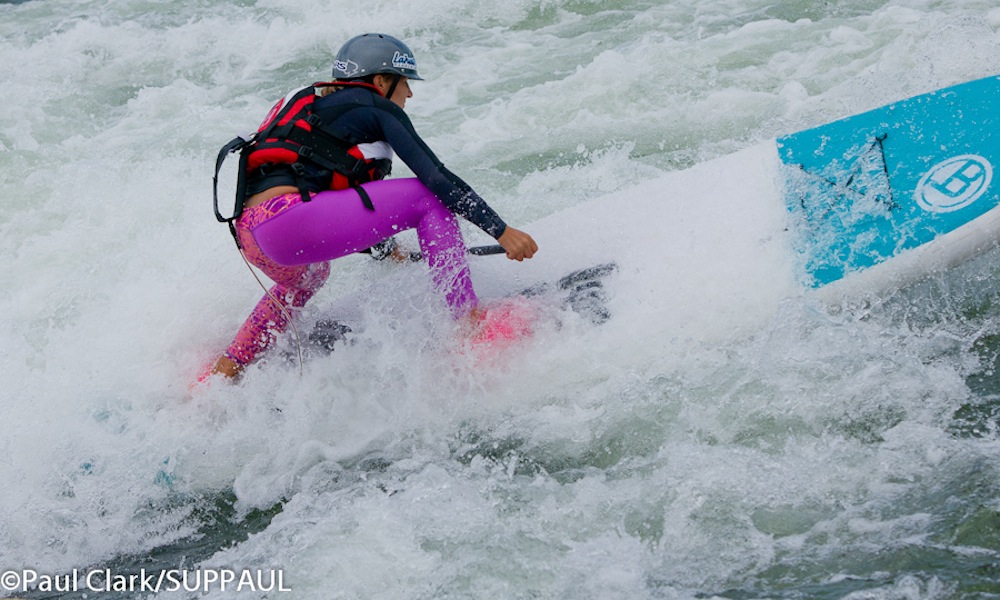 Annabel Anderson getting her pre-event practice on at Kelly's Whitewater Park. | Photo: Paul Clark
Women:
Candice Appleby
Candice Appleby, what more can we say about her? She's the queen of SUP with over 6 BOP titles alone and she's the defending champ from this event last year. She's a competitive animal and will likely be going full throttle again to take home another crown to add to her collection.
Annabel Anderson
Annabel Anderson (SUP Think Tank) is a name to be feared in any race. While not one you see on the river all too often, Annabel is sure to be a force to be reckoned with here at the Payette River Games. She loves a challenge and this event is sure to be one.
Natali Zollinger
Coming in hot from a triple-podium finish at the recent GoPro Mountain Games, Boardworks athlete Natali Zollinger is a lady of the river and has years of experience under her belt. Natali has momentum and confidence on her side after her results at the GoPro Mountain Games and as she goes into the event this weekend she goes in ready for battle.
Fiona Wylde
You could say that last year was Fiona Wylde's (Werner Paddles, Starboard) breakthrough year in stand up paddling. Fiona did extremely well in a number of events and has only been gaining more and more momentum through it all. She recently won the Celtic CUP over in Europe and is looking stronger than ever coming into this race. Not to mention she was last year's runner up at this event last year so she's looking like a strong contender for the ladies.

Get a feel from the 2014 PRG's by watching the video from Pau Hana SUP below!
See more news and event info by visiting the event website, www.payetterivergames.com
Last modified onThursday, 18 June 2015 12:17

Submit your news, events, and all SUP info, so we can keep promoting and driving the great lifestyle of stand up paddling, building its community, and introducing people to healthier living.
Website: supconnect.com
Email

This email address is being protected from spambots. You need JavaScript enabled to view it.