Summer SUP Gear Guide 2022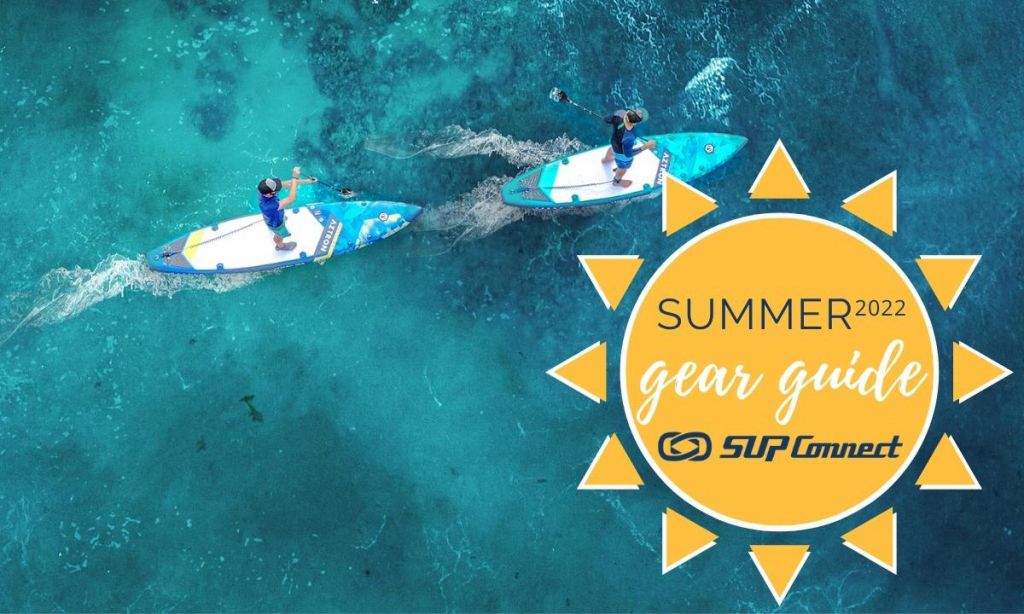 SAN DIEGO, California - Whip out your boardshorts and bikinis, it's summer time! Nothin's better than summer and we're so stoked that our favorite time of the year is finally here. Here, we've put together a list of SUP gear, SUP accessories, SUP boards and all the must have's for everyone from a beginner to the advanced SUP'er for the 2022 Summer SUP season, so there's sure to be something in this guide for everyone!
Take a look at the 2022 Summer Gear Guide below:
Paddles & Accessories
SPY+ Happy Boost Sunglasses

What's summer without a good pair of sunglasses to protect your eyes!? A good pair of sunnies is essential for longer paddle sessions and SPY+'s new HAPPY BOOST™ Lens Technology does a great job at just that. This new tech provides SUPER vivid color & contrast, in addition to the benefits of the HAPPY™ Lens. The Happy Boost Lens is available in a bunch of styles. Learn more HERE.

Neso Beach Tent

Large and in charge, The Neso Grande beach tent is perfect for a beach day with family and friends. Made out of a Lycra/Nylon blend. UPF 50+ and water resistant. Weighs only 6.5 lbs. Learn more.

Shiseido Ultimate Sun Protector Cream SPF 50+ Sunscreen

Designed for peak sun protection, this Broad Spectrum SPF 50+ facial sunscreen cream creates a protective veil that's strengthened by heat and water.* A lightweight, moisturizing formula for continuous coverage without a greasy feel. Learn more.

Yeti Camino 20 Carryall

The new compact Camino® 20 Carryall is built for daily hauls. Tough inside and out, the bag features deployable dividers and two interior zippered pockets. Designed for everyday carry, the Camino® 20 Carryall is the go-to bag for all of life's small adventures. Learn more.
Boards - Inflatables
iRocker ULTRA™ Collection

With limitless adventure in mind, the new ULTRA™ Collection features our lightest weight paddle boards yet. With enhanced rigidity and an included E-pump, this innovative collection is primed for travel. Re-engineered for compact convenience, the ULTRA™ Collection's 4 boards each fold in half effortlessly into a compact backpack that is nearly 50% smaller than that of previous models. So, your workout begins on the water, not while getting there. Learn more HERE.

SIC Maui TAO AIR TOUR 11'0'' PACK

The 10'6" is a perfect board for surfing, cruising, and yoga, while the 11'0" and 12'6" are designed more for recreational fitness and cruising. The 10'6" TAO Air Wind is an excellent board to paddle when there is no wind, and when the wind turns on, you can put your sailing rig on the board and cruise under sail power. Made from the finest Drop Stitch Construction (DSC) and lightweight, durable Support Stringer Technology (SST), these boards are light, stiff, and reliable. They come in a complete package with a 3-piece adjustable paddle, ready to go when you.. Learn more HERE.

Pau Hana 10'10" Solo SUP™ Backcountry

The Solo SUP™ - Backcountry is the first hikeable paddleboard, specifically designed for backcountry adventures. It is the lovechild of dirtbag hippies who surf, paddleboard, and kayak, created specifically for digital nomads that want to explore remote waterways accessible only by long hikes or portages. Learn more HERE.

Aztron Urono 11'6" Touring SUP

Experience expedition-style paddling to travel longer and further. While exploring miles of coastlines, lakes or channels, the 2022 updated URONO 11'6" is the perfect partner for your next adventure. The Touring Collection brings a brand new design and kayak seat option this season. Built on the sleek touring outline and signature Double Double Technology, the Touring range offers a genuinely compelling ride for all levels riders. Learn more HERE.

Aqua Marina Fusion

The FUSION features more generous volume and payload that cater to those looking for easier ride and carrying more luggage. The comfortable diamond grooving footpad provides extra grip while the strengthened stainless steel leash D-ring ensures a safe ride in small waves. Constructed with Aqua Marina's exclusive Drop Stitch Light Technology, the FUSION is lightweight but super stiff. Coming with our new customized zip backpack this year, these classic models are highly portable whilst packing everything inside. Learn more HERE.

Thurso Surf Waterwalker 120

Our best-selling inflatable all-around paddle board, the Waterwalker, goes anywhere and does anything. Beginners and experts alike will love its versatility. The Waterwalker 120 is ideal for smaller paddlers, confident beginners, and experts who are looking for a board that accelerates fast and is easy to maneuver. It's the perfect match for any conditions whether you're hanging with family at the lake, cruising the marina, or catching a wave with your surf dog. Learn more HERE.

Slingshot Crossbreed 11' w/ SUP Winder

Wingsurfing is one of the newest emerging sports! The Slingshot Inflatable Crossbreed SUP board now comes with a center keel fin (Sup Winder). The first step to Winging is staying upwind so start your adventure on this super stable board. Double the fun: SUP and Wing board in one. #Slingshotsports. Learn more HERE.

Bay Sports Wood Look (Original Series)

Our most popular inflatable stand up paddle boards released in a stunning wood-look finish. These stunning designs are inspired by the wood look on yachts, for an original timeless look. Made from a very high quality finish and premium EVA deck, you will be turning heads with these premium quality wood-look boards. Learn more HERE.

Body Glove Navigator Pro

The Body Glove Navigator Pro inflatable stand-up paddle board is lightweight, durable and ultra-portable. Specifically designed with beginners in mind with a wide center and all-around shape, this board provides superior stability as you effortlessly paddle lakes, rivers and oceans. The upgraded Navigator Pro features a two-toned Clear Tek™ inflatable material design, logo embossed EVA traction pad and laser engraved foot placement guides for the ultimate paddling experience. Learn more HERE.

TAHE 11'0" Beach Wing Pack

The 11' Beach Wing AIR complete package is the perfect board for flat-water cruising with family and friends as well as going on longer distance touring-style adventures. This board is ideal for all skill levels and recommended for riders up to 220lbs/100kg. This COMPLETE PACKAGE includes rigid inflatable board, adjustable paddle, safety ankle leash, backpack, high-pressure pump with gauge, repair kit, deck bungee for gear storage, carry handles at center, nose and tail, tie down o-rings at nose and tail, "yoga-mat" style traction pad for comfort and grip. Learn more HERE.

POP Board Co Yacht Hopper

The Yacht Hopper feels as much like a ship as it does a paddleboard. The front & rear mounts for your cooler, additional D-rings for harnessing supplies, and increased volume make this board incredibly stable and ready for adventure. For paddlers who have dreamt of taking their boards farther than the naked eye can see, this board looks forward to chartering its course down winding rivers, across crystal clear lakes, and coastlines with hidden coves. Learn more HERE.

NSP - O2 - Pioneer FS

The O² Pioneer FS is designed for unmatched versatility, stability, durability and performance. A single board that gives the paddler a wide range of on-water applications. River running, overnighters, fishing or racing, this board does it all! Learn more HERE.

See our review of the NSP O2 Pioneer HERE.

Aquatone Wave 10'6" All-Round SUP

The WAVE collection is the most welcomed go-to-board for all water conditions. The WAVE 10'6" is the ultimate SUP made lighter, stiffer and more stable and with even more fun. With a length of 10'6" (320cm), it is the most standard SUP size in our all-round range. Built with the most popular SUP shape, extra wide and generous thickness, the WAVE model is so easy to glide and very forgiving. Learn more HERE.

Aquatone Haze 11'4" Compact Touring SUP

Pack light, travel far! A new and exciting season introduces the HAZE 11'4" touring SUP to join our fan-favorite Compact range. A tough yet lightweight core and unique deck construction allow the board to be packed down to only half the size of a conventional air board. The smart compact design offers convenience for frequent travelers, making it the perfect long-distance board in the aquatone family. Learn more HERE.
Boards - Hard Tops
Aztron Apollo 12'6'' Touring SUP

The 12'6'' APOLLO 2.0 is the greatest touring board of all time. The new 2022 version offers a brand-new design to make sure you discover new grounds on every adventure. Boasting a sleek touring shape with moderate width at 30", the board provides the ultimate performance in efficiency and maneuverability through long distances or fast-paced paddles. Fit for more advanced riders, it should be more than enough of a match for you. Learn more HERE.

Starboard Wedge

The wave-burglar. The Starboard Wedge has a pro performance and feel without compromising stability or volume. All boards are 32'' wide to provide float and stability for heavier riders to rip. This is a versatile range for big to small conditions, best suited for beginner and intermediate riders. Learn more HERE.
Make sure to head to your local retailer to find all these items and more during this Summer season!
Last modified onFriday, 01 July 2022 18:22

Submit your news, events, and all SUP info, so we can keep promoting and driving the great lifestyle of stand up paddling, building its community, and introducing people to healthier living.
Website: supconnect.com