Paris SUP Open Ends The Racing Season With a Bang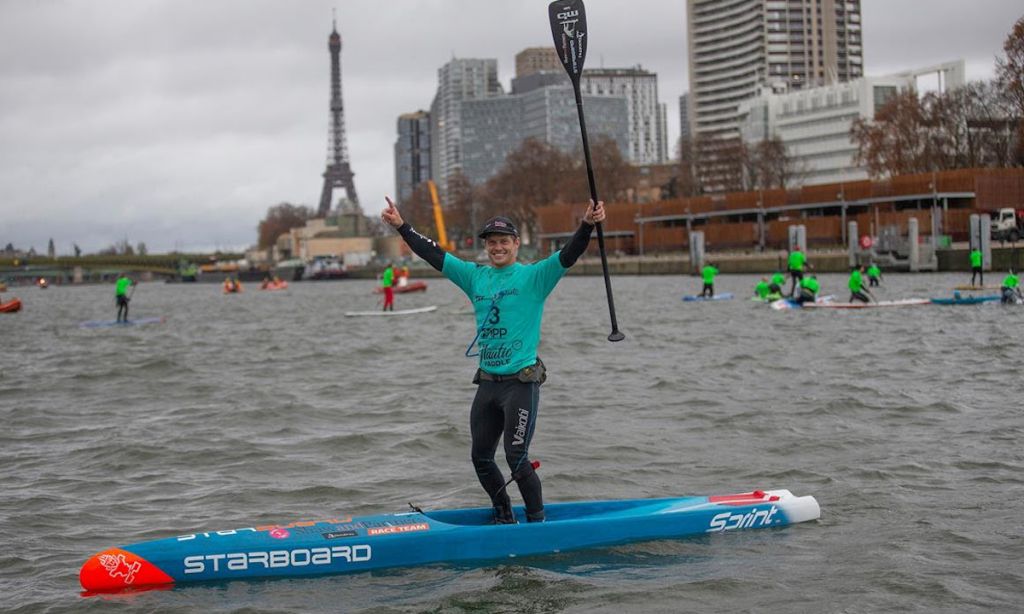 Michael Booth takes the Distance and Overall Event win at the Final stop of the 2019 APP World Tour: the Paris SUP Open. | Photo courtesy: APP World Tour / John Carter
PARIS, France - With 1,000 athletes taking off in the dark to paddle the iconic Nautic Paddle route west along the River Seine, Paris came alive for the final day of action at the Paris SUP Open, the climactic final event of the 2019 APP World Tour. Coming into the Final day, Arthur Arutkin from France and Casper Steinfath from Denmark were both still in the running and it would all come down to this final race of the season to decide World Championship Titles for 2019.
Men's Distance
The start was impressive, like nothing we have ever seen before, with just under 1,000 paddlers gunning down the River Seine at day break accompanied by SUP Squatches (large inflatable multi-person boards) filled with excited paddlers in fancy attire, with music and even fireworks - it was a site to behold in every respect and a fitting backdrop for this all important final day of competition for 2019.
Out of the gate, a lead pack of 10 or so of the leading men took control of the race, with Lincoln Dews, Michael Booth, Titouan Puyo and Connor Baxter heading up the lead pack, with the title contender Arthur Arutkin right on their heals. However, by the time that they rounded Notre Dame, Arthur had dropped back to around 10th, battling to keep up with the leaders, as the two Australians, Lincoln Dews and Michael Booth were starting to really take control of the race.
By the Eiffel Tower, it was still Lincoln and Michael going stroke for stroke, followed by Peru's Itzel Delgado and Ludovic Teulade from France, with Titouan Puyo coming back into the mix into the final stretch. But as the athletes accelerated for the last sprint into the finish, it was Michael Booth who had saved the best until last, just outrunning Lincoln Dews on the final stretch to secure the well deserved win. This was Michael's 3rd distance win of the season out of 4, firmly cementing himself as the most dominant distance paddler in the world and earning him the Distance Racing Title for 2019.
In addition to this, Michael was able to secure the overall event title at the Paris SUP Open, his second of the season amidst a stacked field of the very best athletes in the World. Congratulations to Michael Booth on a phenomenal season in 2019.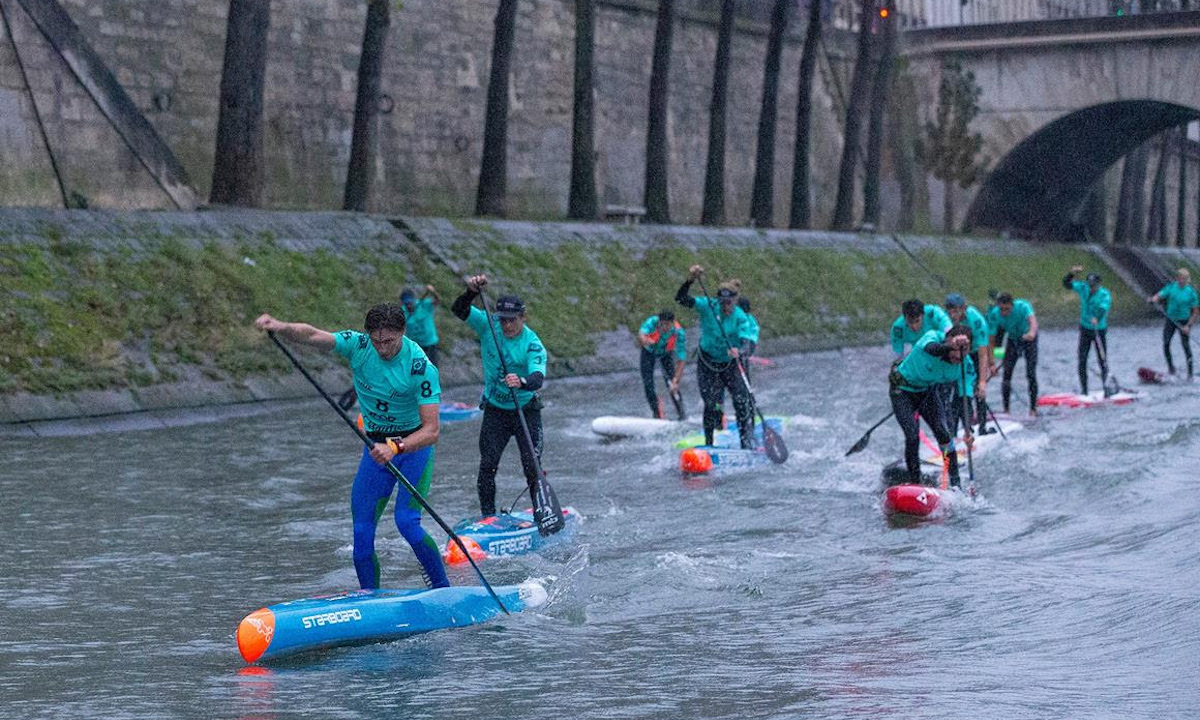 Lincoln Dews battles to the end with Michael Booth to secure 2nd in the distance and 2nd overall for the event for a strong finish. | Photo courtesy: APP World Tour / John Carter
Lincoln Dews from Australia has long been regarded as one of the most talented racers in the world, consistently putting on world beating performances amidst the world's best. Despite his board getting stuck in customs, unretrievable because of the major strike that somewhat paralyzed France during this past week, Lincoln was able to demonstrate his raw ability and sheer determination to battle the eventual winner all the way to the finish, to take a well deserved 2nd place in the distance race.
This, coupled with his 5th place in the sprints meant that he tied in points with the eventual overall event Champion Michael Booth, with the advantage going to Michael due to his race win, as per the APP Official Rules.
Despite narrowly missing out on the event win in Paris, Lincoln clearly showed exceptional form to wrap this 2019 season finishing in 6th place overall for the year. As a result, he has positioned himself as a major front runner for the 2020 season, as we anticipate great things from this understated talent from down under who has proved himself a threat regardless of conditions, course length or format.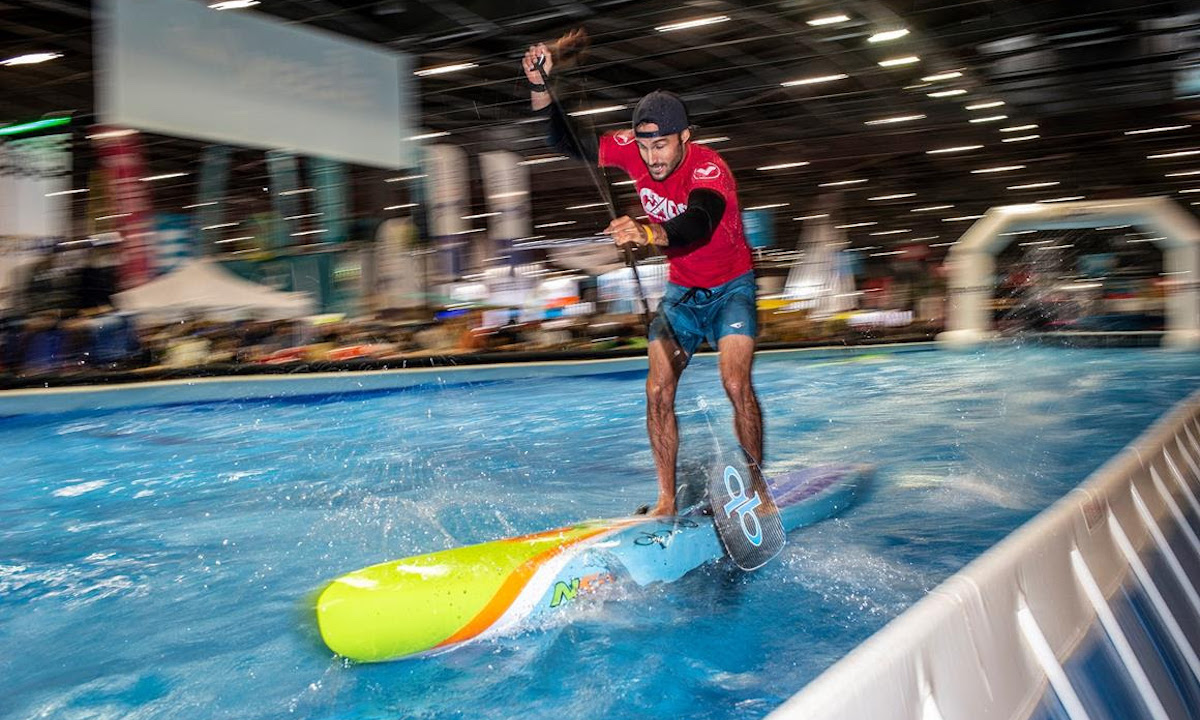 Titouan Puyo makes a dramatic push to the finish line, ending up in 3rd place in the Distance Race and 6th overall for the event. | Photo courtesy: APP World Tour / John Carter
Titouan Puyo from New Caledonia has long been known for his incredible skill in downwind racing, but more recently has proved that he is by no means a one trick pony: think back to his sprint racing display in London, where although a costly mistake in the final left him in 4th place, his pace was unmatched at that event, as a shot across the bows was fired to kick off the 2019 season.
As we wrap it all up in Paris, Titouan once again showed moments of brilliance, with an amazing battle in the distance race to finish in 3rd place and some strong performances through the sprint racing heats on Day 1, putting him in 6th overall for the event.
Small mistakes at key moments are the reason why Titouan is not higher than his 7th place overall finish for 2019, and if he can eradicate those inconsistencies in 2020, there is no doubt that he is every bit a major contender for the Title.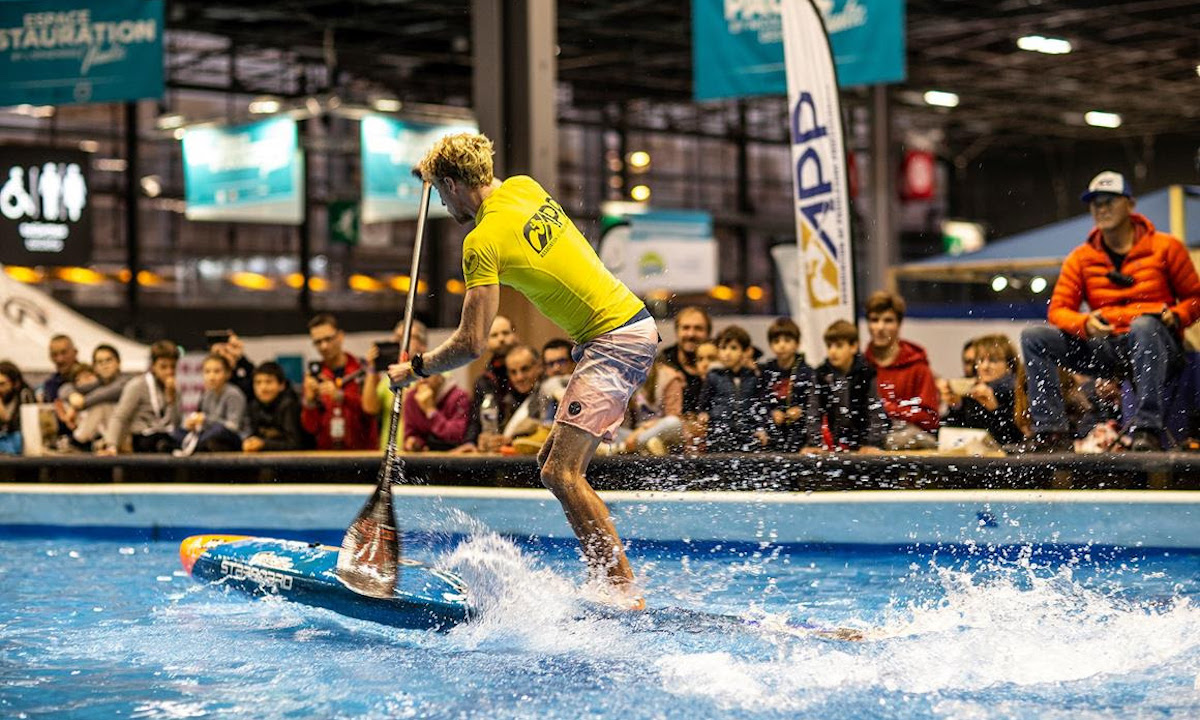 Connor Baxter completes the podium after a spectacular weekend in Paris and with an impressive Sprint Victory on Day 1. | Photo courtesy: APP World Tour / John Carter
After a stunning performance in the pool on day 1 of the Paris SUP Open, Connor Baxter looked hungry for victory at the start in the distance race. Staying in the mix with the lead pack around Notre Dame and through the midway point of the race, it looked as though Connor might back up his day 1 victory with a strong finish in the distance as well.
Unfortunately it wasn't meant to be, as his distance result was not enough to secure victory at the 2019 Paris SUP Open. However, it was enough to put him in 3rd overall for the event, notching up yet another podium finish for this multiple times World Champion as he finishes in 5th overall for 2019.
Connor's performance on day 1 was mind blowing, and clearly a statement of what is to come in 2020: there is no doubt that Connor will once again be one of the major Title Contenders in 2020 as we look forward to another dramatic year on the APP World Tour.
Women's Race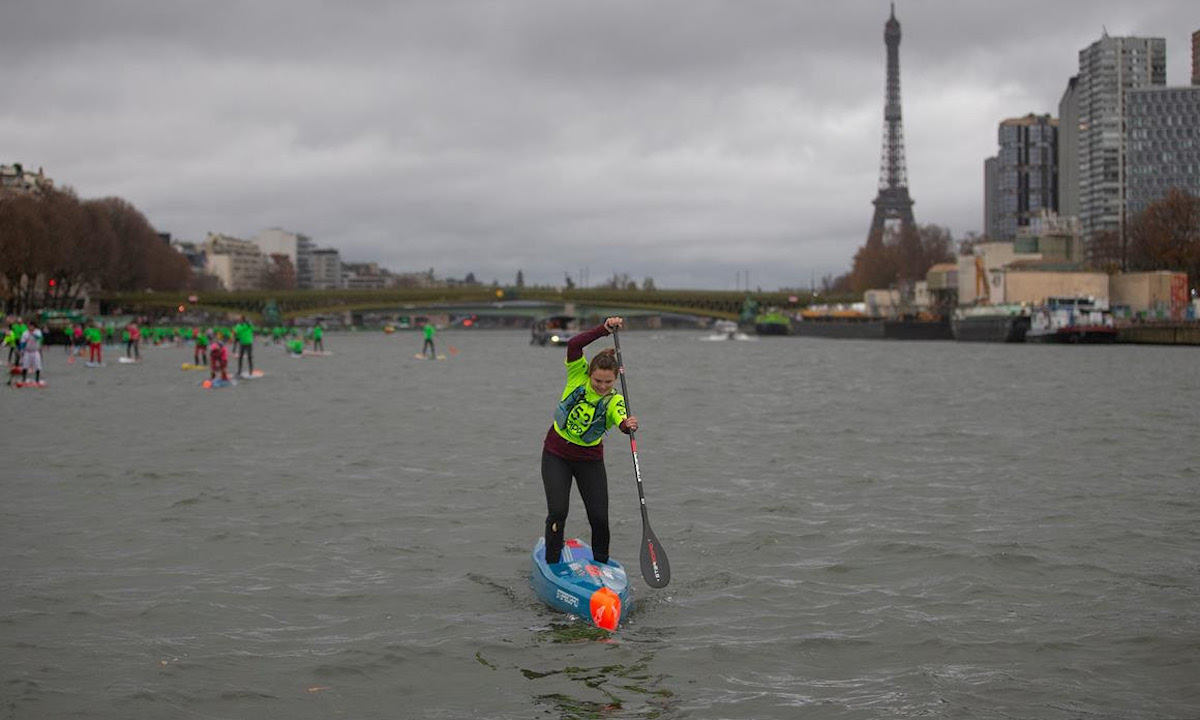 Fiona Wylde takes victory in the iconic Paris SUP Open Distance Race and secures 2nd overall for the event. | Photo courtesy: APP World Tour / John Carter
2016 World Champion Fiona Wylde has put together an impressively consistent season in 2019, with a couple of 2nds (New York and Osaka distance races and a 3rd in London). However, until this final event in Paris, she had yet to secure a race victory amidst one of the most competitive women fields ever on the APP World Tour.
Following a 5th place finish in the sprints, Fiona had her eyes set on the prize in what is one of the most iconic distance races in the world (alongside New York and London), biding her time to make a move, and working with the lead pack to stay in the mix and above all, in contention.
Coming into the final stretch past the Eiffel Tower, Fiona saw her window of opportunity, as she put her head down to power her way past Seychelle Webster, Lina Augaitis and April Zilg to make it across the finish line in 1st.
It was a gutsy performance by the versatile talent from Hood River, Oregon, and one that saw her complete an impressive scorecard across the APP World Tour distance races, with a 1st, two 2nds and a 3rd, propelling her into 3rd place overall for the 2019 season. Fiona will now be heading onto Las Palmas de Gran Canaria for the final stop of the APP World Surfing Tour to wrap what has been another impressive year.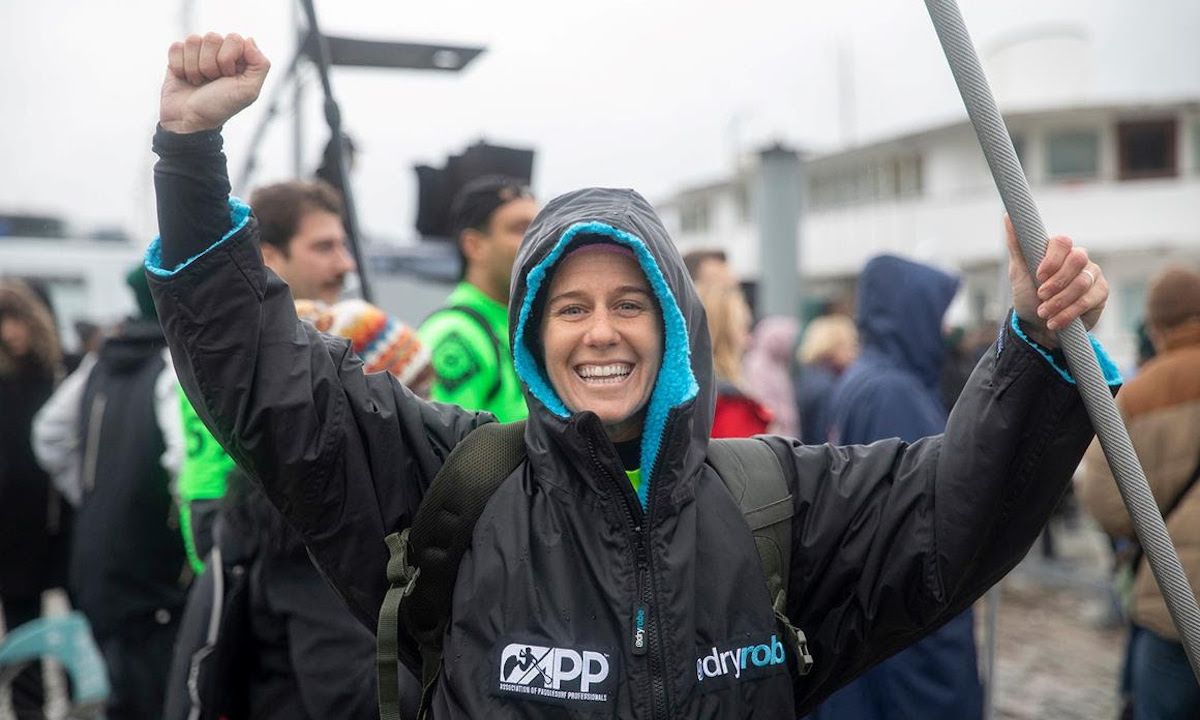 Seychelle takes the overall Paris SUP Open Victory with a 2nd place in the distance and victory in the sprints. | Photo courtesy: APP World Tour / John Carter
Coming into the final day of the Paris SUP Open a newly crowned World Champion, the pressure was off for Seychelle, as she had already made history at this 10th edition of this unique, Paris event. However, this did not stop her from powering her way down the majestic course on the River Seine, to battle it out with Fiona Wylde all the way to the finish line, just falling short of the win to settle for 2nd place. This combined with her sprint win in Paris completes what has been an incredibly dominant year for Seychelle, finishing 5 out of her 6 counting races in 1st and the last counting race in 2nd!
This is unprecedented, as it also means that she won both distance and sprint titles, making a major statement here in 2019 regarding her skill, commitment, drive and well rounded approach to all forms of SUP Racing. There is no doubt that Seychelle will be the one to beat in 2020, as we anticipate an even more exciting and action packed year ahead.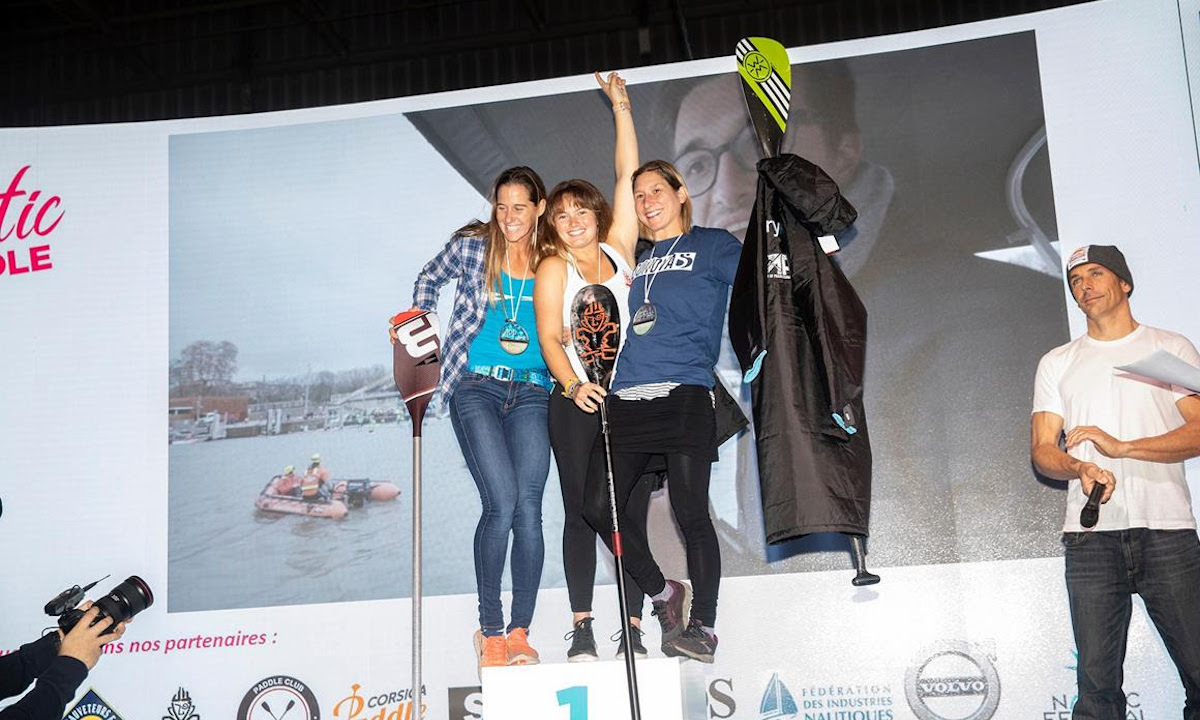 Lina Augaitis secures 3rd place in the distance race with a strong finish, coming from behind to make the podium on the Final Day. | Photo courtesy: APP World Tour / John Carter
It was exciting to see 2014 World Champion Lina Augaitis back in action in 2019 after a few years break and the arrival of two children, as she clearly showed that she has not skipped a beat, and is every bit as competitive and dangerous on the race course as she always has been, particularly when it comes to distance racing.
Despite a disappointing finish in the sprints on Day 1, Lina's gutsy performance and come back from behind on Day 2's distance race was nothing short of impressive as she was able to secure 3rd place amidst an incredibly talented field of the world's very best paddlers.
While there were rumors of her taking a step back from racing as we look ahead into 2020 and beyond, we hope that Lina decides to return to do battle once again on the APP World Tour in 2020, as she is clearly a force to be reckoned with (2nd in the distance in London, 3rd in the sprints in Osaka and then 3rd in the distance here in Paris) and is still every bit as competitive as she has always been.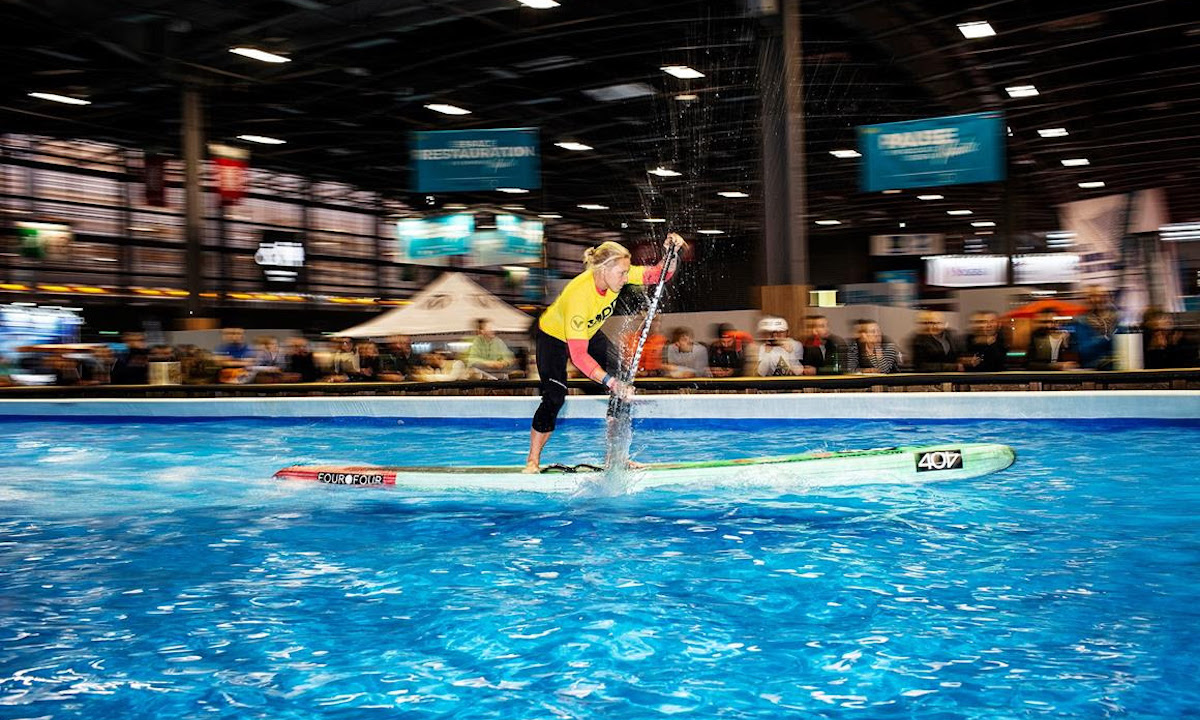 April Zilg takes 3rd overall for the event after what has been an amazing first year on Tour for the North Carolina talent. | Photo courtesy: APP World Tour / John Carter
April Zilg's energy and enthusiasm through the 2019 season has been unparalleled, and her performances across all the events on Tour have been nothing short of excellent as she battled with friend, fellow American and newly crowned World Champion SeyChelle for the title throughout the 2019 season and right up until the final heat of the 2019 APP World Tour sprints in Paris. While it was not enough to secure the title in 2019, there is no doubt that April is and will continue to be a major threat on Tour and a real Title Contender, not to mention an inspiration for paddlers from all over the World.
April finished in 2nd place overall for the year, as well as 2nd place overall in the sprints, and her consistency across both disciplines was undeniable. We can't wait to see April back in the mix in 2020 as the all new season will deliver even more dynamic and dramatic action on the 2020 APP World Tour.
Stay tuned for the Official Release of the 2020 APP World Tour Schedule and check out the highlights from what has been an amazing season in 2019 by going to www.appworldtour.com and @appworldtour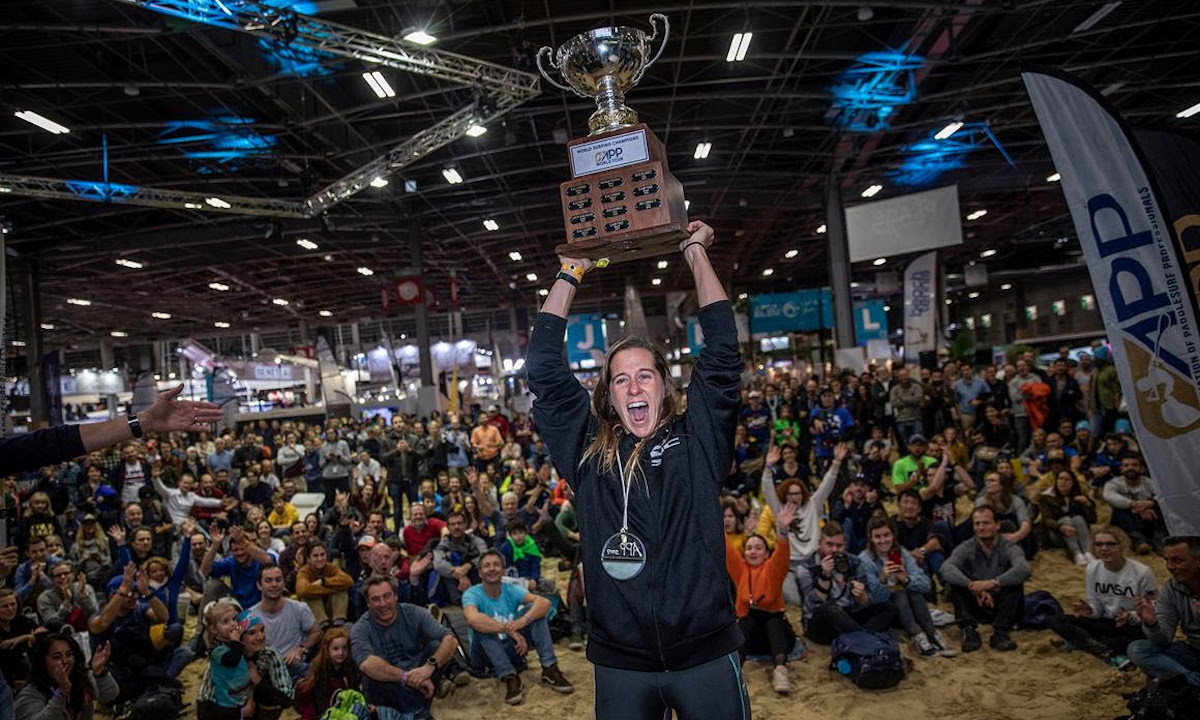 Seychelle, elated with her first World Title win. | Photo courtesy: APP World Tour / John Carter
About the APP World Tour & Waterman League International
The APP World Tour is the Professional World Championship Tour for the Sport of Paddlesurfing (also known as SUP / Stand Up Paddling / Paddleboarding), officially sanctioned by the IOC recognized Federation for Surfing Sports, the ISA (International Surfing Association). Re-branded in 2017 as the APP World Tour (previously known as the Stand Up World Tour and Series) the APP has been crowning the sport's World Champions for both Men & Women across Racing and Surfing since 2010.
Last modified onMonday, 09 December 2019 10:29

Submit your news, events, and all SUP info, so we can keep promoting and driving the great lifestyle of stand up paddling, building its community, and introducing people to healthier living.
Website: supconnect.com
Email

This email address is being protected from spambots. You need JavaScript enabled to view it.