Inside the 2018 Molokai Holokai Paddle Festival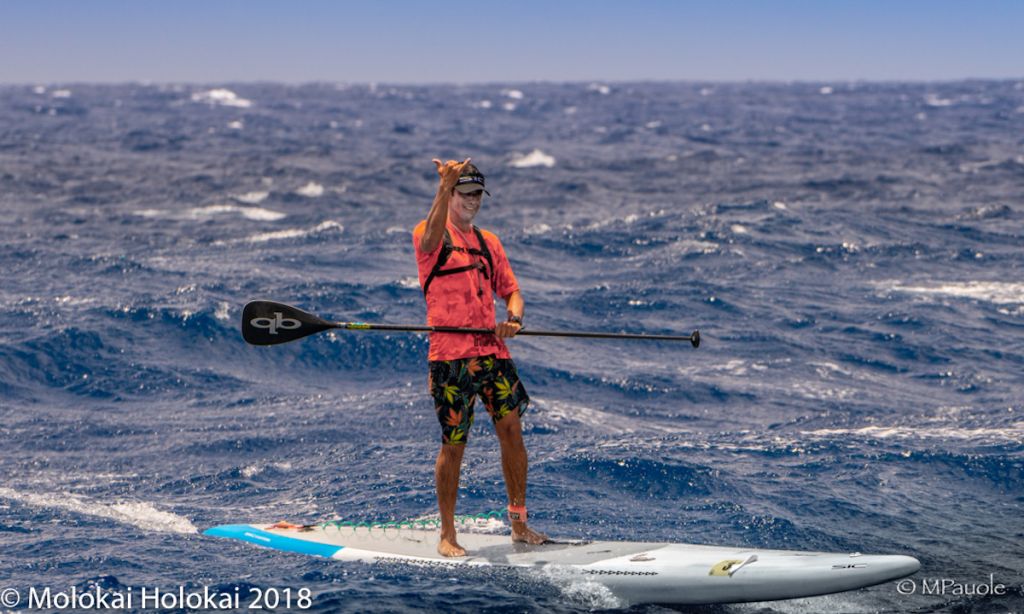 SIC's Livio Menelau throws one up during the 2018 Maui2Molokai Race. | Photo courtesy: Molokai Holokai Paddle Festival
MAUI, Hawaii - The Maui Jim Molokai Holokai Paddle Festival hosted by Youth in Motion kicked off with the Maui2Molokai Challenge on Saturday 7th July 2018. Pouring rain, bad visibility gave a moment of doubt to the racers if this event could happen as the remnants of Hurricane Fabio were passing North of the islands. With a unanimous consensus and word from the channel that blue sky and winds were in the picture it was agreed to postpone for 30 minutes. Racers dotted the beach with their bright safety jerseys with anticipation that the visibility would clear and the island of Molokai would soon be in their sights.
Day 1 - Maui2Molokai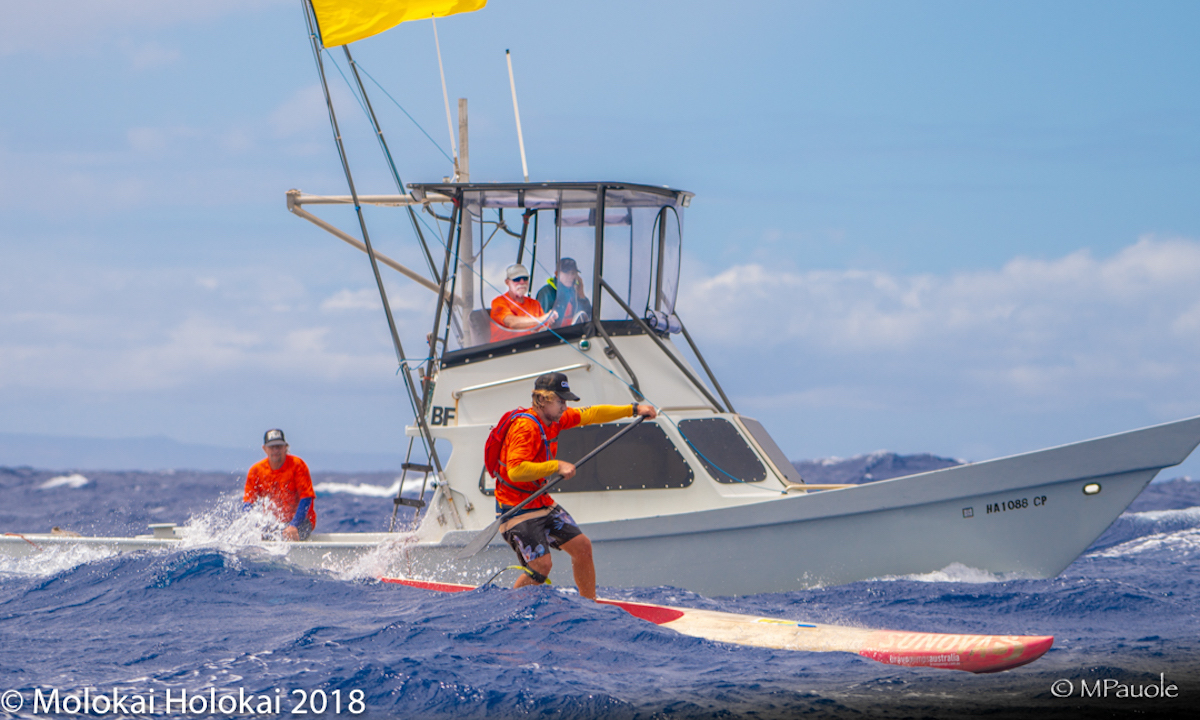 Overall SUP champion James Casey charging through the channel bumps. | Photo courtesy: Molokai Holokai Paddle Festival
With winds gusting to 30 mph and big swells out in the Pailolo channel, the SUP and prone divisions were the first to begin at 9.30am with the OC1/2 and Surfski following 30 minutes later. The foil division that consisted of Zane Schweitzer, Dave Kalama, Austin Kalama, Mark Raaphorst and Alan Cadiz started 40 mins after the first start. James Casey (Australia) took a commanding lead from the beginning with no intent in giving up his Maui to Molokai title while Kody Kerbox (Maui) showed determination to catch him and certainly give him a solid race. With the strong winds and big seas the OC1 and FOIL divisions would soon be eyeing James, Kody, Marcus and Livio with the plan to overtake. James Casey managed to maintain his overall lead to the Kamalo Buoy until the top OC1 and Foilers took over. No matter, James beat his time by 10 mins, becoming the Maui to Molokai SUP Champion with his second title and a very respectable time of 3:07:59. SIC Maui's athlete Kody Kerbox followed shortly after making grounds from 2017 and beating off Marcus Tardrew by taking 2nd place (3:10:06), with Marcus in 3rd (3:15:21) and Livio Menelau in 4th (3:23:54).
| | |
| --- | --- |
| | |
Kody Kerbox (left) and Elijah Schoenig (right) race in the Maui2Molokai channel crossing. | Photo courtesy: Molokai Holokai Paddle Festival
A pleasant surprise was young 16 year old Elijah Schoenig from California who took 5th overall in the SUP division with a time of 3:33:50 and 1st in the new unofficial Unlimited Youth Division. 2019 will open a new Youth division so these Solo youngsters can prep for securing their solo spots in the World Championship race of the Molokai to Oahu (M20). The official Youth Boys Champion was 15 yr old Slater Fleck from Maui in the 14' and under division with local boy Alex Mawae taking 2nd place. Penelope Strickland showed her prowess on the ocean taking 1st place and becoming our new 2018 champion, from one Kiwi to another when Annabelle Anderson won in 2017. SIC Maui's 15yr old Jade Howson (California) racing on her 14 certainly showed she was a force to be reckoned with taking 2nd womens SUP open overall as well as securing her Youth Girls Champion Title.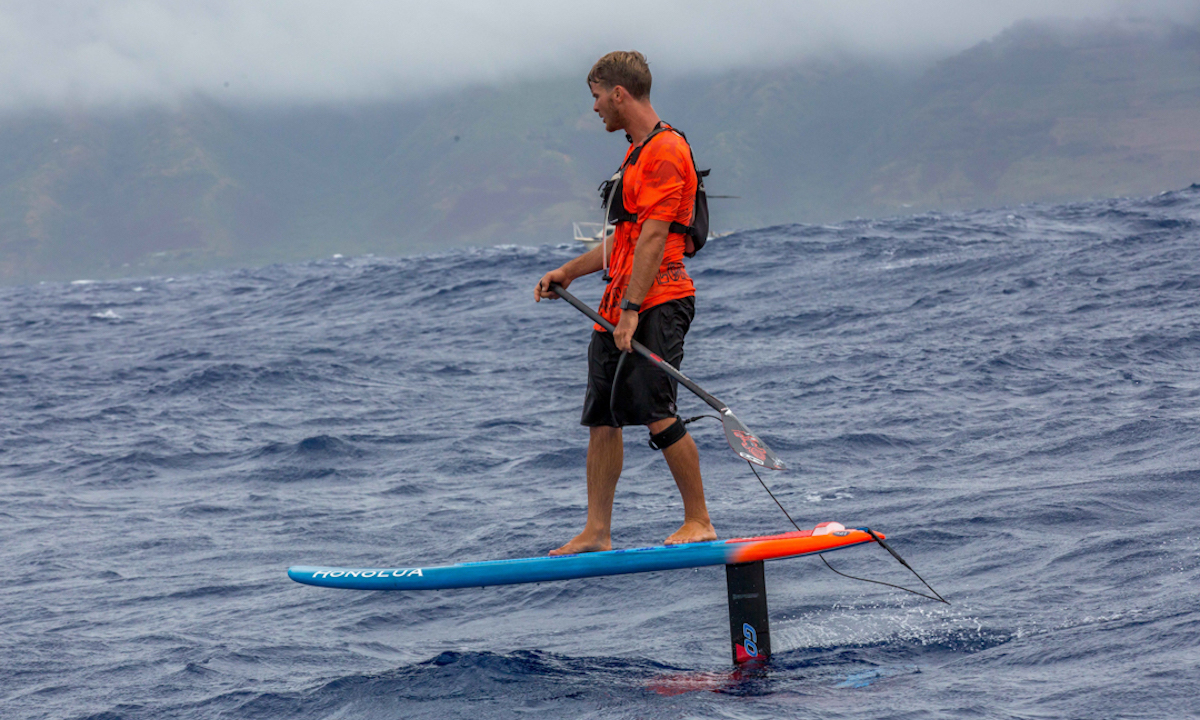 Foil victor Zane Schweitzer flying on his GoFoil. | Photo courtesy: Molokai Holokai Paddle Festival
The SUP Foil division just blew everyone out of the water as they picked away at the OC1 fleet with top notch paddles such as Molokai's Ekolu Kalama past M2O SUP champion, Lopaka White and even one of Stand Up Paddling's greatest downwind coaches Jeremy Riggs in the OC2 division and Jane McKee another SUP paddler who chose to race on an OC1. Zane Schweitzer, Dave and Austin Kalama along with the foil relay team of Mark Raaphorst and Alan Cadiz certainly laid down the gauntlet for the future of Foiling. This was an incredible race to watch and even in the distance one could see these guys carve and turn catching the big swells and racing past other competitors. Dave Kalama had his longest and fastest glides in his entire foiling history and Zane made history once again being the first to Foil the channel and set a new world record in a time of 2:24:11.
| | |
| --- | --- |
| | |
Dave Kalama (right) and his son Austin Kalama (left) competing in the foil division at Molokai Holokai. | Photo courtesy: Molokai Holokai Paddle Festival
Two miles before the finish of Kaunakakai Pier the wind switched to the west making the event even more challenging with Zane, Dave and Austin dueling it out for 1st place overall. No matter to Zane he punched through every pain barrier and cramping muscles and took on the west wind, claiming the overall title of the Maui2Molokai Challenge Champion 2018.
Young 9 yr old Bobo Gallagher did an amazing performance with his paddling partner Lara Claydon from Maui. Bobo, Lara, the Rose brothers, Keaton and Zeke, Alex Mawae, Slater Fleck, Jade Howson, Eli Schonig is what this event is about. To think that the Maui2Molokai Challenge was only started because of two little boys, that grew to three, to four and so on. Those three little boys at 8 and 10 yrs old were Connor Baxter, Kai Lenny and Zane Schweitzer. This channel crossing is not only an epic race and one of the best down winders in the world but for the Molokai Holokai Paddle Festival it is the mode of transportation to get to the important part of the weekend, Sundays racing and the festivities.
Day 2 - Molokai4Molokai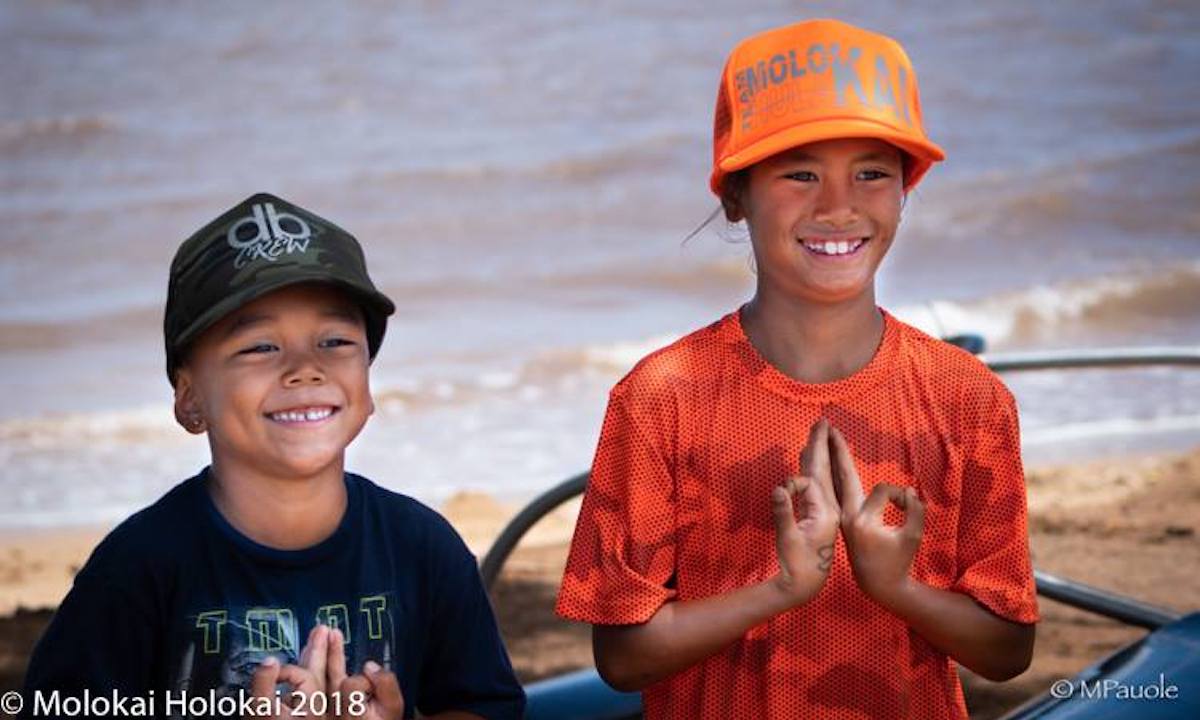 Kids having fun at the 2018 Molokai Holokai Paddle Festival. | Photo courtesy: Molokai Holokai Paddle Festival
Day two was kicked off with an epic down winder of 10 miles of pure fun glides and 30 mph winds. The course was open to all ages and to all levels as different entry points into the race made it super fun for all. Sundays race had racers as young as two years old participate to the oldest at 70 years old, Molokai's Clay Ching who raced his OC1 canoe.
The Molokai community certainly came out with over 50 local kids participating, parents, aunties and uncles, grammas and grandpas all putting in their time to volunteer in making this an unbelievable weekend not just for the local youth but the visiting paddlers that came to the shores of Molokai via the Maui2Molokai Challenge. For more information on results, see below or click HERE.
Men's Overall
James Casey
Kody Kerbox
Marcus Tardrew
Livio Menelau
Elijah Schoenig
Women's Overall
Penelope Strickland
Jade Howson
Mel Selvidge
Foil Overall
Zane Schweitzer
Dave Kalama & Austin Kalama
Mark Raaphorst & Alan Cadiz
For more information on the Molokai Holokai Paddle Festival, click HERE.
For more SUP News click HERE.
Last modified onMonday, 16 July 2018 09:13
Email

This email address is being protected from spambots. You need JavaScript enabled to view it.