Chris Knoles Shares Insights On The Benefits Of SUP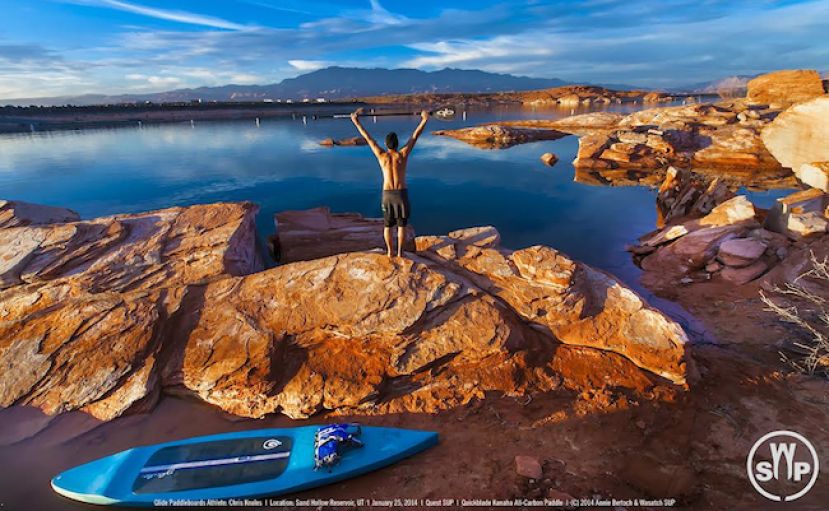 SALT LAKE CITY, Utah - Christopher Knoles, the newest member of the Glide SUP Team, wrote this insightful and eloquent piece, entitled 'Why I SUP', giving readers unique insight into the benefits of stand up paddle boarding.
Why I SUP
By Christopher Andrew Knoles
Viewed from across the water, Stand Up Paddle Boarding (SUP) is a graceful exercise. Paddlers appear to be gliding quietly and effortlessly over the water's surface, as if being pushed by an unseen hand. But the appearance is only partially true. With the proper technique, our arms do little work. Instead, we engage our core muscles, relying on a cycle of repetitive crunches to propel us through the water. But that's only the beginning. The aerobic component of SUP is well-understood by any paddler on the water – regardless of their pace or their purpose. Slow, deep breaths allow us to feed oxygen throughout our bodies, where every muscle is engaged.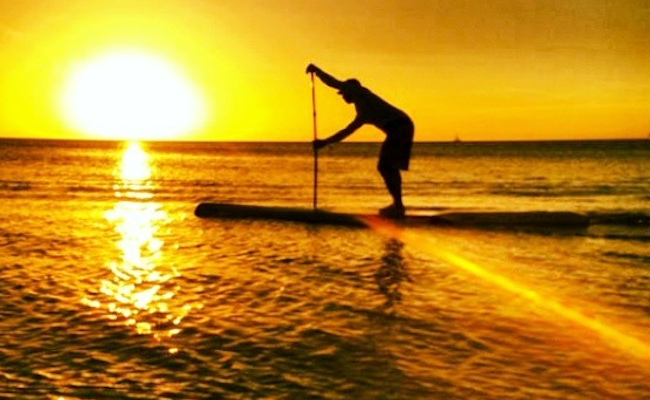 Image: Supconnect Photo Of The Month Entrant, Dennis Martinez
While on the water our entire body is participating in a balancing act, constantly and finitely adjusting every muscle from our toes, through our diaphragm and neck, to maintain our bodies' upright, balanced position on the water. With practice, this equilibrium becomes sub-conscious. Balanced, our mind escapes the tacit activity and absorbs the sensory experience.
As we paddle, our bodies respond with perfect symmetry.
A day on the water is invigorating! Whether we're running barefoot along the edge of the surf, floating lazily down a river on a tube, or flying the hull between tacks on a catamaran, we benefit from our interaction with the water's surface. The rhythmic rise and fall of the swell is predictable and engaging. We learn to compliment its movement and paddle efficiently, deliberately. The unexpected breath of wind or wayward wave will keep us from becoming complacent in our balance. We open our entire senses to establish connections to the rhythm until we're no longer a foreign object being tossed about, but an extension of its rhythmic breathing.
To stand on the water is to move with the water.The sun relaxes us. Exposure to the sunlight causes endorphins to release, increasing our nervous systems' threshold for pain, relieving stress and wrapping our skin in a warm blanket of Vitamin D. Standing upright on our paddle boards, our bodies absorb the sun's gift directly onto our shoulders, arms and head.
Standing upright on the water allows the sun's energy to meet the water's surface and reflect to the sky where our skin catches it evenly, dispersing it's warmth around us like a reassuring embrace on our bodies' largest organ. Standing on the water affords us a visual vantage that is completely foreign to those who kayak, canoe or row. We can see over the waves and swells, to shoreline near and far. Our eyes explore the new perspective on our surroundings that changes with every stroke.
Our SUP board is a simple extension of our feet, allowing our bodies to feel the water's texture and absorb its energy through our legs and upright spine. Our paddle boards are light, simple and unadorned. Their shape has been honed for centuries, allowing us to move upon the water with simplicity, responding differently to each muscle in our core as we subtly give it new direction.
Our SUP board is a simple extension of our feet, allowing our bodies to feel the water's texture and absorb its energy through our legs and upright spine.
When we're finished, we lift our boards from the water with ease, completing an entire experience devoid of awkwardness, strain or stress. We reflect on our journey, and realize only then that our mind is empty of chatter, of stress, of lists and priorities. Our only conscious thoughts are of gratitude and an acknowledgement of a desire to soon return to the escape that only paddle boarding can provide.
Chris Knoles lives in Salt Lake City, UT. Averaging four practices per week, he paddles valley ponds and surrounding mountain lakes from March through November. During the frozen winter months, he practices on the Great Salt Lake and in the waters among the red rocks of Hurricane, UT. His other interests include swimming, cycling, running, music and photography. Christopher is a sponsored athlete of Glide SUP, and is a dealer of paddle boards, paddles and SUP-specific equipment.
About Glide SUP
Glide SUP is the largest manufacturer of Stand Up Paddle and Surfboards in the Americas. Based in Salt Lake City Utah, Glide handcrafts each board using modern surf and SUP manufacturing techniques. Only the highest quality, eco friendly products are used in the manufacturing of our boards. Our biomass certified resin and locally produced EPS cores are easily recycled so our impact on the environment in minimal.
Last modified onTuesday, 24 March 2015 11:55
Email

This email address is being protected from spambots. You need JavaScript enabled to view it.