APP World Tour Heads to Maui to Kick Off 2017 Race Season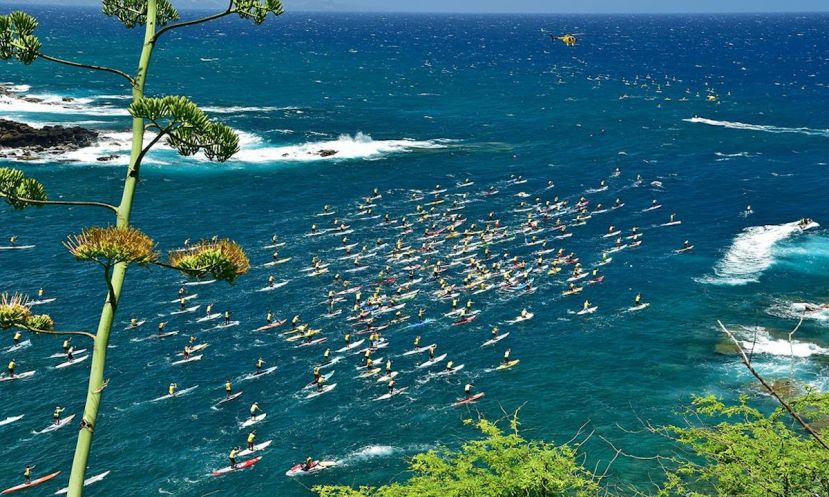 2016 World Series finals on Maui. | Photo: APP World Tour
MAUI, Hawaii - Tomorrow all eyes will be on the beautiful island of Maui for the opening stop of the 2017 Racing Season on the APP World Tour as the Maui Pro-Am will feature a star studded list of athletes who will be stepping up to do battle in Racing's ultimate arena: Maui's world famous North Shore.
Running from the 10th - 12th of March, the Maui Pro-Am will feature two racing disciplines as part of the Racing Season on the 2017 APP World Tour:
Surf Sprints
The dramatic venue of Ho'okipa Beach Park delivered one of the most exciting racing spectacles the sport has ever seen last October as the World's best stepped up for a battle to remember. This year, an extremely promising surf forecast bodes well for equally spectacular action, as tension mounts for what will be a dramatic start to the 2017 season. The APP World Tour Surf Sprints will be broadcast LIVE this year starting at 11am HST / 1pm PST on Saturday 11th March at appworldtour.com
Long Distance
Originally planned at the iconic and world famous Maliko to Kanaha Downwind Run, due to the forecast of light and variable winds, organizers are already formulating and will post an alternative course for this weekend's long distance race should this wind pattern remain through the weekend as predicted. This new course format will provide plenty of excitement for participants and spectators alike and will establish Kanaha Beach Park as the focus for all race activity and entertainment for Sunday 12th March. The final decision regarding the course to be taken over the next few days as the forecast develops. Stay tuned for updates on this at www.appworldtour.com.
With $50,000 prize-purse and vital points on the APP World Tour at stake, all eyes will be on the prize on Maui's North Shore for a dramatic weekend of World Class Racing.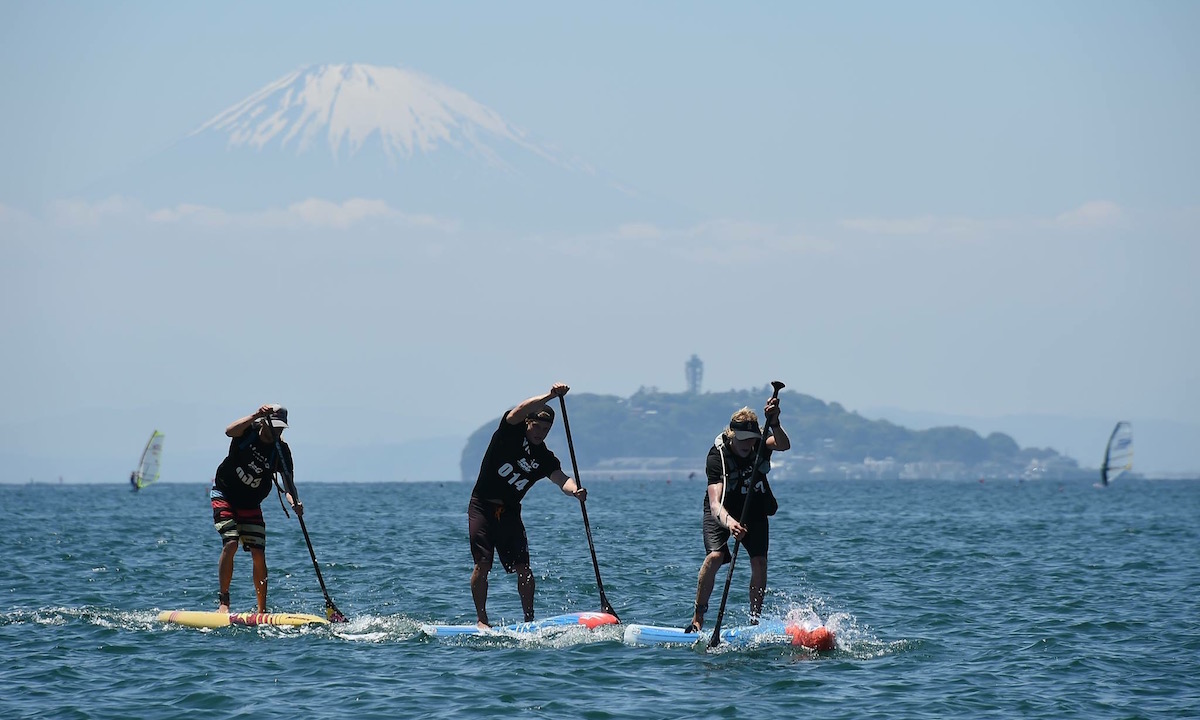 An impressive line up of the World's leading Men to take center stage on Maui: who to watch out for on the APP World Tour stop 2. | Photo: APP World Tour
With an all new look and feel for 2017 and following the first spectacular stop for Surfing, at Sunset Beach, the APP World Tour hosts an all star field coming into the first Racing stop of the season.
In the Men's division, as always, you have to watch out for 2x World Champion Connor Baxter (Starboard) from Maui who will be feeling right at home here and now fresh and recharged from his off season at home and ready for action. However, his arch rival Kai Lenny (Naish) is opting to make use of his first discard of the season, with prior commitments to qualify for the 2017 surfing Triple Crown taking him to Tahiti, opening the door to the competition and putting the pressure squarely on Kai to ensure no mistakes as we move on through the 2017 season.
Despite these two having held the Title between the two of them for the past five years (Kai Lenny: 3 vs. Connor Baxter: 2), the depth of talent on the APP World Tour in 2017 is staggering and perhaps the fiercest and most impressive yet. Here are a few names to watch out for at this first stop and through the year on Tour:
1. Casper Steinfath
The Great Dane has been on fire the past few years and finished in 2nd place overall last year, having held the yellow jersey for much of the 2016 season. He also had a great result at the last event of the season on Maui, taking the win in the sprints.
2. Zane Schweitzer (Starboard)
The ever talented and entertaining Zane Schweitzer will be stepping up once again in 2017, hoping to kick the racing season off on a high at home on Maui. There is no doubt that Zane will shine in the Surf Sprints, his favorite racing discipline.
3. Arthur Arutkin (Fanatic)
This young Frenchman is one of the most under-the-radar talents on Tour and will without doubt turn heads in 2017. Rarely finishing outside the leading pack over the last few years, Arthur is a clear contender for the Title as Europe's leading light.
4. Michael Booth (Starboard)
This powerhouse from down under is one of the most formidable paddlers in the world at the moment, and is looking to tune up his overall performance for a shot at the Title in 2017.
5. Jake Jensen
Always right up there, but somehow a little unlucky when it counts, Jake is also one of the major contenders coming into the 2017 season, with a phenomenally well rounded ability and impressive open water skills.
This is just a glimpse at five of the major contenders this year, but watch out for other standouts that could shake up the leaderboard: from Travis Grant, James Casey and Leonard Nika (Starboard), to Slater Trout, Mo Freitas and Bernd Roediger, not to mention other Aussie talents such as Matt Nottage (Starboard), Lincoln Dews and Toby Cracknell.
One thing is for sure: the starting gate will be stacked, the competition fierce and the action, red hot.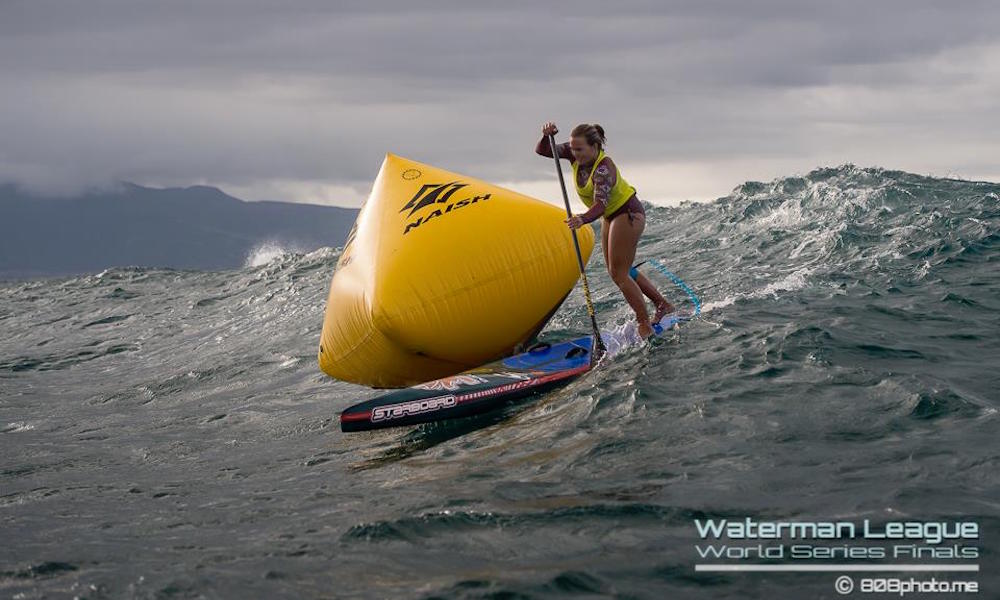 Women's field is looking more competitive than ever, as tension rises coming into the first APP World Tour race of the season. | Photo: APP World Tour / 808photo.me
In the Women's division, the competition is also stacking up at an impressive rate, as we see former Champions coming together with stars of the future in the creation of an exciting starting list that will provide some spectacular entertainment here at the first racing stop of the APP World Tour season.
Fiona Wylde (Starboard, Werner Paddles) is coming off a stellar performance at Stop #1 of the 2017 APP World Tour at Sunset Beach where she finished in 2nd place for the event, and caught one of the best waves of the entire event in pumping Sunset Beach conditions. However even more relevant is that she secured victory here in Maui last year, but also the 2016 World Title in the process, a place where she spends most of her winters and continues to assert herself as one of the most well rounded athletes on Tour.
However, watch out for Candice Appleby: like Fiona, she is incredibly well rounded and dominated the 2015 season to take the well deserved World Title amidst some hefty competition. Candice will be looking for redemption in 2017, as she has her eyes set on both the Racing World Title, but also the Overall, something she looks likely to battle throughout the year for with Fiona Wylde as they will go blow for blow through the 2017 season!
Beyond these top two ladies is a mix of well known, established and new talent, ready to make their presences felt on the 2017 APP World Tour.
1. Sonni Honscheid
Watch out for the ever dangerous Sonni Honscheid (Starboard), Champion of the Mercedes Benz SUP World Cup in 2016, and someone who feels right at home here on Maui, a place where she spends much of her year. There is no doubt that she has her sights set on the Racing World Title in 2017.
2. Manca Notar
Also incredibly dangerous and still very young, Manca Notar (Starboard) from Slovenia will be looking to assert herself on the APP World Tour this season, as the talent is clearly there, together with the hard work ethic and driven approach - watch out for Manca in 2017
3. Terrene Black
A newcomer to the APP World Tour in 2017, Terrene Black from Australia is a 'Molokai to Oahu hall of famer' and will be looking to build on the confidence gained at the first stop on the APP World Tour at Sunset to make her presence felt at the 1st Racing stop of the year.
4. Local Girls
You can never count out local talent, particularly when they are as talented and driven as young Annie Reickert and Lara Claydon (Starboard) from Maui. Both these young ladies competed at Sunset and will be looking to build their momentum here at Stop # 2 of the season on the North Shore of Maui.
One thing is for sure - it will be an event to remember and a show not to miss, so make sure to follow us on Social at #appworldtour.com and join us LIVE at www.appworldtour.com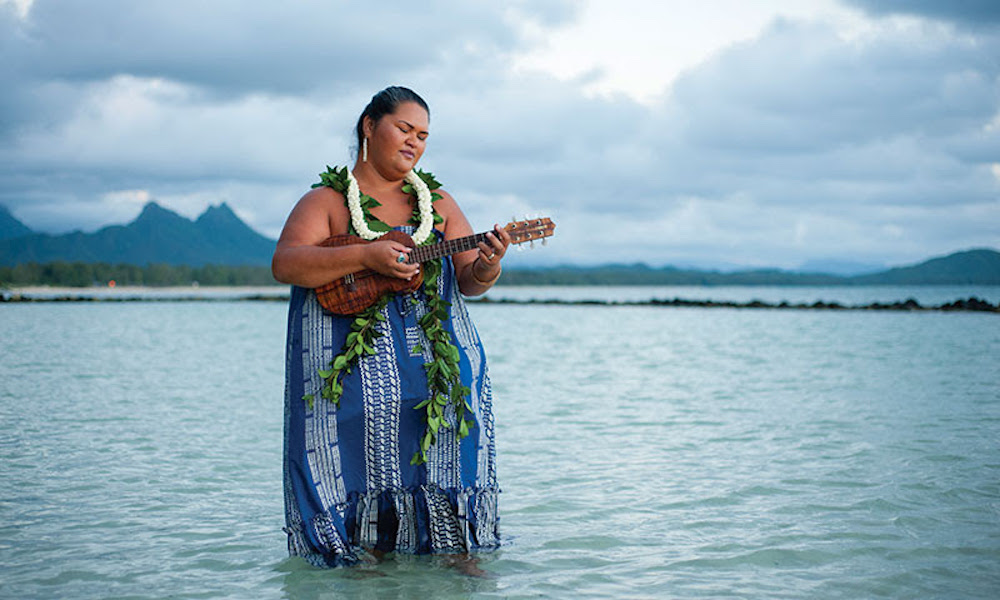 Hawaiian musician Paula Fuga. | Photo courtesy: APP World Tour
However, it is not only about the Pros, the Maui Pro-Am features racing for all ages, both genders and all abilities and has something for everyone, with social events and Live music by Paula Fuga
While a lot of the hype and excitement surrounds the professional division of the 2017 APP World Tour, one of its main focuses through the 2017 season is to open the doors to all forms of participation and an enhanced experience for all in attendance. From World Qualifier Series Racing with its own prize-purse and providing an entry point to the prestigious World Tour field at the culmination of the 2017 season, to open age group racing and youth competition, the Maui Pro-Am provides a unique mix of Professional sports entertainment and participation.
In addition, a full weekend program features social events, movie screenings and after Parties at Rock & Brews in Paia and Live Music down at Kanaha Beach Park on Sunday afternoon by Paula Fuga. Entries are still open and there will be fun for all the family at the 2017 Maui Pro-AM, so for race registrations, event info and much more, go to www.appworldtour.com
Please note that all competitors will receive APP World Tour T-shirt, race jersey and lunch on Sunday served at Kanaha Beach Park, so make sure to not miss out on the fun if you can make it.
About the APP World Tour and the Waterman League Group
The Waterman League Group is an event management and media production company headquartered in Hawaii focused on developing multi-disciplined water sports. The term 'waterman' refers to versatile athletes who can engage in various forms of water sports at the highest level.
As founders of the World Championship Tour for Paddlesurfing (also known as Stand- Up Paddling), the Waterman League has been crowning Men's and Women's World Champions for both racing and surfing since 2010, with flagship events across the Americas, Asia, Europe and the Middle East, now branded as the APP World Tour.
The APP World Tour produces a complete inventory of programming, including live and post produced broadcasts from all its events, with distribution to over 100 countries worldwide via premier global networks such as CBS Sports Network and supported by IMG Media.
Information is available at appworldtour.com and fans can follow events @appworldtour on Facebook and Instagram.
Last modified onTuesday, 07 March 2017 16:22

Submit your news, events, and all SUP info, so we can keep promoting and driving the great lifestyle of stand up paddling, building its community, and introducing people to healthier living.
Website: supconnect.com
Email

This email address is being protected from spambots. You need JavaScript enabled to view it.