APP World Title Race Intensifies At Japan ProAm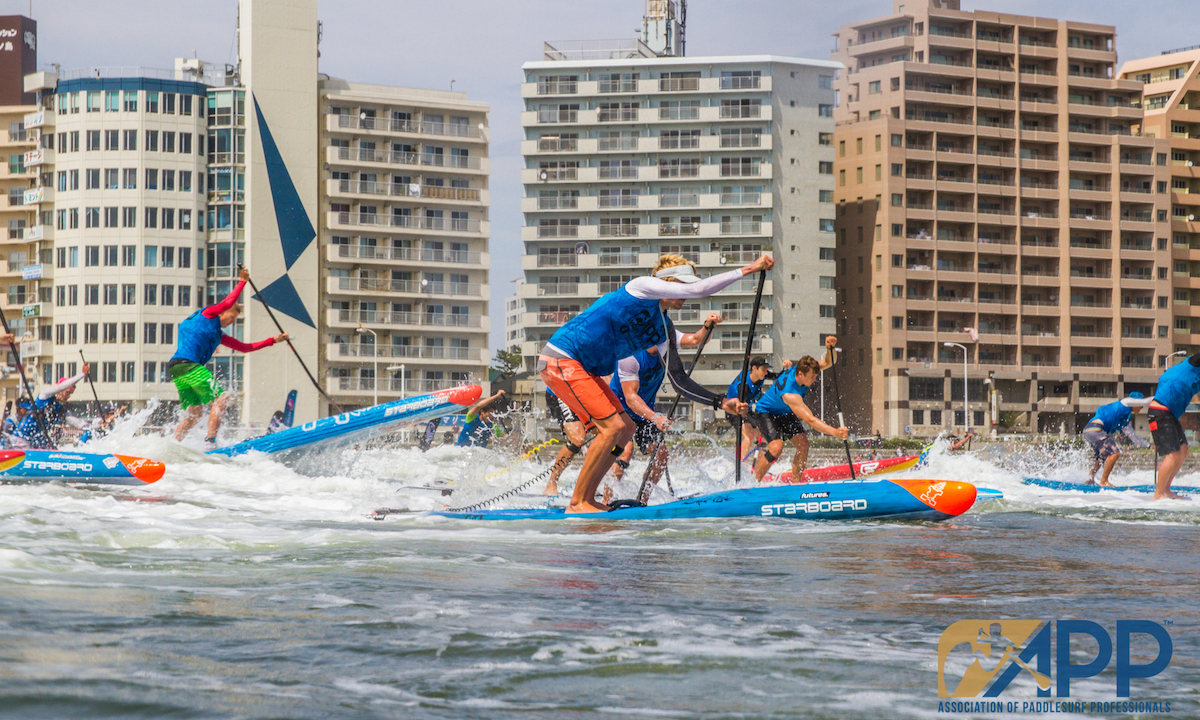 Start of the men's long distance race. | Photo: APP World Tour / Georgia Schofield
Day 1
ENOSHIMA BEACH, Japan - Enoshima Beach provided the perfect backdrop for day 1 of racing, with a course that tested every aspect of the athletes' skill base to master, only intensified by 25, gusting 30+ knot winds whipping across the Bay. The 5 lap course consisted of 3 regular laps, a super lap and a shortened finish lap, with strategy, endurance and ocean knowledge all playing into equation for the Contenders, and the World's best stepped up to the challenge.
Connor and Mo battled the entire 10km of the race as they went back and forth with the lead throughout, providing an exciting spectacle for audiences on site and online. As the two Hawaiian athletes rounded the last buoy, it seemed as though Mo Freitas might just have it in the bag, as he powered towards the finish line.
Connor Baxter (Starboard) from Maui and Mo Freitas from Oahu have a battle for the ages on Day 1 of the Trump Wetsuits Japan Pro-Am presented by Hawaiian Airlines, stop #3 of the 2017 APP World Tour. | Photo: APP World Tour / Georgia Schofield
However, a set wave hit right as they were coming into the beach that allowed Connor to catch up to be neck and neck, as the two hit the sand together for a dramatic run up the beach to finish. In a moment that will likely replay in his mind for some time to come, Mo stumbled as the two entered the finish chute, allowing Connor through to victory.
This victory will be sweet for the 2016 World Champion Connor Baxter, having lost out to Mo in Maui, as he came to Japan focused on regaining the yellow jersey before stop #4 in Germany. This first day of action was another impressive performance from the two-time World Champion, as the field of talent only deepens, and Connor continues to rise to the challenge.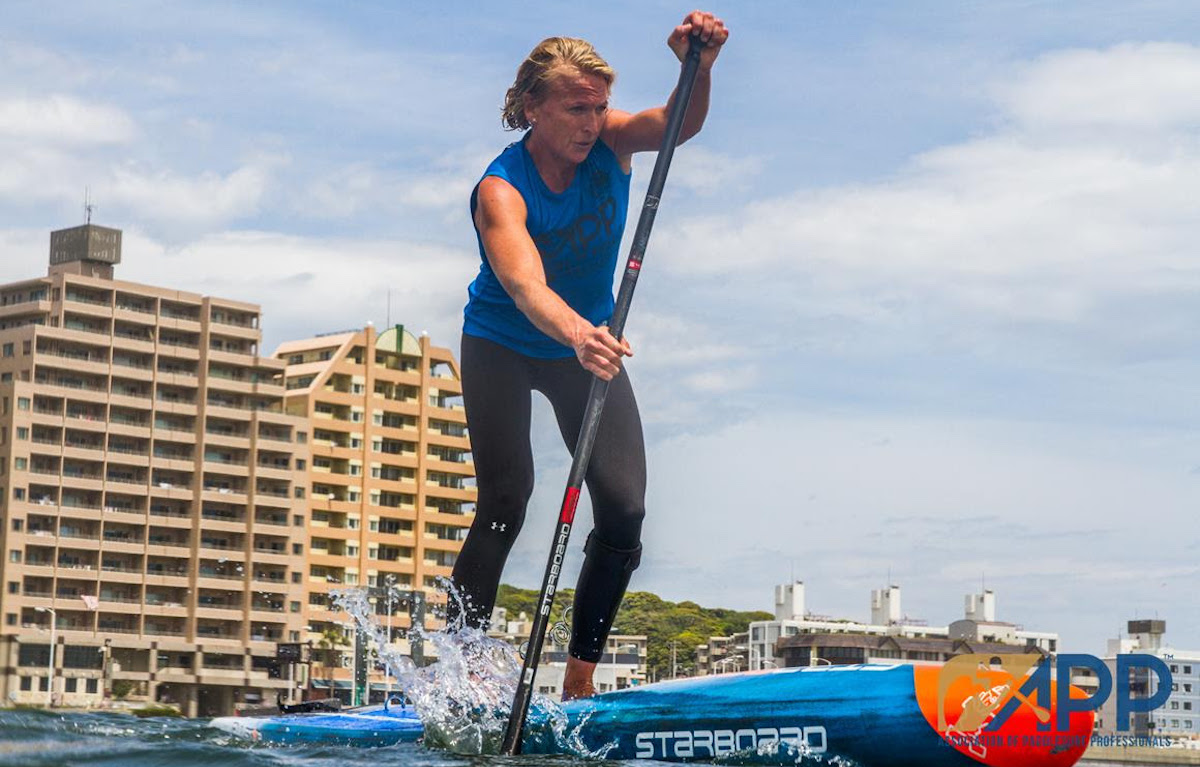 Sonni Honscheid proves she is anything by one dimensional posting her 2nd long distance win of the season here in Japan. | Photo: APP World Tour / Georgia Schofield
Sonni Honscheid (Starboard) from Germany remained composed and focused on Day 1 despite the challenging conditions that the gusting winds provided. Sonni put her head down, played her own strategy and stole victory amidst a star-studded cast in the distance race of the Trump Wetsuits Japan Pro-Am, presented by Hawaiian Airlines.
With the likes of yellow jersey holder Terrene Black from Australia, 2015 World Champion Candice Appleby and the current World Champion Fiona Wylde to battle against, not to mention the 2016 event winner Angie Jackson from Australia, Sonni had her work cut out, and used the Super Lap to her advantage, coupled with a determined performance to take victory. A victory in the long distance race here in Japan makes it two for two by Sonni, having taken the long distance win back in Maui and clearly demonstrating that she is one of the most dangerous distance paddlers in the world.
While sprinting is not her strong suit comparatively, Sonni has what it takes to continue her momentum, as she will be looking for a strong finish in the sprints to consolidate her position on the APP World Tour leaderboard coming into stop #4 of the Tour that will be hosted at home for Sonni in the beautiful seaside town of Scharbeutz in Germany.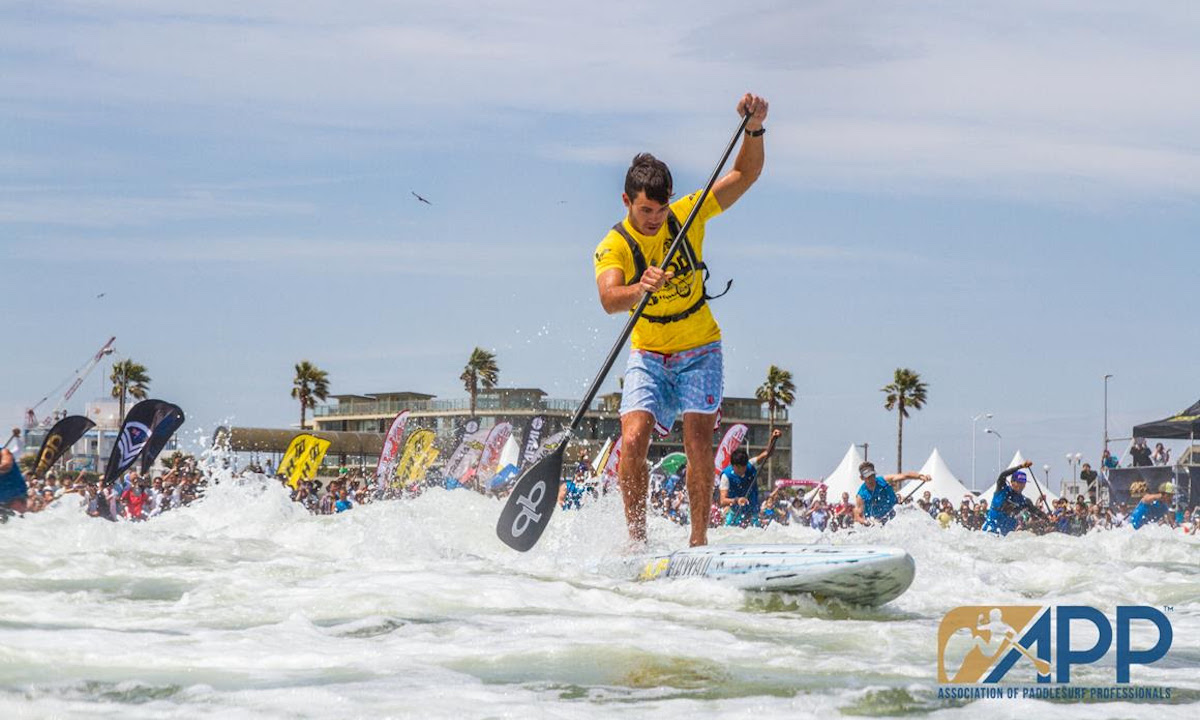 Mo Freitas challenges the best of the best, narrowly missing out on victory on Day 1 of the Trump Wetsuits Japan Pro presented by Hawaiian Airlines. | Photo: APP World Tour / Georgia Schofield
Mo Freitas continues to go from strength to strength in 2017, blazing his way through the opening leg of the APP World Tour with a finals finish at Sunset, a win at the first racing stop in Maui, and now an impressive performance against the 2x World Champion Connor Baxter (Starboard). While Mo wasn't able to take the win in Saturday's racing, he clearly demonstrated to the world, and perhaps even more importantly, himself, that he does have what it takes to take down the world's best on any given day.
Wearing the yellow jersey coming into stop #3, Mo blasted off the start, clearly keeping the target on his back, battling with Connor from start to finish, having to settle for 2nd in one of the most dramatic finishes yet. Mo will be looking to consolidate on this performance into day 2 of the Trump Wetsuits Japan Pro-Am presented by Hawaiian Airlines, in order to maintain the ratings lead and yellow jersey coming into the next stop of the Tour in Germany, the Mercedes-Benz SUP World Cup in Scharbeutz.
Fiona Wylde battles her way round a challenging long distance course to post an impressive 2nd place on Day 1 in Japan. | Photo: APP World Tour / Georgia Schofield
Fiona Wylde (Starboard) never fails to impress on the APP World Tour putting on yet another stellar performance at the Trump Wetsuits Japan Pro-Am presented by Hawaiian Airlines.
Fiona hammered off the start, clearly making her intentions known in Japan as she strives to regain the yellow jersey before the Tour heads to Germany. She was able to maintain her rhythm in what was a fiercely contested race, going stroke for stroke with Candice Appleby for much of the race, as the two paced each other, battling for position.
While Sonni was able to build a 2.5 minute lead by the time the race was done, over the 10km course and in the conditions that tested the World's best paddlers every step of the way, Fiona was right there, and once again demonstrated that she is one of the World's most well rounded Stand Up Paddle athletes.
After a second place in Sunset at Stop #1 and a second place in Maui, Fiona will be looking for redemption on day 2 with her sights set on her maiden victory of the year. Her consistency is impressive and her composure perhaps even more so.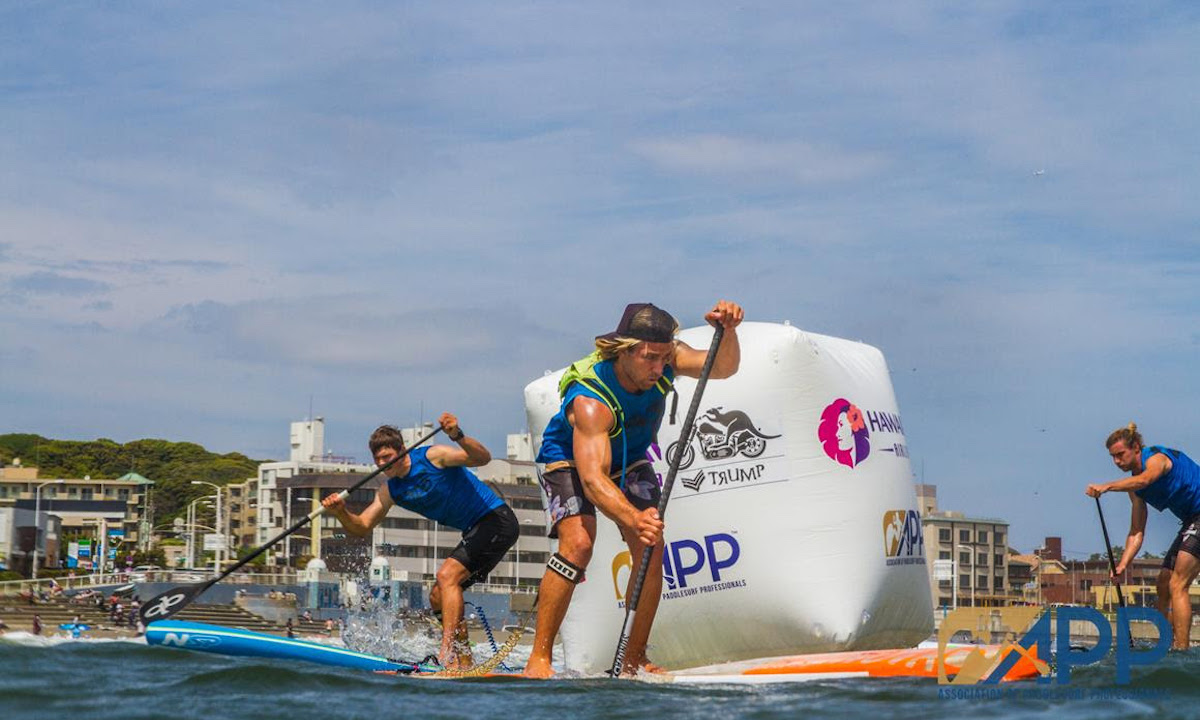 James Casey puts on a powerful performance at Stop @3 of the 2017 APP World Tour finishing in 3rd place in the long distance. | Photo: APP World Tour / Georgia Schofield
James Casey is a powerhouse. As one of the stockier guys on Tour, James' power was put to good use in the distance race as he battled with fellow Aussie Lincoln Dews for the entire 10km, in the end just getting the edge over Lincoln to finish in 3rd place on Day 1. Both James and Lincoln kept pace with Connor Baxter and Mo Freitas, slipping back a little through the mid point of the course, as they opted to take their super lap to see if they couldn't catch the leading two. While they were unable to bridge the gap, as the times clearly showed, they were close, coming in just a minute thirty behind the winner.
As another exceptional all-rounder across all aspects of the sport, James is looking increasingly dangerous on Tour, possessing the full package and as his results are clearly showing, the ability to take down the World's best on any given day, whether it be surfing, sprints or distance.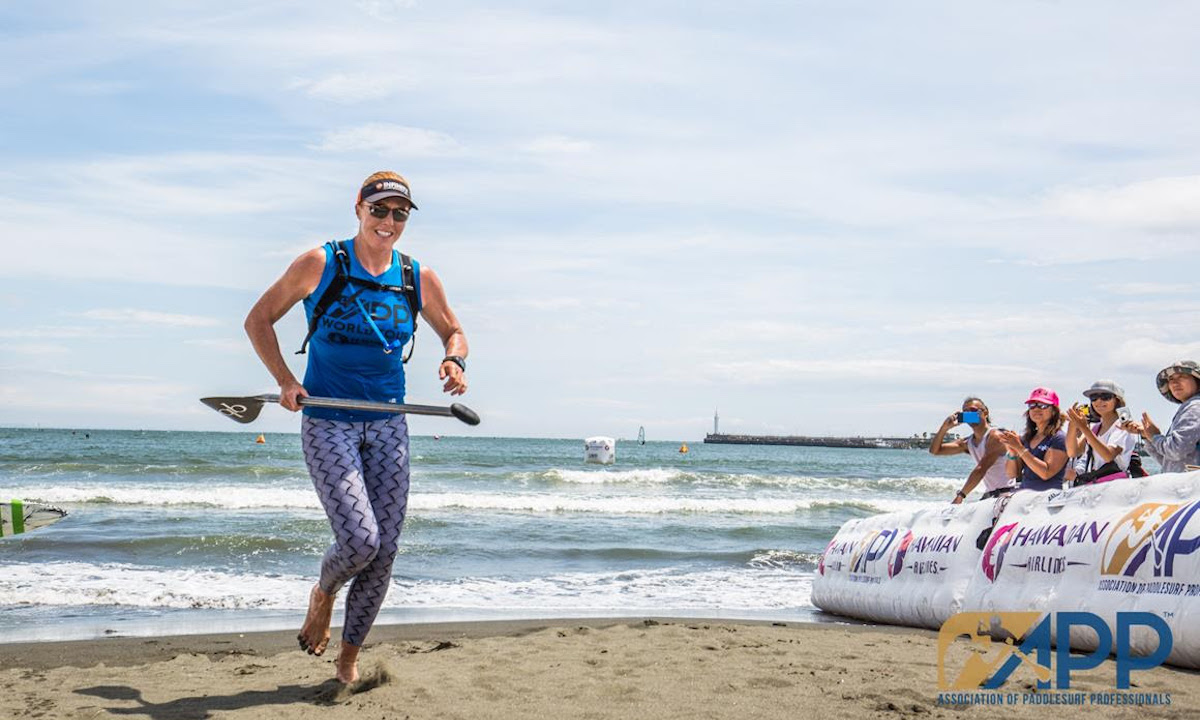 Candice Appleby perseveres to post a solid 3rd place finish amidst the intense international competition in Japan. | Photo: APP World Tour / Georgia Schofield
Candice Appleby had a slow start to the year in Maui, but looks to be stepping up in a big way at the second racing stop of the 2017 APP World Tour in Japan. Having won in Japan in 2015, the year where she blitzed her way to her maiden World Title, Candice has fond memories of Japan and was looking strong in the distance race, battling for position in what was a grueling undertaking with the radical winds at play.
While 3rd place is not a first, it is a podium and a real step forward for this incredible athlete who at every stop of the Tour is a Title Contender, as she has clearly shown time and time again. Like Fiona Wylde, she is also a real double threat, and will clearly be a front runner to look out for as we progress through the 2017 season. Check out the highlights from day 1 below.
Day 2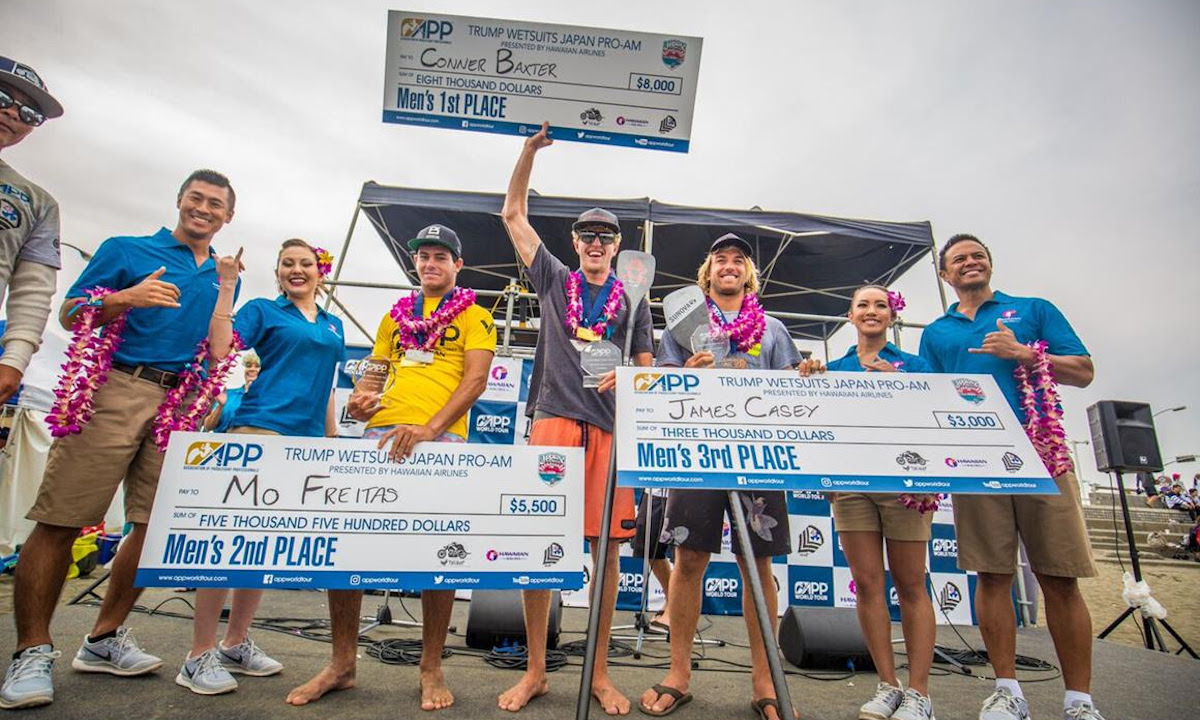 Connor Baxter puts together an impressive performance in Japan to take victory at Stop #3 of the 2017 APP World Tour. | Photo: APP World Tour / Georgia Schofield
In the sprint racing, Connor Baxter was able to maintain his form, and while it wasn't the dramatic finish that the distance race saw, Connor was able to edge ahead of Sprint Champion Casper Steinfath to take 2nd place for the day. With the tie breaker being on the distance race in Japan, it was Connor's turn to take the overall win at Stop #3 of the APP World Tour, and in an unprecedented turn of events, will be wearing the yellow jersey along with Mo in Germany.
It was a stellar performance this weekend by the 2016 World Champion, as the Title race is intensifying after only the second stop of the season, with a fierce rivalry now well and truly established between the two Hawaii athletes Mo Freitas and Connor Baxter.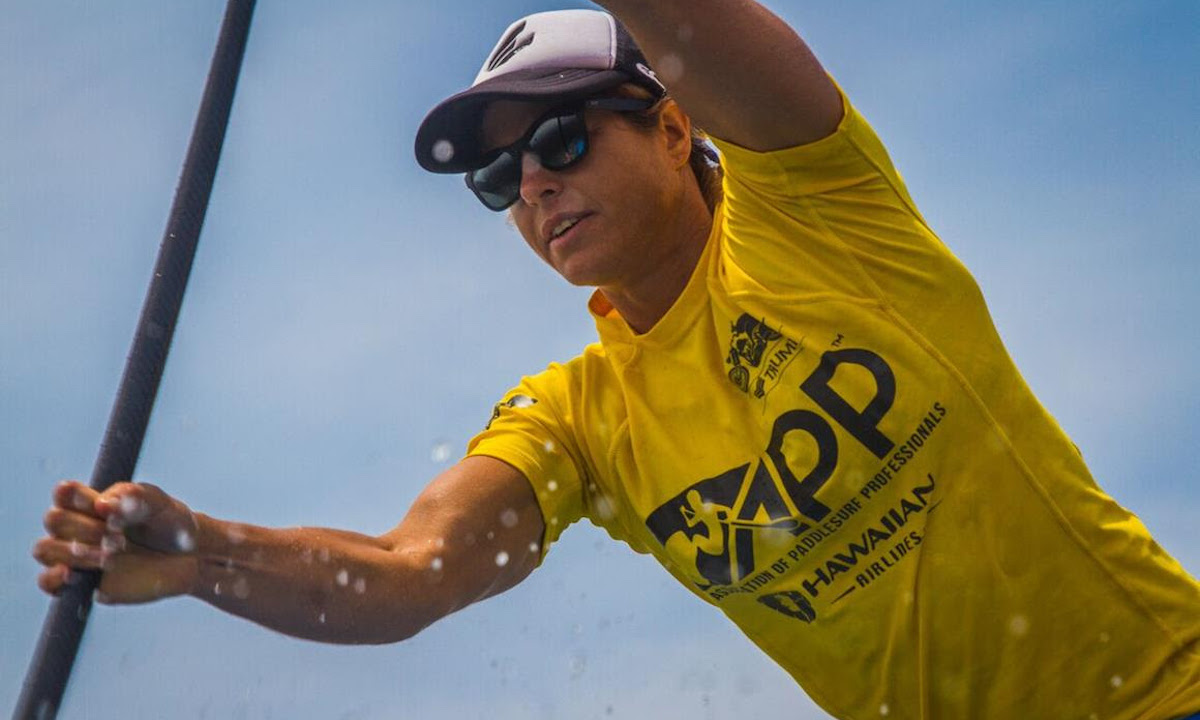 Terrence Black puts on a dominant performance in the sprints to steal the overall victory in Japan as she will keep the yellow jersey. | Photo: APP World Tour / Georgia Schofield
Terrene Black finished in 4th place on day 1 amidst the stacked women's field, so she knew if she was going to have a chance of hanging onto the yellow jersey going into Germany, that she would have to put everything into the final day of racing in Japan to come out on top. That she did and then some, with a powerful performance in the sprint racing elimination that saw her break away from her competitors early on the first leg of the final, and build momentum and distance through the 300m course to take the well deserved victory.
In a unique situation where the Top 3 women in Japan had amassed equal points from the weekend of racing, it was the discipline win that secured the victory for Terrene making it a great Day 2 comeback from this impressive talent from downunder.
With a background of long distance endurance paddling, it is interesting to see how Terrene has adapted to the sprint racing format and has proved herself to be a major double threat on Tour, now sitting out in front on the World Tour leaderboard, closely followed by 2016 World Champion Fiona Wylde.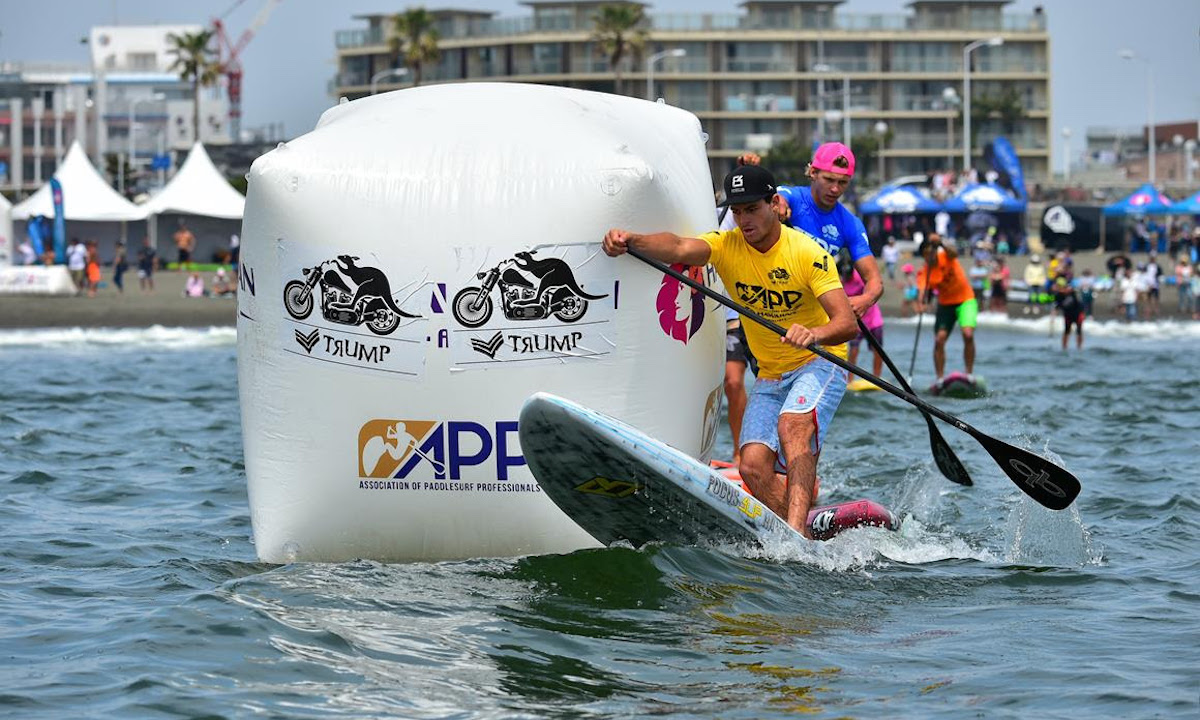 Mo Freitas defies the odds to take a well deserved victory in the APP World Tour sprints on Day 2 of the Japan Pro-Am | Photo: APP World Tour / Georgia Schofield
After the crazy finish from Day 1 that saw Mo Freitas go down to Connor Baxter (Starboard) in the final feet of the 10km long distance race, Mo was out for redemption on Day 2, as he looked focused and 100% determined to not only make the Final, but take the win in Japan.
As the heats progressed, Mo continued his blistering form, taking out heat after heat until the semi finals, when disaster struck: coming around the inside buoy, Mo was pushed back by a set right as James Casey surged out of his buoy turn and the two collided, knocking Mo off his board. Without a leash, Mo had to swim to his board, only to find that it was significantly damaged. Undeterred, Mo got back up and powered his way through the penultimate lap, finding a hole shot round the last buoy to scrape back into the advancing top 4 to keep his event title hopes alive.
Racing on a borrowed board for the final, Mo's steely determination won through as he persevered and was able to turn the tables on the previous day's disappointment by scratching into a wave that he could surf to victory ahead of arch rival Connor Baxter. With a similar situation to Maui where the points were tied with Connor for the overall, Mo had to settle for 2nd this time, with the weighting favoring the long distance on this occasion to work in Connor's favor.
However, Mo still retains the yellow jersey and is tied with Connor as the two head into Germany next month with his confidence only boosted from another stellar performance in this breakout year for the young talent from the North Shore.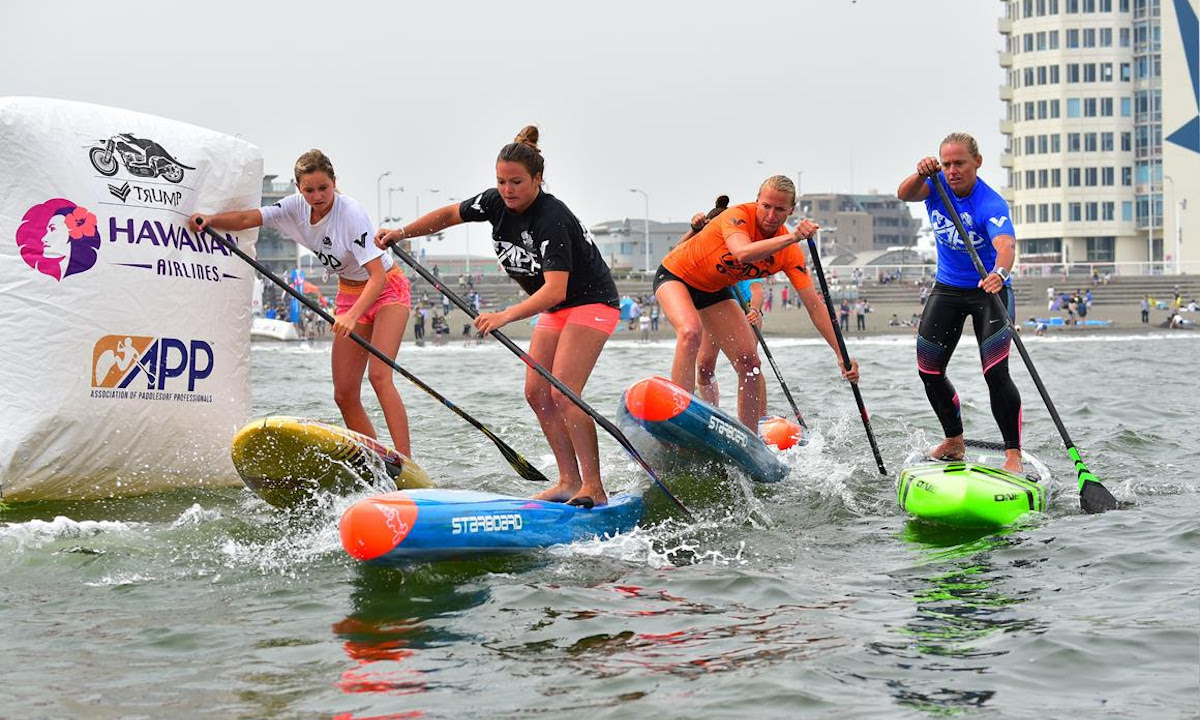 Fiona Wylde continues her strong of solid results, with another 2nd place finish at Stop #3 of the 2017 APP World Tour. | Photo: APP World Tour / Georgia Schofield
Fiona Wylde (Starboard, Werner Paddles) put on another impressive performance this weekend, with her 2nd place in the Long distance and then a solid 3rd place finish in the Sprint Racing putting her in 2nd place overall for the weekend.
The final did not begin well for Fiona, as she slipped off her board at the start, forcing her to play catch up from the outset - not an easy feat on a 300m course. However, never one to be intimidated by a challenge, Fiona stepped up and once again showcased her talent, core strength and determination to catch up and secure a well deserved 3rd place.
With two second places in the long distance races so far this year and two 3rds in the sprints, Fiona is in a strong position in the overall standings for the year and clearly a real contender for the World Title in 2017. All in all, it has been a solid start to the year for the 2016 World Champion, who is also vying for the Overall World Title this year, with a second place at the first surf event of the season, placing her in a commanding position this season.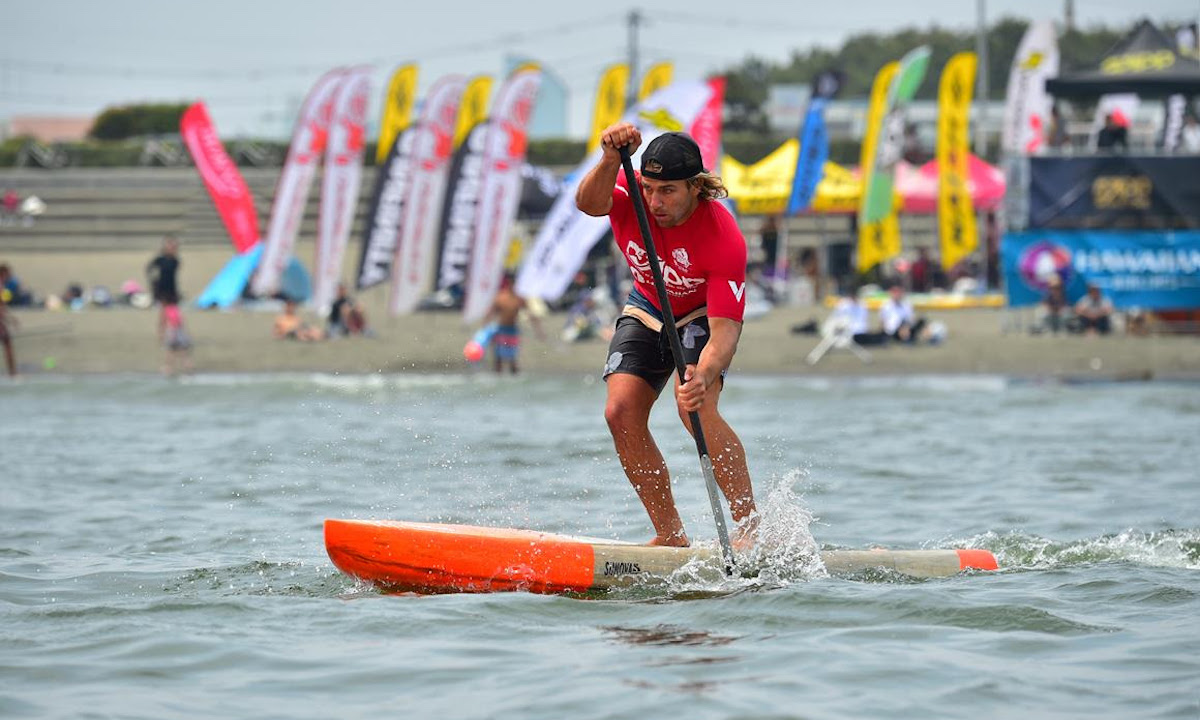 James Casey builds momentum securing a solid 4th place finish in the Sprints, putting him in 3rd place overall in Japan. | Photo: APP World Tour / Georgia Schofield
James Casey has always enjoyed Japan and is one of the more popular international athletes to visit this hot spot for Stand up Paddling in Asia. This year, his early season training and preparation for this all important 2nd stop of the Tour has clearly paid off, as he powered his way through the grueling long distance on Day 1 to finish in an impressive 3rd place, only to match that with a solid 4th place in the Sprints on Day 2, putting him in 3rd place overall for the event.
As his first podium on the APP World Tour for 2017, this not only boosts him up the overall leaderboard for racing so far this season, but also improves his position in his quest for the overall World Title that encompasses both Surfing and Racing. There is no doubt that James will be someone to watch out for as we progress through the season as one of the most powerful athletes on Tour, coupled with his exceptional board skills that really provide him with an advantage when the going gets tough.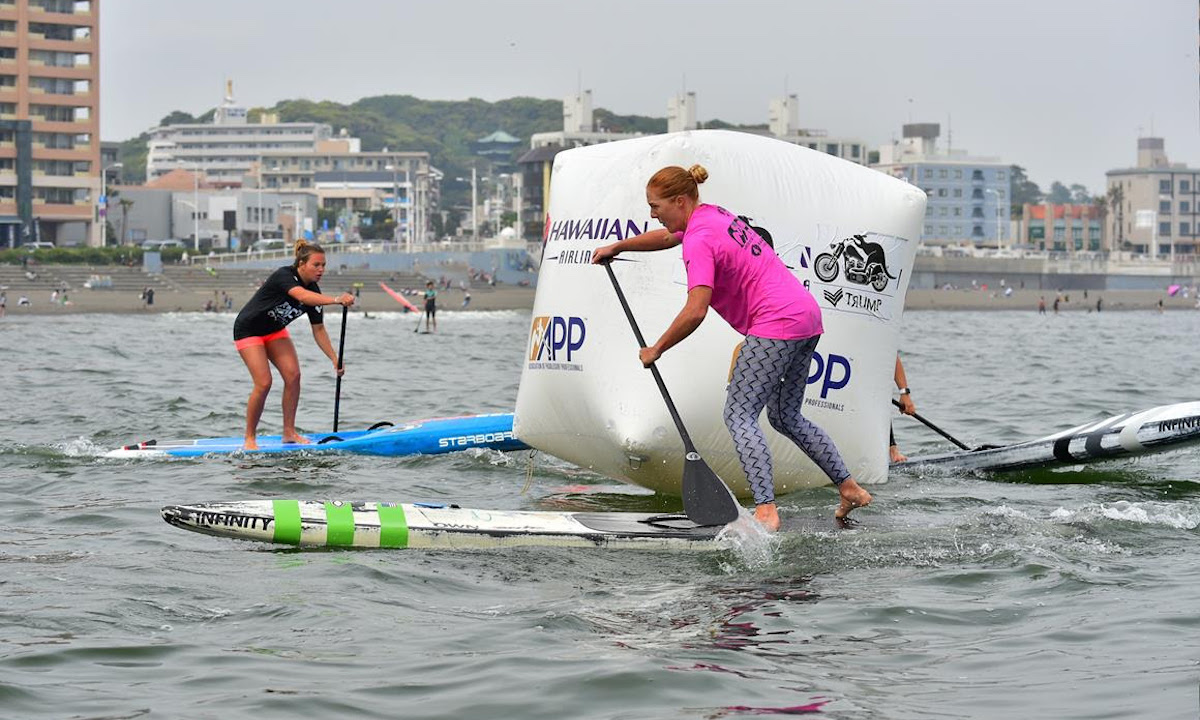 Candice Appleby finds her form in Japan, putting on a solid performance to secure 3rd overall, with a 2nd place in the Sprints. | Photo: APP World Tour / Georgia Schofield
It is now clear that Candice Appleby is on her way back up the rankings and putting herself well and truly in contention for a World Title in 2017 after an uncharacteristically slow start for the talent from San Clemente, California.
After a solid finish in the distance race on Day 1 that saw her in 3rd place, she went one better in the sprints on Day 2 to finish in 2nd, putting her in 3rd place overall (with the distance weighting going in Fiona's favor for 2nd place). While it is not the win she might have hoped for, it will be a welcomed confidence boost heading into the rest of the season, as Candice will be shooting for the top spot as we head into the Mercedes-Benz SUP World Cup next month in Germany.
It certainly seems that Candice is once again finding the form that took her to a World Title in 2015 and will be a major threat through the 2017 season as the competition in the women's fleet is intensifying by the day and new faces continue to step up and make their presence felt.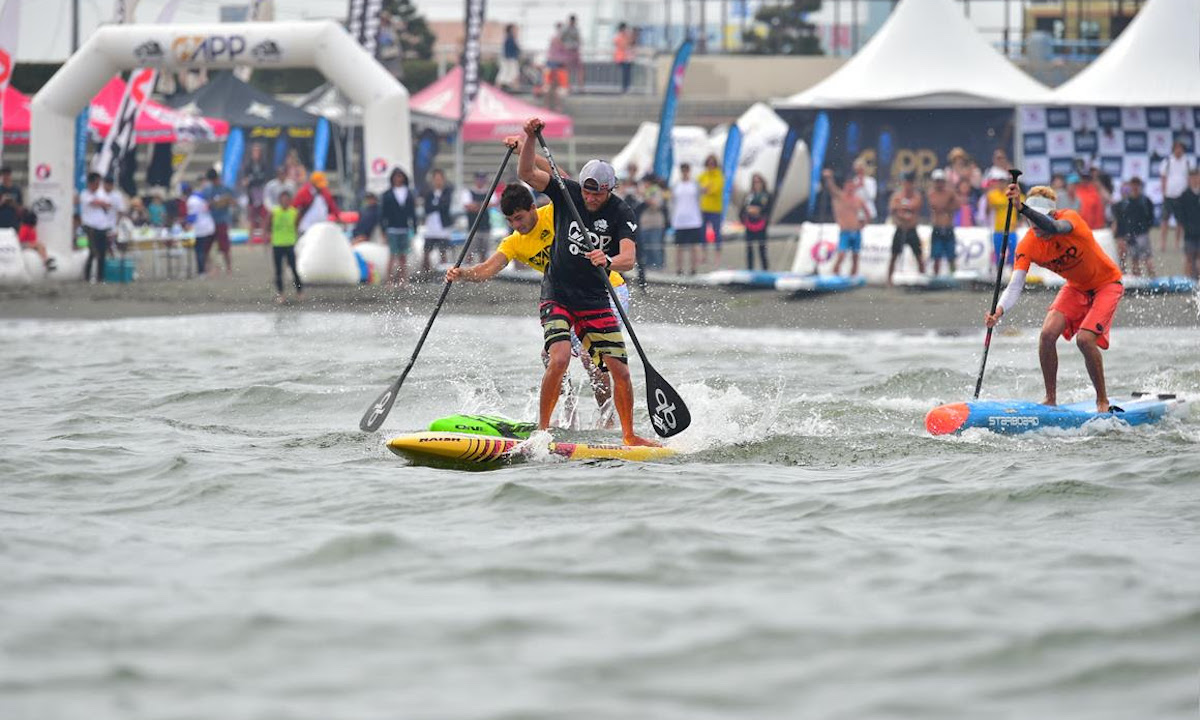 Casper Steinfath dominates the early rounds of the sprint racing, just falling short in the final to take 3rd place, and 5th overall. | Photo: APP World Tour / Georgia Schofield
As expected, Casper Steinfath (Naish) came out of the gate strong in the sprint racing on Day 2 of the Trump Wetsuits Japan Pro-Am presented by Hawaiian Airlines. Dominating his way through the early rounds, Casper looked poised to continue his unbeaten record in sprint racing over the past year.
However, in the final, as Casper faced an on-fire Mo Freitas and determined Connor Baxter, despite a strong start that saw him lead through the first leg and a half, Casper seemed to run out of gas through leg 3. This slight sputter allowed Mo Freitas to find a gap past the sprinting phenom, only for Connor to take him at the final buoy and into the home straight.
While 3rd place is still an impressive finish at this level, there is no doubt that Casper was disappointed to break his winning streak and will be looking for redemption at the next stop in Germany in June. Having said that, a 5th place finish overall is still a solid result, and will keep Casper very much in the mix for 2017 as he strives to bring the World Title back to his beloved Denmark.
Other standouts from the Trump Wetsuits Japan Pro-Am presented by Hawaiian Airlines turn heads and make their presences felt. | Photo: APP World Tour / Georgia Schofield
Beyond the podium finishes, there were stand out performances across the board at stop #3 of the 2017 APP World Tour. Amount the many stellar performances, a few names stood out:
Lincoln Dews: posted another 4th place finish, as he did in Maui, as one of the most under-the-radar athletes on Tour that has the potential to do real damage. Watch out for Lincoln in Germany where he is sure to continue his incredible roll.
Arthur Arutkin (Fanatic): another athlete who somehow remains under the radar, but continues to post solid finishes and take down the best of the best. In Japan Arthur finished in 6th place and continues to be a major contender in 2017.
From Japan, as expected, Kenny Kaneko led the charge with another consistent performance, while Ryouhei Yoshida really stepped up to finish in 16th place in the long distance, and 20th overall: a solid performance from one of Japan's rising stars.
In the Women's division, the local talent is rising fast, with Yuka Sato putting on a powerful performance to finish in 6th place overall, with a 5th place in the distance race, followed by the already known Takayo Yokoyama, who once again put on a strong performance.
Wildcard Chloe Walkerdene from Australia posted a 4th place finish in the sprint racing putting her in 5th place overall for the event: an impressive first outing for this young talent at her first event on Tour.
All in all, it was an incredible weekend of high intensity action in Japan, with challenging conditions, stand out performances and the usual formidable Japanese hospitality making it a weekend to remember for athletes and spectators alike. Day 2 highlights coming soon.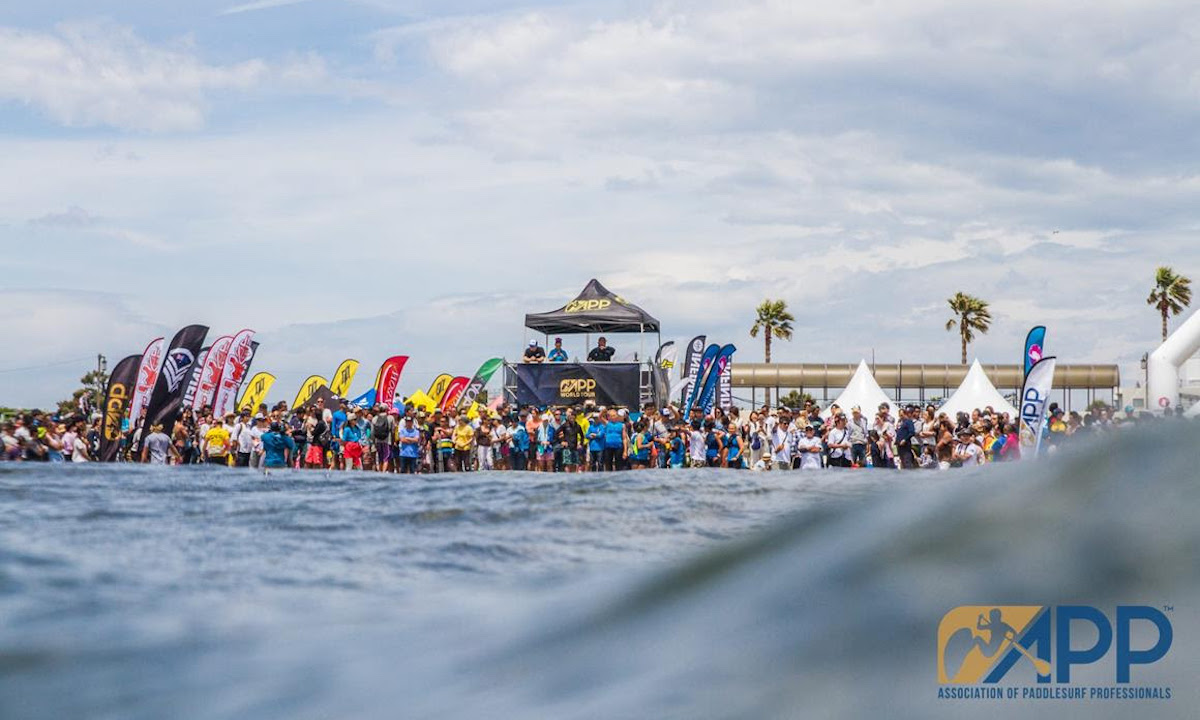 Photo: APP World Tour / Georgia Schofield
About the Waterman League Group and the APP World Tour
The Waterman League Group is an event management and media production company headquartered in Hawaii focused on developing multi-disciplined water sports. The term 'waterman' refers to versatile athletes who can engage in various forms of water sports at the highest level.
As founders of the Professional World Championships for paddlesurfing (also known as stand-up paddling), the Waterman League has been crowning Men's and Women's Professional World Champions for both racing and surfing since 2010, with flagship events across the Americas, Asia, Europe and the Middle East, now branded as the APP World Tour.
The APP World Tour produces a complete inventory of programming, including live and post produced broadcasts from all its events, with distribution to over 100 countries worldwide via premier global networks such as CBS Sports and Fox Sports Australia, supported by IMG Media. Information is available at appworldtour.com and fans can follow events @appworldtour on Facebook and Instagram.
Last modified onMonday, 08 May 2017 11:27

Submit your news, events, and all SUP info, so we can keep promoting and driving the great lifestyle of stand up paddling, building its community, and introducing people to healthier living.
Website: supconnect.com
Email

This email address is being protected from spambots. You need JavaScript enabled to view it.